5 Reasons To Escape To Queensland This Winter
Do you find yourself dreaming of warm summer days spent at the beach when the winter cold hits? You are not alone! Sometimes you just have to admit to yourself that you are not a winter person, pack your bags, and head to warmer weather.
Enter: Queensland. The destination of choice for those who want to experience warm winter weather.
Here are 5 reasons why you should stop in at Cruisin Motorhomes Brisbane, pick up your campervan and head north this winter season.
1. Escape the cold
Does a temperature average of 25℃ degrees sound appealing to you? Thought it might. Winter is the best time to visit Queensland, Australia. It's dry winter conditions and manageable heat makes it one of the Australia's warmest winter destinations. Venture far north of Queensland to the exotic oasis of Cape York. Bonus: You don't have to fight off the peak season crowds. This really is the best place to visit in Australia during winter.
2. Ideal swimming conditions
The best swimming conditions in Queensland are between April and October. Head to one of the many prime beaches and dip your toes into the water, without worrying about stepping on anyone's toes! Some beaches are even patrolled over the winter months. This is also the perfect time to get some great uninterrupted surfing in. Everyone knows that surfing in Queensland is a must do activity and what's better than catching a wave without having to navigate through crowds of people?
3. Avoid the crowds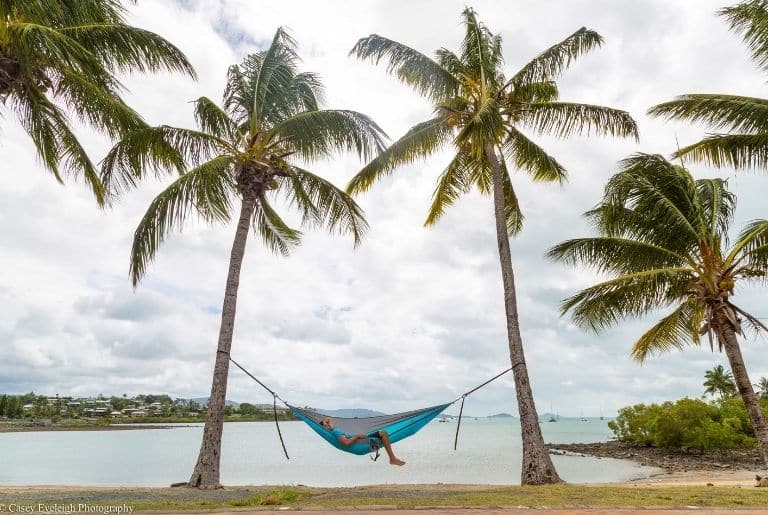 If you haven't already caught on to the common thread that makes Queensland a prime winter destination, here it is: No crowds!
While majority of tourists flock to this beautiful state during the humid summer months, only a select (smart) few visit over the winter months. You get to experience fantastic weather conditions AND uncrowded tourist attractions...doesn't that sound sublime? Because of the lack of crowds, the availability of accommodation, motorhomes and campervans for hire, caravan and campervan parks is high. It is also a great time to go on a roadtrip in a motorhome as there won't be as much traffic on the roads.
4. Save on costs
Over winter, the cost of airfares, tours, attractions, caravan parks and campervan hire in Brisbane is at a discounted rate. You get to enjoy an uncrowded tropical getaway without the price tag to match. Whether you are a budget traveller or travelling on a budget, this is the time to schedule your tropical roadtrip.
5. Visit the Great Barrier Reef
You can't go to Queensland and not visit one of Australia's premier tourist attractions. Dive and snorkel tours offer affordable rates during the winter months and with the added bonus of great water clarity and less tourists, it really is a worthwhile excursion.
Be sure to visit Whitehaven Beach, you won't regret it.
If you are looking for something more to do, why don't you hire a campervan in Cairns  and do the Great Barrier Reef drive? This drive takes you from Cairns to Cape Tribulation. Pick up one of our motorhomes in Cairns the road.
Want to know more about Queensland?