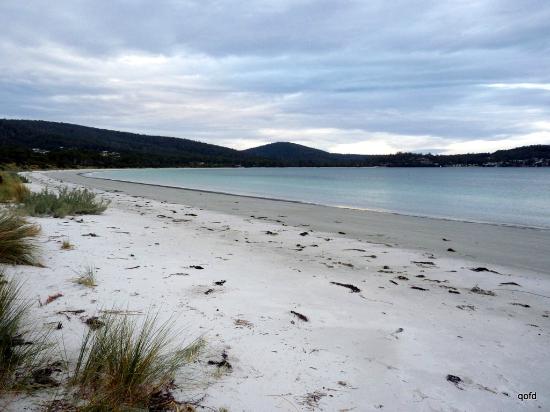 White Beach Tourist Park is a four-star waterfront oasis and the ideal accommodation option for travellers seeking a family-friendly and scenic motorhome holiday in the untouched island
state of Tasmania.
Located just 10 minutes from World Heritage listed Port Arthur and 105 kilometres from Hobart, White Beach Tourist Park is ideally situated to absorb the natural and historical beauty of the
surrounding area. The accommodation has something for everyone with a range of spacious powered and unpowered sites for the motorhome or camper, all just a stone's throw from the pristine sands of White Beach.
The facilities on offer include a children's playground and an outdoor barbeque area to take advantage of those clear and starry Tasmanian nights. In the warmer seasons, a swimming pool is available for anyone looking for a beach alternative. Other facilities include showers with hot water supply, a washing machine and dryer, kiosk, dump station, wheelchair access and a fully stocked camper's kitchen.
This beach-front accommodation is a great place to stay year-round with a range of bush-walking tracks and boating, fishing and kayaking activities on offer in the immediate area.
If this alone isn't enough for you, Port Arthur is a must see and is one of Australia's most significant open air museums. Tasmania's top tourist attraction offers a range of must-have experiences including a Paranormal Investigation Experience where visitors are invited to embark on an eerie ghost hunt in some of Australia's most haunted sites and visit Tasmania's first operational
mines.
There are also a variety of Tasman Island cruises on offer to give you the chance to explore the Tasman Peninsula. Rob Pennicott's Wilderness Journey is a must and allows you to get up close and personal with this special coastline and if you're lucky you might glimpse dolphins, seals and whales passing by.
With a range of activities to do and much to see, White Beach Tourist Park is a convenient and picturesque base to explore the Tasman Peninsula.
Contact: (03) 6250 2142
Address: 128 White Beach Road, White Beach, Tasmania PO Box 747 Nubeena TAS, 7184
Website: http://www.whitebeachtouristpark.com.au/