CRUISIN AUSTRALIA QLD ADVENTURE, 2014
With- Karen and Keith Holmes
Geraldton, WA.
Thursday 29th May, 2014
- Off to the Crystal Caves and what an awesome experience that is. It's an Aladdin cave of more than 600 crystal formations and fossil specimens on display. Most impressive is The Empress of Uruguay- the world's biggest amethyst geode, standing 3.5 meters tall and weighing 2.5 tonnes.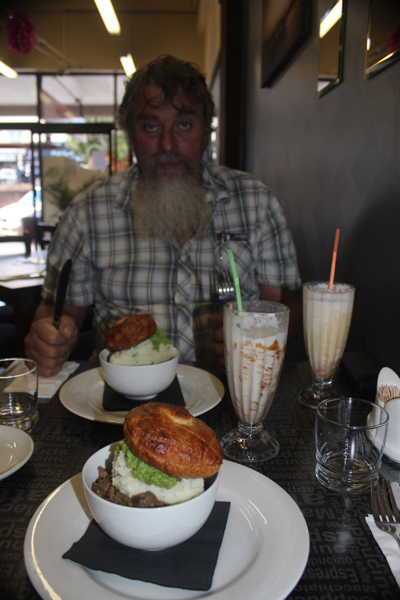 Next we headed a couple of doors down to a great meal at Heaven On A Fork - the Heavens House Pie was delicious ☺ and the best chocolate milkshake so far this trip. After we went to the Chinatown Temple and museum; here the history of the Chinese in the local Atherton Tablelands is shown;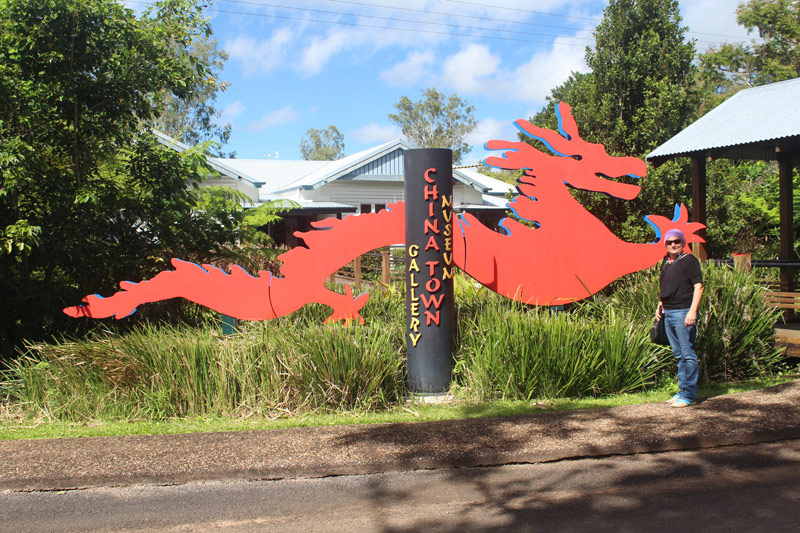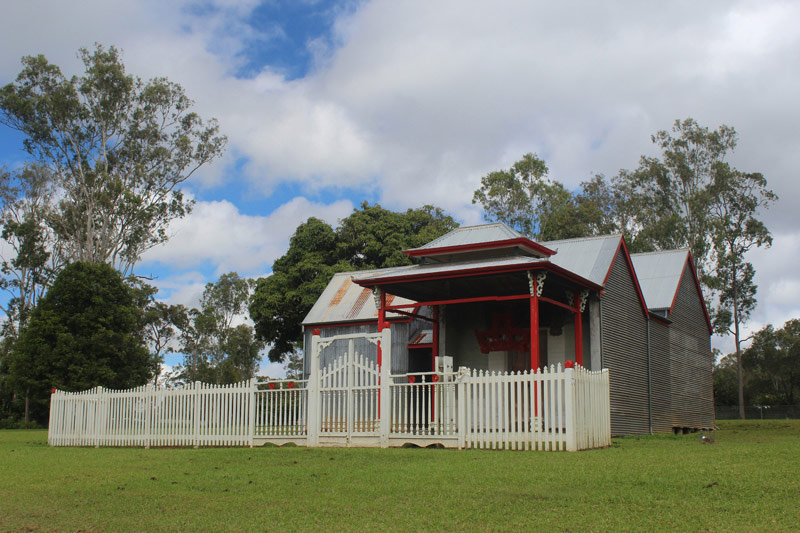 A quick detour to Herberton saw us at the Spy and Camera Museum. Local photographer Michael Petersen gives a 45 minute tour of his brilliant display of cameras and spy wear. A local resident back in the day was a spy and the gear here is well worth seeing… very James Bond without any cheesiness.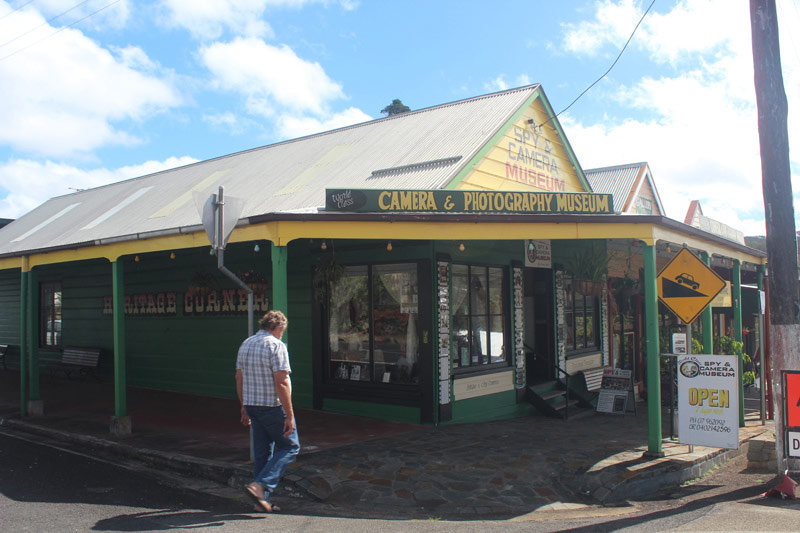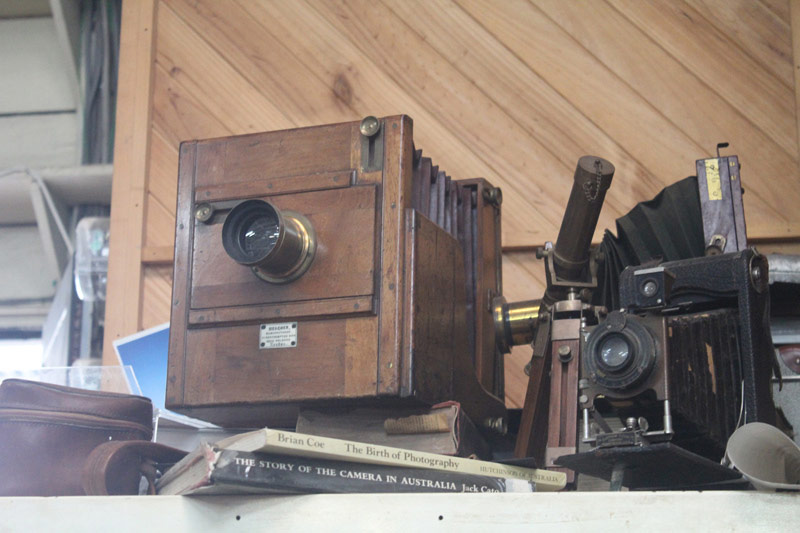 Back on the road and wandered through the lush country side back through Tully and camped up at The Cardwell Beachcombers Tourist park and had the best seafood tucker at their Beachcombers Restaurant and Bar.
30th May 2014.
– Today we left Cardwell heading south again when we took a detour to Lucinda. Here they have a jetty for transporting the sugar cane that is 6 km's long!! It is a nice short drive there and a quaint, quiet town with lots of holiday houses to rent. My highlight was a pond full of water lily's I enjoyed photographing.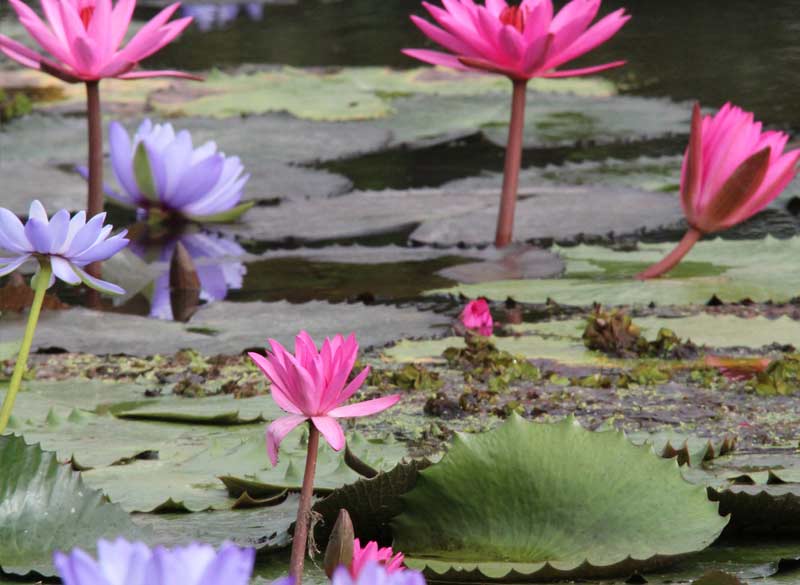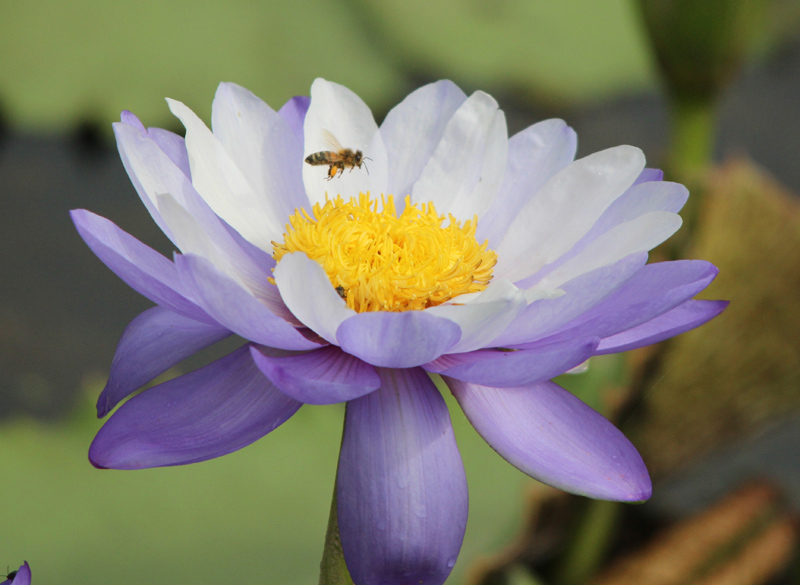 Back on the Bruce Highway we stopped for a cuppa with friends in Townsville then headed off leaving the rainforest behind us. Aiming for Bowen to camp for the night we came across a few Big town icons and stopped for photos. In Aye we found a Big Carpet Snake; Gubulla Munda (carpet snake) is the Aboriginal totem and the protective spirit of the Biri Gubba people.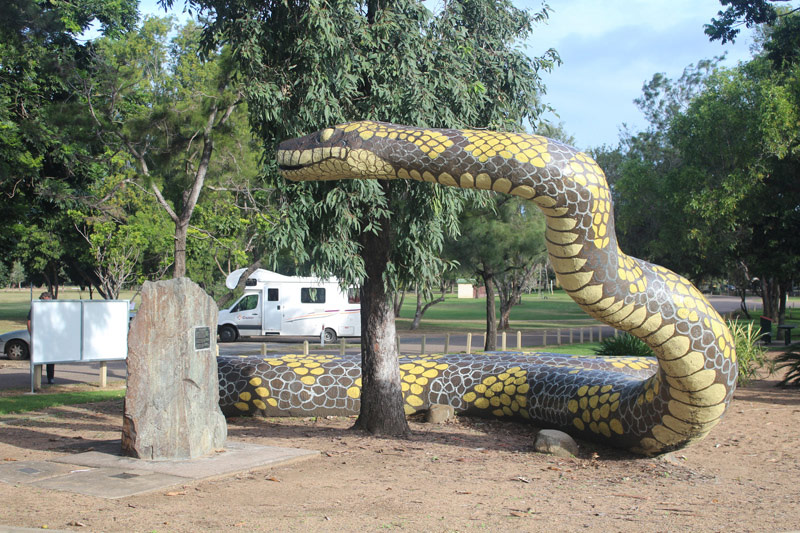 Wandering further down the track we came across a vegetable stand that had a Big piece of water melon and a Big Queensland Blue pumpkin-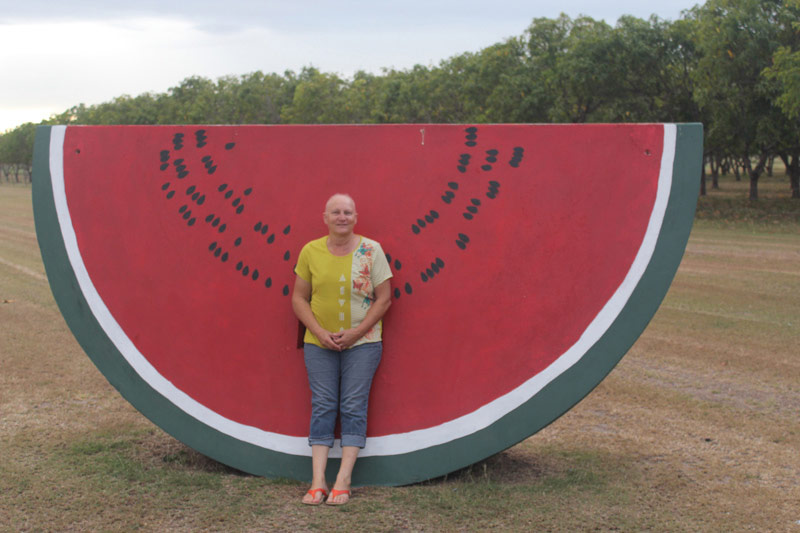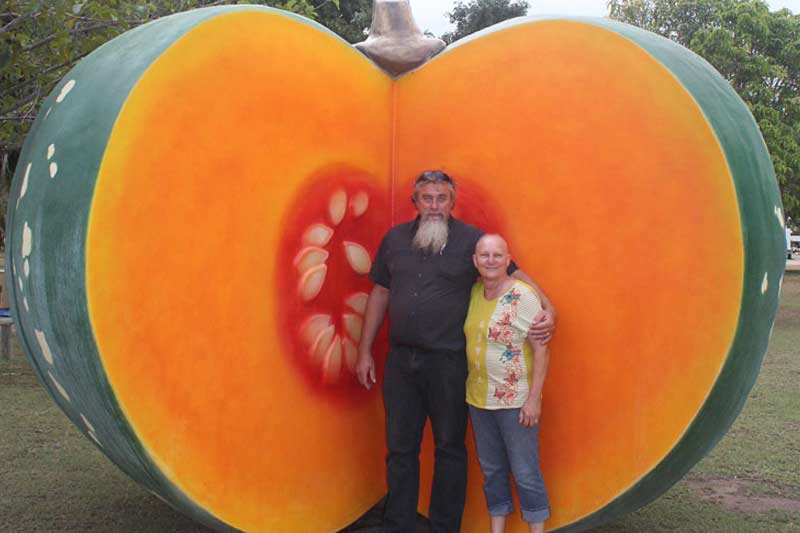 We parked up for the night in Bowen and are consulting maps for tomorrow's adventures- am sure there's going to be a Big Mango pic tomorrow Saturday 31 May, 2014- 6.30 start (one and only, lol) and here it is….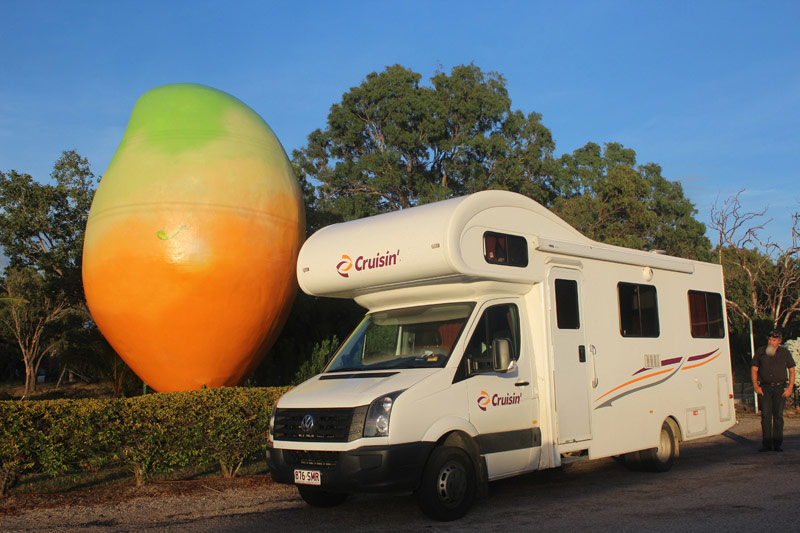 What a beautiful day and headed of through Mackay and into Sarina where we found the Big Cane Toad- nasty little critters doing so much damage to our native mammals.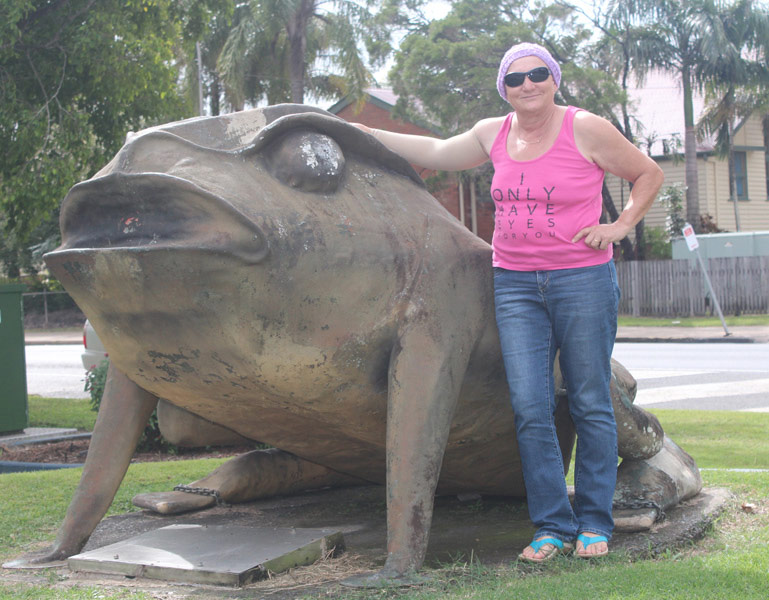 Not much really until we passed through Rockhampton – we did plan on seeing the Big Dugong but were sad to see it was at the Indigenous heritage centre which would have cost us…. But it was closed. Sad for those chasing BIG Aussie icons (and we have been seeing heaps and even did a chase game yesterday with 3 young Japanese young'uns chasing them for photo shoots- 3 times we crossed paths) We decided to take a detour out to Emu Park- 46 kms and nestled on the coast with views of Great Keppel Island. Here they have a "singing ship" memorial to Captain Cook, a sculpture with drilled holes and pipes that whistle or moan in the wind. Am sure this would be quiet eerie at night but was nice to see, a wedding had just taken place there and the views are great.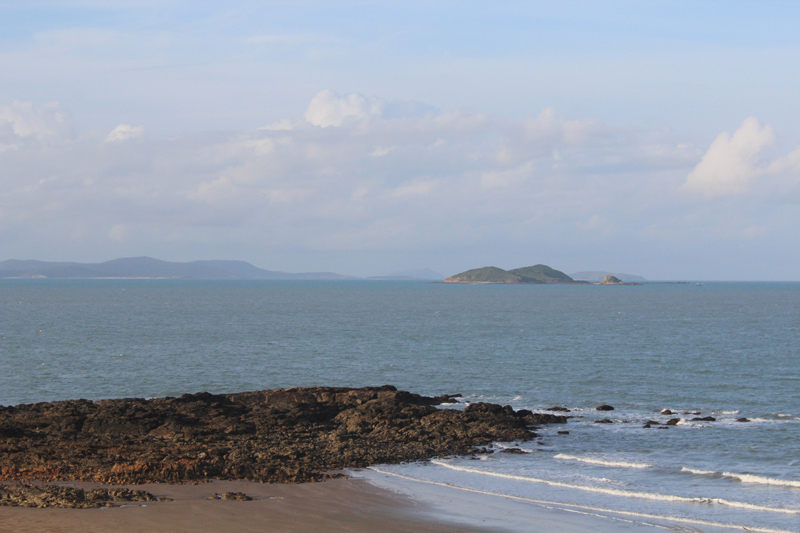 We decided it was so nice to Camp the night, do the washing and chill…….
Sunday 1 May, 2014
- leaving Bell Park Caravan Park ( a nice, clean place right on the foreshore) we headed back through Rockhampton where we saw a few Big cow's, but we didn't feel inclined to stay…had the same feeling with Bundaberg…stayed long enough for a good look around but settled on the Bundaberg Ginger Beer Big barrel and Bundaberg Distillery…..as we were neither keen to sample either we took some "big" pic's and continued on to Barwon Heads for the night.
Monday 2nd June- after catching up with friends who found me  a cane toad as we hadn't seen any this trip so far, we carried on south  looking for interesting things. We found a few BIG things in Noosaville and had an awesome seafood lunch and champagne at 'Grennys' on a tourist strip overlooking the bay. We decided on camping at Caboolture for the night so we were close to Brisbane for tomorrow's fun of catching up with friends and family. ☺
We are winding down now and hoping to fit all our "goodies" in our suitcases for the trip home.
Tues 3 June, 2014 
- Caught up with a school friend I hadn't seen for 35 years. We met at Ridges' in South Brisbane CBD. Parking the Winnebago was a bit tricky but we finally sorted it. Visited the Maritime Museum were the have the Diamantina river frigate. They also have Jessica Watson's Pink Lady yacht- 210 days in a 10 metre yacht, what an achievement and standing next to it – wow, very small. We had a BBQ on the banks of the river overlooking the city then headed out to visit my Aunt. We have parked up tonight in the beautiful and very friendly Greenacres Caravan Park – 508 Mt Cotton Rd, Capalaba, 20 mins from Brisbane CBD. Sitting back now enjoying a Chardonnay.
We would like to thank Cruisin' Australia for the opportunity to travel on their behalf. We have spread the word of your company everywhere we went and had people write down your details. The opportunity to catch long time, not seen friends and family an absolute bonus- thank you so much. Travelling through Queensland we found more places inland to visit than via the coast which was surprising and very enjoyable- The heart of the state after all. We chose inland first as the weather was showers and thought it may clear for the trip south, it did, with just a few showers which never bothered us. Highlights of the trip for Karen - "My fun travelling "thing" is searching for BIG Aussie Icons, well certainly wasn't disappointed as found 26!!!!!!…….. The Butterfly Sanctuary and the Crystal Caves were unforgettable but there's been so many interesting highlights of the trip it is very hard to just pick two. Watching cotton be harvested was awesome and cost nothing so travelling doesn't need to be costly. The sunsets in land or on Bribie Island breathtaking……" Keith- "I find the smaller show's with the intermit attention better than the bigger commercialised places. The Kingaroy information Centre and Peanut Factory was very informative. Ilfracombe had an excellent WW2 firearm display and memorabilia also a mile of pre 1900 machinery, bottle collections and all at the cost of a donation, but a carton of beer cost $52.00, haha…some you win some you lose. We are happy to pay to get into places and always looking to see and try new things. This trip we found the non-commercialised places the better places. We played tag with 3 young Japanese tourists chasing BIG Aussie Icons…..3 times we laughed coming and going to watermelons, pumpkins, pythons and mangoes, so I am not insane with my hunt. Once more- THANKYOU…….and if ever you need another reporter…you have my number ☺