Top 10 Things To Do On Your Brisbane Motorhome Hire Adventure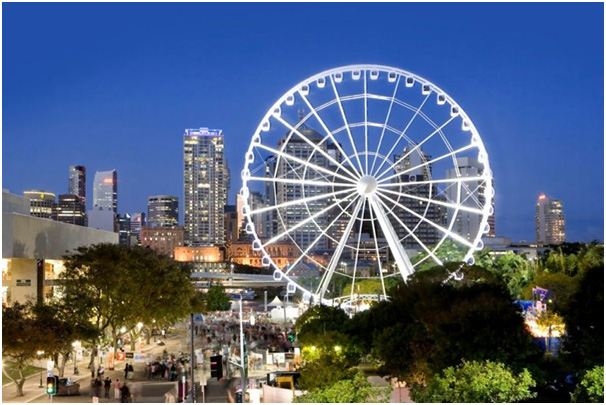 Australia's subtropical capital of Brisbane is the ideal base to begin your Cruisin' Australia motorhome rental adventure. This buzzing city is crammed with activities and adventures to accommodate the entire family. Here is a list we have compiled of must-see attractions on your Queensland campervan journey.
South Bank Parklands - 
No Brisbane motorhome itinerary is complete without a visit to scenic South Bank Parklands. Leave your motorhome in one of the spacious car parks and spend the day enjoying the beauty of the southern banks of the Brisbane River. Explore the leafy cafes, parks and boardwalks of the area or enjoy spectacular panoramic views from The Wheel of Brisbane. Stop by Australia's only beach in the middle of the city, Streets Beach for amazing views of the city and a fun-filled experience for everyone in the family.
Lone Pine Koala Santuary -
This attraction is a must on any Brisbane motorhome journey and makes for an entertaining and informative experience for the kids. Nestled in the natural settings of the Brisbane River, Lone Pine Koala Sanctuary is the largest of its kind in the world. Cuddle a koala, handfeed kangaroos and wallabies or have your photo taken with a snake or baby crocodile. There is something for everyone at this unique wildlife retreat.
Gallery of Modern Art (GOMA) –
Take a day out of your motorhome itinerary to explore the nooks and crannies of Australia's premier visual arts institution, GOMA. This iconic gallery enriches the cultural life of Brisbane and provides a diverse range of exhibitions, collections and displays of local, national and international artists.
City Botanic Gardens –
The City Botanic Gardens provide a relaxing environment to enjoy Brisbane's most spectacular gardens including rare botanic species. Pack a picnic in the comfort of your motorhome and spend the day enjoying the tranquillity of City Botanic Gardens.
Roma Street Parkland –
Located in the centre of Brisbane, Roma Street Parkland is easily accessible and a rewarding addition to your Queensland motorhome itinerary. Escape the hustle and bustle of city life and enjoy a peaceful bike-ride or stroll through the well-maintained gardens and landscape.
Mt Coot-tha Reserve –
Situated just 7 kilometres west of Brisbane, Mt Coot-tha Reserve is easily accessible for anyone renting a motorhome. The 220 hectare bush reserve is bursting with Australian wildlife and has a large planetarium and a spectacular lookout offering majestic views.
Riverfront –
The riverfront is one of the liveliest and most exciting places in Brisbane. Leave your motorhome at the caravan park and spend the night exploring illuminated Customs House.
Alma Park Zoo –
Easily accessible and just 28 kilometres out of Brisbane's city centre, Alma Park Zoo is home to a range of animals from around the world. Learn about their conservation program and visit animals including monkeys and lemurs, sunbears, pandas and the unique Indian Blackbuck Antelope and Himalayan Tahr.
Brisbane Powerhouse –
Enjoy a range of unique and cutting-edge art at Brisbane Powerhouse. Located on the eastern fringes of New Farm Park, this former power station hosts a range of exhibitions and free music performances. Before you venture back to the comfort of your caravan park, try one of the two fantastic restaurants with supreme river views.
Gunshop Café –
Tear yourself away from the comfort of your motorhome kitchen and dine out at the Gunshop Café, one of Brisbane's high-calibre café destinations offering magnificent food and service. The Café offers breakfast, brunch, dinner, wine and dessert.
Pack as many of these fantastic attractions into your motorhome rental itinerary as possible before returning to the airport. Whatever you choose to do and see, Queensland's vibrant and exciting capital should not be missed off your Cruisin' Australian motorhome adventure plans.