The biggest events happening in Sydney in 2022
There is so much to look forward to once you've booked your motorhome holiday, and planning your activities is the next fun step!  To save scrolling the net to discover what events might be happening around Australia, we've made it easy for you with a list of the 10 exciting events happening in and around Sydney this year!
Vivid 2022
Vivid in Sydney is one of the country's best and most recognisable events. Vivid quite literally lights up the city of Sydney with light artists, musicians and other creative outlets. This year, it will be held over three massive weeks from May to June. Travelling to Sydney during these dates is an absolute must if you enjoy live music, art culture, and nightlife. Be sure to book a central holiday park in advance.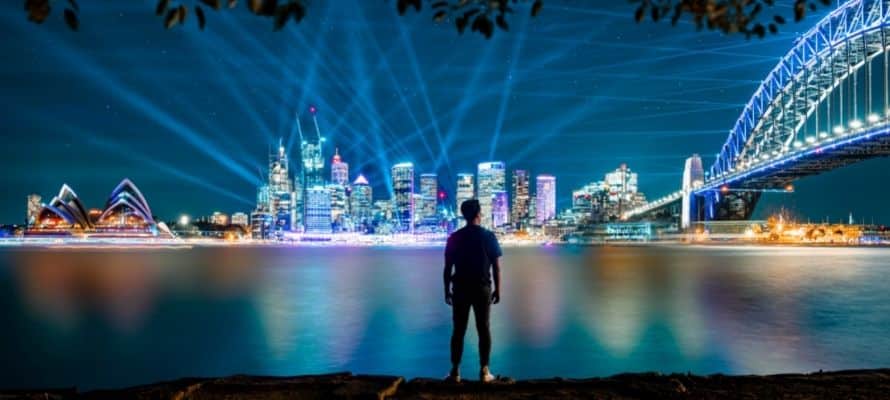 📷 Destination NSW
9-5 The Musical
9 to 5 the Musical is currently playing at the Capitol Theatre in Sydney and it is ought to be one of Australia's biggest theatre shows of 2022! With an all-star cast including Australian legends Casey Donovan, Mariana Prior & Eddie Perfect, 9 to 5 is the epic musical theatre version of Dolly Parton's 1980 film. You can catch the live show in Sydney until March 8th 2022, before it makes its way to Brisbane in May!
Sydney Seniors Festival
The Sydney Seniors Festival is an epic gathering that celebrates older adults with events and activities spread across a fun-filled week in March & April. There is comedy festivals, table tennis competitions, yoga & stitching circles – to name a few! 
Splendor In The Grass 
Music Festivals are seemingly back in full swing for most of the country, and Splendor in The Grass is one of the biggest in Australia. When hiring a campervan, festival-goers tend to make an epic 7 day holiday based around the 3-day festival. There are many partnering caravan and holiday parks in the surrounding area, so campers and motorhome renters should take advantage of the free shuttle busses to and from! This year Splendor in The Grass 2022 will showcase acts such as Kasey Musgraves, The Strokes, Glass Animals & Tyler The Creator.
State of Origin
The dates for one of Australia's biggest rival sporting events have been announced, and Game 1 will be in Sydney at Origin Stadium on June 9th 2022! So pack your blue or maroon jersey and book a motorhome for an epic, sport-filled Sydney holiday! If you don't happen to nab a ticket, the beauty of motorhome travel is you can watch the game from the comfort of your motorhome too! Celebrate game day with your crew in and outside of a 6 Berth Motorhome, alongside barbeques, beers & fire pits.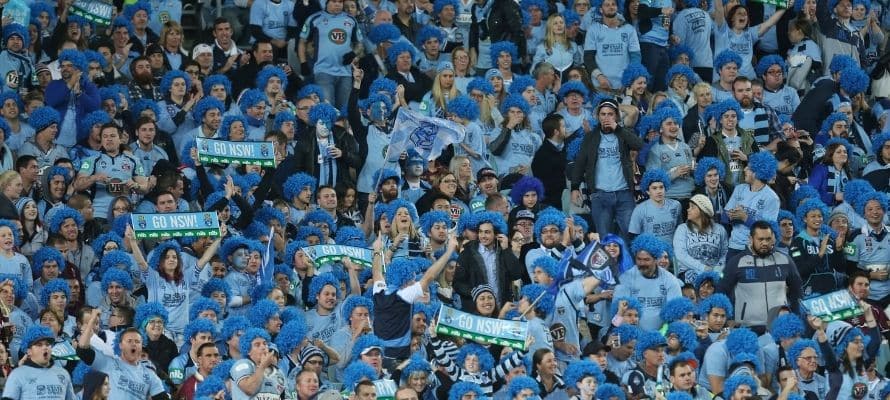 📷 Destination NSW
Jurassic World by Brickman
If you're on a family holiday in Sydney during March-May – you're in luck! And if you're on a romantic holiday, well there's a high chance you'll want to fit this in too! The Australian Museum in Sydney is currently hosting Jurassic World by Brickman, where you will encounter over 50 giant dinosaur-themed Lego builds! There is also a fantastic interactive exhibition where the kids can get their hands on some of the 2.5 million Lego bricks available! It's a memorable day out that is joyful, playful and highly insightful! If you're lucky, you might even spot the famous Lego Master himself!
Sydney to Hobart
The Rolex Sydney to Hobart Yacht Race has become an Australian icon and summer must-do experience for many. For 76 years, the race has gained more and more public interest where people will travel from far and wide to see the race start and/or end! Some favour seeing the race kick off in Sydney on Boxing Day; others hang by the docks of Hobart to see the winner sail in. Many people will make a holiday out of the race and journey from Sydney to Hobart themselves - to watch the event from start to finish!
Mary Poppins
Another must-see in 2022 is Sydney Lyric theatre's Mary Poppins! This epic Disney musical is a multi-award winning stage show that will have your jaw dropped from start to finish! There is familiar music, colourful backdrops & incredible dance numbers. Mary Poppins The Musical is sure to be loved by the entire crew!  It's currently limited in its season, showing during May 2022 only. There are evening and matinee performances, so you can nicely fit this in during your other motorhome holiday adventures!
Sparkling Sydney
Sparkling wine enthusiasts are in for a total treat if motorhome holidaying in Sydney on April 30th 2022! Sparkling Sydney is a major food and wine festival will celebrate Australia's incredible food and wine. A day spent here will see you trying a wide range of gourmet cuisine paired with some of Australia's best sparkling wine. Spend the day on the water's edge of Sydney,  sipping on bubbles with friends and enjoying live & local music! There are over 20 wineries and 60 sparkling wines to enjoy, so be sure to designate a driver. There are great non-alcoholic options to enjoy!
For more information on Sydney events, routes, weather, activities & more head to our Sydney Location Page for an array of exciting information - to help your motorhome holiday be the best one ever!
Related Locations

10 Wurrook Circuit, Caringbah NSW 2229, Australia

Phone Number : 1300 664 485
International : +61 3 6248 4789