A Parent's Guide to Motorhome Travel in Australia
If you've ever wondered if motorhome travel is practical for a family holiday, then the answer is undoubtedly YES! Motorhome travel through Australia is absolutely kid-friendly and will help you make memories that last a lifetime. Having everything you need, 24/7 is one of the best things about motorhome travel, and so important when travelling with young ones!
Our campervans and motorhomes are accommodating, functional & practical for epic family holidays on the road! Cruisin' have baby, toddler & child seats available for hire – a legal requirement in Australia. Click the following link for more information on child seats in motorhomes and campervans.
To help you have the best Australian family holiday possible, we've made a list of motorhome holiday tips for beginners:
Make playground stops along the way – or even better, find a campsite with a playground!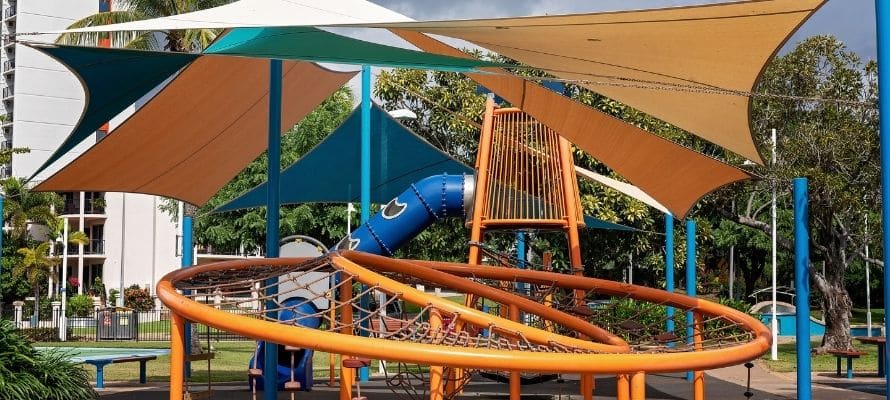 Relaxing is easier when the kids are entertained or, let's face it, worn out from being entertained! The beauty of motorhome holidaying is the incredible, convenient access to so many play areas.
A vast number of playgrounds in Australia include a large barbeque, picnic tables and a recreational, undercover area. Kids can play freely while parents relax beside a platter of cheese, biscuits and sausages in bread, better known as "snags" in Australia. 
If you're not planning on playground stops, opt for holiday parks!
Holiday Park vs National Park – what's the difference?
Choosing a holiday park or caravan park for most of your stay will give you access to a wide range of facilities that will help make your family holiday epic. From giant jumping pillows to swimming pools, holiday parks are a great & secure option for energetic children. Some holiday parks in Australia even offer massage facilities! 
National parks and reserves are usually a little more remote than holiday parks. These reserves aren't always powered – an important factor when holidaying via motorhome. There will most often be access to public toilets, but they're certainly not going to be glamorous or as well-maintained as a holiday parks bathroom! So why do people opt for national parks?
National Park grounds are a no-frills experience. They're lower in cost and give you an exceptional, remote perspective into Australia, and our wildlife. Ultimately, you'll feel closer to nature, giving you more open space and an authentic camping experience.
Thankfully, you should have all the amenities and luxuries you need in your Cruisin' motorhome, including a toilet & shower, so the perks of a holiday park aren't always necessary!
Create a wildlife spotting bucket list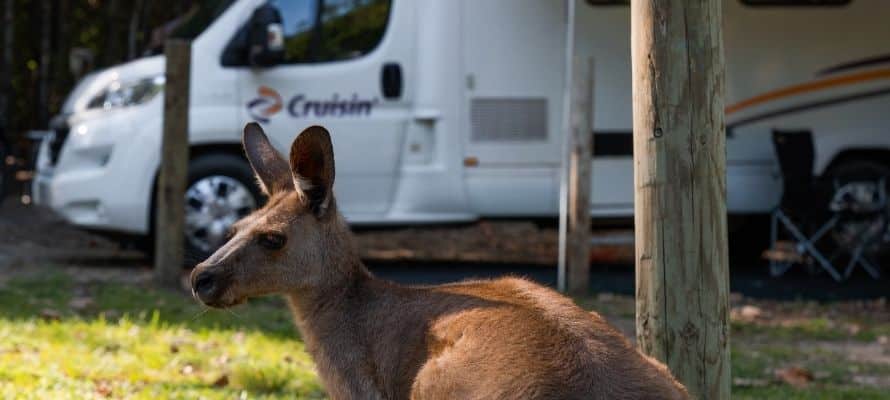 The access to wildlife while on a motorhome or campervan holiday is unlike any other experience you will have! You're bound to have a wide array of animal encounters along the way, sometimes on your very own doorstep! Educate yourself and the kids ahead of time in how best to meet & greet Australian wildlife.   You can see our list of best animal encounters here.
After researching what kind of animals are likely to be seen on your motorhome holiday in Australia, make a fun activity from it! Create a wish list of animals you'd like to see and tick it off once you've seen them! We've made an Australian Wildlife Spotting Bucket list  to print before your holiday begins!
Snacks don't forget the snacks!
Access to snacks is essential while on a family holiday, be sure to dedicate one of your many storage compartments to healthy snacks for you and the kids. Prep what you can ahead of time - containers and lunch bags will make storage and access much easier when on the road. Prepare your motorhome snacks like you would your kid's lunch box – prepare carrot sticks, apple slices, celery + peanut butter, hummus, juice bottles and yoghurt! Don't forget to bring a packet of marshmallows for the fire!
During the warmer months, Ice cream is a MUST when on a family adventure in Australia. The best thing about motorhome holidays is that you can have access to ice cream anywhere thanks to your motorhomes freezer!
Prepping main meals is easy too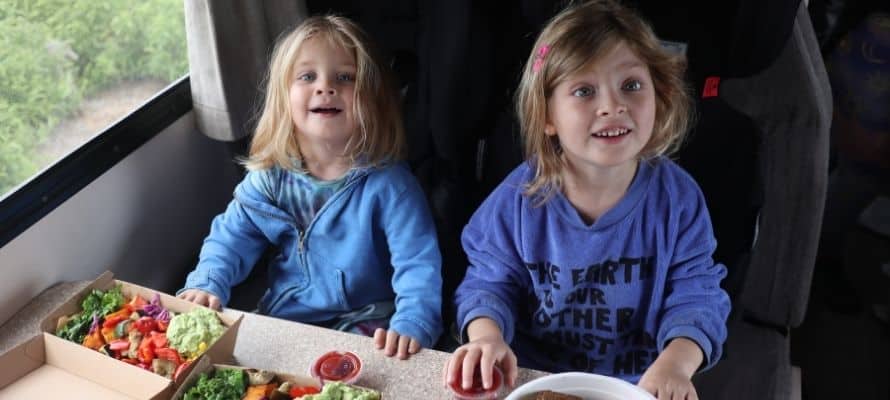 When you plan and prepare ahead of time, you'll be so thankful for your motorhome's freezer space on those busy days or nights when you just can't be bothered! Pre-prepare some sandwiches for freezing and cook some family-favourite dinners ahead of time. Then it's as easy as taking it out of the freezer & warming it up via your motorhome stove or microwave!
Bring plenty of on and off-road entertainment
Relaxing and bonding in your camper is half the fun of a family motorhome holiday! There will undoubtedly be days that call for movie nights and epic board game afternoons! All Cruisin's motorhomes feature a TV and excellent table space. Before taking off, find some new DVDs and board games that the whole family will enjoy! Head to a thrift store keep it budget friendly. Fun Fact: in Australia, we call thrift stores' op shops'.
Get a travel journal for the kids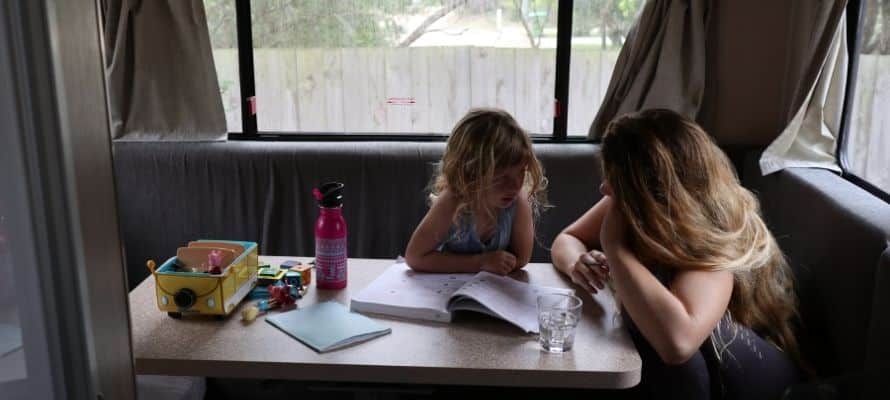 Another game-changer when travelling in a motorhome with kids is gifting them a travel journal, pencil & some washi-tape. The kids can draw while you drive, collect things to stick inside - like flyers, receipts, business cards, leaves etc. and write down every destination they visit. It's not only great for keeping the kids busy during long trips, but it provides them with a special, lifelong keepsake!
Choose the best motorhome for your family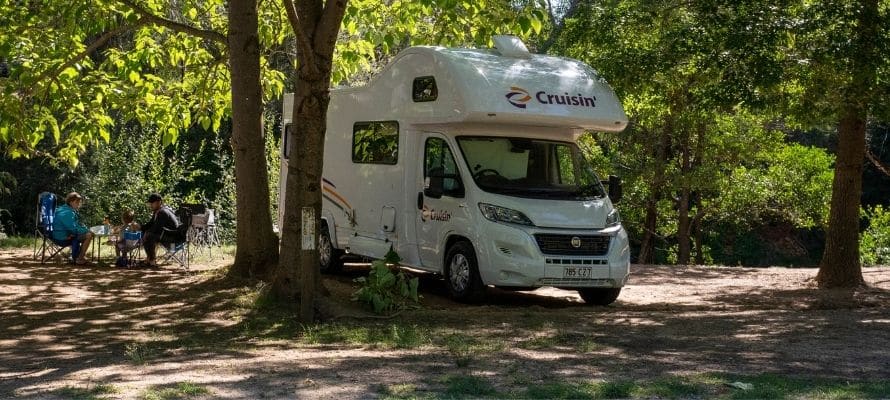 Think about ways in which you like to relax,  how the kids play and what kind of design will suit your family best. Cruisin's 4 Berth Hi Top is a great option for families looking for a cost-effective, cosy campervan holiday. There are 2 beds, a 2-burner gas stove, sink and small fridge in the 4 Berth hi-top.  Be sure to have a camp table and chairs for evenings under the stars. The Hi Top option is truly a #vanlife experience. There is no toilet or shower – so you must opt for destinations and campgrounds with bathroom facilities.
The 4 Berth Seeker is a far more spacious option, with a dining room space, kitchen, toilet & shower! You will find one double bed on the top above the driver's cab and one at the back of the motorhome.  This is an excellent option for a family of 4, if the kids can share a bed. 
For families with more kids, older children or simply seeking a nice amount of space, the 6 Berth Deluxe is the preferred option! 2 out of its 3 double beds can transform into large dining spaces during the days. It too, features a toilet and shower! The 6 Berth Deluxe is certainly the best motorhome option for a family of 4 or more!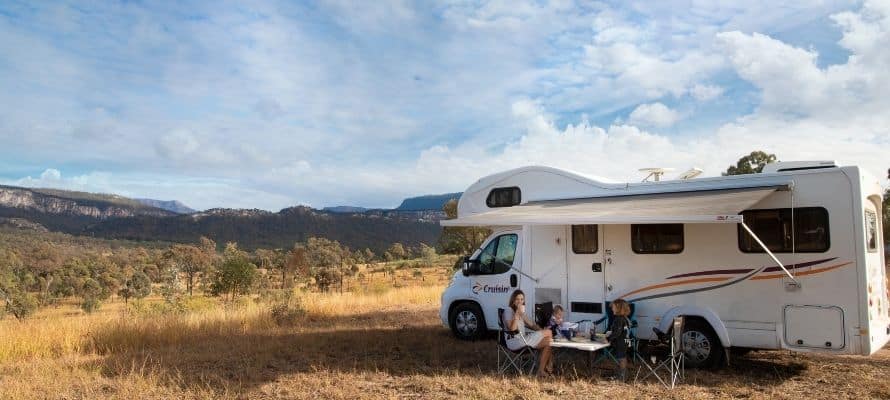 Got more questions about motorhome hire in Australia? Speak to the team in reservations – many who take regular family motorhome holidays themselves! Give us a call on 1300 664 485 or email info@cruisinmotorhomes.com.au