Would you like fresh seafood, baked delights, and all the best wines to accompany it? Then it's time for a motorhome holiday across the Premier State!
Are you keen to experience all sorts of delicious foods during your New South Wales road trip? Well you won't be disappointed! Your food experience will begin as soon as you pick up your motorhome hire in Sydney. With its assortment of mouth-watering snacks, meals, and sweets, the capital city really is a great place to stock up and fill your motorhome's fridge and cupboards.
Once your tastebuds are suitably satisfied, it's time to start exploring the rest of the state. Coast or country? Fresh oysters or regional wines? Artesian bakeries or wineries? In NSW you'll be able to experience it all!
Get ready to expand your itinerary, because you're about to discover a huge variety of native Australian tastes and truly authentic food experiences across the state.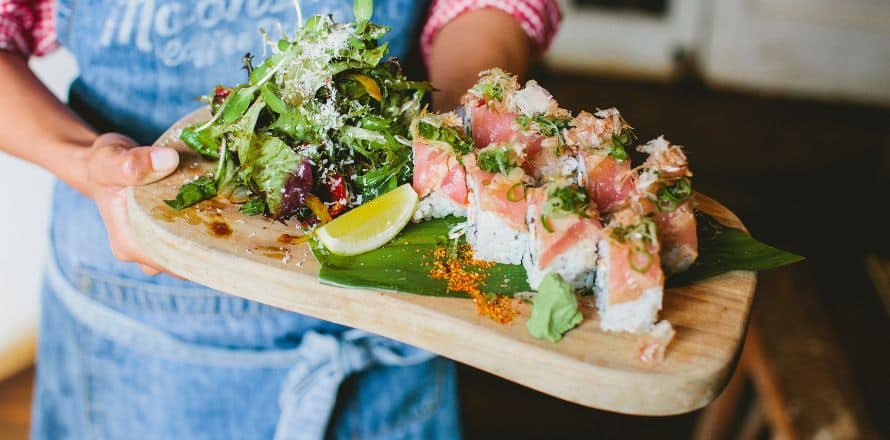 Federal Doma Café, Destination NSW
Byron Bay
Federal Doma Café
Service: Dine-in & takeaway
Address: 3/6 Albert street, Federal NSW 2480
Take a scenic drive through the NSW hinterland to Federal, located just twenty minutes out of Byron Bay. This funky Tokyo-style café offers a mixture of standard eats and simple Japanese tastes, from bacon and egg rolls to shokupan toast!
Harvest Newrybar
Service: Dine in & takeaway
Address: Village 18, 22 Old Pacific Hwy, Newrybar NSW 2479
Also twenty minutes from Byron Bay, Harvest Newry Bar is an authentic Australian food experience that you won't want to miss. This restaurant provides simple and honest meals, and aims to support local farmers, growers, and artisans. As you dine alongside the river you'll learn all about sustainability, locality, and the seasonality of foods.
Note: Reservations are a must-have to dine here!
Natural Ice-Cream
Service: Takeaway
Address: 21 Mullumbimbi Street Brunswick Heads
Are you vegan, health focused, lactose intolerant, or simply a lover of good ice-cream? Then Natural Ice-Cream is definitely one to add to your NSW road trip itinerary. This humble group of sellers make all their ice-cream and yoghurt from locally sourced native ingredients, and they top it off with decadent and exotic fruits.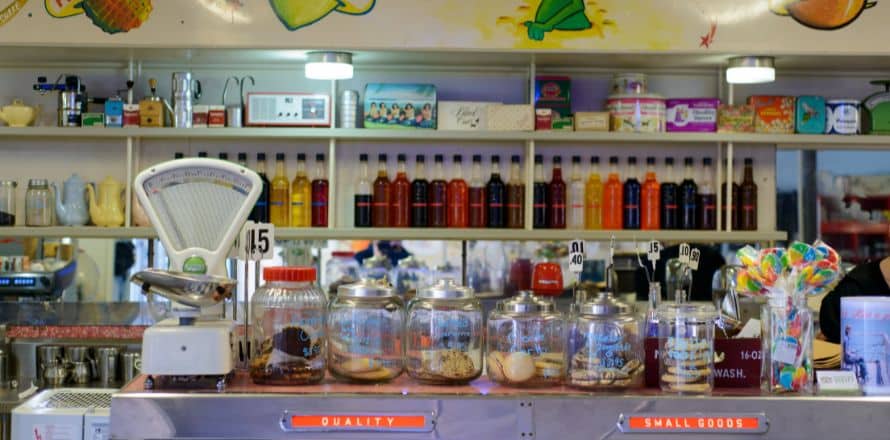 Bell's Milk Bar, Destination NSW
Broken Hill
Bell's Milk Bar
Service: Dine-in & takeaway
Address: 160 Patton St, Broken Hill NSW 2880
Bell's Milk Bar is iconic and a must-see on any Outback NSW itinerary! Be prepared to step back in time as you enter this retro-themed diner. With thick shakes, classic milkshakes, and spiders, there'll definitely be something to satisfy your sweet tooth.
Feeling hungry still? Try the waffles! They're a crowd favourite.
The Silly Goat
Service: Dine-in & takeaway
Address: 425 Argent Street, Broken Hill, NSW 2880
Known for its delicious espresso, The Silly Goat is a destination beloved by locals and visitors alike. From humble eggs on toast to grilled halloumi, this is absolutely the place to go for a classic Australian breakfast.
Quick Tip: This little café gets incredibly busy and the waiting times can be long, so we suggest having flexible plans for your morning to avoid any stress. Take your time to just relax and enjoy the atmosphere.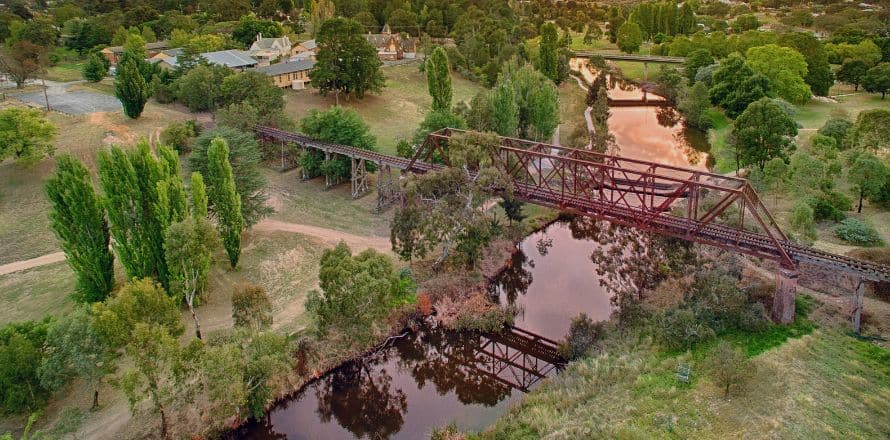 Yass River, Destination NSW
Yass
Clementine Bakery
Service: Dine-in & takeaway
Address: 69 Comur St, Yass NSW 2582
This quaint little artisan bakery is loved for its handmade goods. Only a small supply of items are baked each day, so make sure you get your orders in early to avoid missing out!
With Portuguese tarts, an assortment of sweet Danishes, and fresh sourdough bread, you'll be sure to find something that takes your interest.
Ewe'N Me
Service: Dine-in
Address: Thunderbird Motel, 264 Comur St, Yass NSW 2582
This lovable restaurant is only open for a short period of time between 7-9am and 6-8:30pm, but the meal is worth waiting for. Ewe'N Me offers authentic Australian cuisine and they use fresh local produce, including wines from local wineries.
The dinner menu is absolutely the star of the show here, featuring a range of gorgeous starters, main courses, sides, and desserts that are sure to have your mouth watering.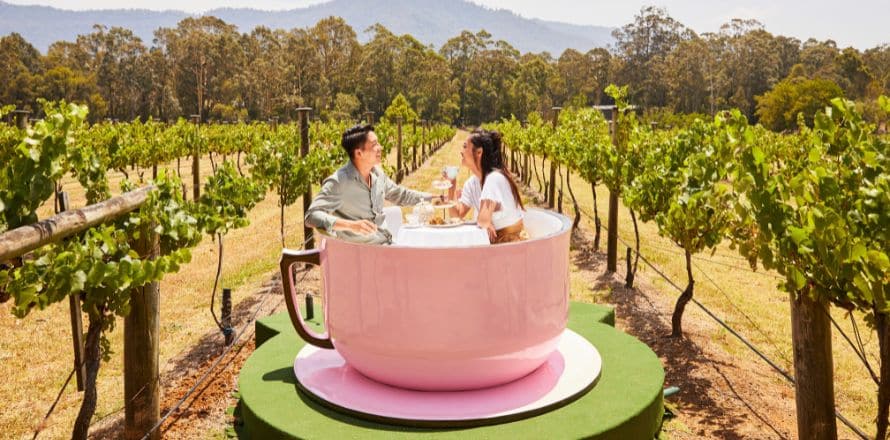 Cambewarra Estate Winery, Destination NSW
Shaolhaven
Cambewarra Estate Winery
Service: Dine-in & Take Away
Address: 520 Illaroo Rd, Bangalee NSW 2541
Take a picturesque drive out of Shaolhaven and get ready to enjoy an afternoon of high tea amongst the vineyards. Cambewarra Estate Winery is waiting for you at the foothills of the gorgeous Cambewarra mountain, which is the perfect backdrop to enjoy alongside a meal of scones, tea, and wine.
Bookings are essential here!
Outdoor Raw
Service: Dine-in (sort of)
Address: Contact Outdoor Raw
With their dedication to adrenaline-inducing climbing experiences, Outdoor Raw might not seem like a dining destination. But their 'cliffnics' are here to make you reconsider!
Get ready to find yourself suspended from a cliff accompanied by a selection of locally produced food and wine. With a cliffnic, you'll be dining alongside the Shaolhaven clifftops, with stunning views of rivers, mountains and beaches. This is sure to be the most memorable dining experience ever!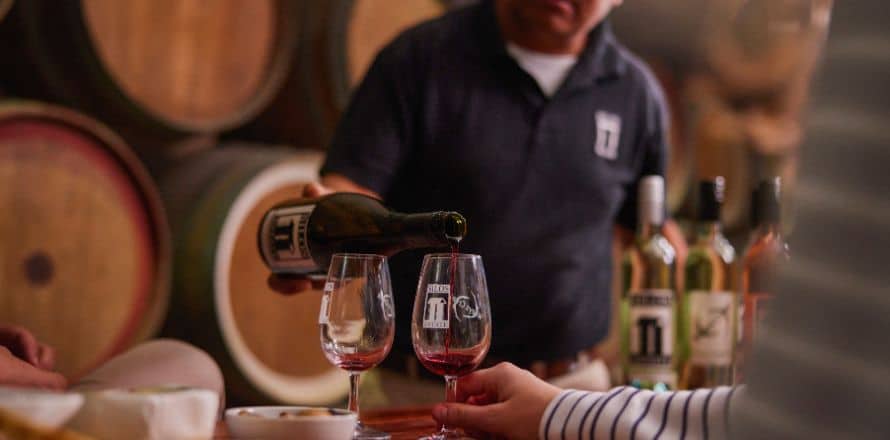 Silos Estate, Destination NSW
Berry
Silos Estate
Service: Dine In & Takeaway Wines
Address: B640 Princes Hwy, Berry NSW 2535
Do you like the idea of kicking your feet up with a bottle of wine at the end of a busy day of road tripping and adventuring around NSW? Then head on over to Silos Estate to pick up some wine! This is a great place to relax in the vineyards, tour the winery, or spend a decadent afternoon sampling their best wines.
SOUTH on Albany
Service: Dine-in
Address: 3/65 Queen St, Berry NSW 2535
Looking for fresh seafood in NSW? Well SOUTH on Albany is the place for you! You'll want to set aside a generous amount of time here to really enjoy your 3-course meal.
There is a set menu that changes fortnightly, but the meals are absolutely delicious. With regional flavour incorporated into every dish, you'll be sure to enjoy exciting foods that really pack a ton of flavour!
Berry Donut Van
Service: Takeaway
Address: 73 Queen St, Berry NSW 2535
Do you still have some space left in your stomach? Wander on over to the Berry Donut Van for the freshest cinnamon donuts ever! This donut van is famous in the area.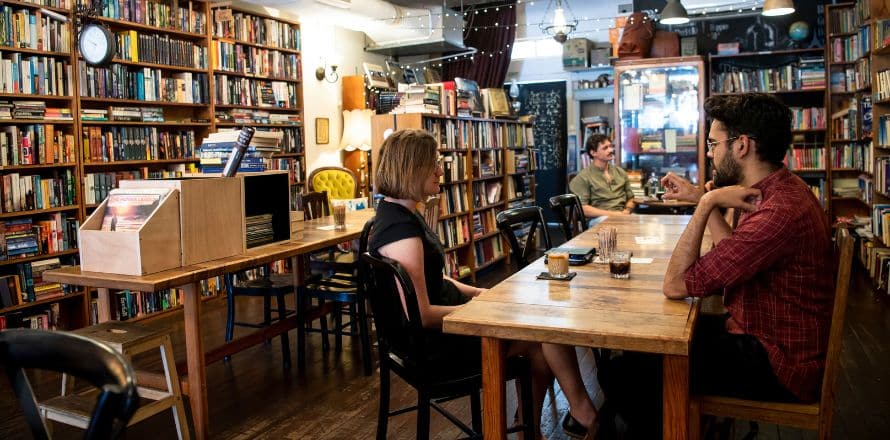 The Press Coffee And Book House, Destination NSW
Newcastle
The Press Coffee And Book House
Service: Dine-in & Takeaway
Address: 462 Hunter St, Newcastle NSW 2300
With its old world charm, this one is a must-see for our book lovers and creative types! Enjoy your cup of coffee in peace with a book, or set some time aside to join one of their writing classes. The menu here is also wonderfully varied, with a range of coffees, teas, cold drinks, pies, and toasties on offer.
Oak Milk Bar Freemans Waterhole
Service: Takeaway
Address: 890 Freemans Dr, Freemans Waterhole NSW 2323
Do you need a break as you head in or out of Newcastle? Then pull up at this roadside kiosk! With milkshakes, classic burger meals, and everything else you'll need to fill you up, Oak Milk Bar is absolutely worth the stop.
Three Monkeys Café
Service: Dine-in & Takeaway
Address: 131 Darby St, Cooks Hill NSW 2300
Known for its delicious smoothies and burgers, Three Monkeys Café is a local favourite for brunch. This vibrant café offers an assortment of energy-packed meals, with smoked salmon bagels, avocado and egg, and their own delicious poke bowls!
No seats? No problem! Just give the waitstaff your name and number and they'll give you a ring as soon as a table is free.
Do you prefer to drink wine when you read? Well, we have good news for you, because there's an after-hour menu which becomes available after 2pm!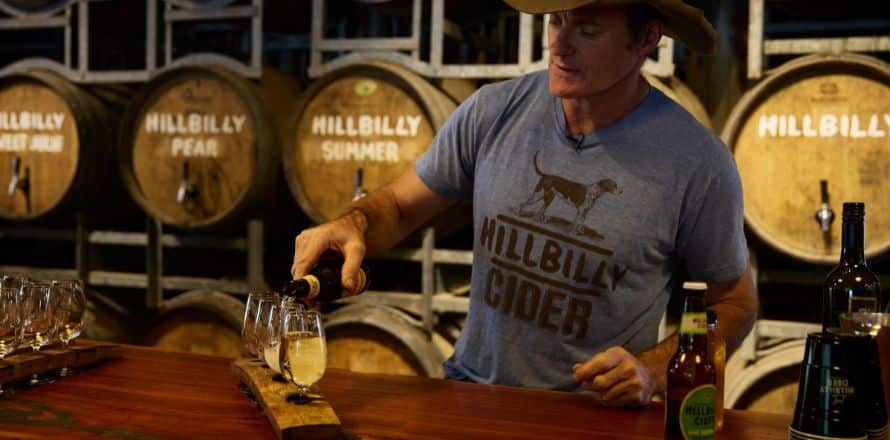 Hillbilly Cider, Destination NSW
Blue Mountains
Hillbilly Cider
Service: Dine-in & Takeaway Cider
Address: 2230 Bells Line of Rd, Bilpin NSW 2758
Hillbilly Cider celebrates NSW's apple country with some of the state's freshest apple cider! You'll be sure to appreciate the ambience of the rustic shed as you sit back with a chill glass of cider and a gorgeous Neapolitan-style wood-fired pizza.
Also, leave some space for dessert, because you'll absolutely want to try their apple cinnamon calzones.
Bilpin's Pine Crest Orchard
Service: Takeaway
Address: 2549 Bells Line of Rd, Bilpin NSW 2758
Looking to pick some local fruit this summer or autumn? Head on over to Bilpin's Pine Crest Orchard and pick your own apples, stone fruits, berries, and more right from the source! The huge assortment of fruit you can pick here is sure to pair well with the wines you've stored in your motorhome from your adventures so far.
Hawkesbury
Hawkesbury Harvest Farm Gate Trail
Service: Various
Address: Various
Want to get a taste of the local markets, orchards, and wineries whilst you're in the Hawkesbury area? Then it's time to follow the Harvest Farm Gate Trail!
Discover native foods, local wines, and freshly picked fruits along the way. This is your chance to taste, buy, and learn about NSW's local produce from the source.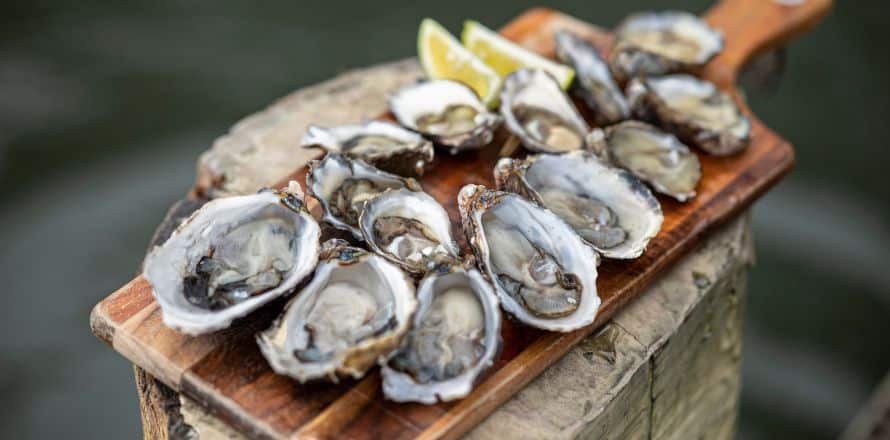 Batemans Bay Oysters, Destination NSW
Batemans Bay
Wray Street Oyster Shed
Service: Dine-in & Takeaway
Address: 5 Wray St, North Batemans Bay NSW 2536
The Oyster Shed is a small family-run business directly on the Clyde River, and they have some of the freshest oysters in NSW! This is your chance to enjoy picturesque views as you feast on freshly shucked oysters and delicious prawns. There's also a little café with pies, sausage rolls, and coffee. Talk about a classic Australian experience!
Want to save your oysters for another day? No problem! Store them in your motorhome's fridge and treat yourself later.
Bungendore
Turalla Truffles
Service: Dine-in
Address: Bungendore Rd, Bungendore NSW 2621
Are you looking for an authentic food experience in NSW? Add truffle hunting to your itinerary! Turalla Truffles is the home of black truffles, and they offer a range of insightful tours and unforgettable cooking experiences for your own enjoyment.
Truffles are harvested every winter, so organise your road trip in NSW carefully so you don't miss out!
Wynlen House
Service: Dine-in
Address: 65 Nerrim St, Bundanoon NSW 2578
Bungendore really is a great destination for authentic Australian experiences, and Wynlen House is a perfect addition to your itinerary! With online and on-farm classes dedicated to teaching you how to grow your own vegetables and poultry, you're sure to pick up some handy hints along the way.
Don't leave empty-handed! Make sure you pick up a supply of their locally produced garlic, which is sure to add delicious flavour to any meal you cook on the road.
Are You Keen To Plan Your Food Lover Road Trip In NSW?
Remember, seating is never guaranteed, so it's a good idea to make a reservation where possible to make sure you never miss out.
As you can tell, there are so many wonderful and unique destinations in NSW to get food. Whether you're a lover of seafood, a baked goods enthusiast, or you're just here for the wine, there are just so many choices to look forward to. For a foodie on a motorhome holiday in NSW, the fridge and pantry space onboard will be much appreciated!
We hope your tastebuds are ready, because it's time to book your holiday in New South Wales! Take a look at our range of vehicles and plan your motorhome hire in NSW. Then call our friendly reservations team on 1300 664 485 or check out our website to see what we have available at our branch.
Related Locations

10 Wurrook Circuit, Caringbah NSW 2229, Australia

Phone Number : 1300 664 485
International : +61 3 6248 4789