Motorhome in Review, Cruisin' Sandpiper
Cruisin's 2 Berth Sandpiper is the perfect choice for couples looking for a romantic and adventurous getaway.  It has all the amenities a pair could need, drives smoothly, is ultra-comfortable and perfect for those cosy nights in after a day exploring.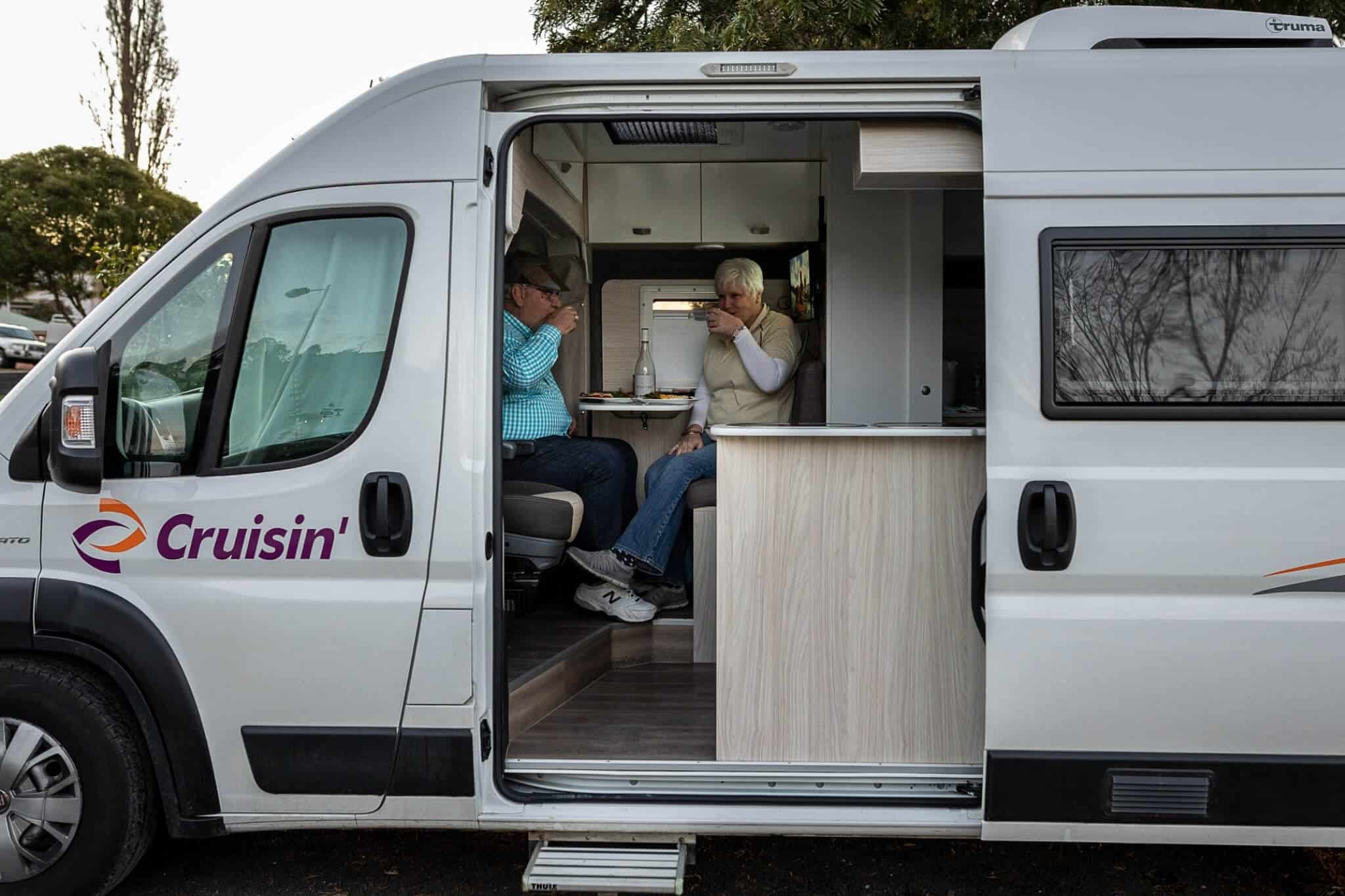 Couples will be excited the minute you enter thanks to its spacious, luxurious, and inviting interior! The array of overhead storage space is very accessible as are the large drawers and cabinets. The power sockets, switches and tv functions are very easy to get your head around. You feel at home instantly!
With lots of storage options, including in the rear and all around the interior – you shouldn't run out of space and importantly, the van won't feel cluttered.
The Sandpiper is smooth and easy to manoeuvre, giving you a no-fuss driving experience from start to finish. The interiors feel luxurious thanks to its sleek look, swivel seats, arm-rests, multiple cup holders, in-built audio system and GPS.
Offering plenty of leg room and storage space for your go-to items, the Sandpiper is a joy to be in for both drivers and passengers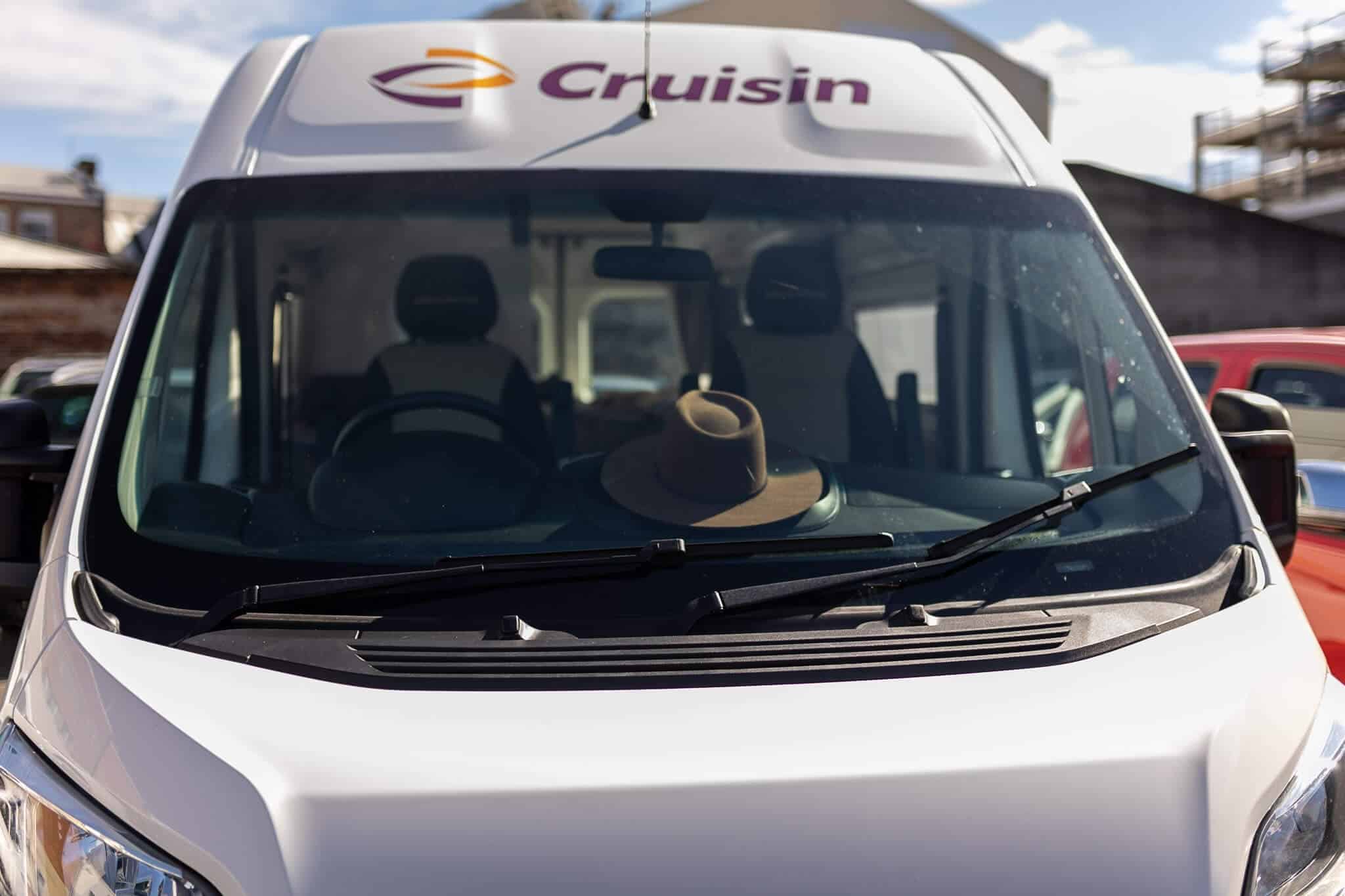 Before taking off, position your seating to a comfortable setting and pick your perfect playlist via a CD or connect your smart device. You'll happily drive for hours on end singing along to music and sightseeing from the Sandpiper's large windows!
Boasting approximately 11 litres per 100km and a 120-litre capacity the Fiat Ducato is extremely fuel-efficient! It's nice knowing you can cruise the roads and won't be spending all your holiday budget on fuel.
The 2 Berth Sandpiper is perfect for any travel location: it's a particularly ideal choice when exploring the bigger cities. Driving is a breeze and parking is easy.  You will find that most open-air car parks will accommodate the Sandpiper nicely. You can relax when venturing into the city.  Appropriate parking spots should be easy to come by and reverse parking in the Sandpiper is effortless!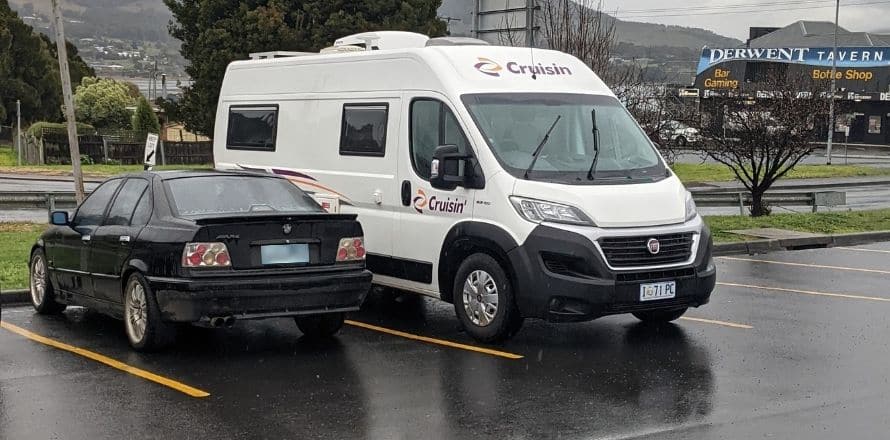 Once you arrive at a powered campsite, it's a short and simple set up to connect to mains power and fresh water. All the required cables and hoses (including connectors) are provided in the rear of the vehicle! It's simply plug and play. This gives you easy, continuous access to fresh water and power throughout your stay!
Explore, stop off at a local market, then cook up a storm or make a gorgeous platter from the produce and local snacks you've purchased on the way. Don't forget the wine! The Sandpiper provides a comfortable space for romantic dinners.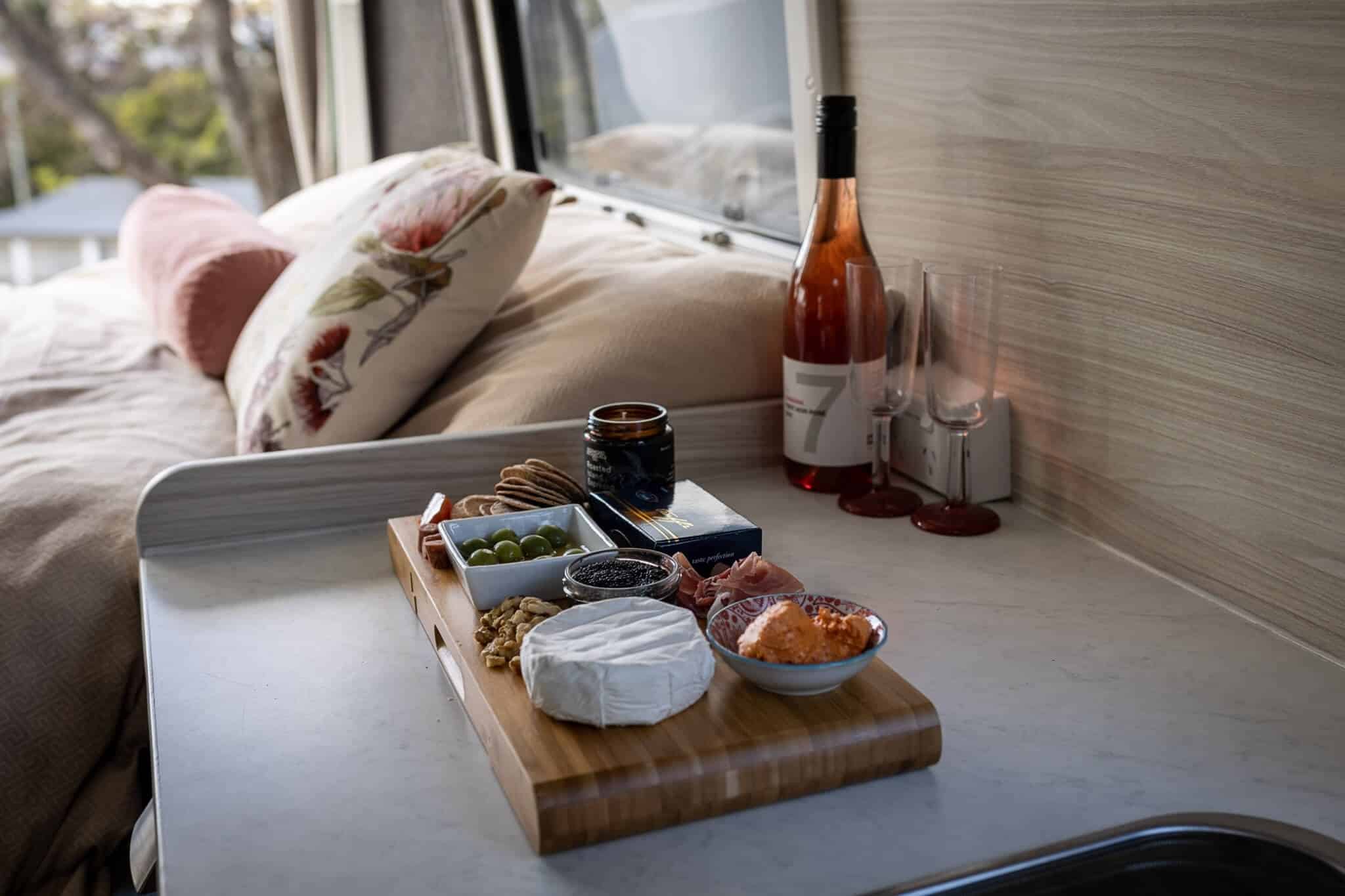 The kitchen offers ample prepping space and is equipped with everything you need, including cutlery, a colander, a steamer, pots & pans, and a chopping board.  Thanks to the 3-burner gas stove, toaster, kettle, great sized fridge/freezer, and microwave, the cooking options are endless.  From steaming dumplings or fresh veggies to cooking the perfect steak - you'll look forward to using the kitchen every day!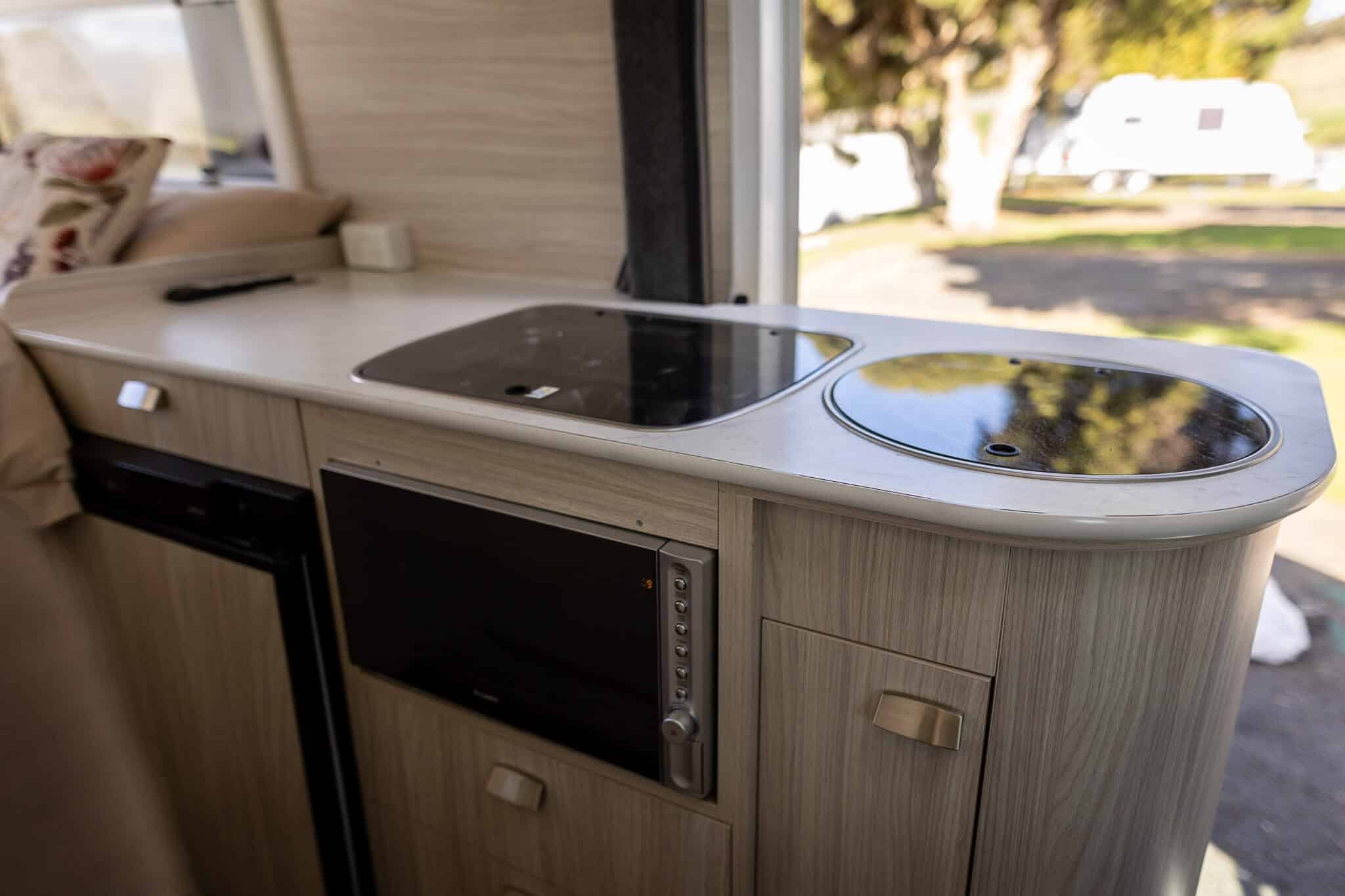 The driver and passenger seats easily swivel round to help transform the space into a leisurely dining area.  Flip the dining table out and you've got a lovely set up for two. While one person is cooking, why not go on a stroll around your campsite, pick a flower or two, place it in a used bottle and you've got an ultra-romantic setting!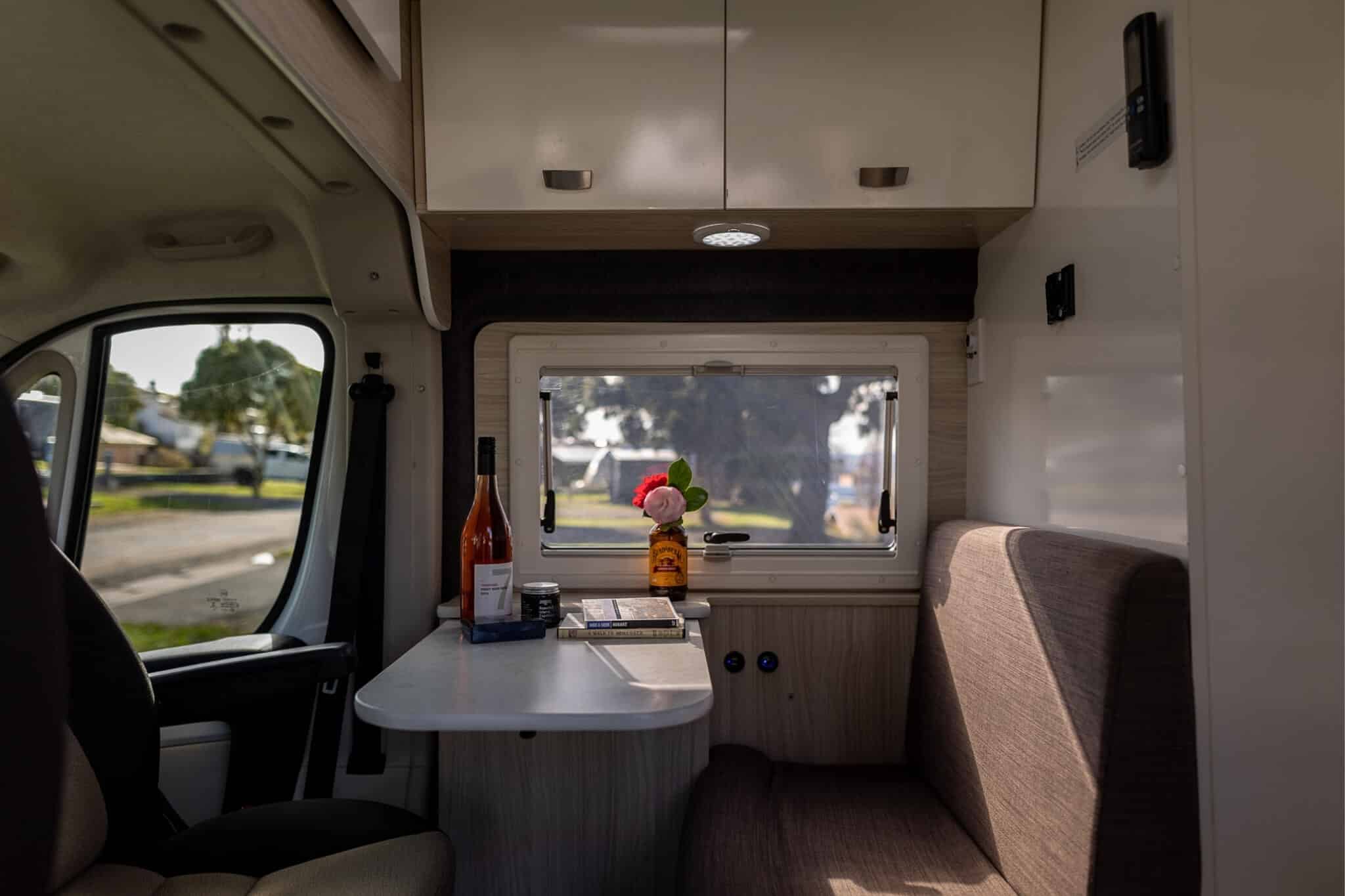 Doing the dishes isn't a chore in the 2 Berth Sandpiper, with hot water, a large sink, swivel tap and a view that is up to you! You can soak up the sunshine, watch the sunset or the nightly news while you clean up.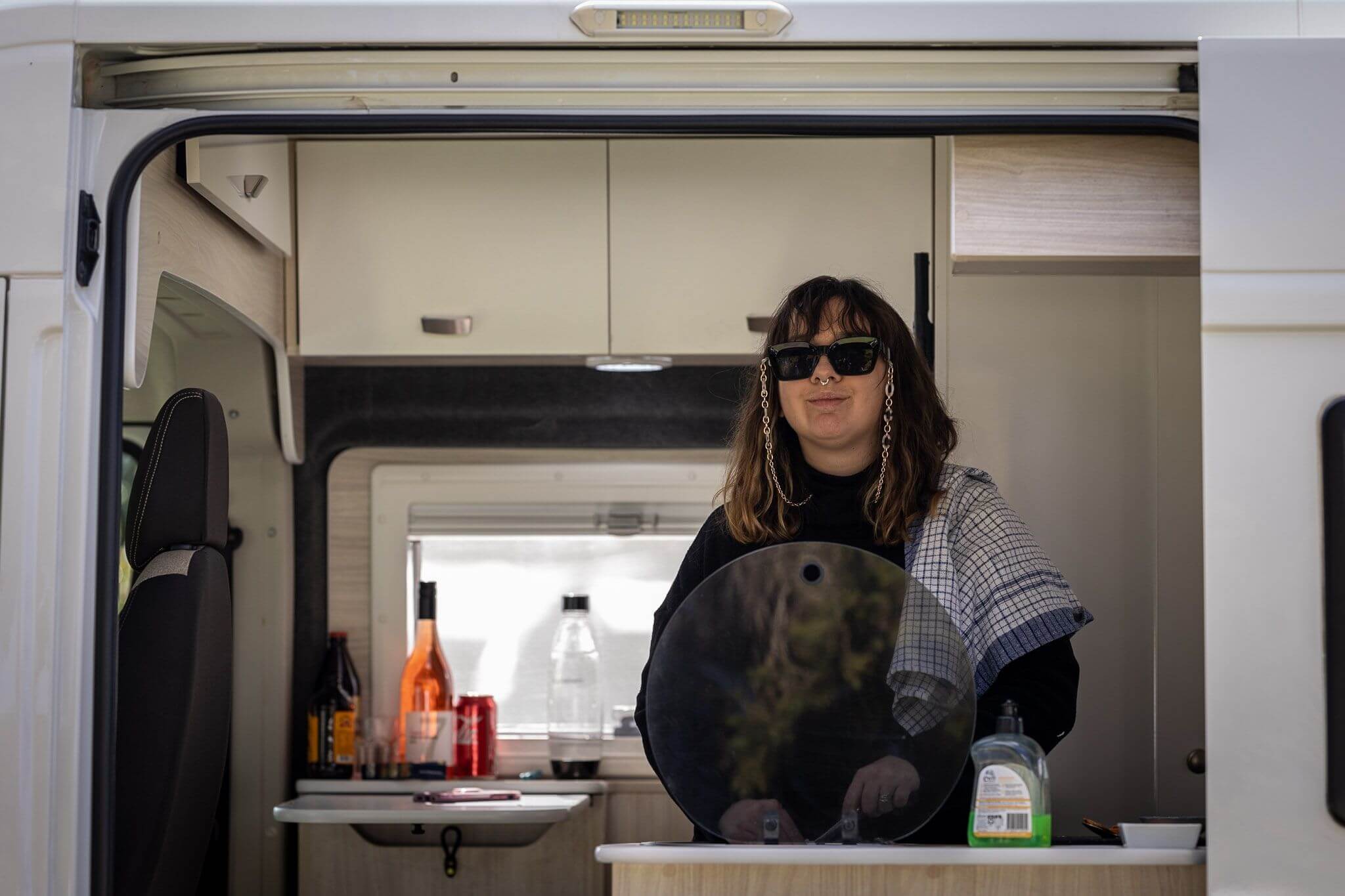 After some epic adventures outside your motorhome, you might want to lounge the evening away. The Sandpiper offers comfortable seating for two, perfect for an enjoyable night in! Once you've enjoyed your dinner, choose a card game or pick a movie, cook some popcorn in the sleek microwave and relax in absolute comfort.
Alternatively, the TV has a HDMI input, so why not bring along your own streaming device, hotspot your mobile internet and watch Netflix, Stan, Amazon or any other service of your choice!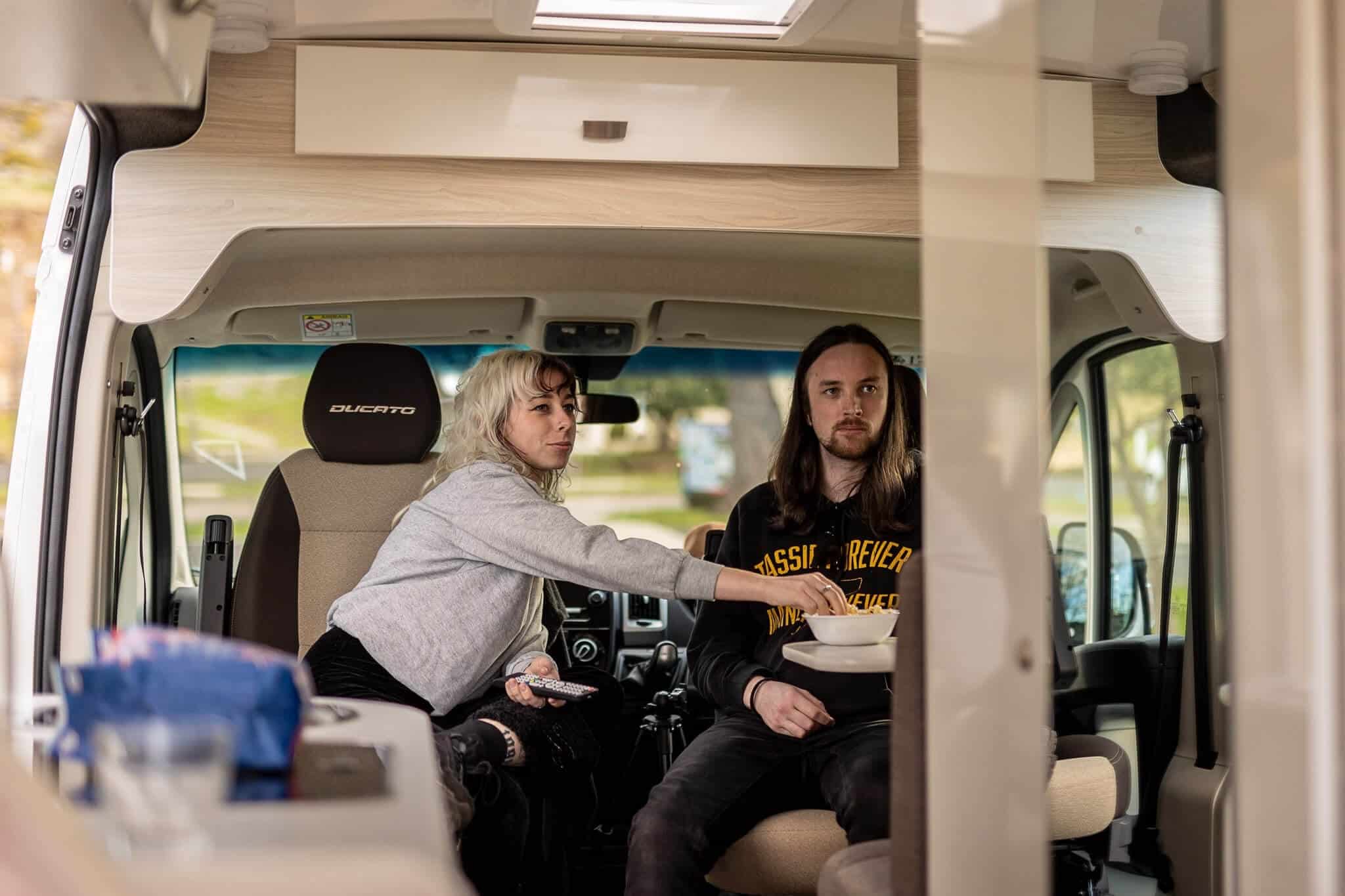 The 2 Berth Sandpiper really does offer all the comforts from home!
The shower and toilet make life on and off-road as easy and fuss-free as it gets. With a lush hot water supply and a clean toilet, you can comfortably use the vehicle's bathroom and avoid those questionable recreational/public toilets.
The Sandpiper is fit with a warm and comfortable double bed. Fresh linen is of course provided, including quilt, pillows and lovely cotton sheets.
There are warm reading lights overhead on both sides and another aerial port if you wish to move your tv from the living area to the bedroom space.
There is nothing more relaxing than waking up in the Sandpiper. When the curtains are open and the sun is shining in around you, it can be hard to want to leave!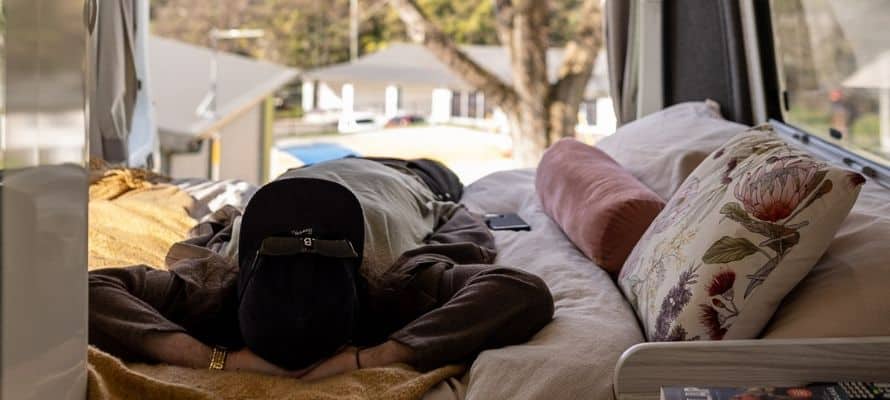 You'll start the day right thanks to the kettle & toaster provided with every Cruisin' vehicle –coffee and toast of choice are just what you need before you hit the road again!
The 2 Berth Seeker is a beautiful, efficient, and luxurious vehicle that is the ultimate vehicle for a couple's getaway. Once you've lived and travelled in the Sandpiper once, you'll never want to stay in a hotel again!  Why would you? This motorhome provides you with everything you could need, and you can take it anywhere you wish to go! There is no packing and unpacking your luggage, pricey nightly dinners or additional car hire cost.
Hitting the road and exploring new places is so exciting in the 2 Berth Sandpiper. By night you're warm and cosy - without the feeling of being confined. You'll never want your holiday to end!