Food Lovers' Guide To Queensland
Renowned for its Moreton Bay prawns and freshly caught barramundi, seafood is absolutely going to be the highlight on a lot of Queensland menus!
Start your foodie road trip in Brisbane, the food capital of Queensland! Explore cafes, restaurants, and laneways, where you're sure to discover a thriving food and drink scene that is constantly changing and adapting.
There's so much more waiting for you outside of the capital! So prepare to adventure along sparkling coastlines and make your way across the state in search of the greatest foodie experiences in Queensland!
Buckle up because we're talking about some of the best dining experiences, food markets, and beloved local restaurants across the sunshine state!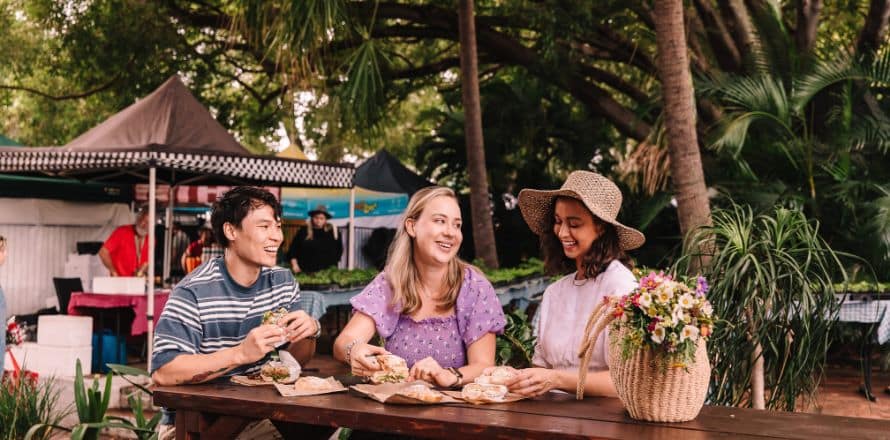 Tourism and Events Queensland
Brisbane
Paddington
Service: Dine-in, takeaway, or delivery
Address: Various
Paddington is the place to be for foodies in Brisbane! With a range of eateries, you're sure to discover everything from pub food, to cafes, to international restaurants! 
Nothing catching your eye? Then head over to West End and discover an even wider variety of modern and bohemian brunch spots!
Joy Restaurant
Service: Dine-in, takeaway, or delivery
Address: Shop 7/690 Ann St, Fortitude Valley QLD 4006
Foodies who love Japanese and Australian cuisine, look this way! Joy Restaurant is a little laneway destination which lives up to its name, with a passionate, creative, and ever-changing seasonal menu. You won't know what you're eating until you show up on the night!
Only 10 guests are allowed to dine at a time, so book in advance!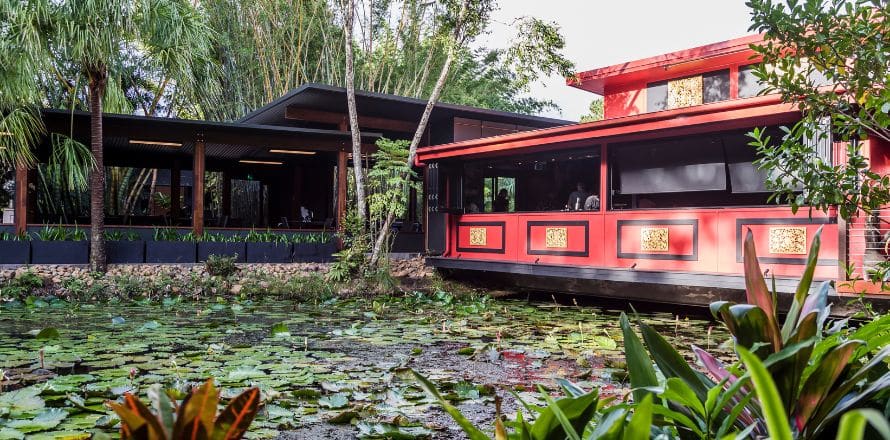 Tourism and Events Queensland
Sunshine Coast
Spirit House
Service: Dine-in
Address: 193 Brisbane Terrace, Goodna QLD 4300
A fine dining destination for healing and growing, the Spirit House offers a truly unique sensory experience with lush tropical gardens and tranquil ponds.
Sign the whole family up for their cooking school (classes fill up fast so keep a close eye on their website!) or relax as you dine on their Asian-inspired menu.
Sum Yung Guys
Service: Dine-in
Address: Unit 1/205 Weyba Rd, Noosaville QLD 4566
Another Asian fusion restaurant with a funky venue and a great vibe, Sum Yung Guys is located in Noosaville. Their unique menu is designed to be shared, so select a couple of options from each section of their menu and enjoy it with good company!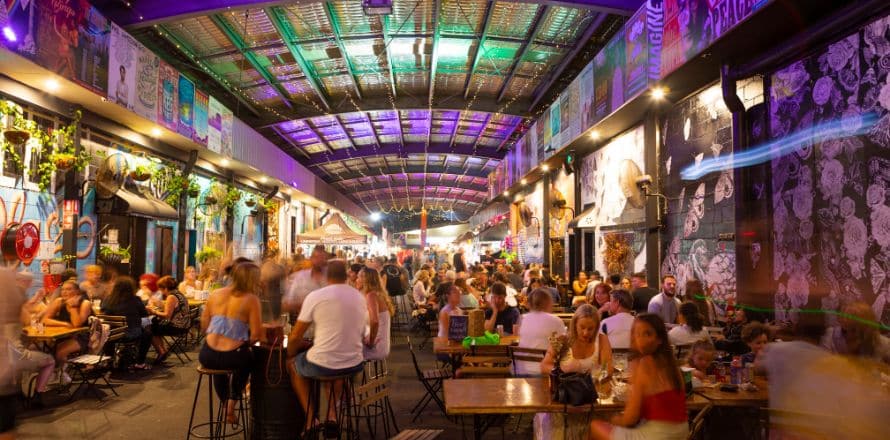 Tourism and Events Queensland
The Gold Coast
Miami Marketta
Service: Dine-in and take away
Address: 23 Hillcrest Parade, Miami QLD 4220
This bustling night market offers live music, international street vendors, and a variety of drinks for everyone to enjoy! Find yourself surrounded by food enthusiasts and discover tastes from across the globe as you feast your way through the laneway!
Rick Shores
Service: Dine-in
Address: 3/43 Goodwin Terrace, Burleigh Heads QLD 4220
Looking for some Gold Coast fine dining? Look no further! Here's your chance to feast on luxurious locally sourced food at yet another Asian fusion style restaurant (can you see a pattern?). Your luxury 6 course meal will feature delicacies such as hiramasa yellowtail kingfish, crispy shrimp wonton, and chocolate cardamom cake.
Milkman's Daughter
Service: Dine-in and takeaway
Address: 2/43 Alfred St, Mermaid Beach QLD 4218
With their motto 'eat consciously, live consciously,' the Milkman's Daughter is a great place for mindful foodies in Queensland!  You're sure to enjoy the variety of seasonal produce from their vegetarian menu.
Still not full? Wander over to Bam Bam Bakehouse for their signature fluffy pastries. You might just get your hands on their coveted croissant which takes three days to make!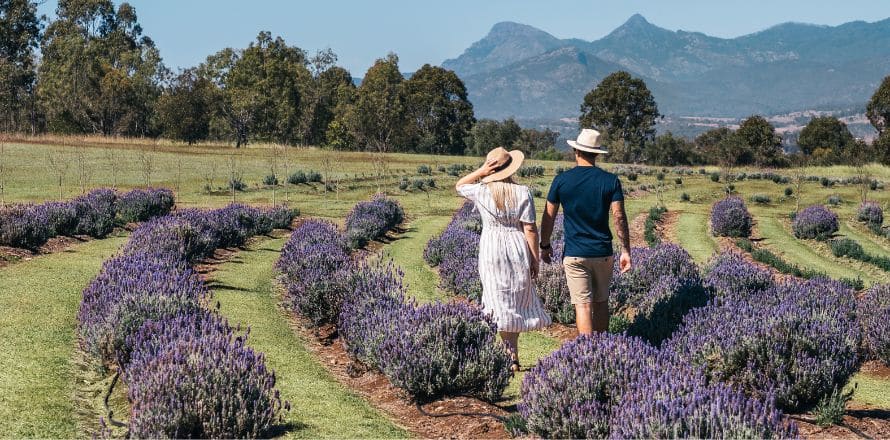 Tourism and Events Queensland
Scenic Rim
Karoomba Vineyard & Lavender Farm
Service: Dine-in or takeaway
Address: 168 F M Bells Rd, Mount Alford QLD 4310
As you can imagine, lavender takes a lead role on the menu at Kooroomba Vineyard & Lavender Farm! Try something different, taste lavender ice-cream or explore the six acres of vineyards. You won't want to forget your camera, with gorgeous lavender fields and Scenic Rim views on all sides.
Summer Land Camels
Service: Dine-in or takeaway
Address: 8 Charles Chauvel Dr, Harrisville QLD 4307
Discover Australia's largest camel farm at Summer Land Camels! This is one of the best things to do in the Scenic Rim for adventurous food lovers. Take advantage of the farm tours and camel rides before exploring the ginormous range of goods on offer. With camel milk skincare, vodka, and a ton of dishes, there's something for everyone!
Dine on camel milk cheeses and gelato at the Homestead Café as you indulge in the beautiful views. Visit them at their farm or look for them at the local food festivals.
Scenic Rim Eat Local Month
Service: Dine-in and takeaway
Address: Various
This is the ultimate backstage pass to the farms, wineries, and best foods in the region! With offers exclusively available in June, meet the faces behind the flavours and eat your way around the Scenic Rim.
With workshops and master classes, farm tours, and exclusive dining experiences, this is perfect for foodies who love hands-on experiences!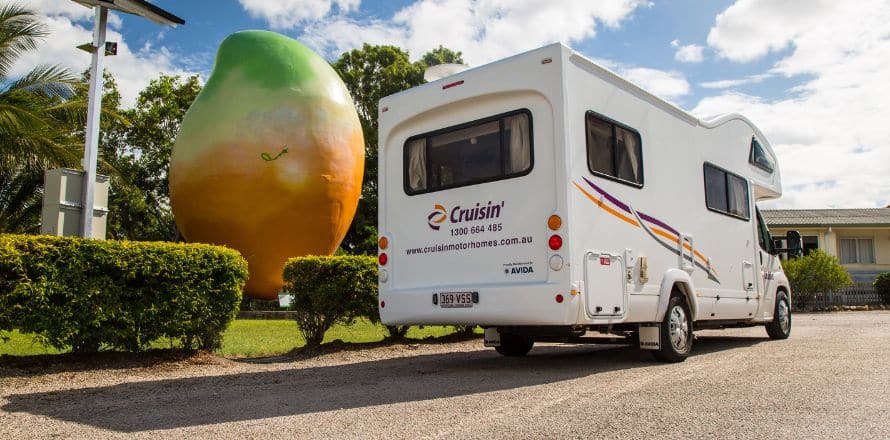 The Whitsundays
Big Mango
Service: Takeaway
Address: 168 F M Bells Rd, Mount Alford QLD 4310
As you make your way down the Bruce Highway, you'll spot the 10-metre high Big Mango! Stop off at the Bowen Visitor Information Centre and get your hands on some delicious local mango sorbet to really set the tropical mood.
Fish D'Vine & The Rum Bar
Service: Dine-in and takeaway
Address: 16 Airlie Esplanade, Airlie Beach QLD 4802
We hope you're in the mood for seafood! At Fish D'Vine & The Rum Bar you'll discover fresh seafood served in a staggering multitude of ways as well as 450 types of rum!
Discover a menu which includes a range of reef fish, chowder, local mud crabs, squid ink, and oysters as well as an extensive drink menu which is sure to have the perfect taste to accompany your meal.
Fat Frog Beach Café
Service: Dine-in and takeaway
Address: 44 Coral Esplanade, Cannonvale QLD 4802
This beachside café is a local favourite with a menu of homemade and guilt-free meals which are sure to be enjoyed by the entire family! With seafood and just about every vegetable you can think of, this is an absolute must-visit for your foodie road trip.
Tourism and Events Queensland
Cairns
Salt House
Service: Dine-in or takeaway
Address: Marina Point, 6/2 Pier Point Rd, Cairns City QLD 4870
With a gorgeous location on the Marina, the Salt House is the perfect place to be for local seafood and meat cooked on an Argentinian grill. Come for a meal or share a drink or two in the lounge area. 
You'll want to book ahead of time. Also, if you're going fishing, ask ahead and they might just cook your catch for you!
River Rafting BBQ
Service: Tour provided lunch
Address: Various
Cairns has a variety of river rafting companies across the area, some of which offer a complementary lunch. So conquer the rapids down the Tully or the Barron and enjoy a delicious riverside BBQ lunch to get your energy back!
Ochre Restaurant
Service: Dine-in, takeaway, or delivery
Address: Harbour Lights Boardwalk, 1 Marlin Parade, Cairns City QLD 4870
Another restaurant near the waterfront, the Ochre Restaurant offers gorgeous views of the inlet and the Great Barrier Reef. Enjoy a truly authentic meal with native foraged ingredients which have been transformed into exciting modern dishes such as truffle cream, native peppers, and wattle seed. You'll find prawns, emu, crocodile, and kangaroo on this menu.
Tanks Markets
Service: Takeaway and other
Address: Tanks Arts Centre, 46 Collins Ave, Edge Hill
With a variety of local arts and craft, freshly grown produce, vintage clothing, collectables, food and drink, the Tanks Markets are a must-see during your adventures! Stroll your through the Botanic Gardens and enjoy a range of live entertainment as you surround yourself with the local culture of Cairns.
The Tanks Markets typically take place once a month between April and November. Check their Facebook page to confirm that the markets are on. Alternatively, embark on a short road trip to Gordonvale for the Gordonvale Cottage Markets and visit Djarragun (better known as Walsh's Pyramid) whilst you're in the area!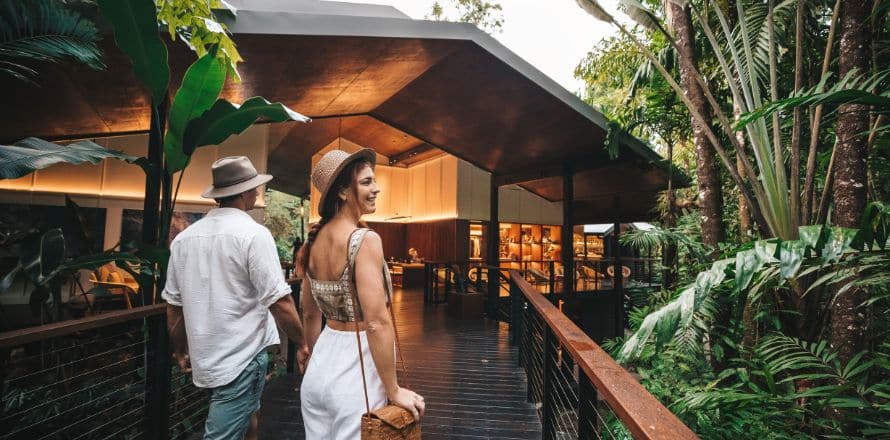 Tourism and Events Queensland
The Daintree Rainforest
Silky Oaks Lodge
Service: Dine-in
Address: 423 Finlayvale Rd, Mossman QLD 4873
Enjoy your lunch at the Silky Oaks Lodge, with delicious meals sourced fresh from their on-site garden. This menu offers a range of Asian and Australian inspired meals, from crispy tofu vegetable bowls to kangaroo sausages! They also have a tropical sorbet, with the flavour changing daily depending on the availability of local fruits.
This gorgeous resort is only available to visitors for lunch between 12-2:30pm, with breakfast and dinner reserved exclusively for in-house guests. Bookings are essential!
Mossman Markets
Service: Takeaway and other
Address: 5 Foxton Ave, Mossman QLD 4873
A genuine country market held alongside the Mossman's giant trees every Saturday. With local producers here you'll find a range of homegrown herbs, spices, fruits and vegetables as well as a range of hand-crafted goods. With plenty of food and drink, there's something for every foodie to enjoy.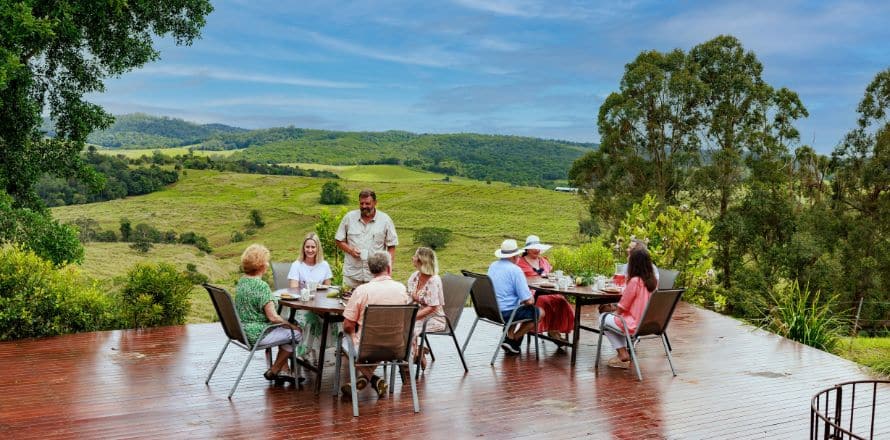 Tourism and Events Queensland
Port Douglas
Osprey's Restaurant
Service: Dine-in
Address: 5078 Captain Cook Hwy, Oak Beach QLD 4877
Just fifteen minutes away from Port Douglas is Osprey's Restaurant, a quaint restaurant with a seasonal menu filled with Australian cuisine. Enjoy front-row seats to the Great Barrier Reef as you dine on Daintree farmed barramundi and tropical mango curry.
Dine in the canopy above the rainforest or take your meal with you as you dine on the gorgeous Thala Beach. Bookings are essential here.
Brett's Outback Tasting Adventures
Service: Dine-in
Address: 5078 Captain Cook Hwy, Oak Beach QLD 4877
This is the ultimate foodie road trip in Queensland! Brett's Outback Tasting Adventures will take you from Port Douglas all the way to the Atherton Tablelands. Enjoy a trip with complimentary breakfast, lunch, and dinner as well as a huge variety of snacks along the way with fruits, nuts, cheese, chocolate, and ice-cream!
Travel with Brett or take a look at his detailed itinerary and design your own motorhome trip.
Port Douglas Market
Service: Takeaway and other
Address: 5078 Captain Cook Hwy, Oak Beach QLD 4877
Take a Sunday trip down to the waterfront and make the most of the Port Douglas markets. You'll find vendors from all across North Queensland, with a range of fruits, vegetables, arts and crafts, glassware, books, food, drink, and so much more.
Tin Shed
Service: Dine-in
Address: 7 Ashford Ave, Port Douglas QLD 4877
The Tin Shed is a social club offering a range of beer and bar bites on the scenic waterfront – often accompanied by live entertainment. Drop by the Bacardi Bar or ask for a menu and dine in!
This family restaurant prides itself on its no-thrills menu, with a range of local seafood as well as in-season produce sourced from around the area. Dine on oysters, prawn buckets, and ceviche as you mingle with the locals!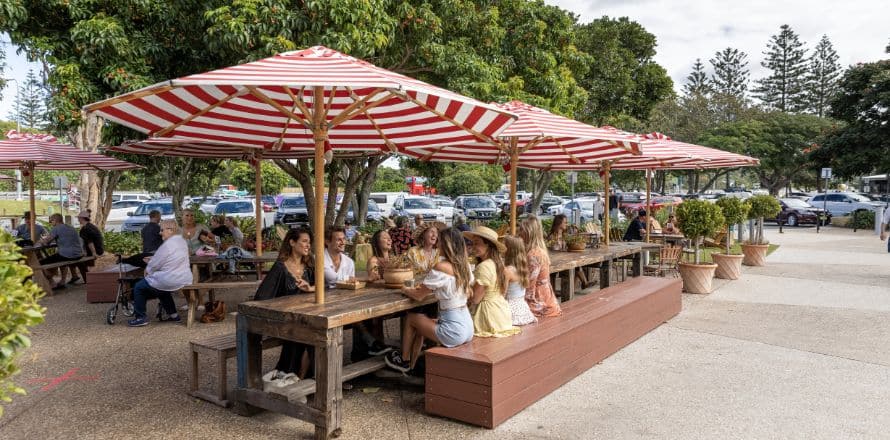 Tourism and Events Queensland
Palm Beach
Custard Canteen
Service: Dine-in or takeaway
Address: 1525 Gold Coast Hwy, Palm Beach QLD 4221
Unmissable and beloved locally, the Custard Canteen is the place to be for all things pastry. Get a hold of their widely popular Portuguese custard tarts and explore the nearby Tallebudgera Creek.
Ready To Plan The Perfect Road Trip For a Food Lover In Queensland?
Remember to always make a reservation, especially with restaurants. Many of the places we've told you about are popular foodie destinations and have limited seating, so we don't want you to miss out!
There are so many more food experiences in Queensland waiting for you, so go out and explore! With a motorhome hire you'll be free to go wherever you want, and with an onboard fridge and plenty of pantry space you'll be able to bring along all those delicious delicacies for later snacking!
So, what are you waiting for? It's time to book your foodie holiday in Queensland! Take a look at our range of vehicles and plan your motorhome hire in Brisbane or Cairns. Then call our friendly reservations team on 1300 664 485 or check out our website to see what we have available at our branches.
Related Locations

42 Vauxhall Street, Virginia QLD 4014, Australia

Phone Number : 1300 664 485
International : +61 3 6248 4789

399 Sheridan St, Cairns North QLD 4870, Australia

Phone Number : 1300 664 485
International : +61 3 6248 4789