How To Choose The Right Motorhome For Your Holiday
So you're planning a holiday in Australia and it's time finally to choose your motorhome? Great! We can help!
Motorhomes are incredibly flexible and perfect for travellers who want to completely customise their holidays to their own needs and interests. From size and specifications to design and layout, every traveller will be looking for something different. The type of motorhome you decide to hire will likely come down to a few key things, like comfort, convenience, and budget!
At Cruisin' Motorhomes we have a range of options with a variety of 2, 4, and 6 berth motorhomes for you to choose from. So whether you're looking to embrace the luxury or set off on a budget holiday, we're sure we've got the right motorhome for you!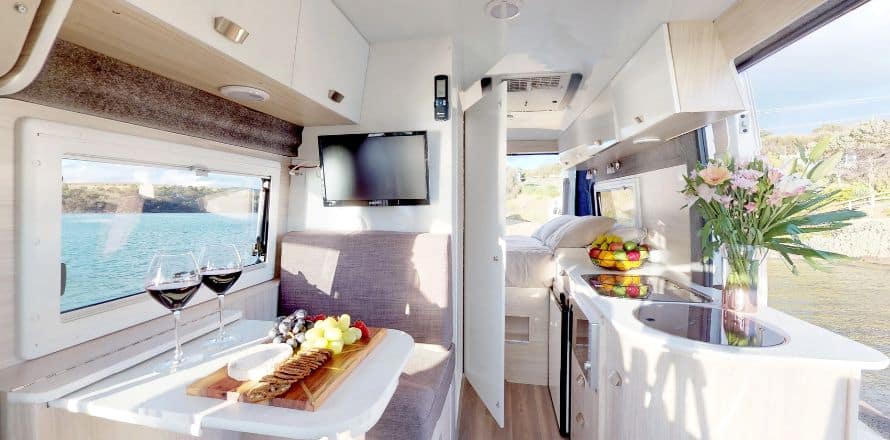 What Are Motorhome Berths?
Let's start with the basics. Berths simply tell you how many people can actually sleep inside the motorhome.
Our Cruisin' 2 Berth Sandpiper, pictured above, has one fixed double bed which sleeps two people. But, you don't have to choose the motorhome based on the amount of people you're travelling with! Even if you're only travelling with one other companion you still might choose a 4 or even a 6 berth motorhome - then you'll have more space to move around!
What Types Of Motorhomes Are There?
At Cruisin' Motorhomes we have 6 different motorhomes for hire, each with their own unique layouts and perks.
Cruisin' 2 Berth Hi Top:  The Hi Top is a comfortable campervan that's perfect for couples. The double bed is modular as well, meaning you can store it away during the day and reclaim the space as a dining or lounge area. There's no toilet or shower.
Cruisin' 2 Berth Sandpiper: This luxurious yet compact motorhome also has a double bed, so it's perfect for couples looking for a romantic getaway. The bed is fixed to the rear with doors that open to reveal gorgeous views. There's also a toilet and shower on board.
Cruisin' 4 Berth Hi Top: Much the same as its 2 berth companion, the Cruisin' 4 Berth Hi Top has a modular bed with no toilet or shower. There is also an additional double bed above the driver's cabin. This campervan is perfect for economical groups or small families (maybe just for short trips though).
Cruisin' 4 Berth Seeker: This motorhome has two fixed beds, one at the rear of the motorhome and another over the driver's cabin. Enjoy a spacious motorhome with a toilet and shower on board as well as plenty of storage. The Cruisin' 4 Berth Seeker is best suited to small families and groups.
Cruisin' 6 Berth Discovery: The Cruisin' 6 Berth Discovery is a modern and spacious motorhome that provides comfort at an affordable price. With a toilet and shower, as well as a spacious kitchen and living area, you're sure to enjoy your home away from home. This motorhome is perfect for families and large groups.
Cruisin' 6 Berth Deluxe: Looking for the most modern and luxurious motorhome on the market? Well look this way! This spacious motorhome is only 0-2 years old, fits up to 6 adults, has two living areas, and is fitted with a gorgeous kitchen space for all those homecooked meals. Perfect for families and large groups, the Cruisin' 6 Berth Deluxe is sure to bring you a stylish holiday in Australia.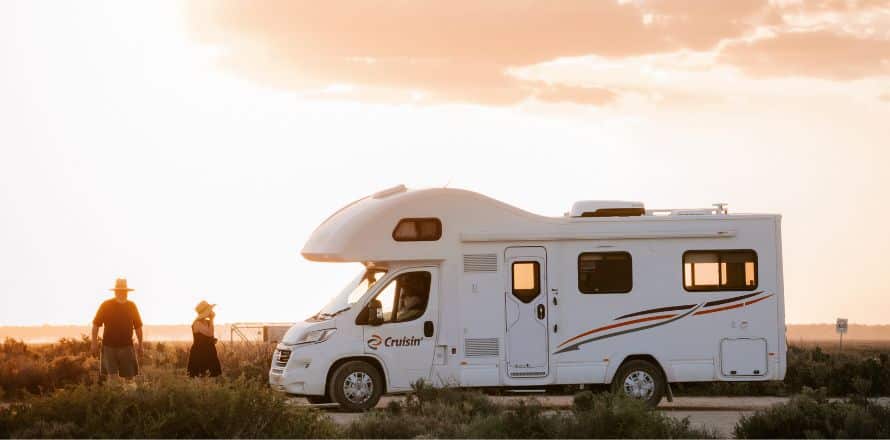 So, How Do You Decide What Motorhome To Hire?
Budget
One of the first questions you'll need to ask is: What should my budget be for my holiday?
If you're keen to spend on modern comforts, you'll definitely have your eyes fixed on one of our motorhomes. With a motorhome you'll be travelling in style to get to Australia's most iconic destinations.
But wait! Having a tight budget doesn't mean you should settle for a small or cheap motorhome hire. Making yourself uncomfortable defeats the purpose of going on a relaxing holiday. So spend on the things that are going to have the biggest impact.
Layout
The type of on-board kitchen and storage might just help you decide which motorhome to hire.
Our 6-Berth motorhomes, as well as the 4-Berth Seeker, have plenty of storage underfoot and overhead, whereas the Hi Tops are pretty scarce when it comes to storage. Whilst it may be small, our 2 Berth Sandpiper also has a surprising amount of storage!
All of our motorhomes have a sink on board, but that's where the kitchen similarities end. Our Hi Tops have a modest but functional kitchen, with a 2 burner gas stove as well as a little microwave and 60L fridge/freezer. There isn't much bench space to prepare your meals, but you have a dining table at the rear to make up for it!
The 2 Berth Sandpiper takes a step up from this, with a modern and well-designed kitchen space. This motorhome has a 3 burner gas stove, as well as a microwave and slightly larger 95L fridge. Again, bench space might be a problem if you're planning to make a luxurious 3-course meal, but overall it's a functional kitchen!
If you're looking for the biggest and best kitchen, you'll want to hire one of our 6 Berth motorhomes or the 4 Berth Seeker. There's plenty of bench space, as well as a huge amount of storage for your favourite ingredients. You'll be sure to enjoy having a 3 burner gas stove as well as a generous 190L fridge/freezer as well as a grill and microwave on board.
Size
There are a variety of motorhome sizes, and your decision will depend on how much head room you need, how many travellers you're bringing with you, and the length of your trip.
Smaller motorhomes are great because of how compact and nimble they are when navigating cities. They're also great for shorter trips and no-fuss camping experiences.
On the other hand, you might choose a bigger motorhome if you're planning to do a lot of driving or if you have multiple passengers on board. Big motorhomes really are the way to go for space and comfort.
As we said before, the amount of berths doesn't define the type of motorhome you can rent. It's quite common for 2 people to rent a 4 or a 6 berth motorhome for the benefits of having extra space.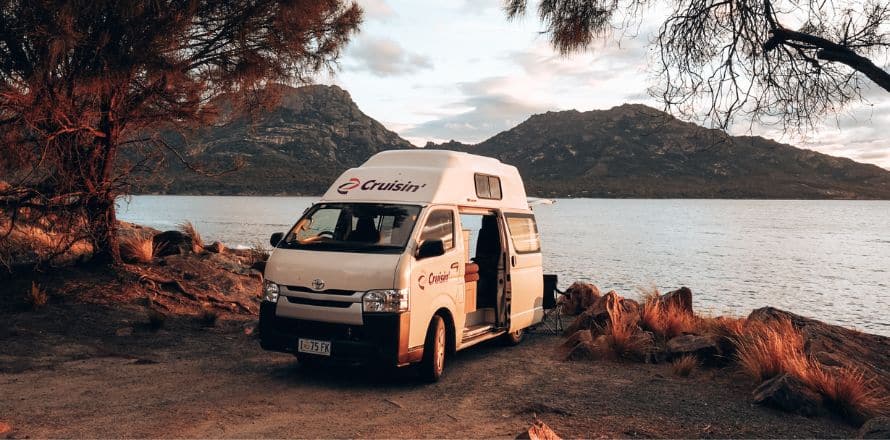 Activities
Maybe you're a free camper and a wildness expert? Or perhaps you're looking for luxury holiday parks close to major cities? Ultimately the type of holiday you're planning will also influence your choice in motorhome!
You'll want to consider is how much driving you want to do. It's worth looking at a bigger motorhome if you're expecting to do a lot of road tripping across states. You'll be travelling in style whilst coasting down highways.
Lastly, choose a motorhome that's going to keep you comfortable throughout the entire trip. Small motorhomes are great for short trips. They can get around cities easily, and generally most people don't mind having to share a limited space if they only have to do it for a short time.
Interior Layout
Regardless of your budget, it's worth having your needs and wants in mind before you decide on what motorhome to hire in Australia.
Having a toilet and shower on board is great if you need it! Especially in the outback, where stops might be few and far between. Consider your needs and the needs of your companions.
If you're happy to spend a little extra you're sure to enjoy the luxuries of home whilst you're out and about! Our 6 berth motorhomes have immaculate kitchen facilities and plenty of space, which can go a long way in improving your holiday.
It's Time To Choose Which Motorhome Is Best For You!
The best way to decide is to visit our website and see our range of motorhomes for yourself. You'll also want to spend some time exploring with our 3D floor plans to get a better feel for the layout.
Set yourself up for a comfortable holiday by choosing what's right for you! Book your motorhome hire in Australia today by calling our friendly reservations team on 1300 664 485. Or you can check our website to see the motorhomes we have available at our branches