How To Plan A Budget Friendly Motorhome Holiday
An excellent holiday in Australia doesn't have to be all about the expensive tourist activities, those are just the tip in the iceberg of possibilities!
You might consider a motorhome holiday as a luxury getaway experience, and it absolutely can be if that's what you're going for! It all comes down to planning.
The best things about a motorhome holiday are the personalisation and flexibility. Regardless of where you're choosing to spend your money, you're sure to have an amazing time doing the things you want to do. So, if you're looking for a holiday on a budget, there's a ton of ways to tailor the motorhome experience to your own needs and interests.
You'll want to consider a few things when planning an affordable holiday that's perfect for you.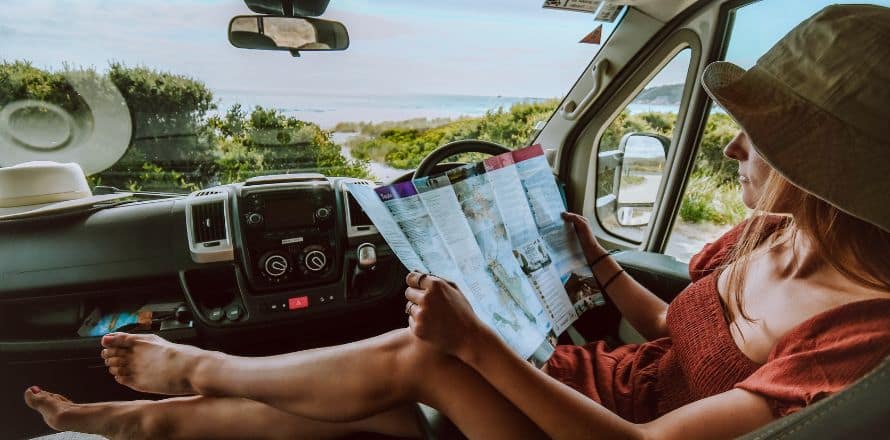 Know What You Want And Set A Budget
Before you even start booking, think about the types of activities and destinations you want to visit. Then set your holiday budget. Having a budget will allow you to spend on the things that matter most to you. So guestimate your daily expenses, and keep a little extra aside for unexpected or additional costs (like parking, food, and road tolls).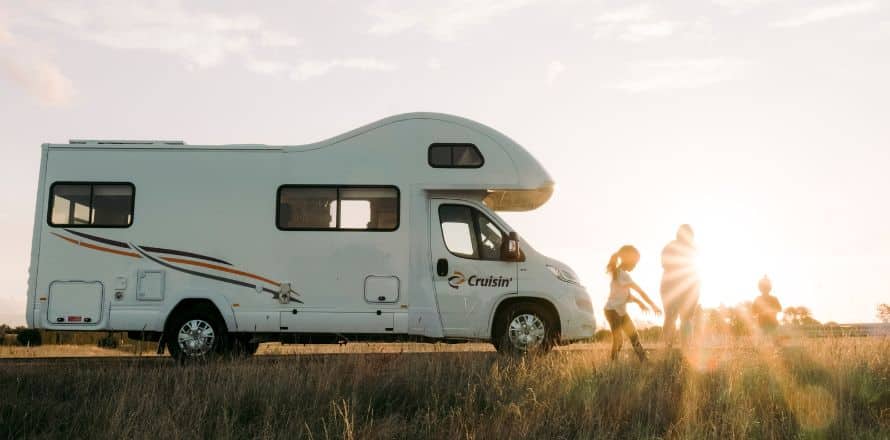 Choose The Right Campervan Or Motorhome To Fit Your Budget
If you're travelling solo, or with only one or two companions, then it's worth considering our smaller motorhomes, like our Cruisin' 2 Berth Sandpiper or a Cruisin' 4 Berth Seeker. We also offer campervans for travellers who just want the basics. Keep in mind: Renting the cheapest motorhome isn't the only solution to cutting your spendings.
You should absolutely rent the motorhome that fits your budget, but don't forget to make your holiday comfortable as well. If you're bringing children, it's usually best to select one of our larger motorhomes – being cramped together in a hi-top for days can get tiring, so it's best to spend on the things that will have the biggest impact on your holiday!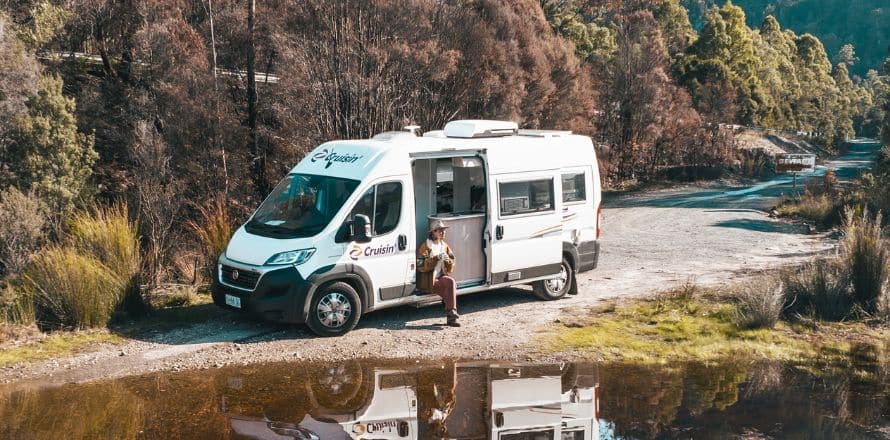 Seek Out Cheap Campsites Or Give Free Camping A Try
It's tempting to go big when it comes to choosing your holiday park – especially if you've got kids coming along! The heated swimming pools, water slides, and on-site restaurants sound amazing – and they are! But only if you're planning to use them. Since this is a motorhome road trip, you've likely got activities in mind for each destination. So, when it comes to finding cheap campsites, sometimes simple is best.
Campsites are usually cheaper the further you get from the city, or you can find a place to free camp for a couple of days. Check our FAQs for your questions about free camping, then give it a try!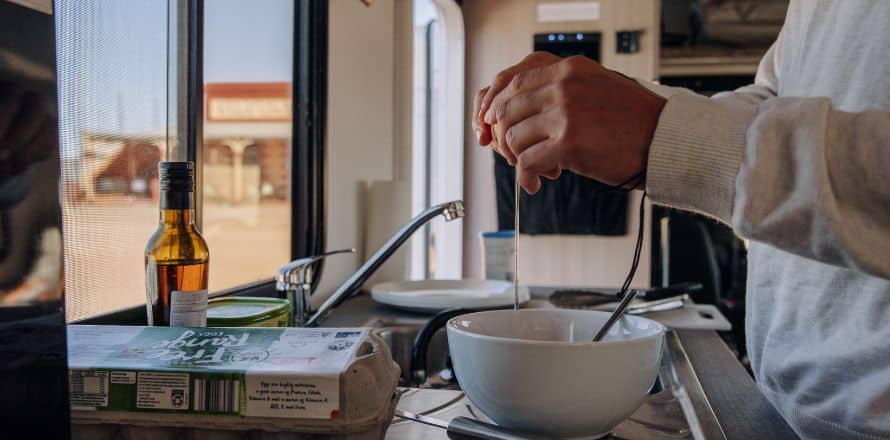 Cook Your Own Meals
With your motorhome hire you have access to a kitchen at all times, so save big and get cooking! Buying your own groceries instead of eating out all the time is the perfect way to keep within your budget.
We've packed your motorhome with all the essential cookware, you'll just need to bring the ingredients! Don't be afraid to set some money aside for the occasional restaurant or pub visit – after all, this is still a holiday and you're allowed to treat yourself!
On that note, you're more likely to find a well-priced meal at a family-owned hole-in-the-wall rather than a chain restaurant. This is also where you'll experience the most authentic moments with the locals.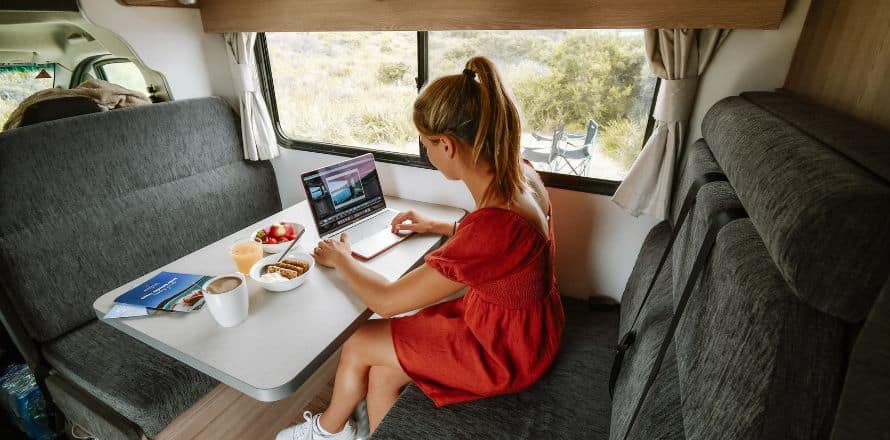 Seek Out The Best Deals
From hiring your campervan, to booking your flights and campsites, to planning your activities, a lot of companies offer great deals! It all comes down to how well you search, how early you book, and how lucky your timing is.
At Cruisin' Motorhomes we also offer a variety of deals which you can make the most out of, such as our Early Bird and Long Hire Discount. Be organised with your holiday and book your campsites, flights, and activities as many months in advance as you can!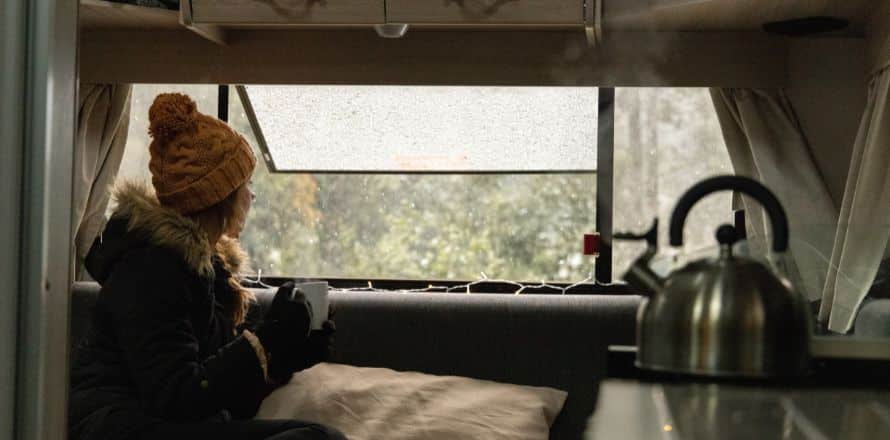 Avoid The Crowds And Travel In The Off-Season
Travelling outside of the peak travel seasons is a good way to organise a budget holiday. Generally the best times for off-season travel are from May to October, or you can plan your holiday during the shoulder seasons (these months will vary depending on where you're going, check out our location pages for more info).
Speaking of tourism, here's a bonus tip! It's great to know where the tourist spots are (they're popular for a good reason after all!), but if you want the best deals on attractions, food, drinks, and campsites then hunt around and see if there are better offers elsewhere.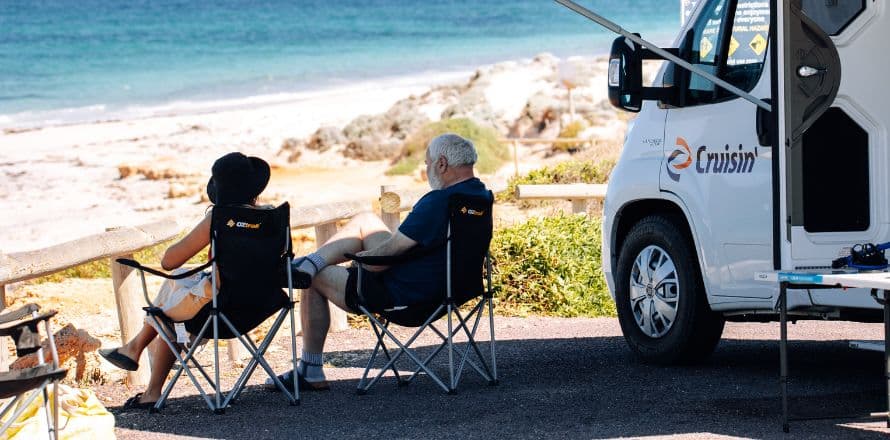 Create A Packing List And Travel Light
You'll want to leave the big suitcase behind. A soft, foldable bag or backpack is perfect because it won't take up valuable space in your motorhome. Limiting yourself will also encourage you to be more mindful with your purchases.
When it comes to packing, we suggest that you only bring the things you really need. Read 'How To Pack For Your Australian Motorhome Adventure" for more tips and tricks!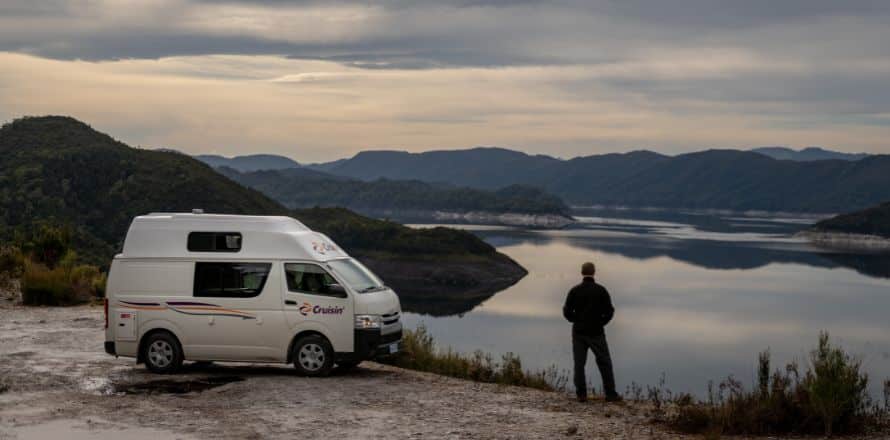 Plan Some Non-Touristy Activities And Live Like A Local
If you're visiting somewhere like Queensland it's easy to get drawn in by the bright theme parks, shiny shopping centres, and the abundance of tourist-oriented activities. But your trip doesn't have to be limited to high-energy adventures and big spending!
Australia is gorgeous, and there are over 600 national parks scattered across the country – each with their own unique and breath-taking natural beauty. So explore stunning lakes, rainforests, rivers, and valleys for free!
You don't have to completely avoid the cities though! Most places have free or cheap activities, museums and art galleries, as well as historic landmarks and buildings which you can visit. Do your research and investigate activities outside of the norm.
Are Your Ready To Plan A Budget-Friendly Motorhome Holiday In Australia?
Selecting the right motorhome for you, planning your holiday during the off-season, and organising activities that suit your budget. These are just some of the many things you might want to consider when planning an affordable holiday.
We all have different wants and needs when it comes to holidaying, and the best thing about hiring a motorhome in Australia is that your experience can be custom designed to be whatever you'd like it to be!
Remember, to book early so you can make the most out of our Early Bird Discount! Take a look at our range of vehicles and plan your motorhome hire in Australia today. Then call our friendly reservations team on 1300 664 485 or check out our website to see what we have available at our branches.