Lesser-Known Queensland Holiday Destinations That You Need To Know About
It's Time To Go Beyond The Well-Trodden Tourist Trails!
Queensland is known for its popular tourist destinations like the Great Barrier Reef and the Gold Coast, but there are so many hidden gems waiting to be discovered! From secluded beaches to breathtaking national parks, this guide will take you off the beaten path and introduce you to the lesser-known destinations of Queensland.
Get ready to explore some of the best-kept secrets of the Sunshine State!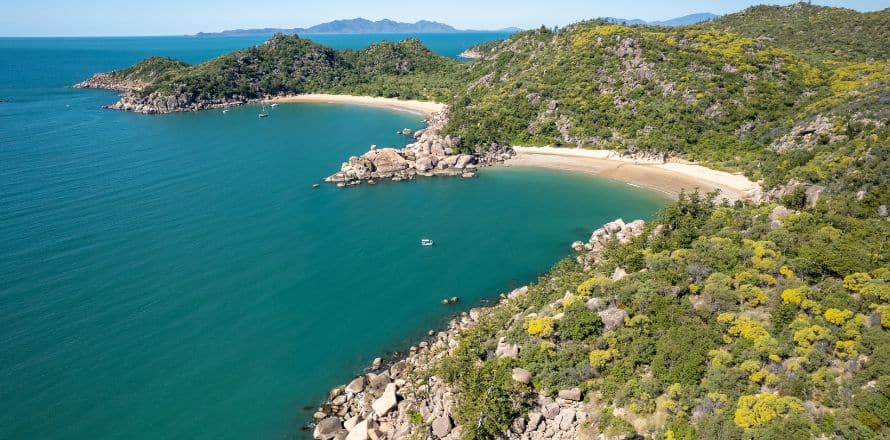 Magnetic Island, Tourism And Events Queensland
Magnetic Island
Magnetic Island is a hidden gem that welcomes travellers with an abundance of beaches and wildlife! There are over 23 beautiful beaches to explore, making it one of the best places to visit in Queensland for nature lovers. You'll be able to spend your days swimming, snorkelling, or simply relaxing on pristine shores.
The island is home to koalas, wallabies, and a wide range of vibrant bird species, so keep an eye out for them as you're hiking across the island. Whether you're looking for a peaceful getaway or an action-packed adventure, Magnetic Island is sure to exceed your expectations!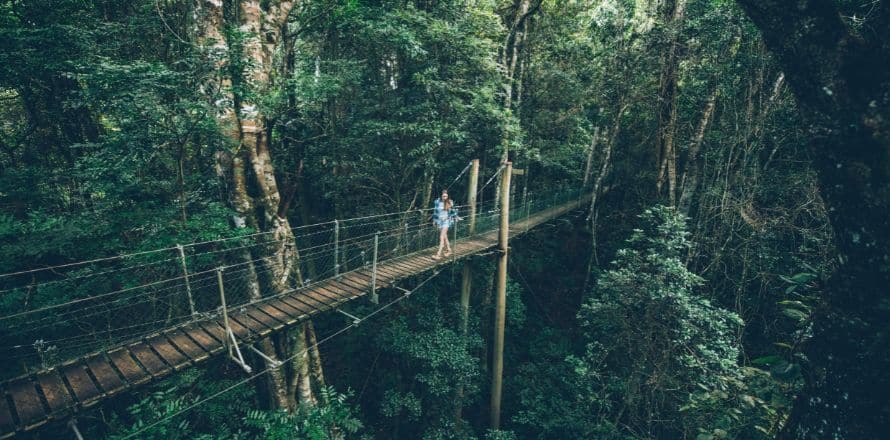 O'Reilly's Tree Top Walk, Tourism And Events Queensland
Lamington National Park
Nestled in the Gold Coast hinterland, Lamington National Park is a World Heritage-listed rainforest wonderland. With lush greenery, cascading waterfalls, and a diverse array of flora and fauna, this is another great Queensland destination for nature lovers!
The park boasts an elaborate network of hiking trails, allowing visitors to explore its stunning landscapes freely. Whether you're an avid hiker or simply enjoy being surrounded by nature, Lamington National Park is a must-visit destination. Don't forget your camera!
Note: The narrow roads around this national park are not suitable for our larger motorhomes, but there are plenty of tour operators in the area.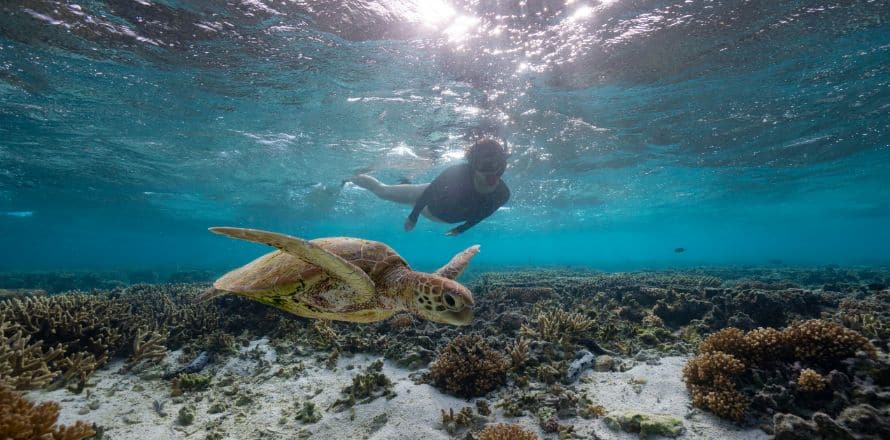 Lady Elliot Island, Tourism And Events Queensland
Lady Elliot Island
Another hidden gem in Queensland, Lady Elliot Island is a pristine coral cay that's perfect for snorkelling and diving! Located on the southern tip of the Great Barrier Reef, the crystal clear waters offer an underwater world where you can encounter colourful fish, turtles, and even manta rays.
You'll absolutely want to immerse yourselves in the natural beauty of this remote paradise. Whether you're a seasoned diver or a beginner snorkeler, Lady Elliot Island is definitely a destination to add to your Queensland holiday itinerary.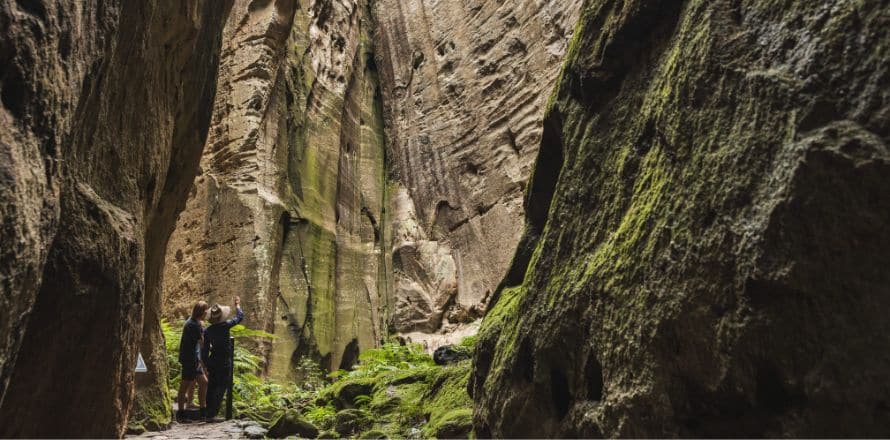 Carnarvon Gorge, Tourism And Events Queensland
Carnarvon Gorge
Carnarvon Gorge is another one of the best places to visit in Queensland for a unique and remote wilderness experience! This stunning area is a hidden oasis of ancient sandstone cliffs, lush vegetation, and fascinating Aboriginal rock art.
With its rugged beauty and untouched landscapes, Carnarvon Gorge is a great place for nature lovers and culture enthusiasts alike!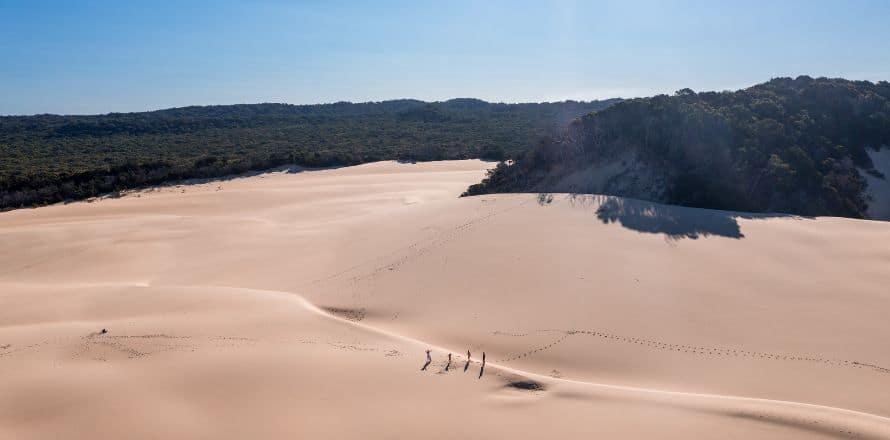 K'gari, Tourism And Events Queensland
K'Gari (Previously Fraser Island)
Although not entirely off-the-beaten path, K'gari is still a true natural gem. As the world's largest sand island, it offers a unique and unforgettable experience for visitors. The island is known for its crystal clear lakes, including the famous Lake McKenzie, which boasts pristine white sand and turquoise waters. Visitors can swim, kayak, or simply relax on the sandy shores.
Exploring the island's lush rainforests and towering sand dunes is a must-do! With its stunning natural beauty and abundance of activities, this is a must-visit destination in Queensland.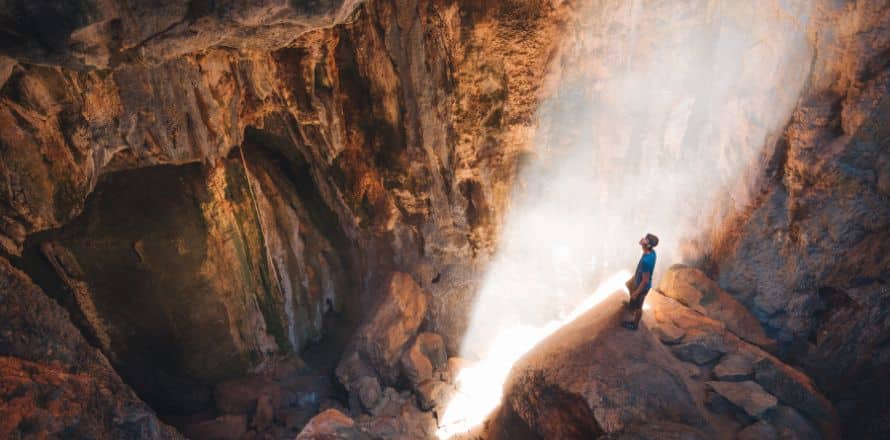 Pompeii Cave, Tourism And Events Queensland
Chillagoe-Mungana Caves National Park
It's time to venture inland and explore ancient limestone caves! Delve into the ancient mysteries of Chillagoe-Mungana Caves National Park, adorned with spectacular stalactites and stalagmites.
Guided tours offer visitors a glimpse into the fascinating history of the region, with ancient formations and the remnants of past mining endeavours. This is truly a must-see destination in Queensland!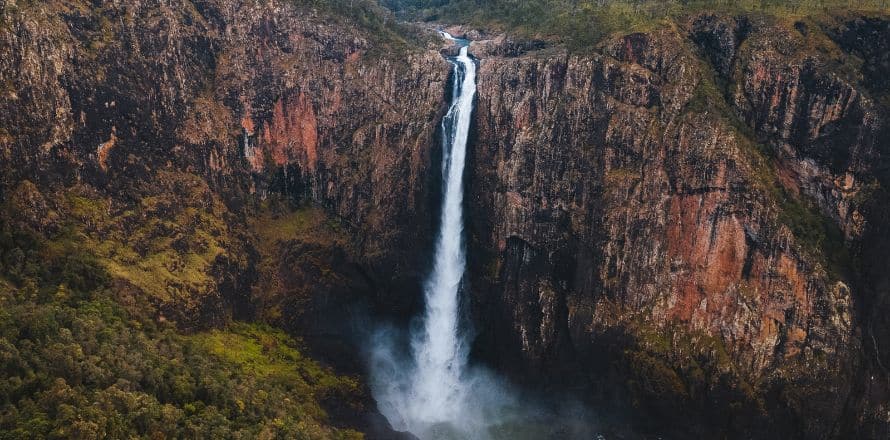 Wallaman Falls, Tourism And Events Queensland
Girringun National Park
Girringun National Park is one for our waterfall enthusiasts! Hidden in the wet tropics of Queensland, the park's star attraction is Wallaman Falls! This is Australia's tallest single-drop waterfall, with water cascading 268 meters down a sheer cliff.
With its lush landscapes, hiking trails, and diverse ecosystems, Girringun National Park is one of the best places to visit in Queensland for a nature escape! The road to the waterfall is also sealed for your convenience.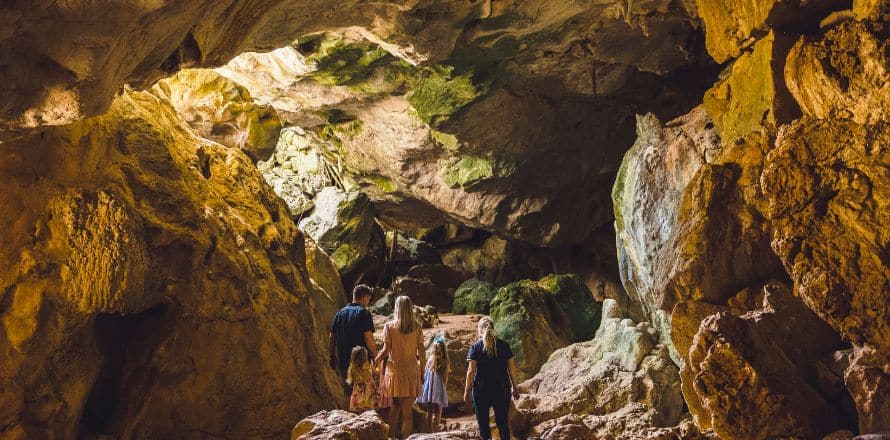 Capricorn Caves, Tourism And Events Queensland
Capricorn Caves
Located near Rockhampton, Capricorn Caves is a true hidden gem in Queensland. These limestone caves are not only beautiful but also hold cultural significance to the local indigenous people. Your tour guide will lead you through an exploration of impressive formations and crystal chambers, and introduce you to unique wildlife.
In particular, the Cathedral Cave, with its excellent acoustics, presents itself as a unique destination for concerts and weddings! This subterranean wonderland is both educational and awe-inspiring.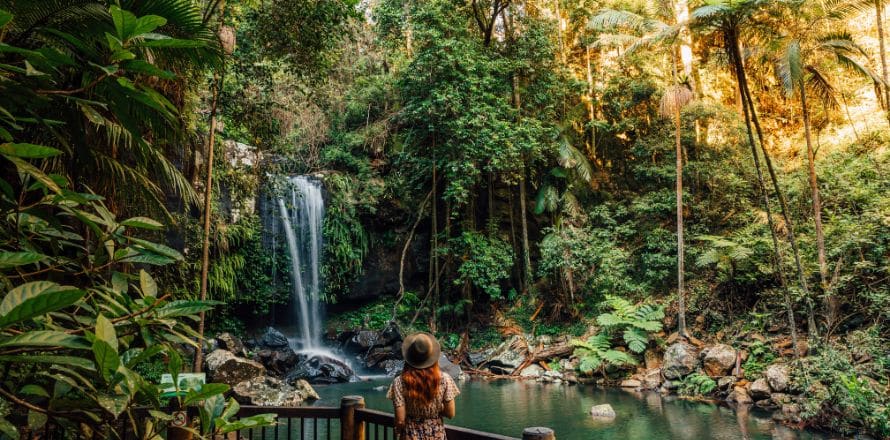 Curtis Falls, Tourism And Events Queensland
Mount Tamborine
A charming mountain village in the Gold Coast hinterland, Mount Tamborine is an unmissable place to visit in Queensland! This mountain retreat is a haven for art enthusiasts, with numerous galleries showcasing the works of talented local artists.
Nature lovers can indulge in rainforest walks, explore glow worm caves, and enjoy breathtaking views from various lookouts. Thrill seekers won't want to miss the Tamborine Rainforest Skywalk!
Whitsunday Islands
If you're in the tropical north of the state you probably know all about Hamilton and Whitsunday Islands, but what about the lesser-known destinations? Brampton Island and Hook Island in particular are hidden gems waiting to be discovered!
Brampton Island offers tranquil beaches, excellent snorkelling, and opportunities for serene relaxation. Hook Island on the other hand boasts incredible dive sites, including the world-renowned Bait Reef and the Ngaro Cultural Site.
Both islands offer an escape from the crowds and a chance to experience the unspoiled splendour of the Whitsundays.
It's Time To Pack Your Bags And Venture Beyond Queensland's Tourist Hotspots
Queensland's lesser-known destinations hold the key to extraordinary experiences, from underwater wonders and ancient rainforests to mysterious caves and secluded islands. Exploring these hidden gems will enrich your motorhome road trip with unforgettable memories and unique encounters with nature and culture.
Get ready for an unforgettable holiday! Plan your road trip itinerary and then book your motorhome hire in Queensland by calling our friendly reservations team on 1300 664 485. Or, you can check out our website to see the motorhomes we have available at our Brisbane branch or our Cairns branch.
Related Locations

42 Vauxhall Street, Virginia QLD 4014, Australia

Phone Number : 1300 664 485
International : +61 3 6248 4789

399 Sheridan St, Cairns North QLD 4870, Australia

Phone Number : 1300 664 485
International : +61 3 6248 4789