Motorhome Holiday from Cairns to the Daintree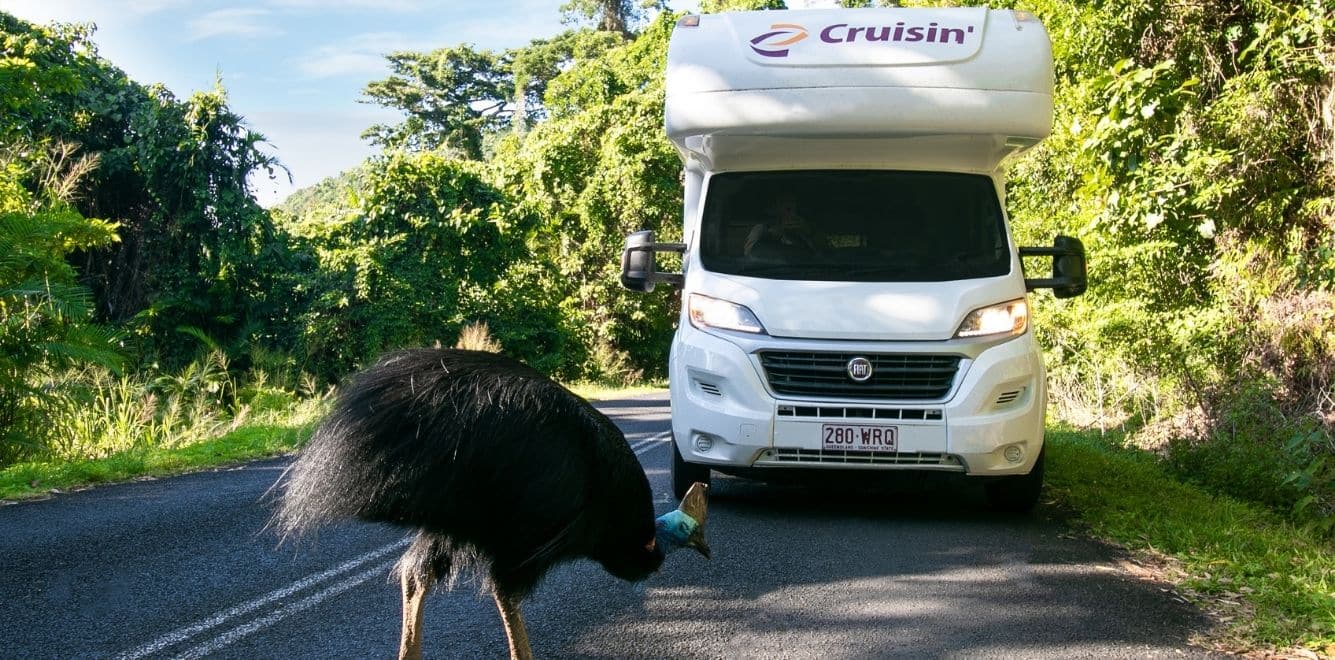 For some, when you think of a holiday in Queensland, the first thing that comes to mind is beaches, theme parks and lounging around under palm trees. There is so much more to discover! It is home to some of the world's most beautiful natural landmarks, including the Great Barrier Reef and the Daintree Rainforest. There is so much to learn, see and discover - that's why the best possible way to explore Queensland is via a motorhome.
Our road trip holiday recommendation this week is Cairns & The Daintree. This drive has you exploring a rainforest wonderland that has a rich and ancient history. There are many unique places to camp your motorhome for a few nights, making it an unforgettable and accessible holiday destination.
During your stay, stock your motorhome fridge with classic Queensland treats like Barramundi, fresh prawns and perhaps some Bundaberg or a bottle of local wine. Cook a delicious meal in your spacious motorhome kitchen and enjoy a feast in the warm Queensland air. During this holiday, you are bound to learn some traditional culinary secrets that you can use while on the road.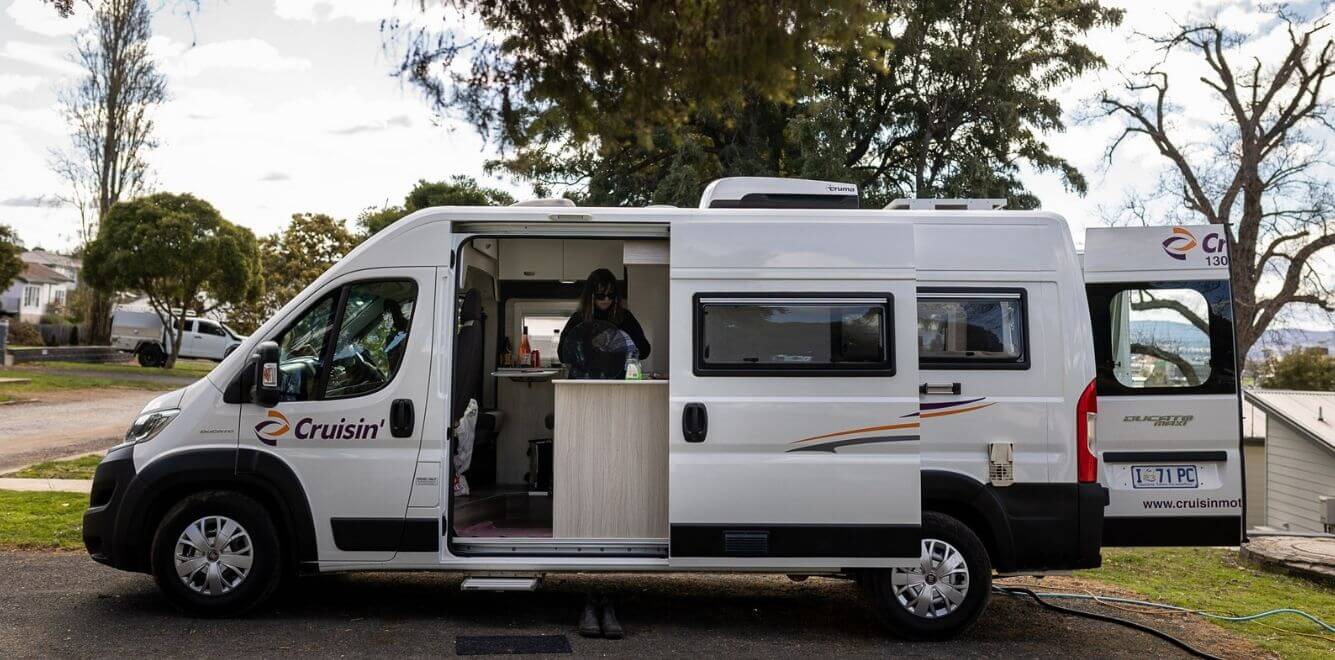 The great thing about motorhome travel is that you're not restricted! If you fall in love with a particular town, you can call it home for a few nights. If you're not ready to return home yet, just let us know and extend your holiday for as long as you want.
While you will undoubtedly find incredible destinations along the way, here are our must-stop suggestions for your Cairns & Daintree motorhome holiday:
Kuranda
Roughly 30 minutes from our Cairns Depot, you will find Kuranda. The incredible mountain village is known for its scenic railway, green rainforest, and vibrant arts culture. Make yourself at home at Kuranda and stay there a few days.
There are plenty of powered campsites around the area for your Motorhome or Campervan. For an authentic campsite destination, you can't go past The Billabong! A spacious and central campground and a beautiful place to relax and unwind.
Local Markets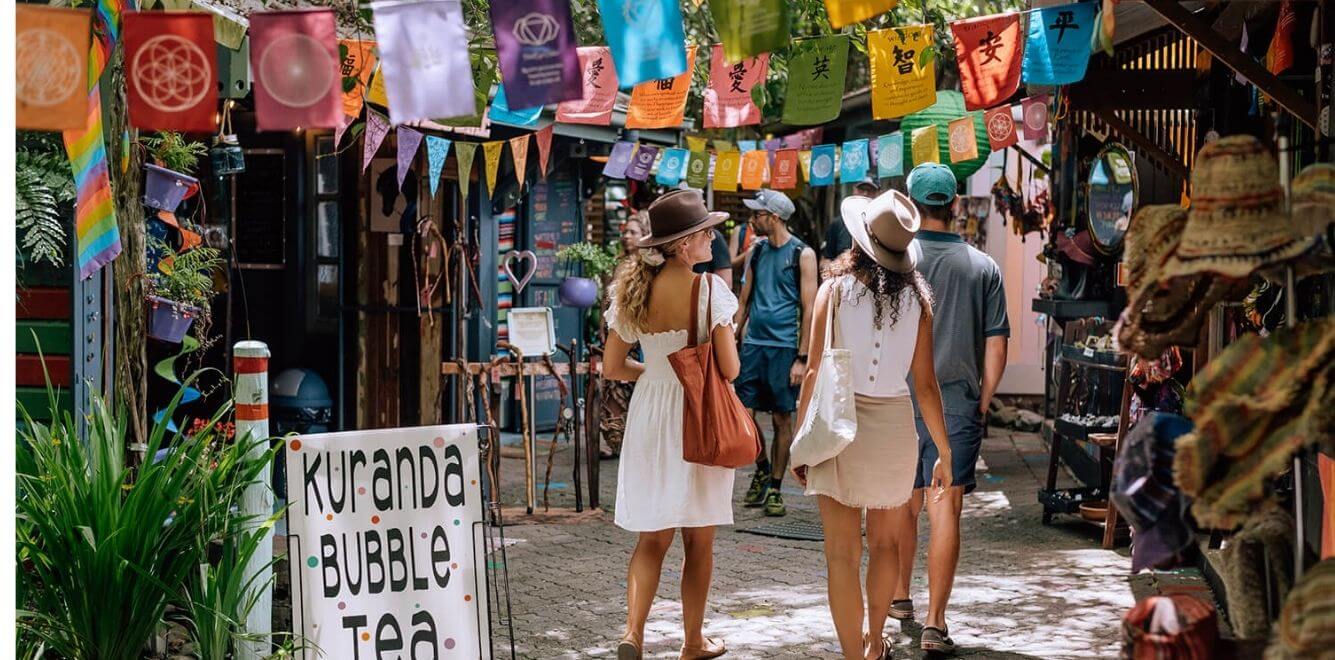 Image credit: Tourism Australia
For one of the best market experiences in the country, be sure to pop into Kuranda Original Rainforest Markets and Kuranda Heritage Markets.
The colourful & rustic Rainforest Markets first began in 1977! This market is open Thursday-Monday. They sell an array of local, hand-crafted pieces, contemporary art, food and fresh local produce. There is even mini-golf! The Kuranda Original Rainforest Market is a great time to learn the town's history and pick up fresh fruit and vegetables for your motorhome's fridge.
The Heritage Markets are open Thursday-Sunday and provide an array of traditional clothing, jewellery, crafts, homewares, and indigenous art. While you browse, keep an eye out for the incredible local birds and water dragons that come out to play. The perfect place to pick up your first souvenir of the trip
Kuranda Scenic Railway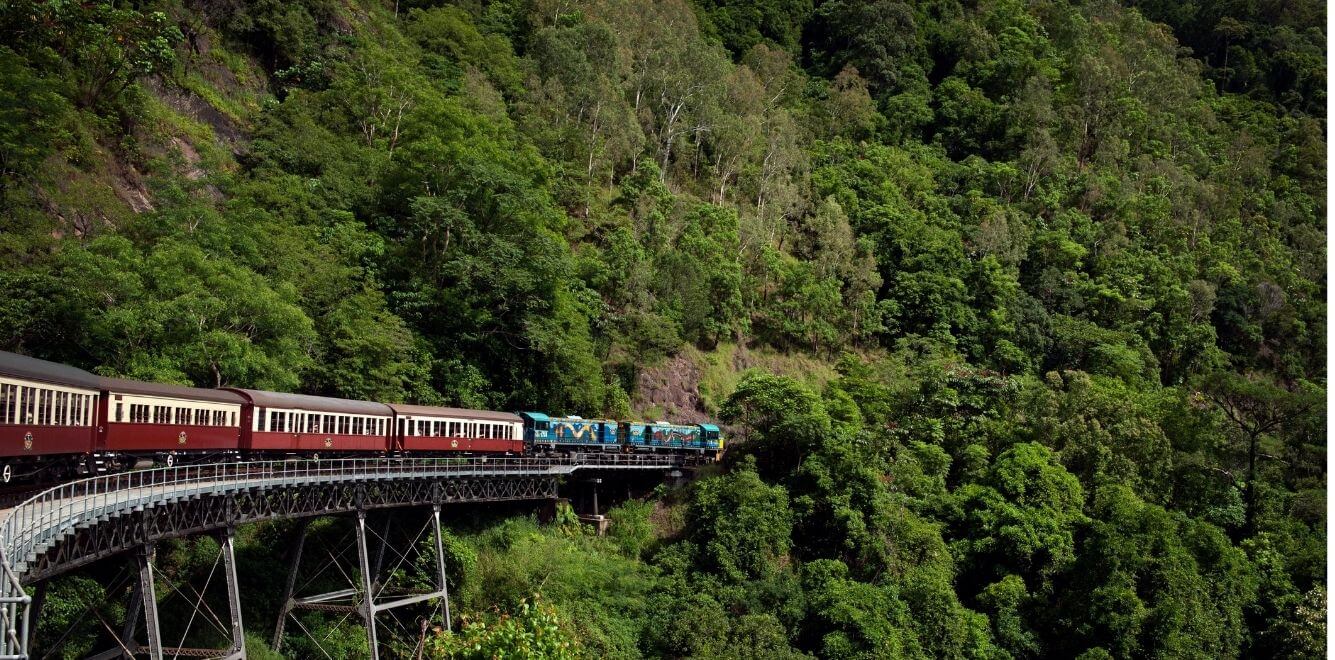 Image: Tourism Australia
You'll want to reserve a whole day for this journey. A return trip on the train is approximately $76 for adults and $38 for children – there are family deals or 'gold class' options too.  There is a reason this is one of the most popular tourist attractions in the town, so most visitors will say the cost is worth every cent. Sitting on genuine historic timber carriages, you will ride through heritage-listed rainforests and witness incredible waterfalls.
Barron Gorge National Park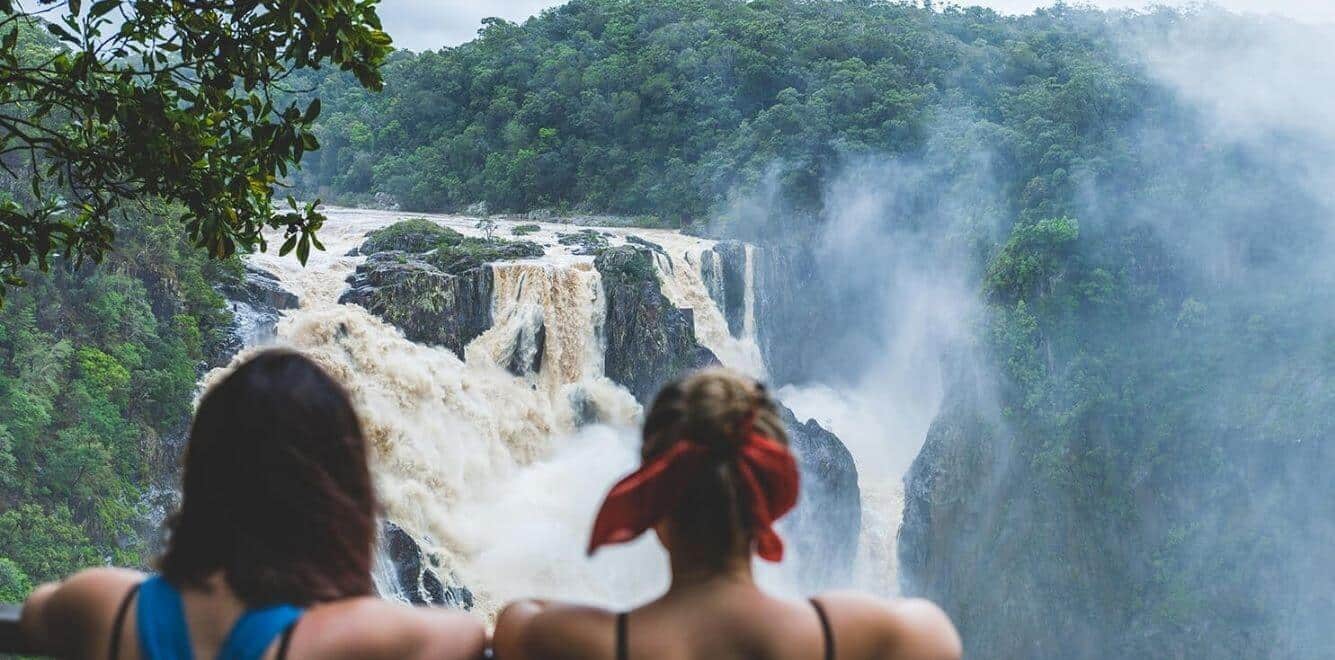 Image credit:  Queensland.com
This is one natural wonder you absolutely cannot miss.  Barron Gorge National Park is part of the traditional lands of the Djabuganjdji Bama – the local aboriginal people maintain a close spiritual connection with this country.
A lush, tropical rainforest covered in mist and home Barron Falls - one of the state's most stunning natural sights. It is home to colourful birds, bright butterflies and spotted-tail quolls – to name a few! There are an array of must-do short walks or long hikes as well as picnic tables.
Australian Butterfly Sanctuary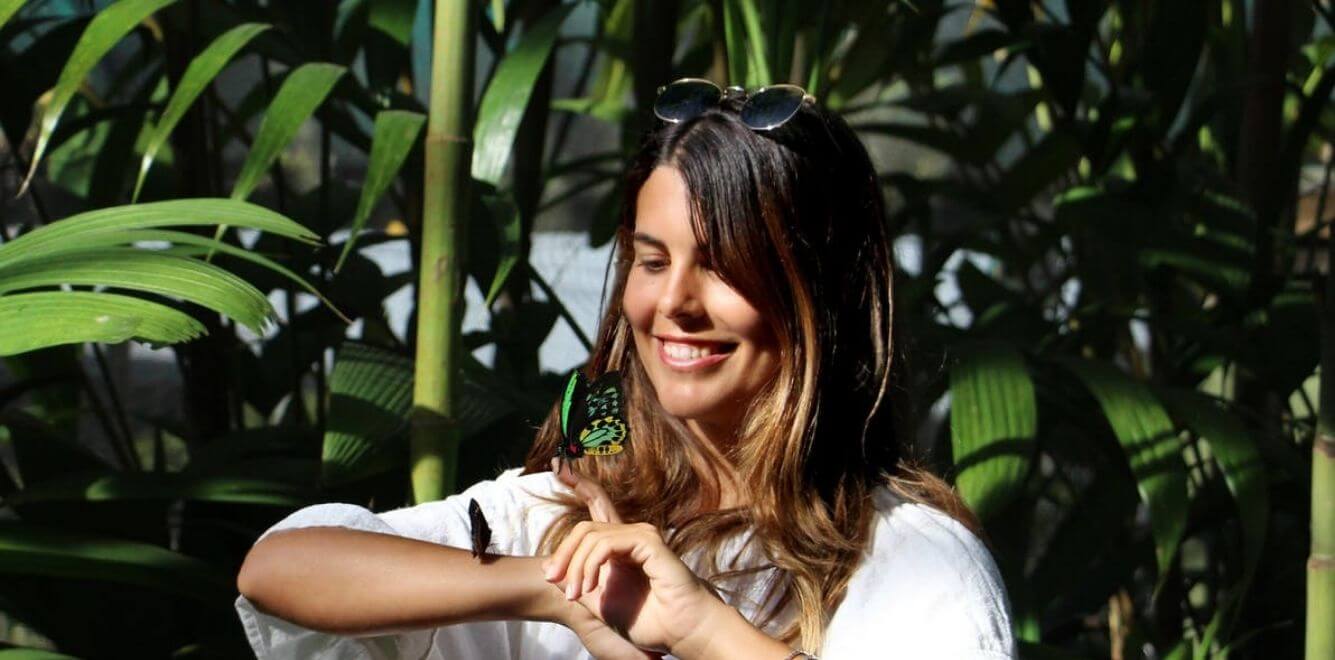 Image: Tourism Australia
Flaunting the largest butterfly aviary and exhibit in Australia, this Kuranda Attraction is an incredible way to immortalise Kuranda's bright colours and astonishing nature before you head to the next destination. Make sure to look out for the Hercules Moth – the world's largest known moth exclusively found in North Queensland and New Guinea!
If you've got kids, the Australian Butterfly Sanctuary is the ultimate way to keep the little ones active and in awe before driving in your motorhome for a few hours.
Port Douglas
Just over 1 hours' drive from Kuranda, you will find the gorgeous Port Douglas. Once a quaint fishing village, Port Douglas has now transformed into a bustling waterfront peninsular with so much to see and do. We suggest a few nights stay here to get the most out of your visit!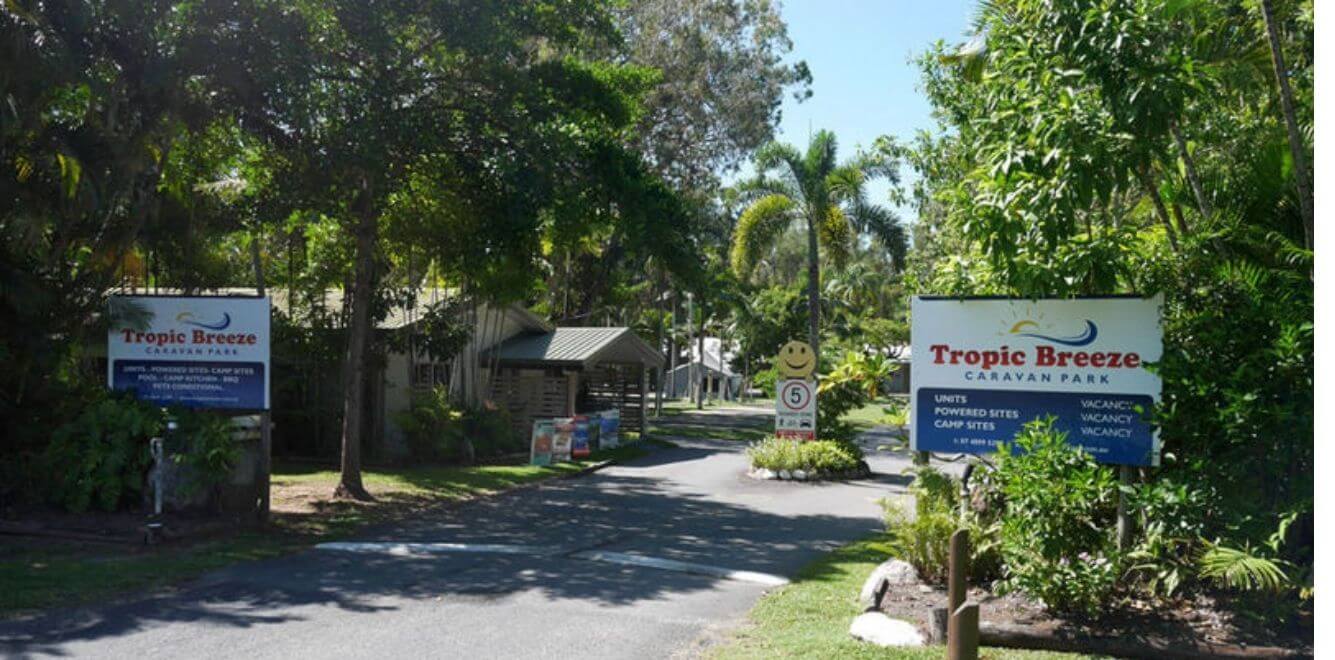 Tropic Breeze Caravan Park will give you an incredible and central experience – it's minutes from the beach and town centre. Here, you will feel like you're holidaying at the edge of the world!  The Port Douglas Markets, incredible restaurants and coffee and are all just a short walk from your motorhome.  Here is what you're going to want to see on your drive around Port Douglass:
The Great Barrier Reef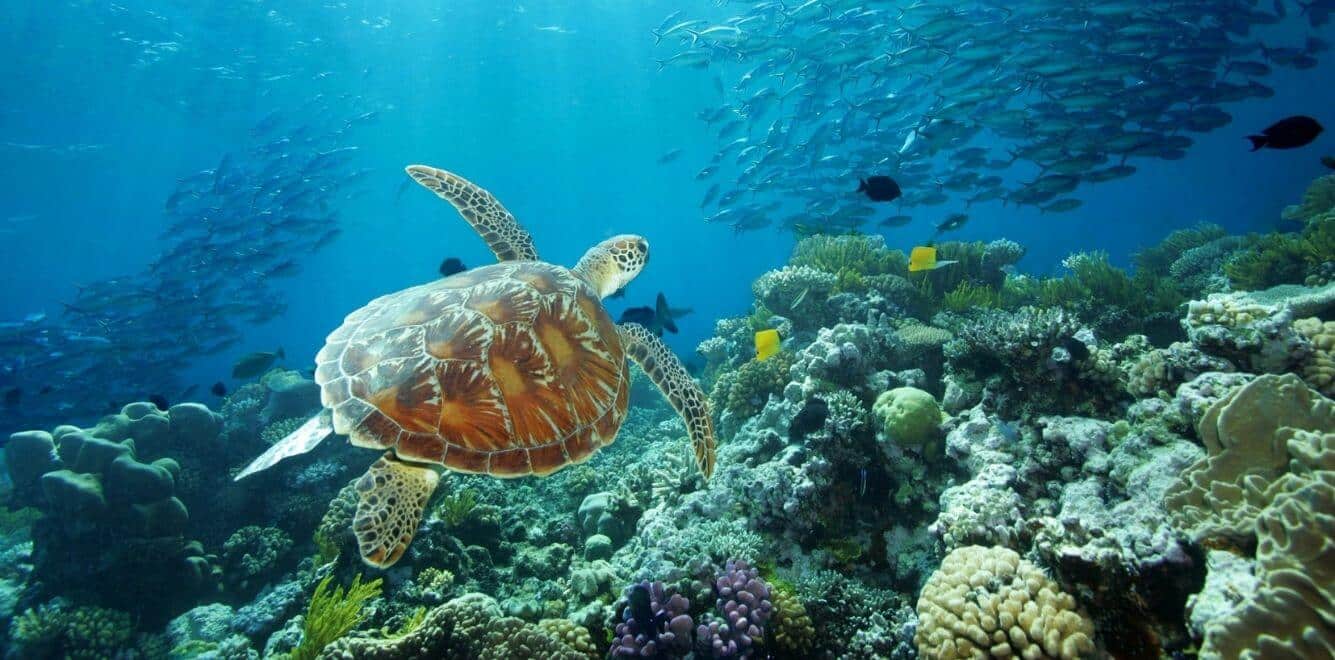 Image: Tourism Port Douglas and Daintree
The Great Barrier Reef is unquestionably one of the most famous natural landmarks in the country.  From helicopter rides to scuba diving, there are so many ways to have a once-in-a-lifetime experience. One of the very best ways to encounter it is directly from your motorhome! Considered one of the best coastal drives in Australia, take your motorhome or campervan out for the day and drive the Great Barrier Reef! Beautiful blue waters and iconic palm trees, be sure to stop for a picnic somewhere on the coastline.
Wildlife Habitat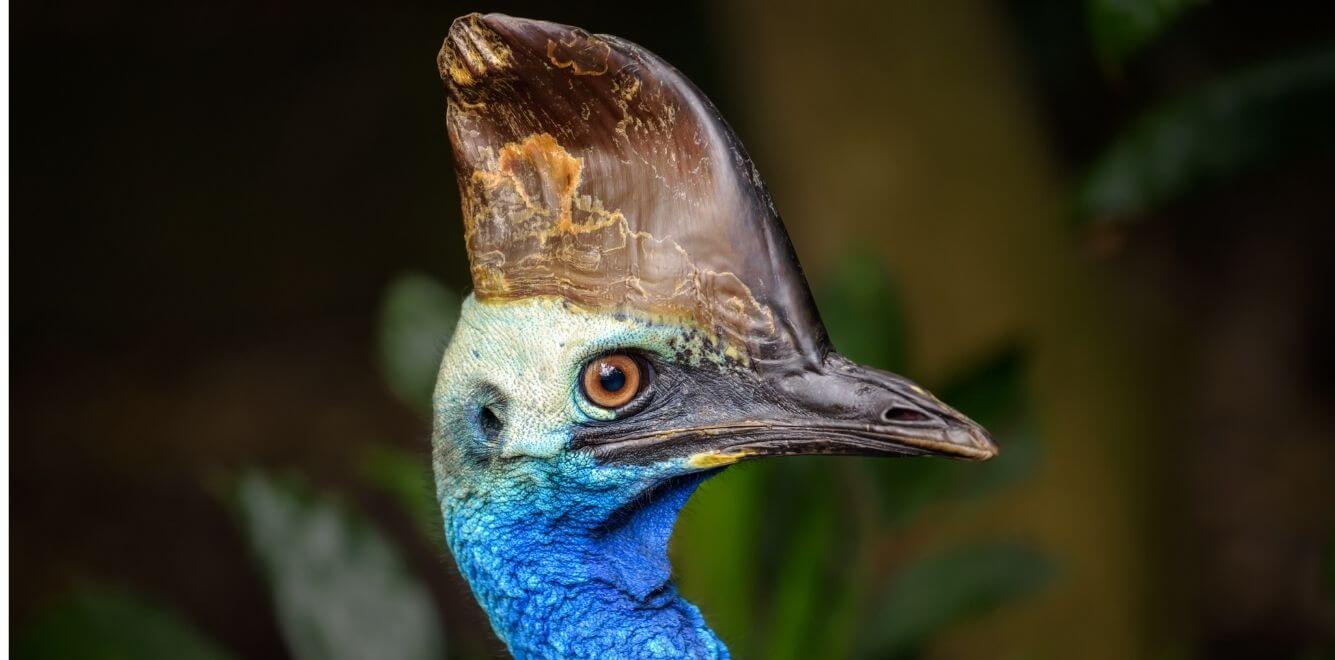 Image: Nick Fox – Canva
This eco-tourism and conservation park is unlike any other! The must-do animal encounter here is the crocodile-filled waters, where you can 'walk the plank' if you're game! You can meet some feathered friends, hand-feed wallabies or cuddle a koala! They even offer a 'Breakfast with the Birds' event where you can enjoy a coffee and breakfast surrounded by some of the world's most beautiful birds.
Mossman Gorge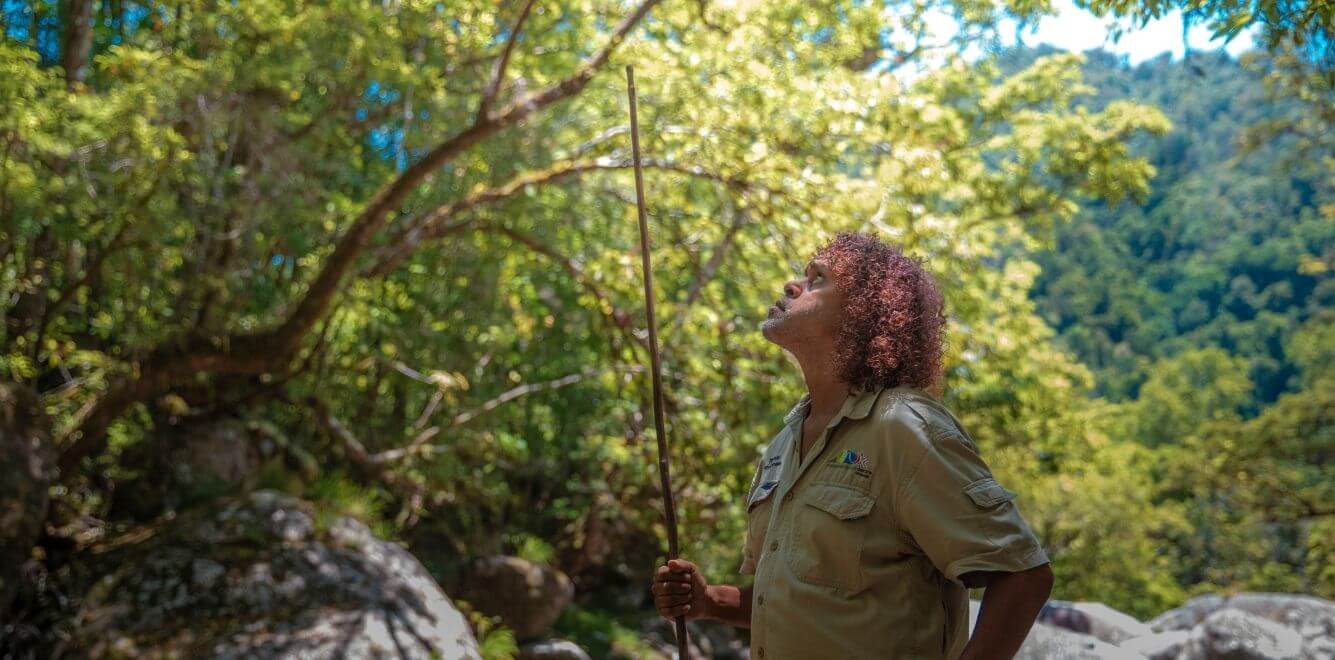 Image: Tourism and Events Queensland
Twenty minutes from Port Douglas is the incredible Mossman Gorge. Whether it's a brief visit to soak in some of the freshest air in the region or to spend the day learning about Indigenous history and culture, it's an unmissable landmark. Reflect with a self-guided walk or take part in a Dreamtime Walk.  Participating in a Ngadiku Dreamtime Walk will have you embark on a traditional ceremony, hear stories of the Kuku Yalanji culture and traditions, enjoy damper and bush tea.
Daintree Village
Roughly 50 minutes from Port Douglas is the small village town, Daintree. This place feels more remote than the other destinations, with heritage buildings and a few cafes and a local pub! Daintree is known to be the best place in Far North Queensland for saltwater crocodile sightings! So if that takes your fancy, spend a day here and check out:
Crocodile Express: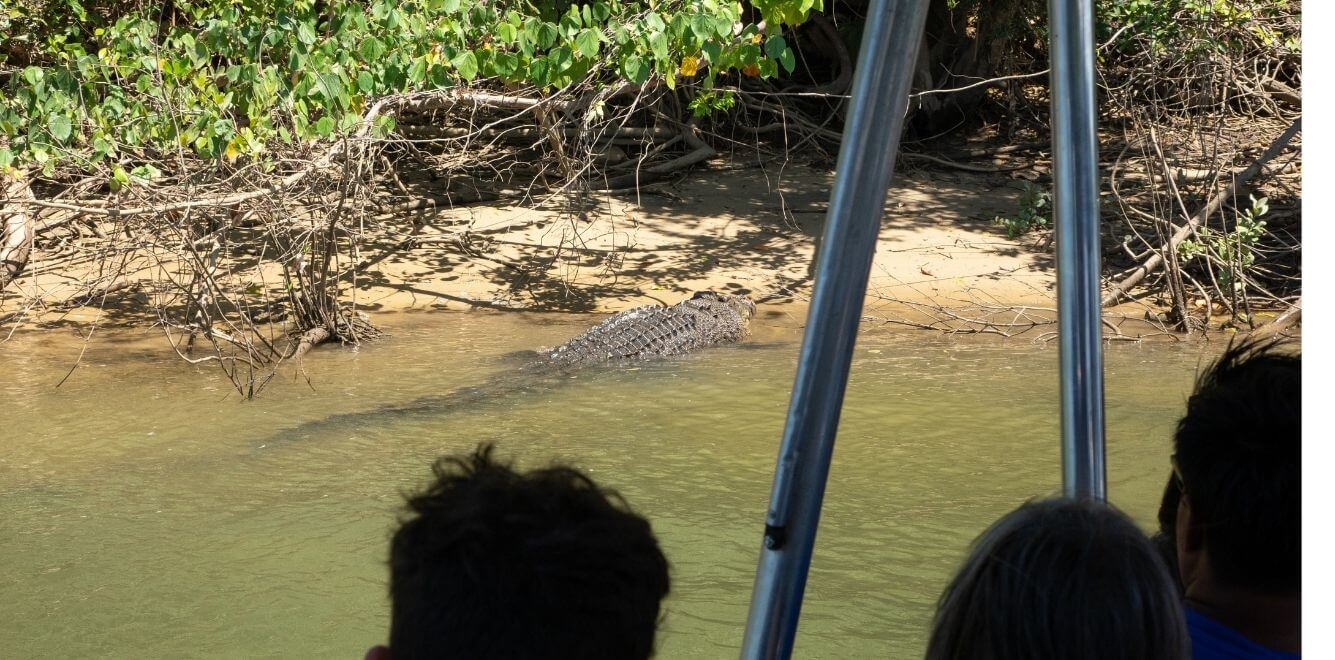 Image: Tourism Australia
Take a cruise that you will certainly never forget! Crocodile Express takes you along the ancient Daintree waterways and heritage-listed rainforests. Of course, you are bound to see a few crocs on your way too! It is a beautiful and unique journey from start to finish.
Daintree Tea House Restaurant
Enjoy lunch in tropical surrounds by visiting this restaurant before you head to your next destination. A versatile menu that offers something for everyone. Try to source a seat outside and soak up the incredibly fresh air and greenery.
You will need to hop on a Ferry to get to your next destination; this is affordable, quick and motorhome friendly. Upon arrival, you will come across some steep hills, but this won't last for long and is perfectly safe in your campervan or motorhome.
Cape Tribulation
Just over an hour and a half from the ferry port, is Cafe Tribulation. A true paradise thanks to it's sandy beaches, mountain views and ancient rainforests.
During your drive, don't forget to stop for Ice Cream at Daintree Ice cream Company and have coffee or a local tap beer at Thorton's! You'll be sipping your drink of choice in a scenic beachfront café.
When visiting Thorton's, check out the goodies from Daintree Spice Co. Pick up your favorite spice or rub to prepare for an epic motorhome dinner!
Cape Tribulation has everything you need to make the most of your motorhome holiday! There are central powered sights – providing you walking access to many incredible things.  Cape Tribulation Camping is our pick, being so close to the local grocer and these must-dos: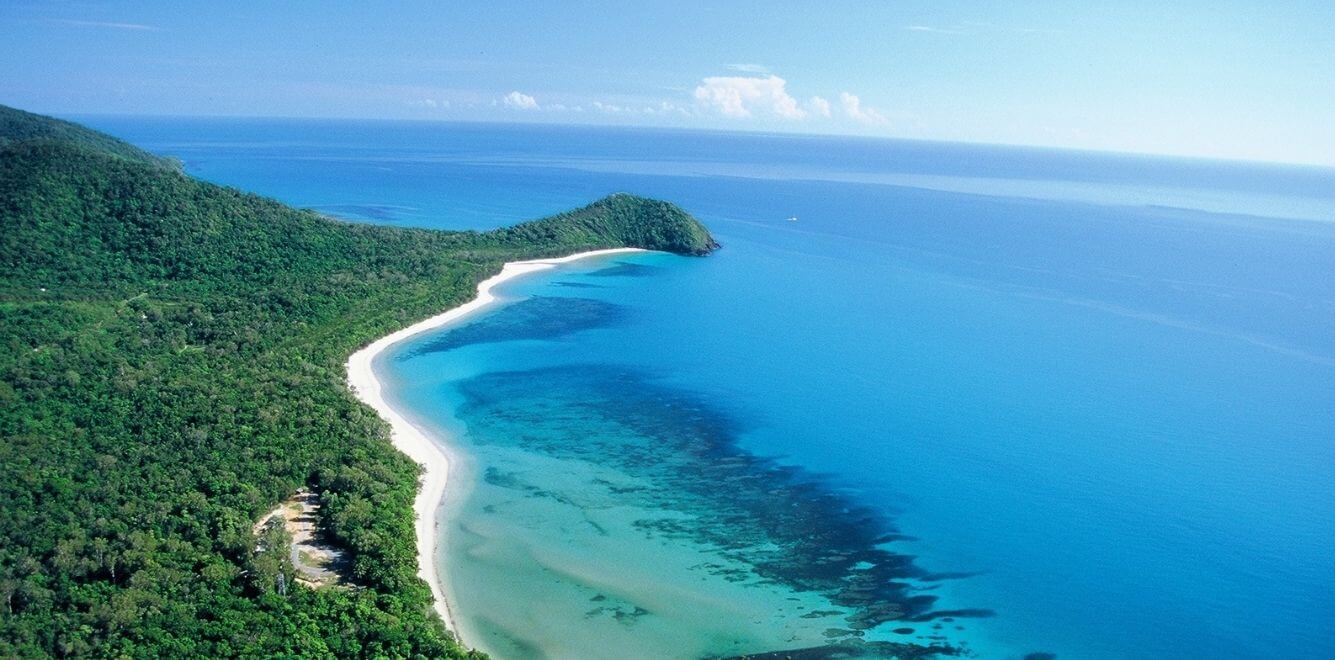 Image: Capetribe Camping
Dubuji Boardwalk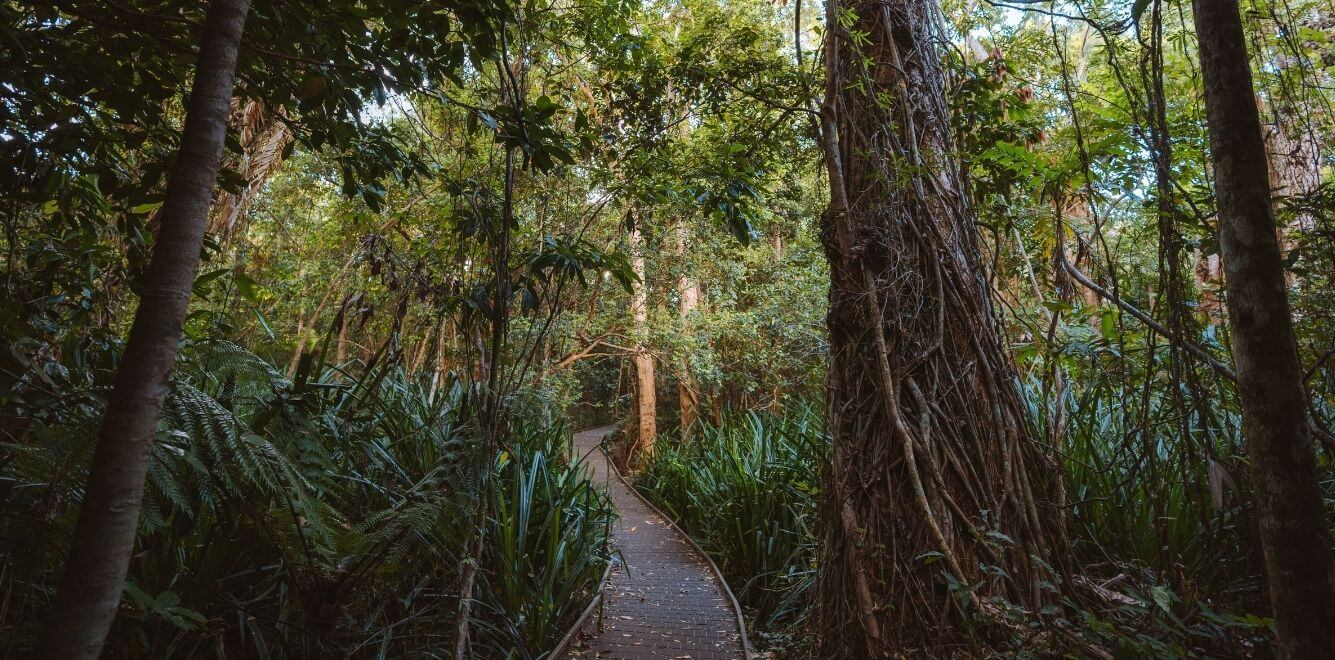 Image: Tourism Australia
This 1.2K walk is divine, hike through lush rainforest, scenic mangrove swamps and stretches of beach. Hear the sound of Kingfishers singing and see if you can spot a cassowary while walking through incredible flora and fauna! There is a beautiful boardwalk making it a simple and accessible walking loop.
Turtle Rock Café
Image: Destination Daintree
This environmentally conscious café and bar is a short walk from Cape Tribulation Camping. Enjoy a drink under a rainforest canopy on their beautiful outdoor deck.  Try a smoothie from local and exotic fruit or Mareeba grown coffee.  The great thing about this stop is they also offer safari and reef tours. It's the perfect place to go if you're not sure how you will spend your day!
Emmagen Creek
This creek feels like the town's hidden utopia. While many areas in this trip are not swim-safe, Emmagen Creek is! There is no better way to retreat on a hot day than relaxing in one of the swimming holes.
Jungle Escapes: Adventures & Tours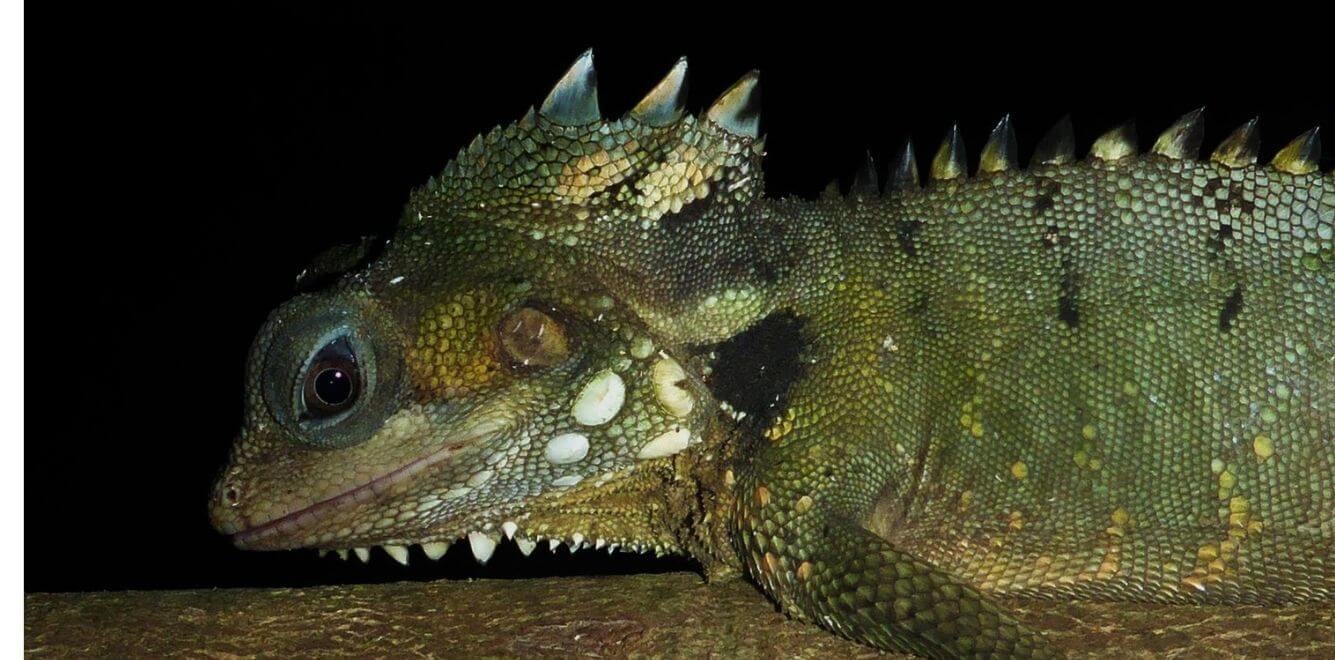 Image: Jungle Escapes
Getting here is a safe five-minute drive from our suggested accommodation or a twenty-minute walk from the city centre – so if you can, why not take a night tour? Jungle Escapes offers family-friendly and adult-only night walks from 7:30 pm. A biological scientist guide will guide you through the pristine Daintree Rainforest, spotting nocturnal animals along the way.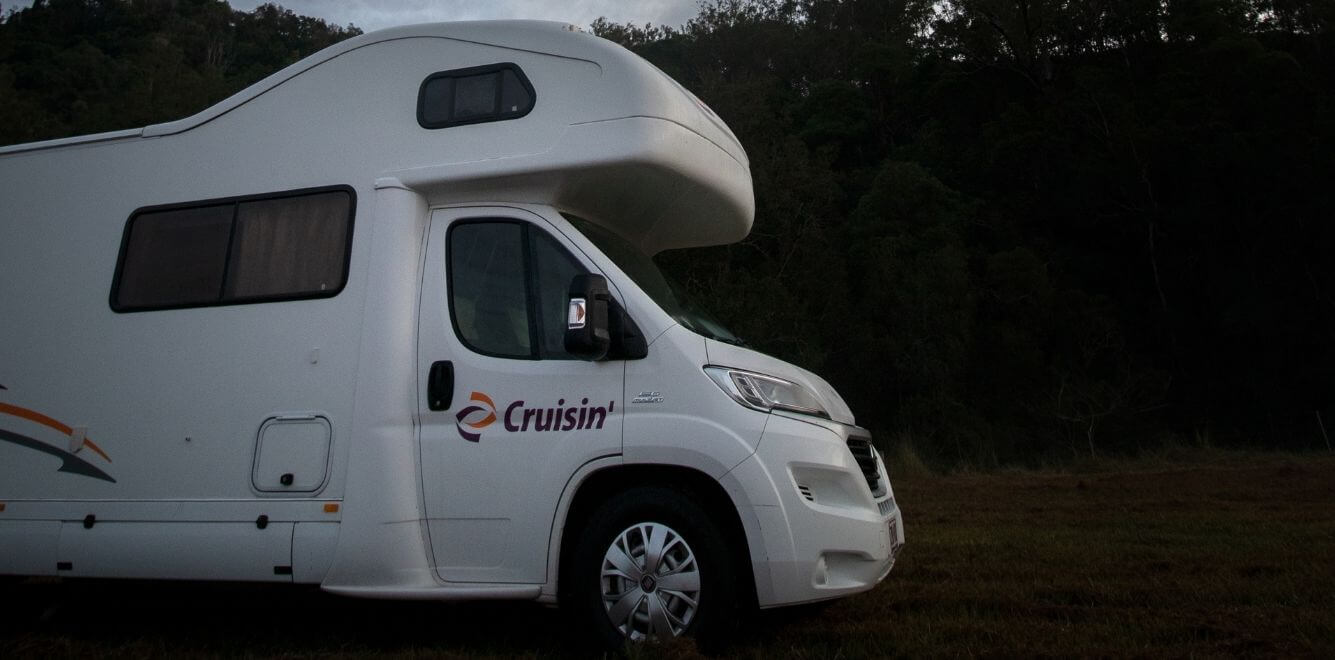 While we've suggested some central and scenic powered sites - The Billabong , Cape Tribulation Camping  &  Tropic Breeze Caravan Park. There are so other great options too!
Queensland Caravan Association have a great holiday park guide that lists all the caravan parks and holiday parks in Queensland, you can access it here:
Caravan Queensland
For further information about powered campsites in Queensland and their rules and regulations click the link below:
Powered Campsites in Queensland
Planning on a long family Queensland holiday!? Read our recent recommendations for motorhome holidaying in Brisbane:
Related Locations

399 Sheridan St, Cairns North QLD 4870, Australia

Phone Number : 1300 664 485
International : +61 3 6248 4789