Where to Stop for Snow on Your Tasmanian Road Trip
Snowflakes can fall at any time and in many places around Tasmania, but the best time of year to increase your chances of encountering a winter wonderland is between June and August. The Southwest National Park and Central Highlands of Tasmania tend to receive the most snowfall at this time of year, however Hobartians often wake to the spectacular sight of magnificent Mount Wellington rising from sea level, blanketed in white. To help guide your motorhome in the right direction on your road trip, we've come up with a shortlist of top destinations to discover snow in Tassie. A great reason to hire a motorhome!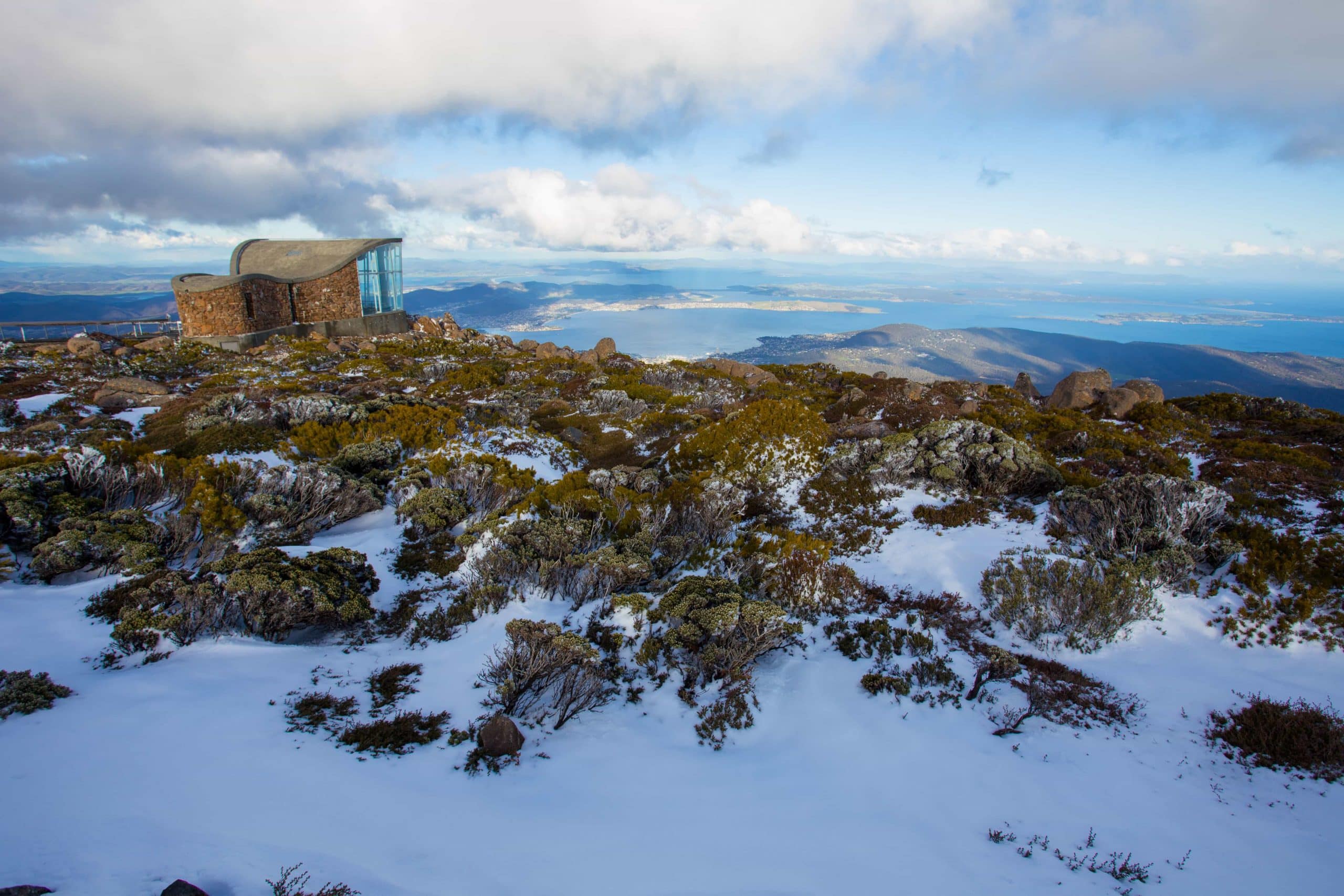 Mount Wellington/Kunanyi
Some winter days the sun dawns on a snow-capped Mount Wellington (a.k.a. Kunanyi), stained pink in the beautiful morning light, beckoning locals and tourists to drive up to play in it! Just a 20-minute, scenic drive from Hobart up Pinnacle Road to the summit will take you and your fellow travellers across diverse terrain through sub-alpine flora past glacial rock formations, including the dolerite columns of Kunyani's striking Organ Pipes. Don't forget to pull over where it is safe to pose in front of your campervan and have a photo taken at a spectacular lookout point!
Drive slowly and carefully straight to the top – not only to build a snowman or have a snowball fight, but to take in one of Australia's most spectacular vistas overlooking the picturesque waterfront city of Hobart. Panoramic views from Bruny Island all the way to the Tasman Peninsula will take your breath away. Be greeted by blustering winds on the open viewing platform or seek protection within the interpretation centre while you look out glass windows to World Heritage Wilderness Area beyond. Mount Wellington's neighbouring snow-covered ranges known as Sleeping Beauty, Collins Cap and Cathedral Rock are also to be admired.
Snow sometimes falls as low as The Springs where you can stop on your return for a hot cuppa coffee or cocoa at Lost Freight – a shipping container café with baristas to warm up your welcome! You can also take your family on a walk along one of the nearby trails through temperate rainforest to witness waterfalls rushing with some of the freshest water in the world, and revel in Wellington Park's wealth of wilderness!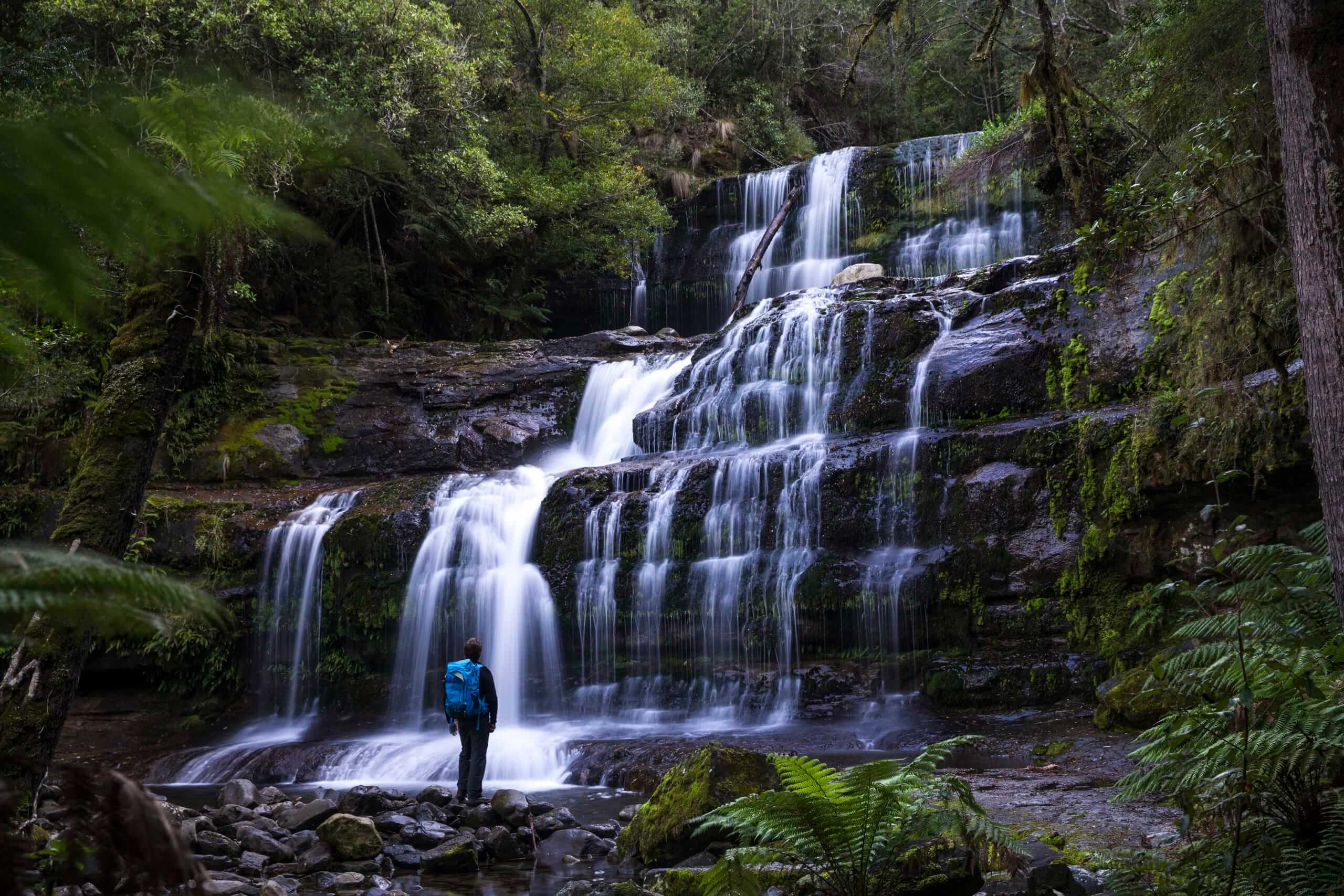 Photo credit: Sean Scott Photography
Mount Field National Park
From Hobart, take an easy 1.5 hour drive inland along the picturesque Derwent River and through the Derwent Valley countryside to Mount Field National Park. You can park your Cruisin' Motorhome at Land of the Giants Campground, located just past the Visitor Centre as you enter the park. Then it's just a short walk in hiking boots through a canopy of towering trees and falling snowflakes to see the star attraction - half frozen Russell Falls overflowing in winter!
Or travel to a section of the park known as Lake Dobson, where you'll find ski fields at Mount Mawson. The road up to Lake Dobson from the Visitor Centre near Russell Falls requires a snow plough to clear it after a blizzard, but National Parks administration may be contacted on (03) 6288 1319 for a report on the road status.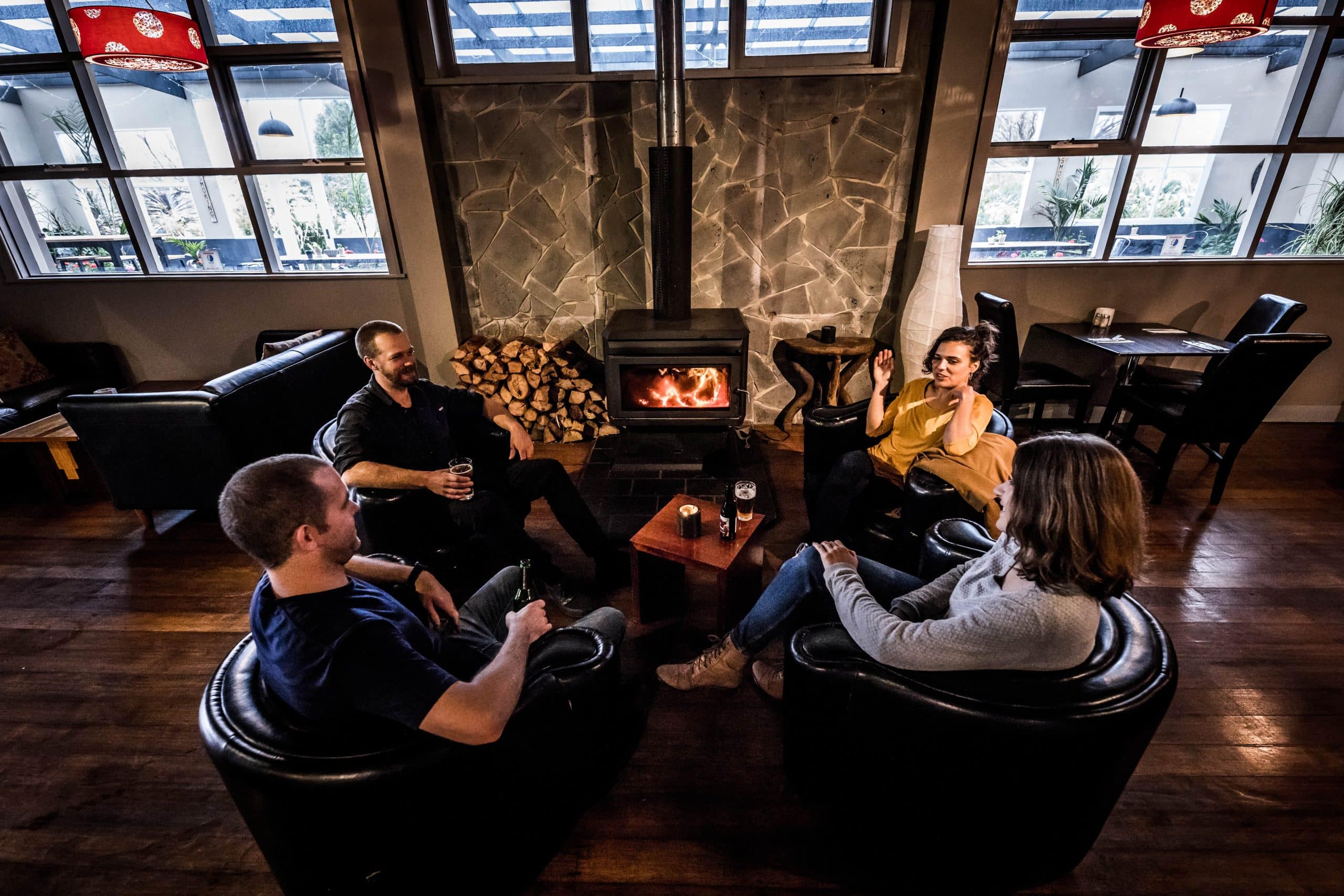 Photo credit: Natalie Medham
Tarraleah/The Central Highlands
A motorhome road trip through the Central Highlands reveals a photogenic winter wonderland when a dusting of snow settles, and offers sightings of distant, snow-capped peaks surrounding the Southwest National Park as you head towards icy, glacial Lake St. Clair.
You'll find the tiny township of historic Tarraleah tucked away in the middle of The Central Highlands, but accessible by your Cruisin' Motorhome via the scenic Lyell Highway. Once home to hundreds of Hydroelectric pioneers, modern day Tarraleah Estate is now a resort on a village scale with retro-style, character cottages painted pretty pastel colours facing an often frosty village green at Main Square.
Take a selfie to post on Insta with one of the quirky Highland cows that hang out in Tarraleah's snowy paddocks. Then you might want to venture over to The Highlander Arms, a lounge bar with a Vintage Room featuring antique style décor, where you can sit by an open fire and enjoy a warm whisky!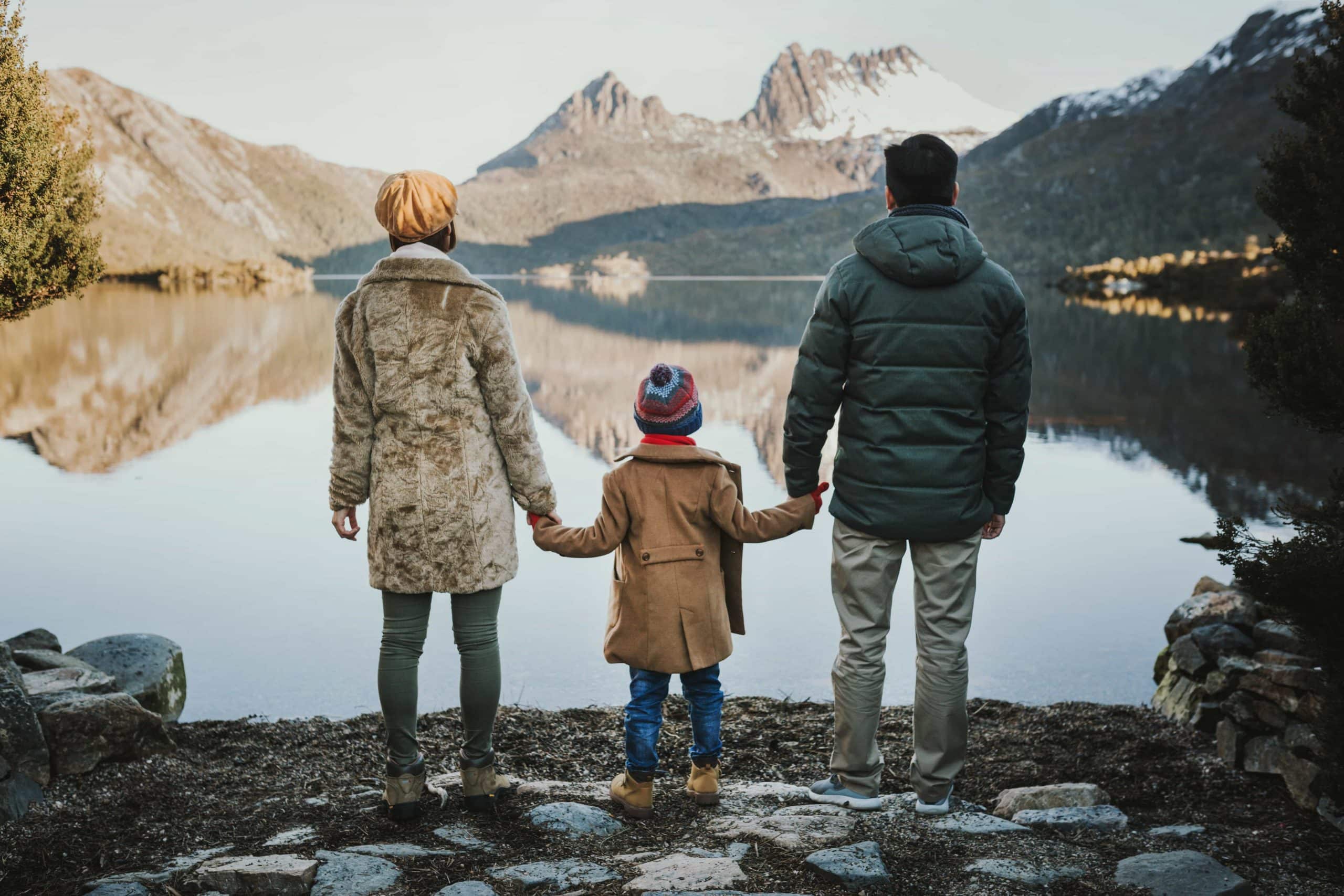 Photo Credit: Tourism Tasmania
 Cradle Mountain-Lake St. Clair National Park
A winter campervan trip in Tasmania would not be complete without traveling to Cradle Mountain National Park for the most magical snowy mountain experience ever!
Made up of alpine heathland, temperate rainforest and rugged peaks, there are many winter walks to explore within this World Heritage Area. One of the most manageable and incredibly captivating trails is the Enchanted Walk, a 20-minute circuit suitable for all age groups through cool, temperate snow-covered rainforest, along the banks of Pencil Pine Creek where kids will love encountering wallabies and wombats in the wild!
Your Cruisin' Motorhome can take you to the start of this walk which begins at Cradle Mountain Lodge. From there you can also hop on a shuttle bus that will take you to the lookout at Dove Lake, where you may be lucky to glimpse a peek of the snow-capped cradle before it disappears between snow clouds! More adventurous walkers can hike through sleet past the iconic boat shed, and slush through the entrancing Ballroom Forest as part of the Dove Lake Circuit.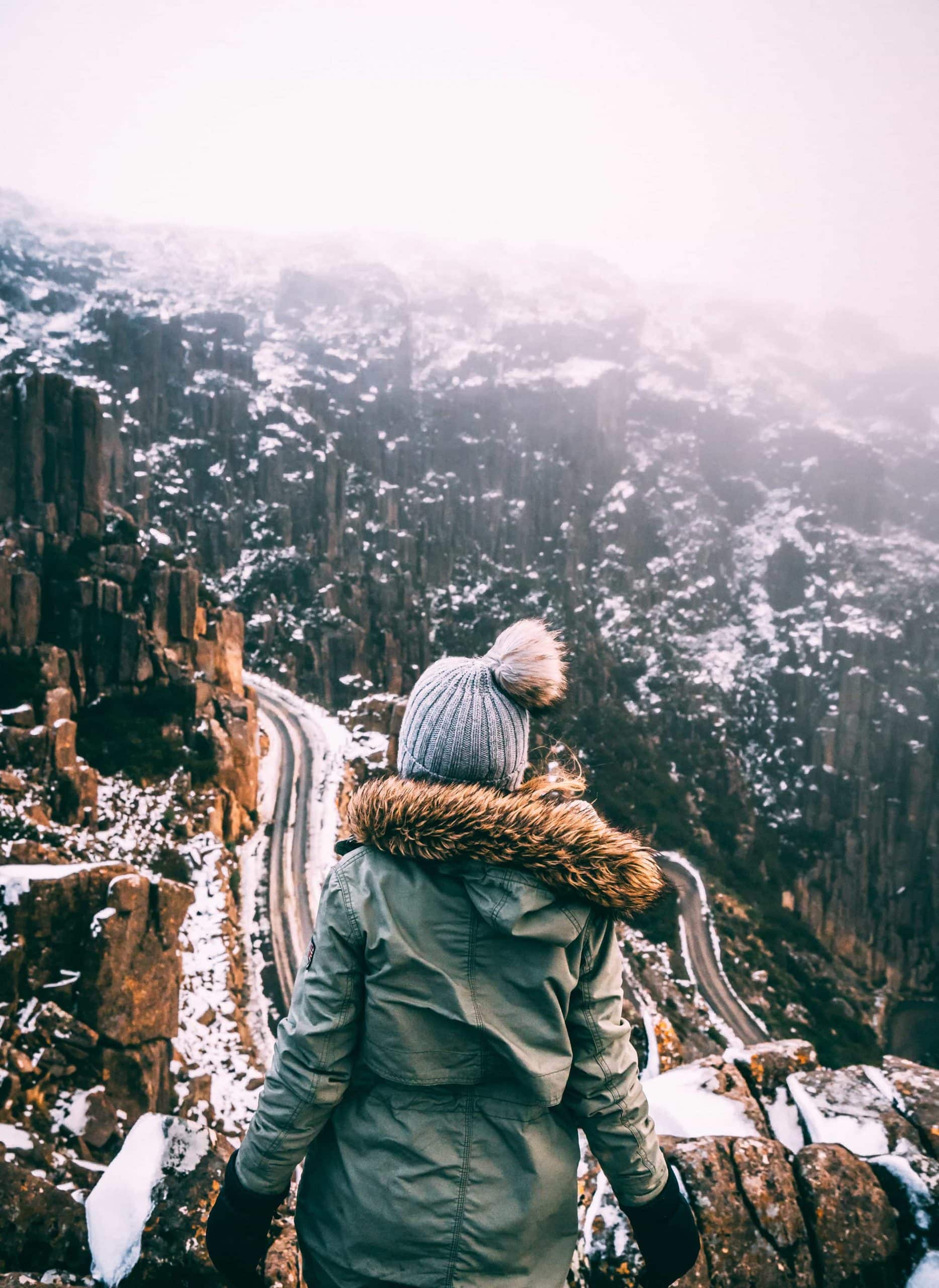 Photo Credit: Lachlan Bevis
Ben Lomond National Park
If it's skiing you're after, beautiful Ben Lomond is where you'll find the best slopes. Ski season depends on snowfall but generally runs from early July through mid-September, and snow guns are used to top up any natural snowfall to improve conditions for skiing, snow-boarding or sledding.
Unfortunately the steep and dramatic zig-zag climb up Jacob's Ladder to the plateau cannot be accessed by motorhomes without 4WD and chains, but adventurers can conveniently catch the Snow Sports Shuffle Bus that runs on rotation from the lower car park collection point.
At the entrance to all snow activity, gear can be hired from Ben Lomond Snow Sports which is open 7 days from 9am to 4:30pm. Skiing and snowboarding lessons from qualified instructors can also be taken at their Ski School. A cosy shelter with an open fire area and an onsite café offering hot drinks will help warm you up in between sessions!
It's worth noting Tasmania's weather can change rapidly and unpredictably in alpine environments, so it is recommended that wherever you journey in your Cruisin' Motorhome, you wear snow shoes and tread carefully. If the weather deteriorates or the walk is more difficult than expected, be prepared to turn back or change plans, remembering that the sun sets early on short, winter days. Still, a Tasmanian winter snow trek is well worth being a bit adventurous! Here are some other Hobart campervan itineraries you might like to consider consider.
What are you waiting for? Check out our range of campervans to choose the perfect model for you. Find out our availability to book now!
Related Locations

3 Runway Pl, Cambridge TAS 7170, Australia

Phone Number : 1300 664 485
International : +61 3 6248 4789