5 Of The Best Scenic Drives In Tasmania
The Convict Trail: Hobart, Richmond, Copping, Dunalley, Eaglehawk Neck, Devils Kitchen, Cape Hauy, Port Arthur, Cape Raoul
Cradle Country To Coast: Devonport, Latrobe, Sheffield, Cradle Mountain, Queenstown, Strahan, Waratah, Burnie, Stanley
The Great Eastern Drive: Hobart, Hamilton, Orford, Swansea, Coles Bay, Freycinet National Park, Bicheno, Mount Elephant Pass, St Helens, Bay of Fires, Derby, Bridport, Bridestowe, Launceston
Tamar Valley: Launceston, Grindelwald, Beaconsfield, Beauty Point, Narawntapu National Park
For The Nature Lovers: Hobart, Huonville, Geeveston, Tahune Forest, Hartz Mountains National Park, Hastings Caves
Start your motorhome road trip in Tasmania, with some of the most gorgeous mountain ranges, nature reserves, and historical towns and cities along with way! Tasmania is absolutely the place to be for nature lovers, and you'll be sure to discover stunning unique destinations to add to your itinerary.
Here's a tip just for you! You'll discover a huge variety of national parks across the state, but you'll require a national parks pass if you want to visit them. To avoid the cost and hassle of organising individual park passes, invest in a holiday pass that grants you unlimited entry to all parks for up to two months! Learn more about Tasmania's national park passes, then purchase yours online or aboard the Spirit of Tasmania if you're bringing your motorhome hire over from the mainland!
The Convict Trail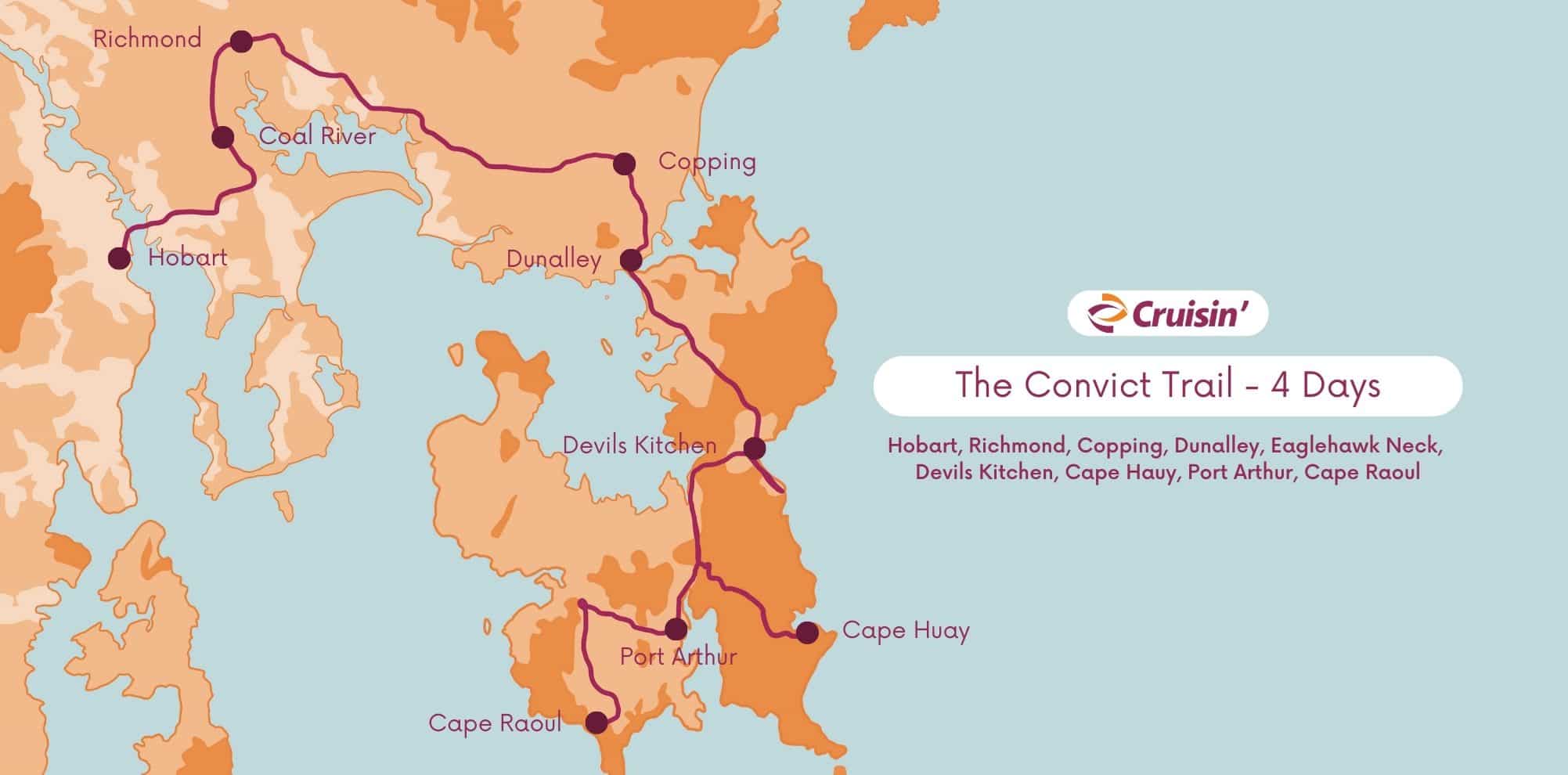 Tasmania is infamous for its convict history, so if you're looking for gaols, ghost stories, and historical adventures, this is the best road trip itinerary for you!
From Hobart you'll make your way over to Richmond for an adventure at the Richmond Gaol, which is the oldest gaol in Tasmania. Here you'll be able to experience the fascinating history left behind in the colonial-style rooms and learn all about Tasmania's convict past.
After Richmond, your next destination is Copping and the Colonial and Convict Exhibition. This museum is home to over 10,000 authentic convict artefacts and a taste test of what's to come when you finally reach Port Arthur – which is the best-preserved convict site in Australia. Are you keen for something spooky? Try the ghost tour at Port Arthur, the chilling tales will have you racing back to the comfort of your motorhome!
This road trip isn't just about convicts though! Between Copping and Port Arthur you'll find some of the most unique Tasmanian sights, including the Tessellated Pavement, Tasmans Arch, the Blowhole, and Remarkable Cave. That's not even the half of it, there's so much more to see!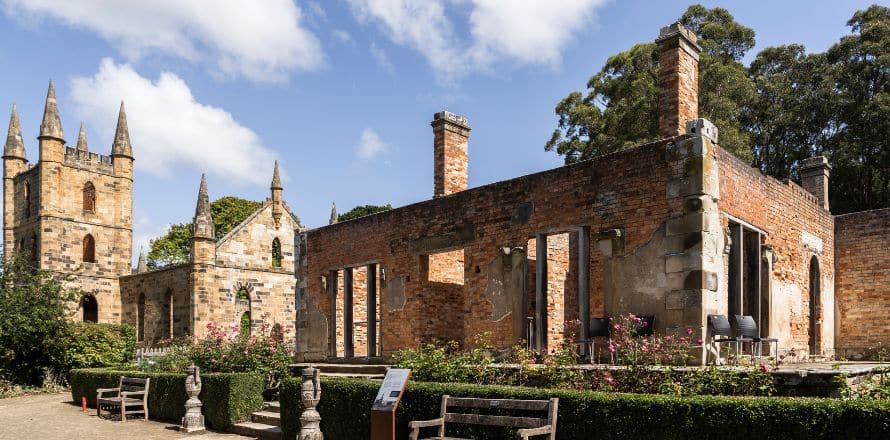 Port Arthur, Tourism Australia
Cradle Country To Coast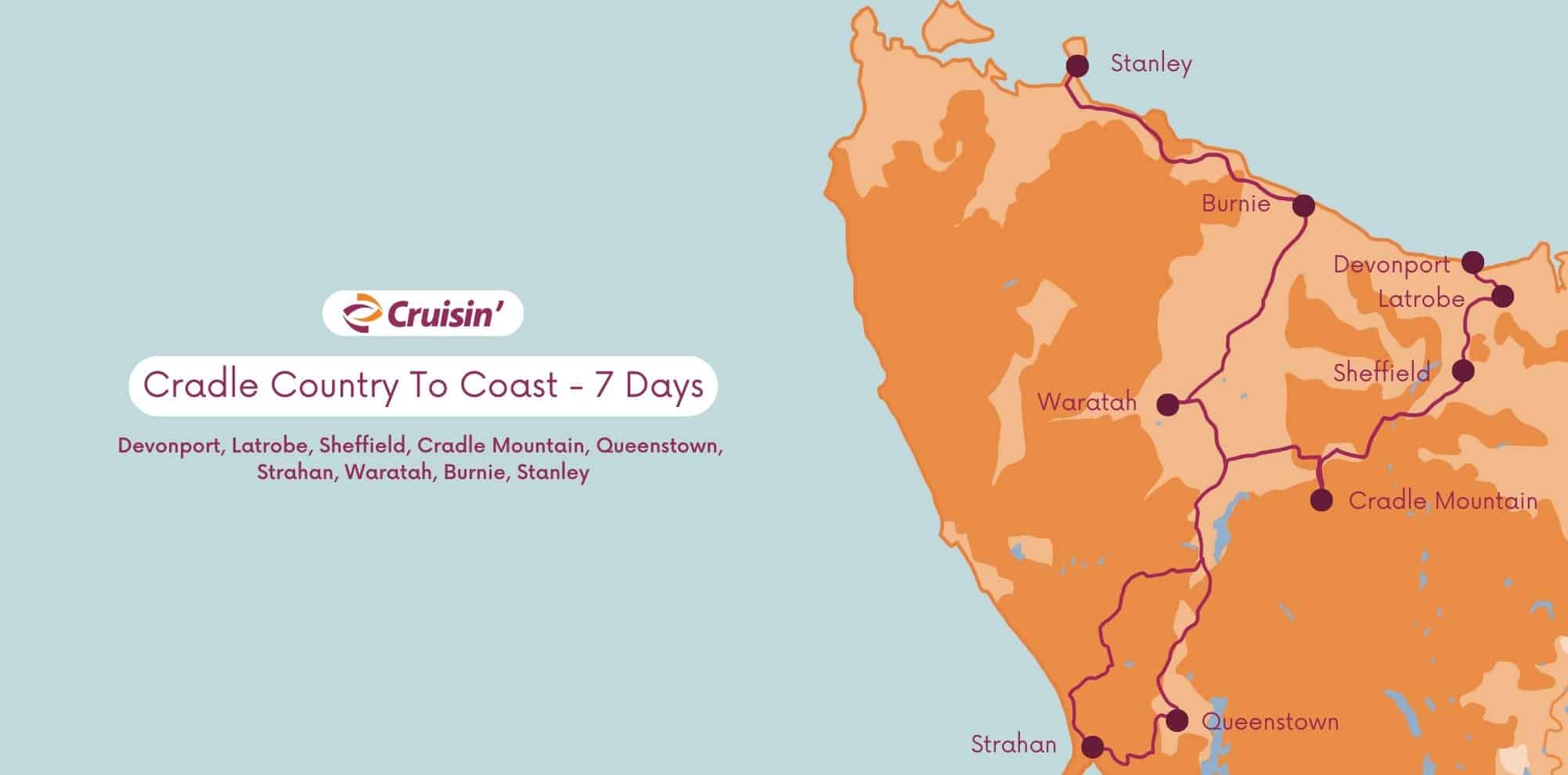 This is a great trip if you're coming from the mainland on the Spirit of Tasmania! Start your road trip in Devonport and head directly over to Latrobe, a bustling little town with endless shops and the locally beloved Reliquaire!
When you're ready, head for Cradle Mountain, making sure you stop at Sheffield on the way for Tasmazia – which is the largest maze complex and a ton of family fun! You'll want to spend a couple of days exploring the Cradle Mountain area because there's an endless supply of bushwalks, flora, and fauna to see. Don't forget to visit the gorgeous Dove Lake and rustic Waldheim Chalet!
Hit the road again and keep heading down to Queenstown to see Australia's most feared football oval, "The Gravel" – which, as you might guess, is a field made entirely from gravel. Next, make sure you visit Strahan and go for a stroll along Ocean Beach, which is Tasmania's longest beach!
Now head up north, passing through Waratah to witness its famous local wildflowers, and then take some time to visit Burnie and Stanley. Whilst you're here you'll absolutely want to hike across The Nut.
Next, you can head towards the East Coast or make your way down south with a road trip to Hobart!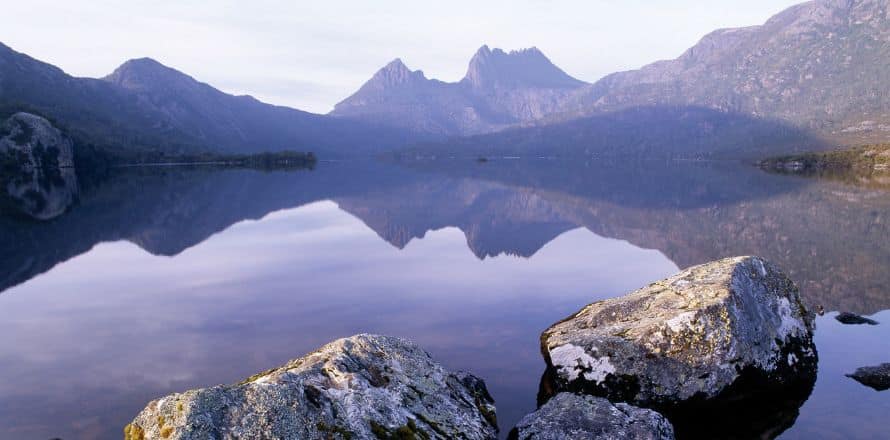 Cradle Mountain & Lake Dove, Tourism Tasmania & Paul Sinclair
The Great Eastern Drive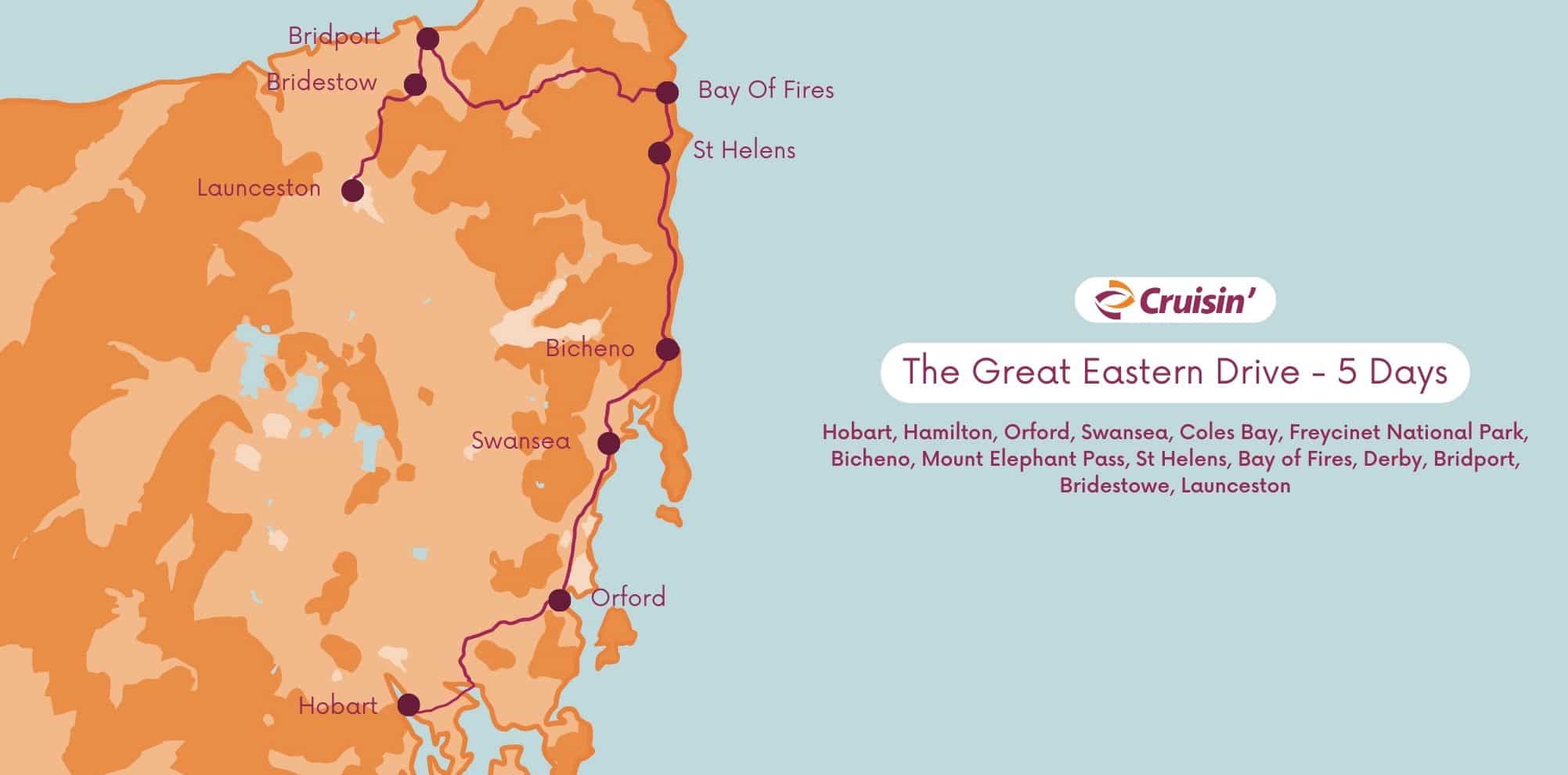 This is Tasmania's Great Ocean Road! The Great Eastern Drive deserves at least 3-4 days to complete. Begin your motorhome road trip from Hobart and explore a hub of swimming and bushwalking in Orford before catching a ferry out to Maria Island. Here you'll get to see the gorgeous Painted Cliffs, which are a natural marvel!
Once you're back in Orford, it's time to drive up to Swansea to discover the wonder of Freycinet National Park and the pink granite peaks of the Hazards range.
Next, coast along to Bicheno. This sleepy coastal town has some of the best walking trails, beaches, and rock pools – and we can't forget the Bicheno Blowhole! From there it's only a hop and a skip to St Helens, with its famous Bay of Fires and Wineglass Bay.
From there you can make your way over to Derby for extraordinary mountain bike tracks, stopping off in Bridport and nearby Bridestowe for the gorgeous lavender fields, before heading towards Launceston.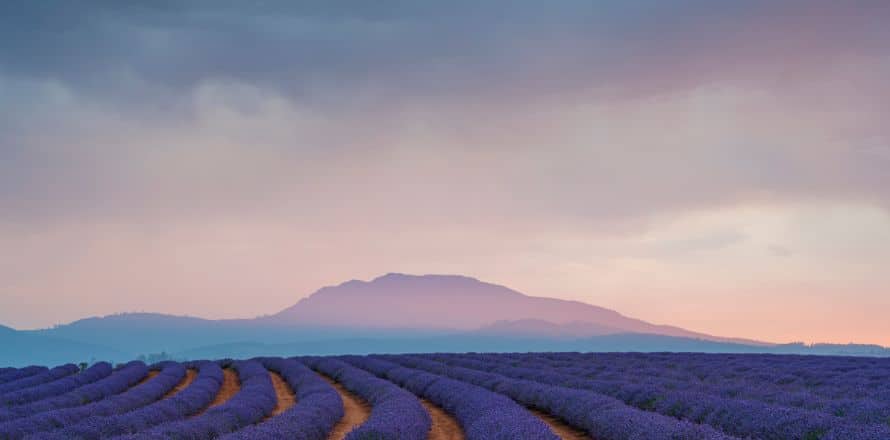 Bridestowe Lavender Estate, Luke Tscharke
Tamar Valley
This short road trip from Launceston combines some of the most popular adventures in the north of Tasmania. This region's main claim to fame is of course its wineries! So make sure you do some research and add them to your itinerary, and be sure to check out our guide to Tamar Valley for even more tips.
Follow the Tamar River, making sure to stop off and visit the Tamar Island Wetlands Centre so you can spend the day exploring gorgeous urban wetlands. You'll want to add Grindelwald to your itinerary as well whilst you're in the area. This uniquely Swiss village is the best place to be for mini golf!
When you're ready to hit the road, make your way towards Beaconsfield and prepare to spend your day exploring the town's gold mining history. Stop off at the Lavender House, which is Tasmania's only perfumery, before heading out to Beauty Point. This is your chance to get up close with some local platypuses, echidnas, and seahorses at the Platypus House and Seahorse House!
Take your time exploring the great walks and wildlife of Narawntapu National Park. From there you'll want to visit Latrobe before heading to Devonport to catch the Spirit of Tasmania over to Melbourne!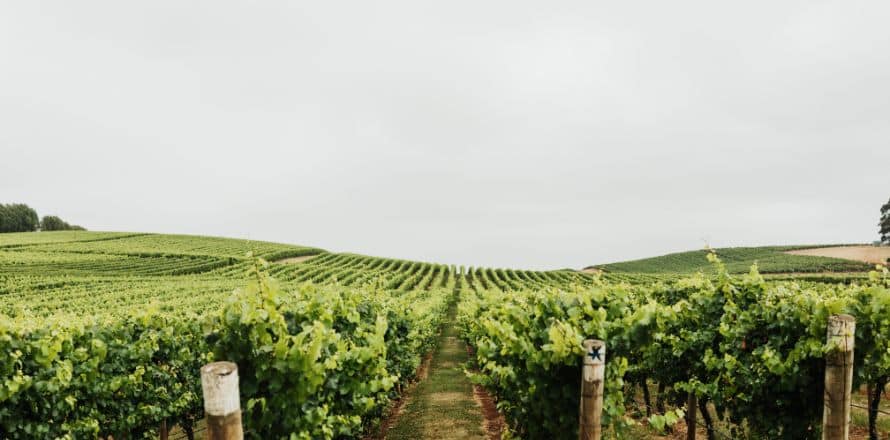 Jansz Tasmania, Adam Gibson
 For Our Nature Lovers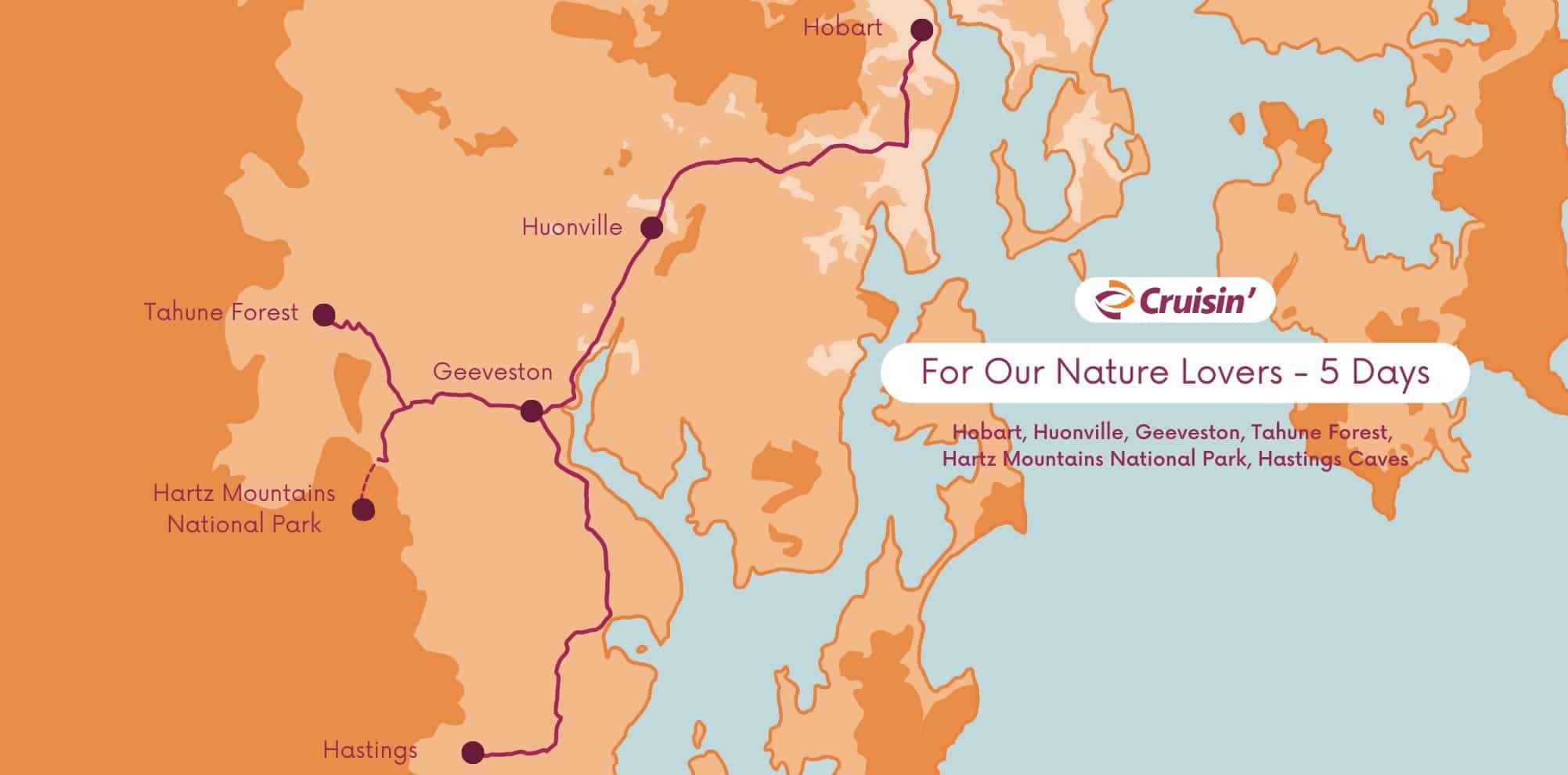 Begin your road trip from Hobart and set out along the Huon River towards Huonville. Absolutely take your time exploring Huon Valley, giving yourself a chance to enjoy its gorgeous mountain ranges, walking trails, and tasteful wineries.
Keep the road trip going as you make your way out to Geeveston, where you can try your luck at spotting one of Tasmania's most elusive animals on the aptly named platypus walk. Afterwards, it's time for adventure and adrenaline with the Tahune Airwalk! Book your tickets in advance and give yourself the best views from high above the forest canopy.
Next on the itinerary is the Hartz Mountains National Park, with two major alpine trails, gorgeous glacial lakes, and stunning lookouts. You'll want to give yourself a whole day to make the most out of this area.
Lastly, it's time to go underground with Hastings Caves! These 40-million-year-old chambers are eerie yet delightful, and the enormous Newdegate Cave is absolutely the star of the show! Book your guided tour and experience fascinating subterranean formations before wandering off on your own to explore the gorgeous forests in the world above.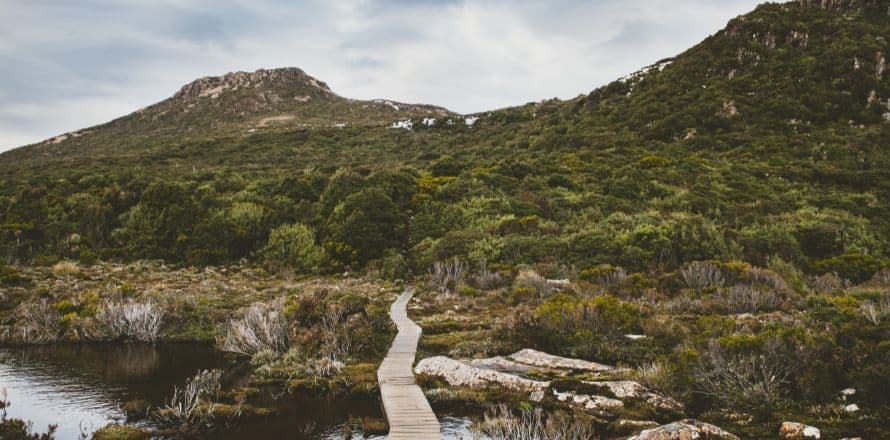 Hartz Peak Walk, Stu Gibson
Are You Ready For Your Road Trip In Tasmania?
Or maybe you'd prefer a round-trip loop of the state? Don't worry, we've got you covered with our two-week idyllic road trip in Tasmania!
Tasmania may be small, but you'll find a large variety of campgrounds in the state. Make sure you're planning your trip accordingly and aim to be in a holiday park at least every second day to recharge your motorhome's battery. For your own safety and the safety of our wildlife, please do all your driving during the day. Tasmania has a large population of nocturnal wildlife, and our wallabies and wombats often wander out onto the roads by accident, so please keep watch for them.
The best way to make the most out of your road trip in Tasmania is with an itinerary. Feel free to borrow one of ours or design one entirely of your own! Don't be afraid to take the Spirit of Tasmania to the mainland either, because with a motorhome you're free to go anywhere you like!
Book your motorhome hire in Hobart today!  Call our friendly reservations team on 1300 664 485 or check out our website to see the motorhomes we have available at our Hobart branch.
Related Locations

3 Runway Pl, Cambridge TAS 7170, Australia

Phone Number : 1300 664 485
International : +61 3 6248 4789