10 Family-Fun Destinations In NSW To Visit This Summer
It's summer in Australia and time to book that family motorhome holiday in New South Wales before the kids go back to school!
We might sound biased, but a road trip holiday is the best way to experience all the things to do in NSW. This is because a lot of the most unique sights and experiences are scattered across the state like a treasure hunt. Of course, a key thing to consider first is the needs of your family. Do you need space? Flexibility? Baby seats? Cruisin' has got you covered on all bases! We absolutely recommend our 6-berth motorhomes, such as the Cruisin' 6 Berth Discovery or the Cruisin' 6 Berth Deluxe, which will provide style, comfort and enough room for the whole family to relax. See our guides on our Cruisin' 6 Berth Discovery and the Cruisin' 6 Berth Deluxe motorhomes and check out our virtual tours to determine which is best for you and your family.
Now, it's no secret that it takes a lot of road tripping to discover some of NSW's best kept secrets – but it's so worth it when you get there. Coming up we have ten of our top picks for unique NSW school holiday destinations filled with family fun, bite-sized learning, and truly memorable sights!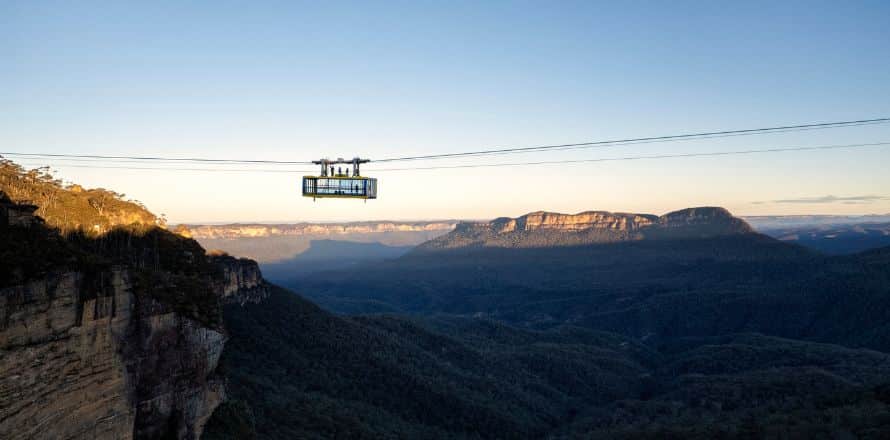 Image: Destination NSW
The Blue Mountains
Start your motorhome holiday in NSW with the Blue Mountains, which are just a short one-hour drive from Sydney. There are a variety of motorhome campsites in the Blue Mountains if you want to stay for a night, which we would absolutely recommend as the starry skies in this area are some of the best in the state! Enjoy the thriving culture of Katoomba, Faulconbridge and Leura and travel around the mountains at your own pace with the Hop on Hop off Explorer Bus. Here you'll be able to immerse yourself in the rich Aboriginal history of the area and hike out to visit the legendary Three Sisters.
Whilst you're here, Scenic World is an absolute must! The kids are bound to fall in love with Dinosaur Valley – don't miss out though, this exhibition is only on for a limited time. Parents, we haven't forgotten about you. You'll find the Terrace Café & Bar nearby with local beers, wines, ciders and grazing boards for your enjoyment.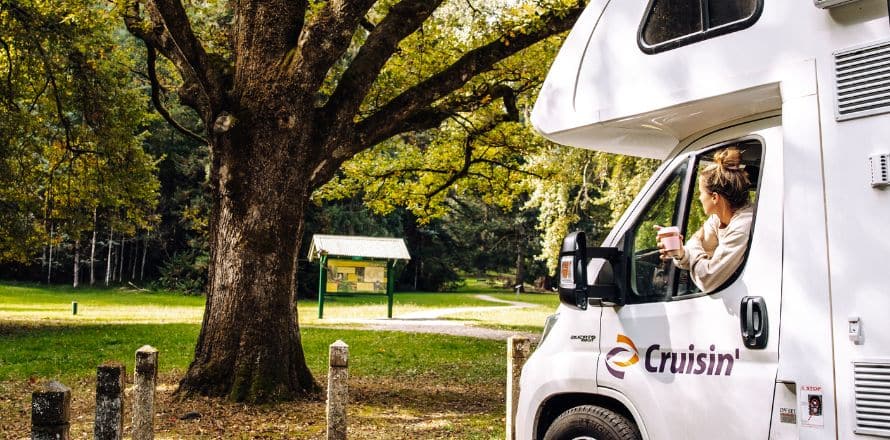 Albury
Whether you're a family seeking a relaxing escape, a culture connection or nature experience, you'll find it all during your motorhome holiday in Albury. From the High Country Rail Trail and CBD Historic Buildings Virtual Walking Tour, you definitely won't struggle to find things to do in Albury. Nature lovers absolutely cannot pass on the Albury Botanic Gardens, with rows of towering trees and a collection of rare rainforest flora. Kids will enjoy roaming freely with life-sized dinosaurs and will be keen to explore the fairy temple and troll cave!
Feeling peckish? Not to worry, you'll find a variety of bakeries and cafes, more breweries for parents, and a variety of international tastes from Italian to Mexican cuisine. Want to bring your treats with you? Go ahead and put it in your motorhome's fridge! If you want a taste of the local attractions in Albury, try the Escape Room, Murray Art Museum Albury (or MAMA), mini golf zone and laser tag, Wodonga Creek miniature Railway or Albury's aquatic facility WAVES! Let the kids get some energy out at Belvoir Park Playground or spend some time at nearby Lake Hume before continuing your NSW road trip!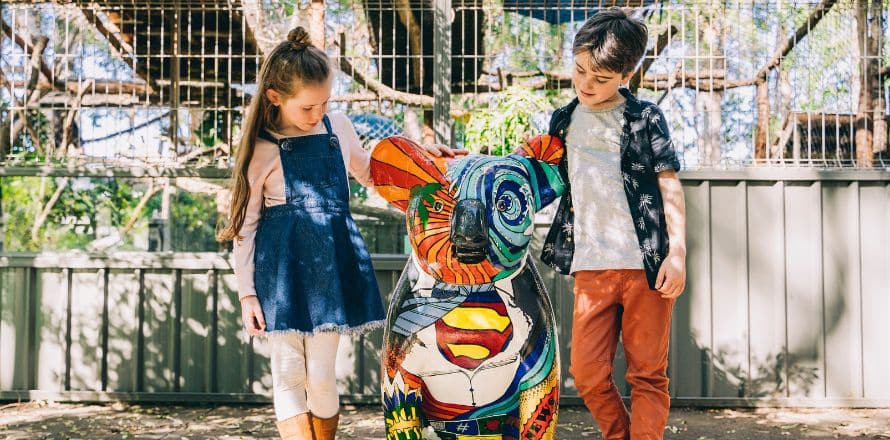 Image: Destination NSW
Port Macquarie
Your motorhome holiday in NSW probably involves a lot of driving, but many destinations in Port Macquarie are within walking distance so you'll have the chance to stretch your legs for the day! There's plenty of things to do in Port Macquarie, and it's absolutely the best place for animal lovers. Learn about one of Australia's cutest critters at the Koala Hospital, then visit an even greater variety of animals at the Billabong Zoo!
Another thing you should try is Escape the Expected, which is a unique outdoor escape room that'll add an extra element of excitement during your walks around Port Macquarie. Speaking of walks, you should try out the Coastal Walk! Why not plan for a day trip and prepare a picnic in your motorhome? Pack your water, hats, sunscreen and swimwear and meander along a variety of beaches, lookouts and historical sites.
Wait! Before you zoom off on you road trip holiday in NSW, check out Wauchope (just twenty minutes away) and learn about the area's European heritage at the Timbertown Heritage Theme Park – for pioneer-lovers this one is a must-visit!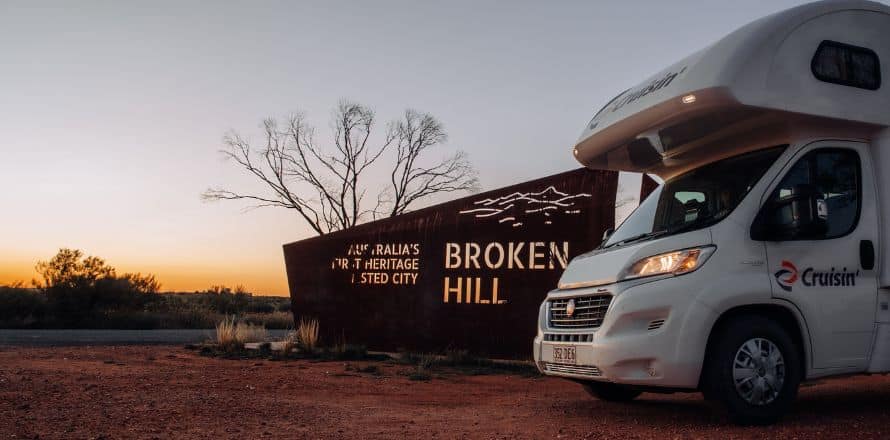 Broken Hill
For the ultimate road trip in NSW, make your way through scenic red desert to Broken Hill, which has risen in fame over the years after being the backdrop for iconic films like Adventures of Priscilla Queen of the Desert, Mad Max II, Mission Impossible and Razorback. If you or the kids are into Western movies, this is absolutely a must-visit. You'll want to find a place to camp in Broken Hill for the night so that you can really relax with your family.
The town has a lot to offer in terms of community and culture, with plenty of pubs, cafes, and a thriving art community inspired by the blazing red earth. The whole family will be excited by Bells Milk Bar, which is a 1950's-style café that will make you feel as though you've stepped back in time!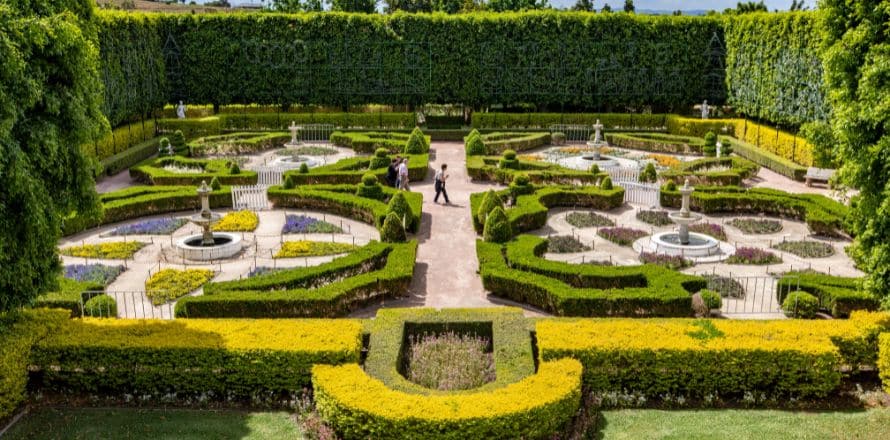 Image:Destination NSW
Pokolbin
Located in the heart of the Hunter Valley region, Pokolbin is just two hours from Sydney and the perfect stop for your road trip in NSW. With shopping, dining and more, you'll find plenty things to do in Pokolbin. There are a variety of cheese tastings, wine tours and vineyards, cosy bars, cafes and eateries, so this is definitely a great place to fill up the fridge in your motorhome and make the most of the extensive storage space.
Book in with one of the campsites near Pokolbin and then make your way over to the Hunter Valley Gardens for a truly unique family holiday experience. You won't want to forget your camera here! From the waterfalls of the Sunken Garden and the moon gate of the Chinese Garden to the magical Storybook Garden with its life-like characters, the whole family will be in awe of the hidden beauty of this place. Once you've finished exploring you'll want to try the relaxing tea cup, carousel, and Ferris wheel as well as the super thrilling swinging chair and super slide!
Image: Destination NSW
Port Stephens & Surrounds
Also located in the Hunter Valley region, this is another fun family destination for your motorhome holiday in NSW. From beautiful beaches, stunning sand dunes, coastal walks, national parks and pristine waters, there's just so many things to do in Port Stephens – you'll definitely want to book in with one of the holiday parks to really make the most out of your stay. At the top of the list is the interactive Irukandji Shark and Ray Encounters in Anna Bay, just thirteen minutes away, where you can pet and feed the animals whilst learning about the ocean ecosystem.
Explore and hike around Shaol Bay with picturesque views of the ocean on all sides – and absolutely bring a family picnic and your swim wear! If you've got older kids who are up for more of a challenge, you can also try the Tomaree Head Summit walk – it's short, but it's steep. For a truly unique holiday experience in NSW, head to the  . Book in with one of the local tour companies who know the best spots to sandboard down the dunes or ride a camel and explore the towering waves of golden sand! Don't worry about the clean-up, our Cruisin' 6 Berth Motorhomes come equipped with showers and a dustpan to get rid of that pesky sand.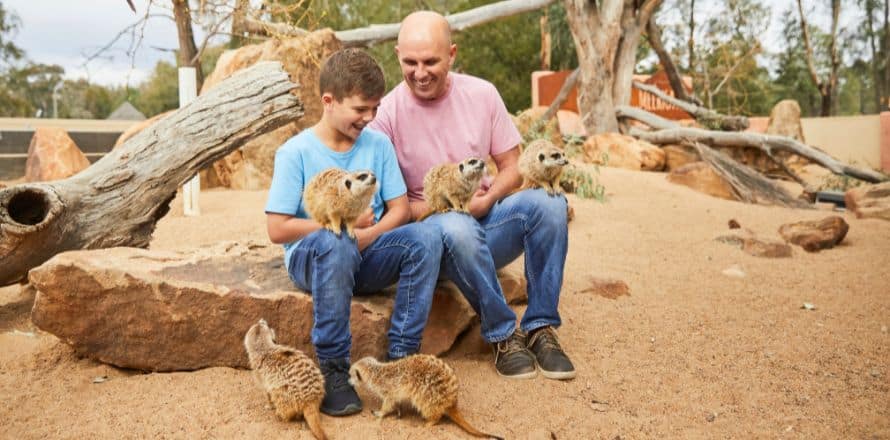 Image: Destination NSW
Dubbo & Great Western Plains
Set yourself up at a caravan park in Dubbo and embrace the relaxation and adventure found in the Great Western Plains. With beautiful natural landscapes, restaurants, retail, cafes, history and music, this is a great place to camp during your family road trip in NSW.
With a huge variety of nature reserves to hike through, as well as the open range sanctuary of the Taronga Western Plains Zoo, there are so many things to do in Dubbo for nature and animal lovers. At the zoo you'll see hundreds of endangered animals from continents such as Africa and Asia as well as rare Australian animals such as the platypus and bilby. Plan for at least a day at the zoo so you can really pace yourself and see all the animals on your list. You'll probably also need another day to visit other points of interest, such as the Narormine Aviation Museum, Royal Flying Doctor immersive Visitor Experience and the Dubbo Gaol – kids with a passion for planes and pioneers will have the time of their lives!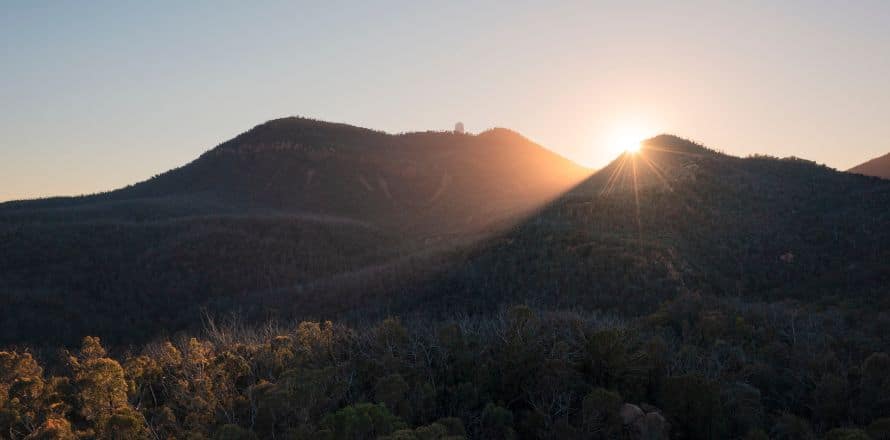 Image: Destination NSW
Coonabarabran
Known as the stargazing capital of Australia, and with several observatories in the area as well as the largest optical telescope in Australia, Coonabarabran> was the first International Dark Sky Park in Australia. If your family is seeking a uniquely relaxing experience with nature, you can embark on a short road trip from your caravan park in Dubbo or find a place to free camp nearby. Let professional astronomers guide you through the stars by booking in with the Milroy Observatory or the Sliding Spring Observatory. Tours run day and night, so plan for whichever suits your family best!
There are some other truly unique things to do in Coonabarabran. You can visit the Crystal Kingdom, with one of the world's rarest and most colourful collections of minerals and fossils. This is a great stop for kids who love shiny things and dinosaurs. There's also a gift shop where you can get creative and design your own unique piece of jewellery!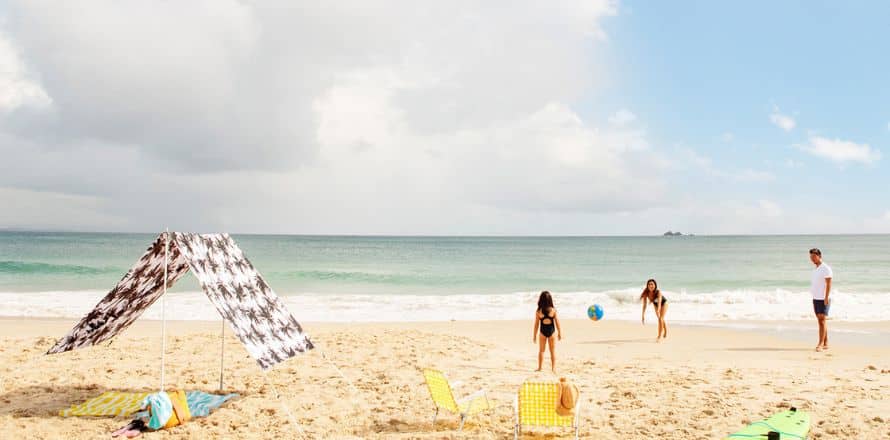 Image: Destination NSW
Byron Bay
A frequent destination on most itineraries for family holidays in NSW, and with good reason! At Byron Bay you can enjoy a variety of fun and relaxing experiences for the entire family. This is a great time to rest your brain after all that learning you've been doing. Kids can go wild in the inflatable playhouse at Tuffy's Nest (yes parents, you can join them!).
Seeking more of a nature experience? Not to worry, we've got you covered! There's Main, Clarkes and Wategos beaches, as well as a walking trail to Cape Byron Headland. Take your pick of rainforest, beaches, grassland and clifftops and enjoy a relaxing hike in Byron Bay. With so many things to do in Byron Bay, you might want to book in at a holiday park for a couple of days here to really kick back and relax and enjoy the flexibility that comes with opting for a motorhome holiday in NSW.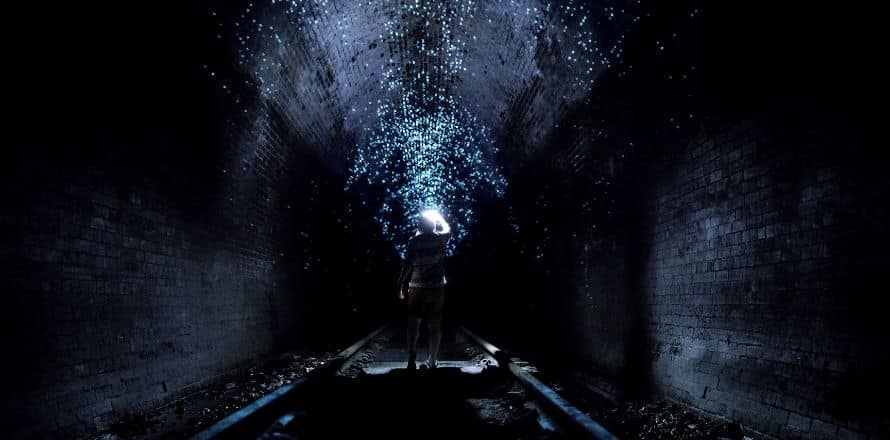 Image: Destination NSW
Helensburgh
Just a short sixty-minute road trip from Sydney, Helensburgh is the place to be for nature lovers! Visit Helensburgh Sri Venkateswara Temple, one of the most popular and impressive Hindu temples in the Southern Hemisphere. Just make sure you check their list of do's and don'ts on their website before your visit.
For exploration lovers, you'll want to hike through the eerie Otford Tunnel, which is one of seven disused rail tunnels in the Helensburgh area (this one is the longest though!). Kids will be especially wowed by the enchanting glow worm tunnel (number four on the list and possibly haunted), which is home to a spectacular colony of the little critters. You can absolutely walk through here, but wearing waterproof footwear is highly recommended. You'll find clothes pegs and hangers in your motorhome so you can dry out any wet items later!
Now return to civilisation and visit the Symbio Zoo at Helensburgh, where fun awaits the whole family! Spend time with the cheetahs, kangaroos, meerkats, red pandas, monkeys, ring tailed lemurs, koalas and reptiles and so many more furry faces! Make the most of the summer weather at the Symbio splash park, with free access as part of your standard ticket entry.
Whether you prefer the uniqueness of wilderness destinations like Helensburgh, Coonabarabran and Broken Hill or the familiarity of more populated locations such as Albury, Hunter Valley, Port Macquarie or Byron Bay, choosing a motorhome holiday gives you the flexibility to plan your itinerary to your family's tastes and interests. Sydney is one of the most popular holiday destinations in Australia, with December to February as its most popular season for tourism, and with the school holidays coming to an end now is the time to book your family motorhome holiday in NSW.
Call our friendly reservations team on 1300 664 485 or check out our website to see the motorhomes we have available at our Sydney branch.
Related Locations

10 Wurrook Circuit, Caringbah NSW 2229, Australia

Phone Number : 1300 664 485
International : +61 3 6248 4789