10 Top Caravan Parks To Stay On Your Hobart To Brisbane Relocation
Since the time of year for motorhome relocations has rolled around again, we have compiled a list of 10 recommended caravan parks to stay on your relocation from Hobart to Brisbane. It doesn't matter how you're travelling or who you're travelling with, these featured parks have facilities to suit everyone on their motorhome hire journey.
1. BIG4 St Helens Holiday Park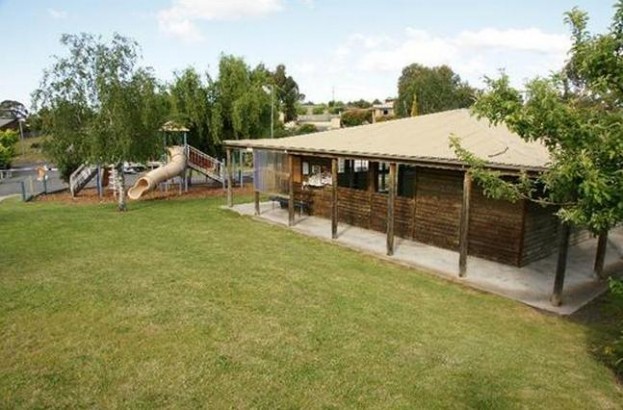 The award-winning St Helens BIG4 Holiday Park is jam-packed with facilities to accommodate groups, families and couples. At this scenic holiday park you will discover spacious powered sites to recharge your motorhome or campervan and a wealth of great features including a state of the art camper's kitchen, recreation room, jumping pillow and more. This park is centrally located on the East Coast of Tasmania and is just moments from some of the area's best attractions including Bay of Fires, Mt William National Park and Binalong Bay.
Contact: (03) 6376 1290
Address: 2 Penelope Street St Helens TAS 7216
Website:  Big 4 St Helens
2. BIG4 Melbourne Caravan and Holiday Park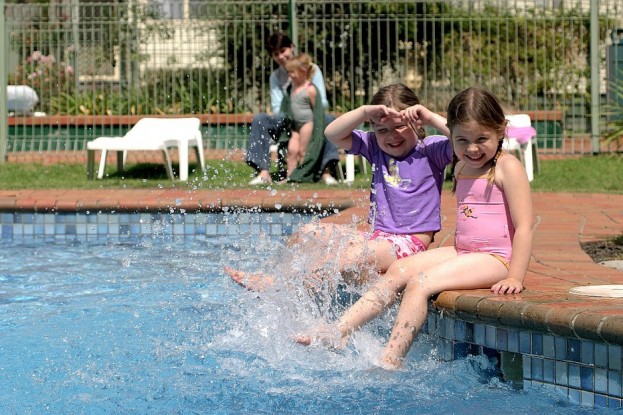 BIG4 Melbourne Caravan and Holiday Park is situated just nine kilometres from the city centre and is a convenient base to explore Melbourne on your Cruisin' relocation motorhome hire adventure. This BIG4 park has powered sites to accommodate motorhomes of all sizes and provides a fantastic range of tourist information brochures and friendly advice from onsite staff. This holiday park is equipped with modern amenities and has a babies and toddlers bath for your convenience. Other entertainment at the holiday park includes a Big Screen Movie Room, Outdoor Spa, Solar Heated Swimming Pool, Adventure Playground and Games Room. With everything you need and more there is no better place to stay in the cultural hub of Melbourne.
Contact:(03) 9354 8222
Address: 265 Elizabeth Street Coburg, Melbourne 3058
Website: Big 4 Melbourne
3. BIG4 Eden Gateway Holiday Park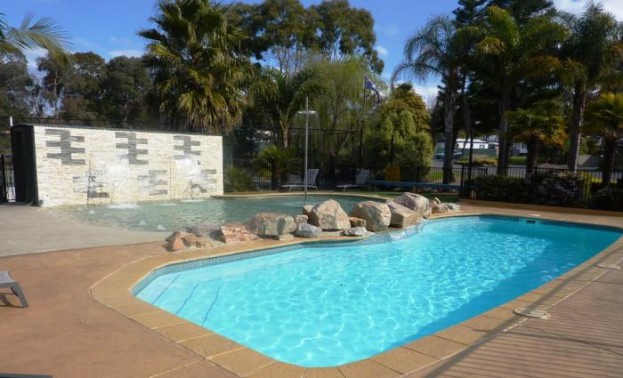 This BIG4 holiday park is great for your stopover in Eden on the way to Brisbane. It provides a host of shady grassed powered sites surrounded by charming gum trees with the amenities just a stone's throw away. At this BIG4 gem you will find a list of convenient features including a large and well-equipped camper's kitchen, guest lounge, large swimming pool and toddler's pool, playground and Spiderman Jumping Castle great for the kids.
Contact: (02) 6496 1798
Address: 99 Princes Highway, Eden NSW 2551
Website: Eden Gateway 
4. NRMA Sydney Lakeside Holiday Park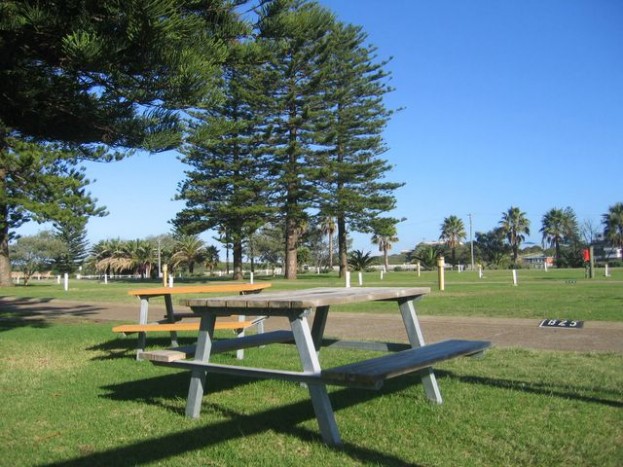 Situated in a convenient position for exploring the many attractions and sights of Sydney, BIG4 Sydney Lakeside Holiday Park has it all. This large caravan park has spacious powered sites, two clean amenities blocks, two fully-equipped camper's kitchens, BBQ facilities, internet access, dump points, sullage, a children's playground and much more. The park is just minutes from the beautiful northern beaches of Sydney and is regularly serviced by buses, ferries and airport shuttles.
Contact: 1800 008 845
Address: 38 Lake Park Road North Narrabeen, NSW 2102
Website: NRMA Sydney Lakeside Holiday Park
5. Stockton Beach Holiday Park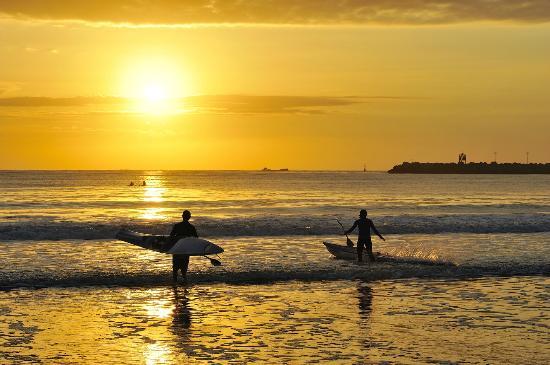 Conveniently located approximately 20 minutes from Newcastle's CBD, Stockton Beach Holiday Park offers a scenic holiday destination to enjoy a beachside holiday while being just outside of city convenience. The park has a number of modern facilities including spacious grassed powered sites for motorhomes of all shapes and sizes, a large camp kitchen with seating for up to 80 people, an onsite café, free Wi-Fi, 2 children's playgrounds and is adjacent to a beautiful beach great for water-based activities.
Contact:1800 778 562
Address: 3 Pitt Street, Stockton NSW 2295
Website: Stockdon Beach
6.  Emerald Beach Holiday Park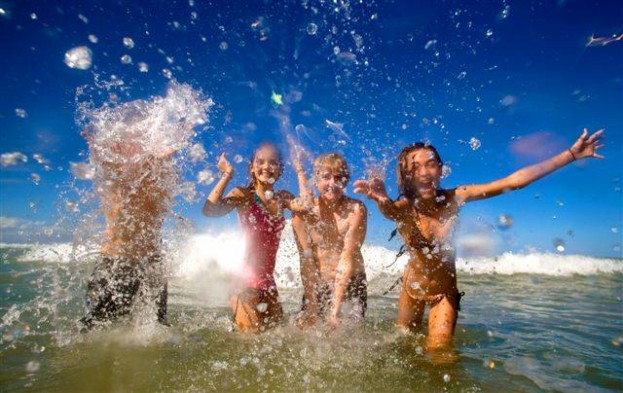 Enjoy a luxurious holiday experience at BIG4 Emerald Beach Holiday Park located just 10 minutes outside of Coffs Harbour. This park has amazing facilities including state of the art amenities, camp fires, a delightful camper's kitchen set amid a charming garden setting, coffee shop, massage room, family bathroom, free pancake breakfast every Wednesday, free Wi-Fi, games room, go carts, heated outdoor pool, jumping pillow, playground, laundry, movie room, sauna, sports court and more! The accommodation is just a stone's throw from the white sands of Emerald Beach and has easy access to the many activities on offer in Coffs Harbour. This holiday park is a must stay on your motorhome relocation from Hobart to Brisbane.
Contact:1800 681 521
Address: Fisherman's Drive, Emerald Beach NSW 2456
7. Discovery Byron Bay Tourist Park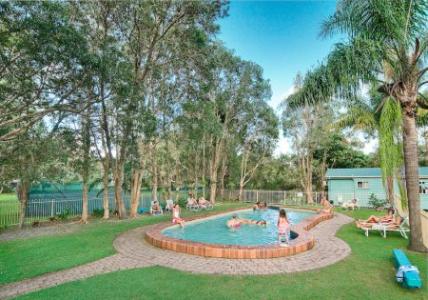 This conveniently located park just 2 kilometres from Byron's cultural centre is the ideal overnight destination on your 10 day relocation from Hobart to Brisbane. The park caters to all motorhomes and campervans and is just moments from a large variety of supermarkets, restaurants and nightlife. The facilities include a resort-style swimming pool, BBQ facilities, tennis court and tourist information and tour booking service. You'll love your stay in the Hippie Capital of Australia at Byron Bay Tourist Park.
Contact: (02) 6685 7378
Address: 399 Ewingsdale Road, Byron Bay NSW 2481
8. NRMA Treasure Island Holiday Park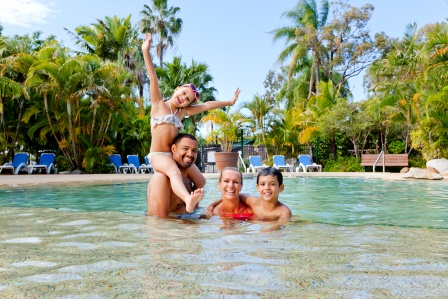 You'll have a luxurious stay on the Gold Coast at NRMA Treasure Island Holiday Park. The holiday park is situated ten minutes from the hype of Surfers Paradise and is in easy walking distance to the Harbourtown Shopping Outlet. This park has award-winning facilities including 3 swimming pools and heated spas, a jumping pillow, camper's kitchen, BBQ area, mini golf, kids club, internet café, tennis court, tour desk and more. So, what are you waiting for? Book with NRMA Treasure Island Holiday Park and lie back, relax and enjoy the beauty of Australia's Gold Coast on your fantastic motorhome relocation from Hobart to Brisbane.
Contact: 1800 339 966
Address: 117 Brisbane Road, Biggera Waters QLD 4216
Website: Treasure Island Holiday Park
9. Brisbane Holiday Village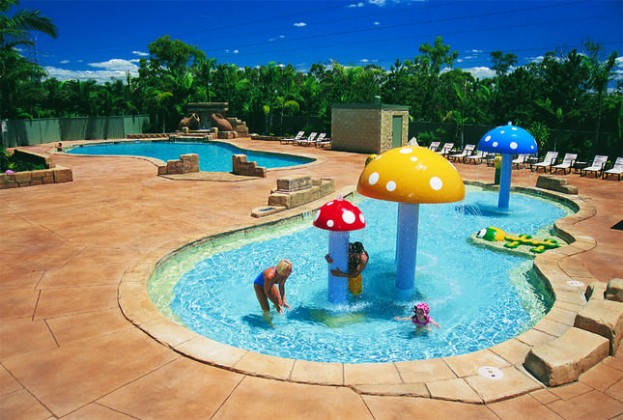 Spend the final night of your relocation in luxury at Brisbane Village Holiday Park. This Inca-themed and award-winning accommodation has an extensive choice of top of the range facilities and caters to all motorhomes and campervans. The onsite facilities include Lagoon of the Sun, an Inca themed pool with two salt-water swimming lagoons, ancient sun and waterfall. Keeping in theme with the Incas, the accommodation also has an 18 hole mini-golf course with pyramid and rock features that you can play on for a small fee. Book now and let your relocation begin!
Contact: +61 7 3341 6133
Address: 10 Holmead Road, Eight Mile Plains QLD 4113
Website: Brisbane Holiday Village 
10. Brisbane Gateway Resort/Tourist Park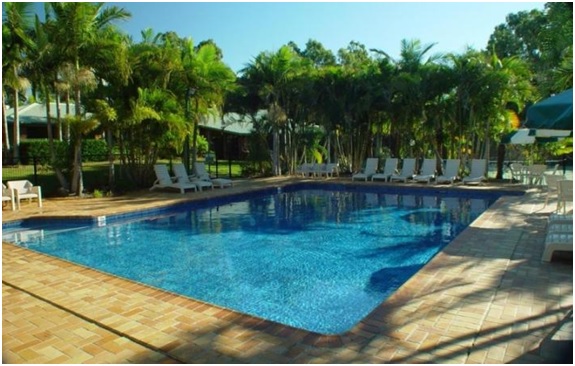 This tourist park has easy access to and from the Pacific and Gateway Motorway making it a convenient destination on your relocation journey. The accommodation also has luxury resort facilities on hand with a salt-water swimming pool and towel hire, day and night tennis court and free equipment, children's adventure playground, free kids video games and tourist information and bookings. There is also a public bus service to take you into the heart of Brisbane's bustling CBD.
Contact: (07) 3341 6333
Address: 200 School Road, Rochedale QLD 4123
Website: Brisbane Gateway 
Related Locations

42 Vauxhall Street, Virginia QLD 4014, Australia

Phone Number : 1300 664 485
International : +61 3 6248 4789

3 Runway Pl, Cambridge TAS 7170, Australia

Phone Number : 1300 664 485
International : +61 3 6248 4789