Family Friendly Things To Do In Cairns
Seek out the topical weather and let your kids investigate the wonders of the Great Barrier Reef and the Daintree Rainforest! 
Cairns is the heart of the tropical North Queensland and the perfect place to have a family motorhome holiday. There are plenty of things to do in Cairns with kids, from snorkelling amongst the rainbow corals of the Great Barrier Reef to spotting the endemic animals of the ancient Daintree Rainforest.
Set yourself up in one of the many campsites and holiday parks in Queensland, or find a place nearby in Cairns, then journey out for a day of family education, fun, and adventure! With road trips, island hopping, and some free things to do, we're covering a range of family friendly activities to give you some inspiration for your motorhome holiday in Cairns.
The thing about Cairns is that all the best destinations are super easy to reach with a motorhome! The kids will have less down time and more time to explore! Also, you'll be bringing everything along with you in your motorhome, so there's no way the kids can leave anything behind. From snacks to water, bringing your accommodation with you makes those outings with the kids feel so much easier!
Here's our top 7 picks for family friendly things to do in Cairns!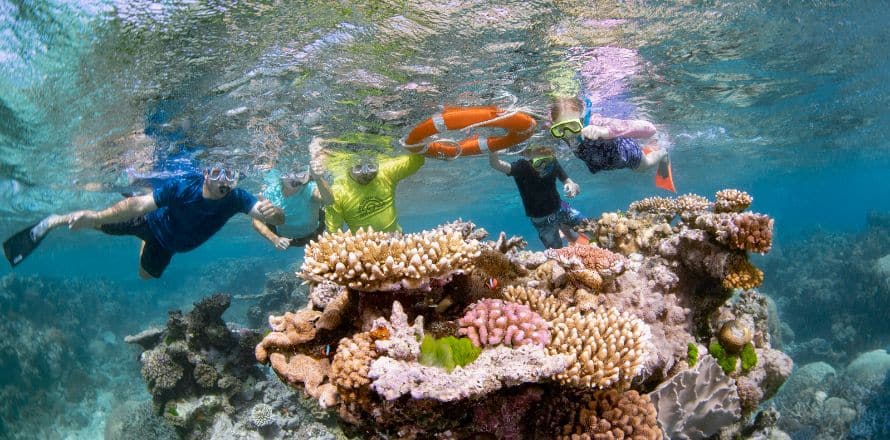 Great Barrier Reef, Tourism and Events Queensland
Exploring The Colourful Corals Of The Great Barrier Reef
Absolutely unmissable and iconic, the Great Barrier Reef is one of the best things to do with kids in Cairns. This collection of over 2,900 individual reefs has something to offer for all ages! For toddlers who need to keep their feet on dry land, there are glass bottom boats that allow them to experience the wonder of the reef. For confident swimmers there are a range of fun water activities, like snorkelling amongst the unique wildlife of the Great Barrier Reef!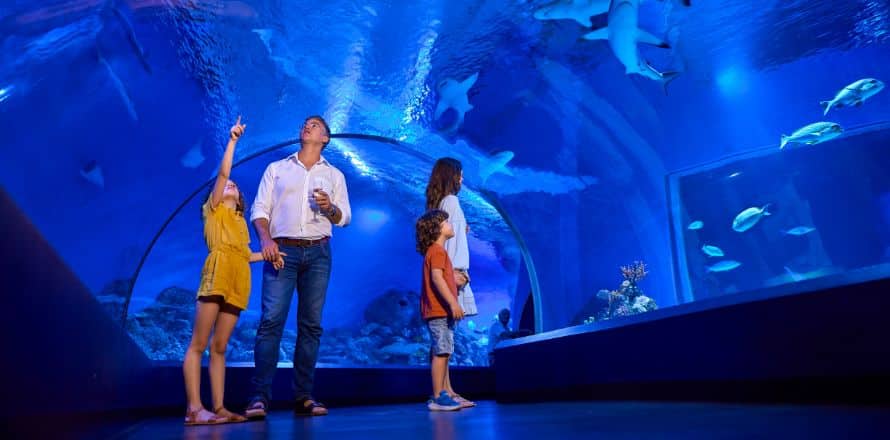 Cairns Aquarium, Tourism and Events Queensland
Seeing Marine Life Up Close At The Cairns Aquarium
Not all kids (or parents!) can or want to dive into the open ocean of the Grean Barrier Reef, so here's something relaxing to add to our list of family friendly activities in Cairns. From turtle hospitals to marine life encounters, to staring in wonder at fish, sharks and manta rays, the Cairns Aquarium has a variety of experiences for all ages and interests!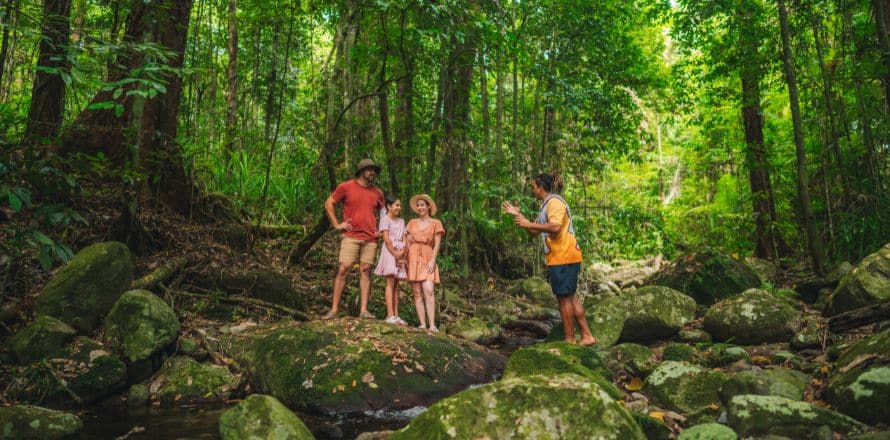 Daintree Rainforest, Tourism and Events Queensland
Wildlife Spotting At The Daintree Rainforest
Prepare some snacks and entertainment and then road trip up to the Daintree Rainforest for a day amongst frogs, insects, and birds! Take a stroll along the Marrdja Boardwalk (which is the most accessible walk for younger children) or fly through the treetops with the zipline tour that's suitable for ages 4 and up. There's also a skywalk and Jurassic dinosaur experience!
Make sure you keep an eye out for the unique animals which are endemic to the Daintree Rainforest, including the adorable tree kangaroo, colourful buff-breasted paradise kingfisher, Boyd's Forest dragon, and blue Ulysses butterflies.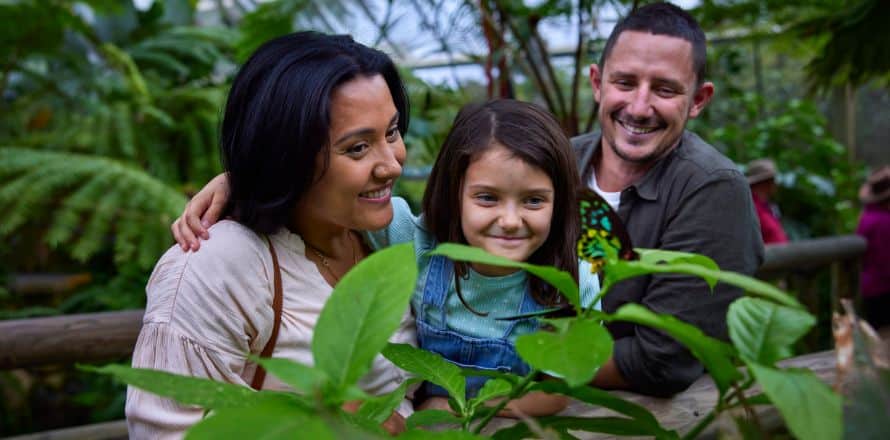 Australian Butterfly Sanctuary, Tourism and Events Queensland
Organise An Exciting Day Trip To Kuranda
Just a 40-minute road trip of Cairns is Kuranda, a gorgeous mountain retreat surrounded by rainforest and rivers. This destination is perfect for family friendly activities, including snuggling koalas at the Kuranda Koala Gardens, wandering amongst the gorgeous birds at Bird World, and becoming mesmerised by the gorgeous colours of the insects at the Australian Butterfly Sanctuary.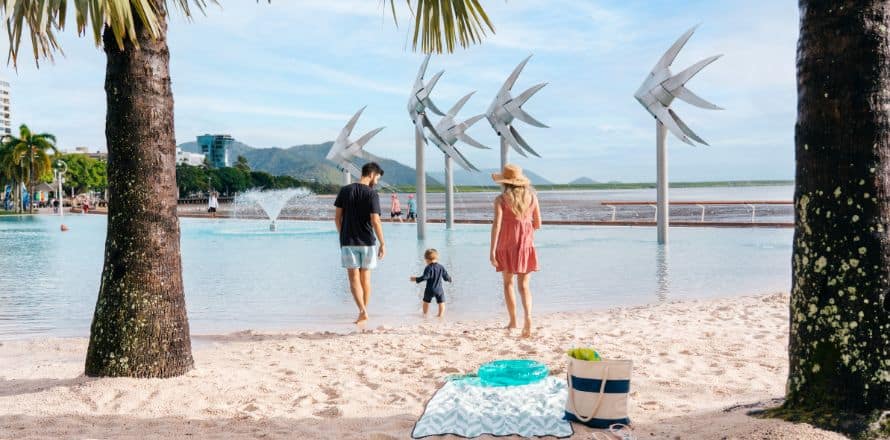 Esplanade Lagoon, Tourism and Events Queensland
Paddle In Esplanade Lagoon And Explore The Boardwalk
Looking for a fun and free thing to do with your kids in Cairns? Explore the Esplanade! With boardwalks, BBQ areas, playgrounds, and a lagoon, there are a variety of activities to keep the whole family entertained all afternoon. Scope out the area and park in the free carpark or head over to the nearby Hartley St carpark for a dedicated motorhome parking space!
The Esplanade Lagoon is filled with saltwater pumped from Trinity Lagoon and is patrolled by lifeguards. From shallow wading water to water deep enough to swim in, this is the perfect place for kids of all ages!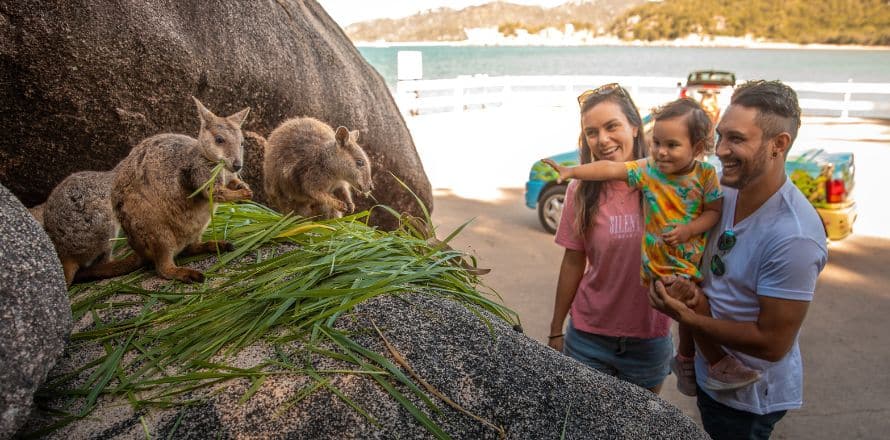 Green Island, Tourism and Events Queensland
Plan A Family-Friendly Outing To Fitzroy Island Or Green Island
For a family friendly island experience, catch a ferry across to Fitzroy Island or Green Island. Both of these islands are incredibly accommodating towards kids and are covered in relaxing walking tracks! Your motorhome will be waiting for you after your day of activities, so a peaceful evening of relaxation is guaranteed!
Fitzroy Island offers a glass bottom boat tour, and as a bonus the Great Barrier Reef's colourful corals can be accessed directly from the beach so that your kids can snorkel in safety with dry land only a few metres away.
Green Island also provides glass bottom boat tours, and it has life-guard patrolled beaches with a variety of rainforest walks. The boardwalks are meticulously covered to ensure a gentle experience for parents with prams.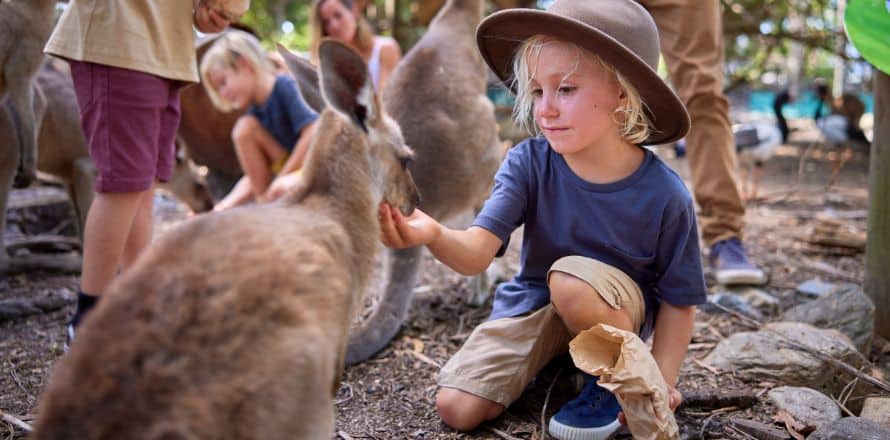 Wildlife Habitat, Tourism and Events Queensland
Embark On A Road Trip To Port Douglas
Get ready for another short road trip, because just an hour out of Cairns is the tropical seaside destination of Port Douglas! This is the place to be for family-friendly activities, like visiting the Wildlife Habitat or heading out to the nearby Daintree and Kuranda. It's also a great idea to visit Four Mile Beach, where the kids can hunt for shells, build sandcastles, or play in the rock pools! There are plenty of picnic spots and the beach is protected by a stinger net so you can swim anytime during the year!
Are You Ready For Your Family-Friendly Motorhome Holiday In Cairns?
This is truly the best place to be for tropical adventures, with rainforests, reefs, and golden beaches. There's such a huge variety of things to do with kids in Cairns, and they're bound to remember their time spent snorkelling through the Great Barrier Reef or snuggling the koalas at the Koala Gardens for years to come!
Our 6-berth motorhomes, like the Cruisin' 6-Berth Discovery and the Cruisin' 6-Berth Deluxe are perfect for family holidays in Cairns! They have fully equipped kitchens so you can make meals on the go, toilets for those emergency pitstops, and showers to get rid of that pesky sand brought in from days on the beach.
So set yourself up in the tropical heart of North Queensland and embark on a family friendly motorhome holiday! Book your motorhome hire in Cairns by calling our friendly reservations team on 1300 664 485 or check out our website to see what we have available at our Cairns branch.
Related Locations

399 Sheridan St, Cairns North QLD 4870, Australia

Phone Number : 1300 664 485
International : +61 3 6248 4789