Discover The Best Outdoor Activities In Cairns
It's time to explore the thrills and tranquillity of Cairns!
Before you set out on your motorhome road trip, you'll want to take some time to explore the diverse destinations and experiences the city has to offer.
Located in Tropical North Queensland, Cairns is a destination that's perfect for young families and high-energy adventure seekers alike. You'll find plenty of outdoor activities, ranging from heart-pounding adrenaline rushes to serene nature encounters.
Here are some of the best things to do in Cairns!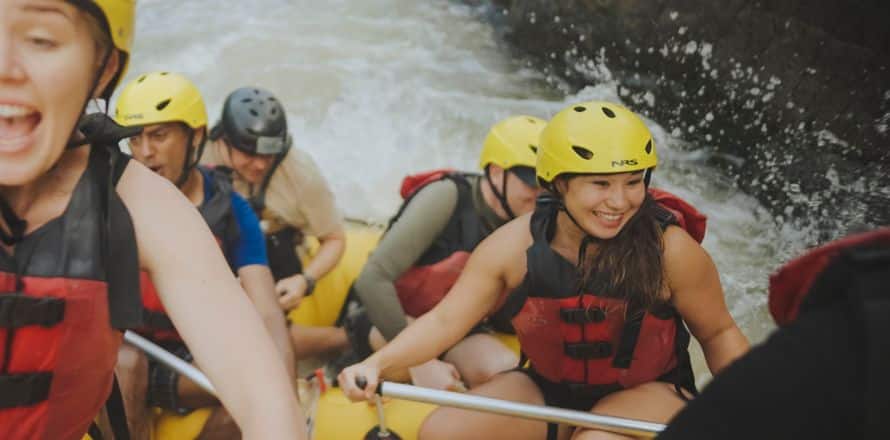 Barron River Rapids, PixelFrame
White-Water Rafting
For adrenaline lovers, white-water rafting is one of the must-do activities in Cairns. The Tully and Barron Rivers are popular choices, offering challenging rapids that will get your heart racing. Get ready to navigate the rushing waters and lush rainforest scenery!
Whether you're a seasoned rafter or a beginner, there are plenty of options available for all levels of experience.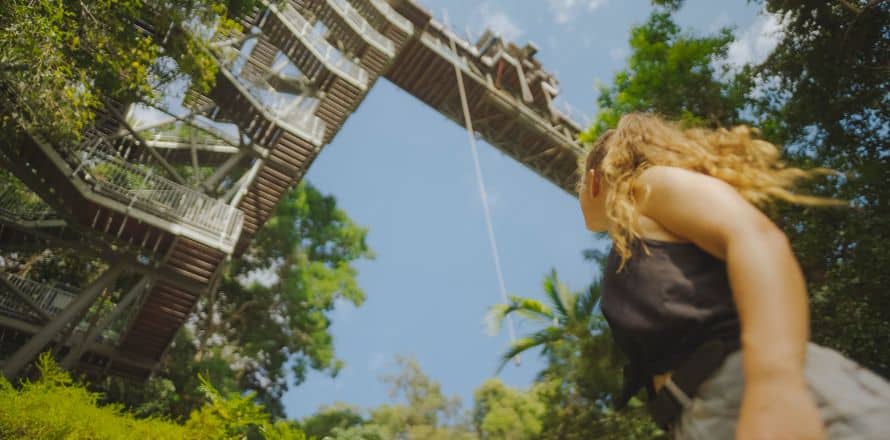 Skypark Cairns by AJ Hackett, Tourism and Events Queensland
Bungee Jumping
Cairns is home to the Skypark, where you can take the leap of a lifetime off of AJ Hackett's 50m tower. Here you'll find yourself perched high above the rainforest canopy, so it's a great opportunity to take in the breathtaking views before you take the plunge!
The sensation of freefall is an adrenaline rush like no other, and it's an experience that will stay with you long after your feet are back on solid ground.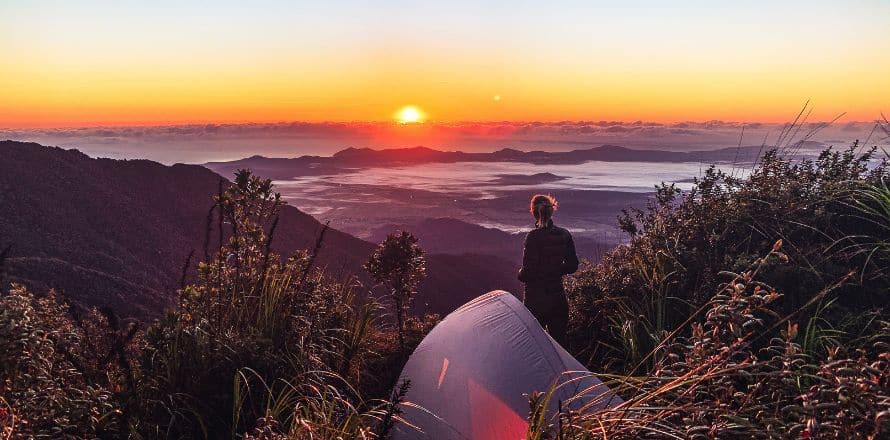 Mount Bartle Frere, Tourism and Events Queensland
Hiking In Cairns
Whether you're an experienced hiker looking for a challenge or a family hoping for a stroll, there are hiking trails in Cairns that will suit everyone.
The Red Arrow and Blue Arrow trails offer relatively easy treks with rewarding views of the city and coastline, while more experienced hikers can tackle the steep slopes of Mount Bartle Frere, Queensland's highest peak.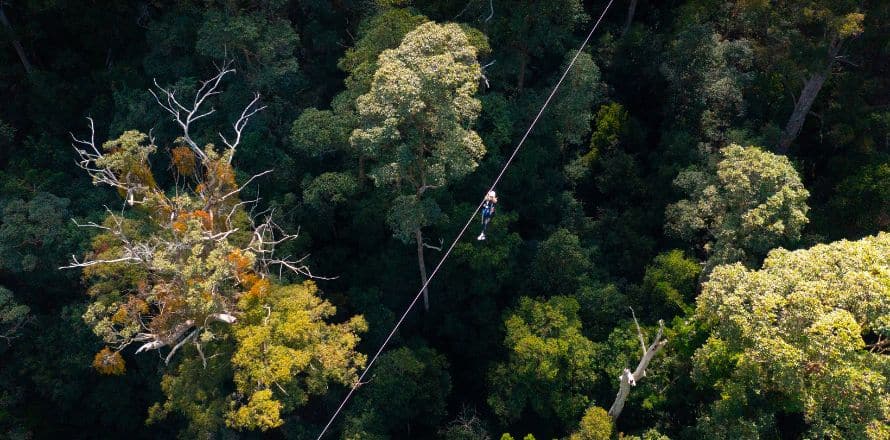 TreeTop Challenge, Tourism and Events Queensland
Zip Lining
Experience the thrill of soaring through the rainforest canopy on a zip line adventure! Cairns offers several zip-lining experiences, and this is your opportunity to glide through the treetops and experience the city from a new perspective.
Overall, zip-lining is a fantastic outdoor activity in Cairns that will immerse you in the natural beauty of Queensland's tropical greenery and vibrant wildlife from above!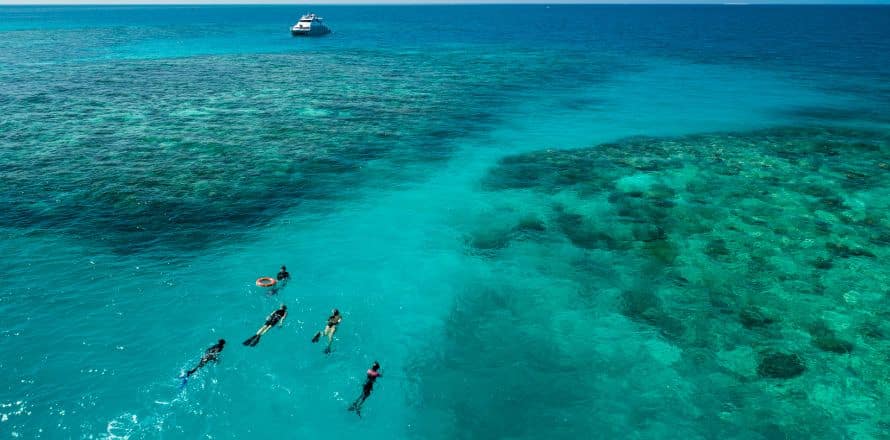 Great Barrier Reef, Tourism and Events Queensland
Scuba Diving And Snorkelling the Great Barrier Reef
Cairns is synonymous with the Great Barrier Reef, one of Australia's most iconic treasures. Dive beneath the surface or snorkel in the crystal-clear waters with a kaleidoscope of marine life. From colourful coral reefs to playful sea turtles, this mesmerising world is waiting to be explored.
With numerous dive operators offering guided tours, even beginners can take the plunge and discover this underwater paradise.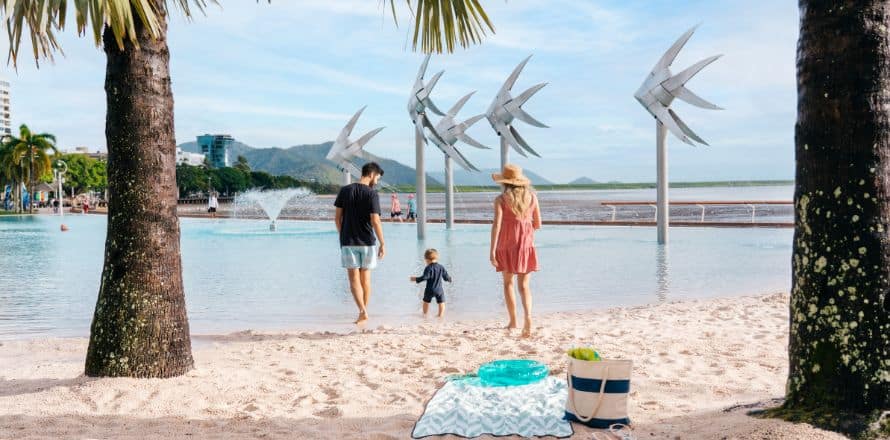 Cairns Espalande Lagoon, Tourism and Events Queensland
Cairns Esplanade
For a more laid-back outdoor experience in Cairns, the Esplanade offers its waterfront promenade for a day of leisure. You can take a stroll along the palm-fringed boardwalk, enjoy a picnic in one of the waterfront parks, or simply relax on the sandy beaches.
The Esplanade is also home to Muddy's Playground, a water park and playground where kids can splash around and have a blast.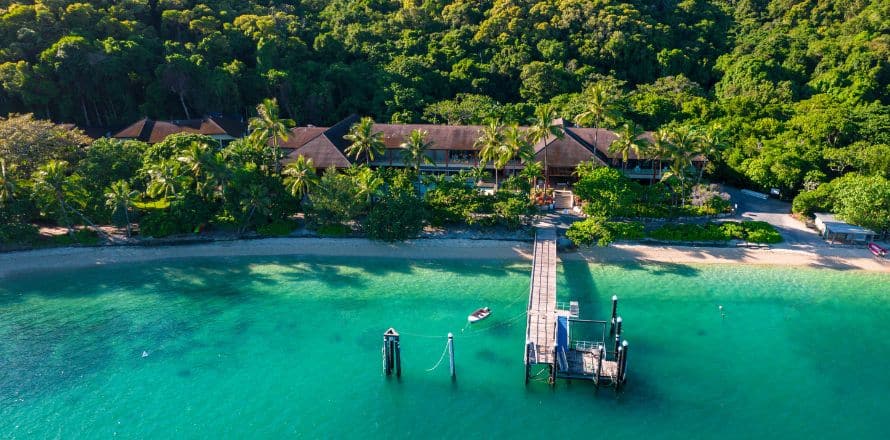 Fitzroy Island, Tourism and Events Queensland
Fitzroy Island
Just a short ferry ride from Cairns, Fitzroy Island is a tropical paradise waiting to be explored. This idyllic island offers pristine beaches, walking trails, and coral reefs that are perfect for snorkelling. Nature enthusiasts will also appreciate the lush rainforest that covers most of the island, while beach lovers can bask in the sun and swim in the clear waters.
Fitzroy Island is a great day-trip destination near Cairns as well as a fantastic place to spend a relaxing weekend!
The Crystal Caves
Step into a world of wonder at The Crystal Caves in Atherton, just a short road trip from Cairns. This unique attraction showcases a dazzling array of gemstones and fossils.
Explore underground caves filled with crystals, minerals, and ancient artifacts while learning about the Earth's geological history. This is sure to be an educational and visually stunning experience for visitors of all ages!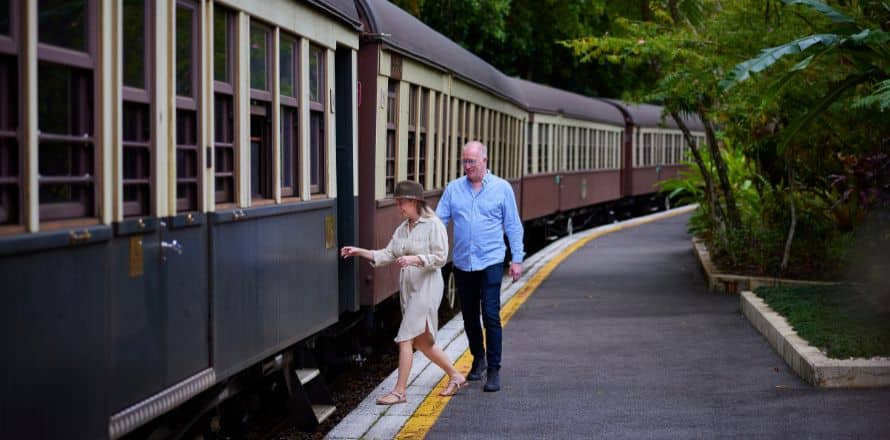 Kuranda Scenic Railway, Tourism and Events Queensland
Kuranda Scenic Railway
If you're looking for relaxing things to do in Cairns, go ahead and embark on the scenic journey through the lush rainforest aboard the Kuranda Scenic Railway!
This historic railway takes you on a meandering route through dense foliage, providing spectacular views of waterfalls and deep ravines. Arriving in the hidden village of Kuranda, you'll get the chance to explore markets, galleries, and to experience Aboriginal culture.
Also, whilst you're in the area, you definitely can't miss Birdworld and the Australian Butterfly Sanctuary – which is Australia's largest butterfly aviary!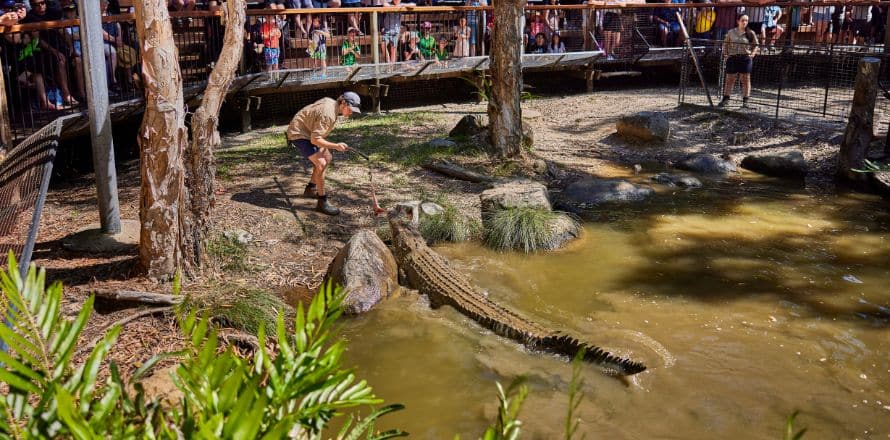 Hartley's Crocodile Adventures, Tourism and Events Queensland
Hartley's Crocodile Adventures
For one of the most thrilling yet family-friendly things to do in Cairns, visit Hartley's Crocodile Adventures! Located just north of the city, this wildlife park allows you to get up close and personal with Australia's crocodiles.
You'll also have the chance to see other iconic Australian animals like kangaroos, koalas, and cassowaries. Enjoy wildlife presentations and hair-raising boat tours through crocodile-infested waters – all in a controlled and educational environment!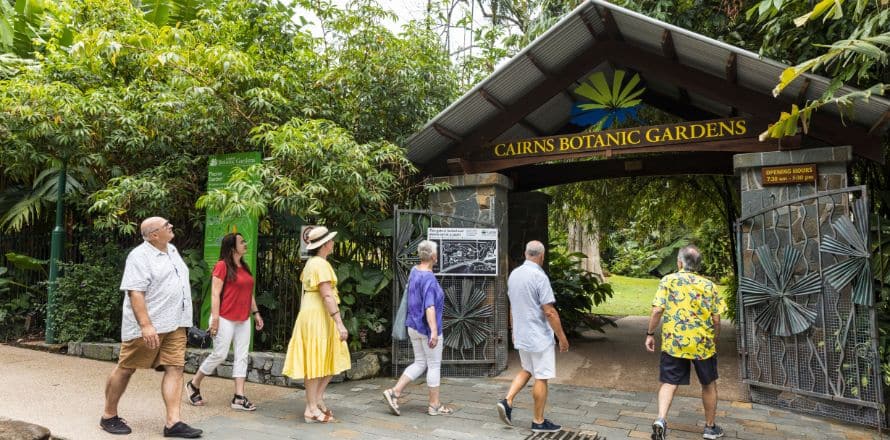 Cairns Botanic Gardens, Tourism and Events Queensland
Cairns Botanic Gardens
To continue the theme of family activities in Cairns, go ahead and explore the Cairns Botanic Gardens! These gardens offer a peaceful escape into nature. Stroll through lush tropical landscapes, visit the rainforest boardwalk, and learn about the region's unique flora. It's a tranquil oasis that provides a different perspective on the natural beauty of Cairns.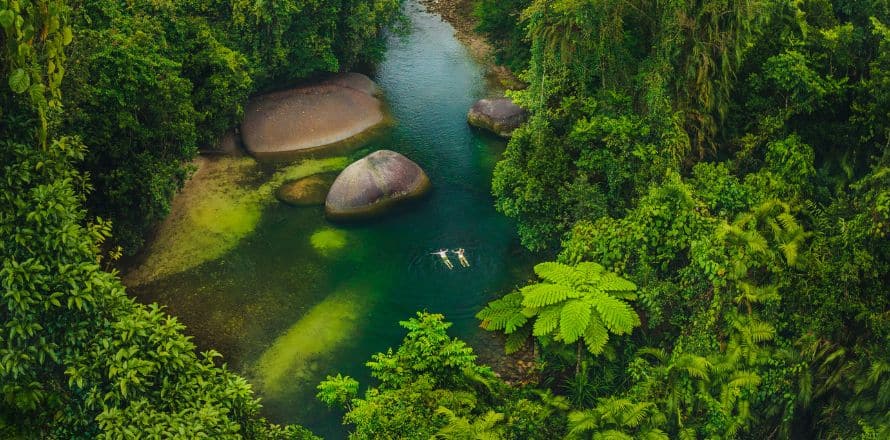 Babinda Boulders, Tourism and Events Queensland
Babinda Boulders
Cool off in the refreshing waters of Babinda Boulders, a natural swimming hole surrounded by lush rainforest. This picturesque spot is a popular destination in Cairns for families looking to escape the tropical heat. You can swim, picnic, and explore the nearby walking trails, making it a great place to unwind and connect with nature.
It's Time To Experience Cairns' Outdoor Activities For Yourself!
In Cairns, you'll find a world of outdoor adventures and natural beauty, from heart-pounding activities like white-water rafting and bungee jumping to tranquil escapes in the rainforest and on the reef. Whether you're seeking an adrenaline rush or a peaceful retreat, Cairns has something to offer every traveller. So, pack your sense of adventure and explore this tropical paradise in the heart of Australia!
Are you looking for more hidden gems in Cairns? Then you won't want to miss our guide to Cairns' Cultural Experiences that are sure to captivate the entire family.
Now it's time to book your motorhome hire in Cairns!  Call our friendly reservations team on 1300 664 485 or check out our website to see the motorhomes we have available at our Cairns branch.
Related Locations

399 Sheridan St, Cairns North QLD 4870, Australia

Phone Number : 1300 664 485
International : +61 3 6248 4789