10 of the biggest events happening in Tasmania in 2022
Do you shriek at the thought of holidaying in Tasmania during winter? Well, don't! Pack your thermals, beanie and scarf and head to Hobart during the colder months for an unforgettable journey! Thanks to its iconic festivals and famous food trucks, you'll witness the city come alive. If we really can't convince you to explore the happenings of Tasmania during winter, well, there are plenty more events throughout the year that keep the state buzzing with excitement!  
Below are the top ten biggest events happening in Tasmania in 2022, that are perfect for visiting when on a motorhome or campervan holiday!  
Dark Mofo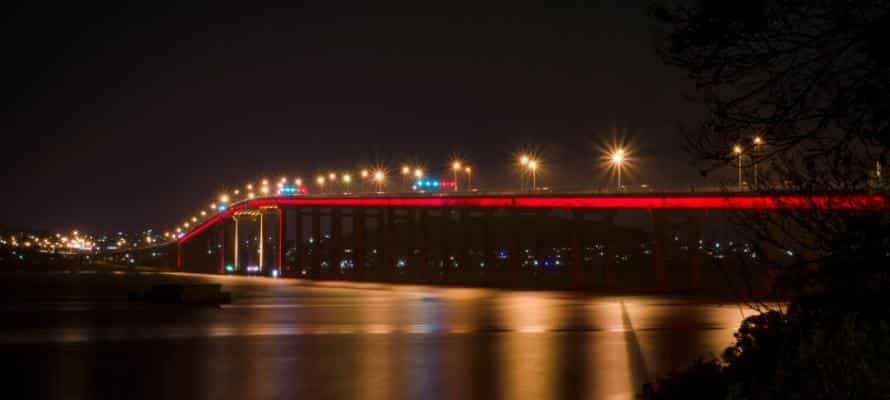 Arguably, Tasmania's biggest event of the year, Dark Mofo is an arts & music festival founded upon the success of David Walsh's eccentric art gallery, MONA. Dark Mofo takes place over 2 incredible weeks in June. It's not just a festival, it's an event that is spread throughout the city. You really never quite know what to expect when exploring Hobart city at this time of year. The great thing about Dark Mofo is the community spirit & excitement that comes along with it! Explore Hobart's inner and outer regions, and you'll see businesses, homes, and even the Tasman Bridge turn red.
TARGA Tasmania
TARGA Tasmania is considered one of the most significant tarmac rallies globally, and this year it's their 30th anniversary! Their 2022 event is predicted to be the most exciting yet, expecting to host around 500 participants. This free event takes place all around Tasmania. Cult-fans or car lovers tend to follow the cars from one side of the state to the other, making an epic campervan holiday out of the event!
Festival of Voices
This Hobart festival has been bringing joy through the power of song since 2004! For 10 days in July, Festival of Voices warm up the winter nights with bonfires and an incredible lineup of musicians – from local choir groups to world-renowned singers. You can't help but feel joyful at this event, by its end you'll find yourself singing in your motorhome, around your campfire or even while you're sleeping!
Huon Valley Mid-Winter Festival
Picture: Lusy Productions
If it is not obvious by now, Tasmania LOVES a winter festival. The Huon Valley Mid Winter Festival takes place in mid-July each year. The best thing for motorhome travellers is the location! Under an hour out of Hobart, the Huon Valley is an extremely RV friendly town with some of the most iconic and scenic areas in Tasmania. Enjoy 2 nights of live music, endless firepits, warm food – and let's not forget the Huon Valley's famous apple cider!
Sydney to Hobart Yacht Race
Hobart's waterfront comes alive during the end of the year thanks to numerous food and wine events, markets and bustling bars and restaurants. A lot of the excitement comes through The Rolex Sydney to Hobart Yacht Race! Why not hire a campervan or motorhome from Cruisin' Motorhome Sydney and follow the race down to Hobart! You'll find viewing areas, jetties, VIP tents and more, flooded throughout the docks of Hobart, eagerly waiting to witness the winner!
Tassie Scallop Fiesta
If you've been to Tasmania, it's likely you've heard and/or tried a Curried Scallop Pie – usually because a local will make you try it. It has become an iconic Tassie dish! Tasmanian's are so proud of their scallops that the seafood now has it's very own event held in the North East Coast. The Tassie Scallop Fiesta celebrates all things fishing, heritage, food and drink. For only $30, you can spend the day watching celebrity chef demonstrations, live music, wine tastings, and witness the famous competition: the Home Baked Scallop Pie competition! This year, it is held on 31st of July 2022 – so if you're road tripping through Tasmania during winter, secure a ticket for an iconic way to try the famous pie!
Junction Festival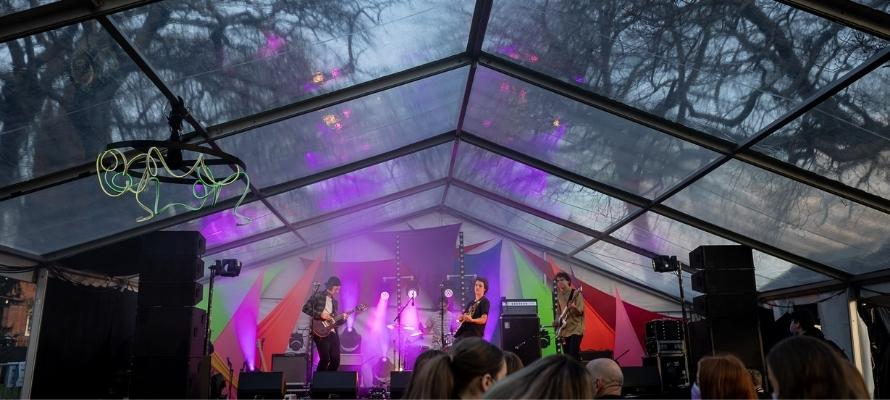 If you're eager to embrace the local food, music and arts scene – Junction is a must. For a week in September, Junction Festival lights up Launceston city! You'll see the best of the best of Launceston: live music, art, theatre shows, street tours, local food and drink. Travellers can choose to spend the day, night or both, wandering through the incredible Princes Square and it's surrounds. Junction is a great event to visit when on a motorhome holiday! There is a central holiday park that is walking distance or a short taxi ride from the event – making it easy to indulge in the famous beers of Tasmania.
AgFest
Do you want to experience country Australia? Agfest is world-renowned, showcasing agricultural life in the middle of a huge Tasmanian paddock. This family-friendly event hosts a wide variety of stalls, farm animals, competitions, demonstrations, exhibits, and more! If you want to experience Australian farm and country life, this is absolutely how to do it! In 2022, Agfest is hosting two events and they'll take place from 24th August until 2nd September.
Wynyard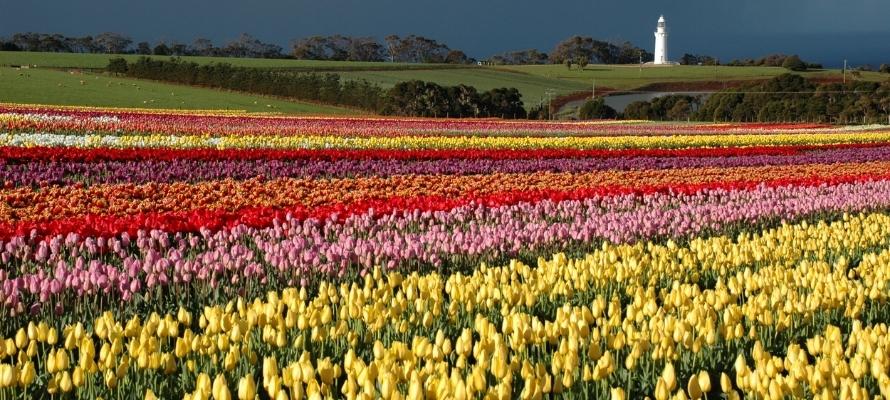 If you're visiting Tasmania during late September – October, you'll be lucky enough to experience their tulip season! Head to Table Cape Tulip Farm in Wynyard, and you will see an endless field of colourful tulips. For over 25 years, Wynyard has hosted an October festival dedicated to the iconic bloom. The small Tasmanian town will become abuzz with colourful festivities, music, food and art!
Breath of Fresh Air Film Festival
With all the exciting awards Launceston has won this year (UNESCO City of Gastronomy & Wotif's 2022 Best Town of The Year) – the town is eager to celebrate! Breath of Fresh Air Film Festival (BOFTA) will do just that in 2022! This year's theme is all about their award wins! There will be films to watch, food to eat and an epic amount of wine tastings! You can explore the iconic Tamar River with one of their Cruise packages and see performances by the quirky Tasmanian Leather Orchestra. The festival will be announcing the full-line up in the coming weeks!
For more information on Hobart events, routes, weather, activities & more, head to our Hobart Location Page – to plan your next motorhome holiday in Tasmania!
Hobart Location
Our Hobart branch is 3.5 kms from the airport and close to all of Tassie's favourite festivals
Find out more
4 Berth Hi Top
See more about the most famous campervan choice for Dark Mofo patrons
See Campervan
Related Locations

3 Runway Pl, Cambridge TAS 7170, Australia

Phone Number : 1300 664 485
International : +61 3 6248 4789