Unveiling The Wilderness: National Parks Near Hobart
You're in luck if you want to immerse yourself in nature and explore the stunning landscapes and diverse wildlife near Hobart. The city is surrounded by several national parks offering various outdoor activities and some of the most breathtaking scenery.
Whether you're seeking lush rainforests, dramatic coastal views, pristine beaches, untouched wilderness, or a blend of history and wildlife, Tasmania's national parks have something to offer every traveller.
Read on to discover the natural beauty that awaits you near Hobart.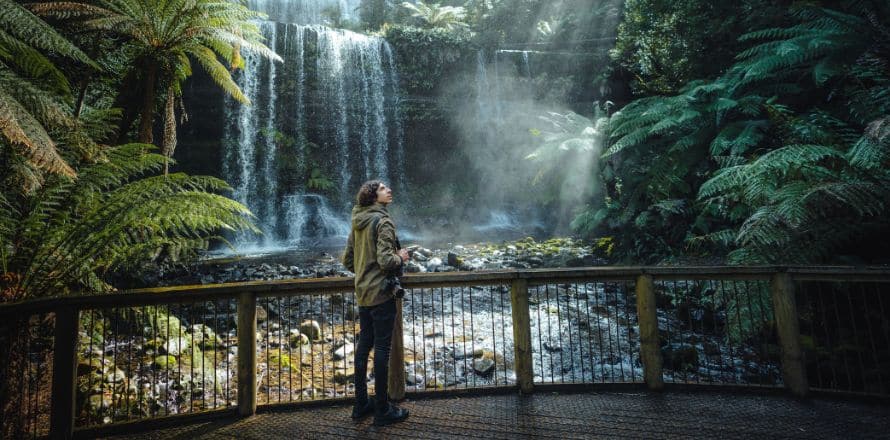 Russell Falls, Jason Charles Hill
Mt Field National Park
Mt Field National Park is a must-visit national park in Tasmania for nature lovers. Located just a short drive from Hobart, this national park is known for its stunning waterfalls, lush rainforests, and the iconic Russell Falls.
Stroll along the well-maintained walking tracks and be mesmerised by the beauty of nature surrounding you. Don't forget to bring your camera to capture the picturesque landscapes and watch for the diverse wildlife that calls this park home.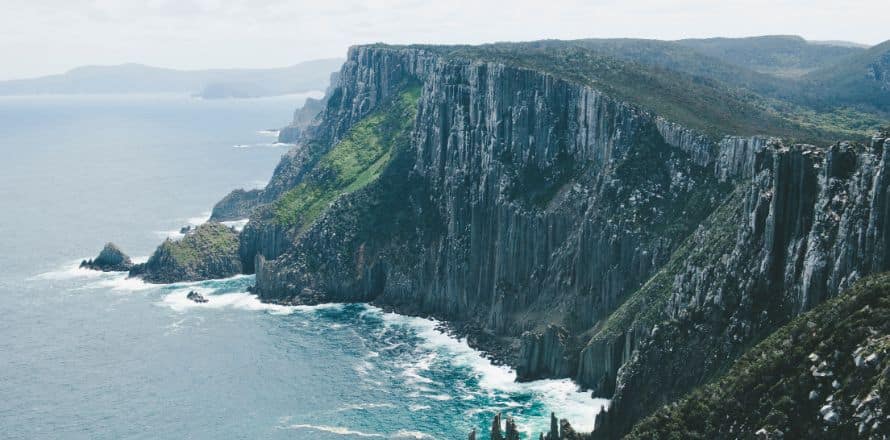 Three Capes Track, Tasmania Parks and Wildlife Services
Tasman National Park
For those craving breathtaking coastal vistas and dramatic landscapes, Tasman National Park is a must-see. Located near Hobart, this national park is famous for its towering sea cliffs, including the iconic Tasman Arch.
Take a scenic drive along the park's coastal roads and be prepared to be amazed by the stunning vistas that unfold before you. Don't miss the opportunity to capture the rugged beauty with your camera or observe the diverse marine life inhabiting the waters below. Whether you're a nature enthusiast or simply looking for a picturesque spot to relax, Tasman National Park is sure to leave you in awe.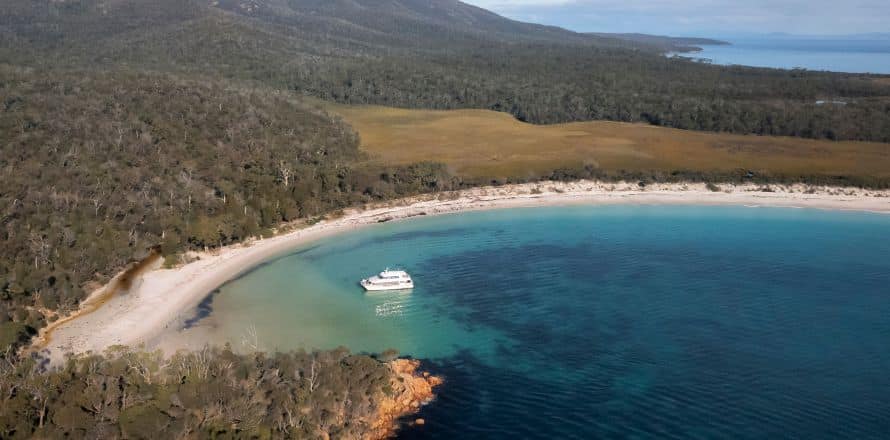 Wineglass Bay, Tourism Tasmania
Freycinet National Park
Nestled near Hobart, Freycinet National Park is a paradise for beach enthusiasts. Its crown jewel is Wineglass Bay, often lauded as one of the world's most beautiful beaches. The bay's crescent shape, crystal-clear turquoise waters, and pristine white sands create a mesmerising scene.
Beyond Wineglass Bay, the park offers a variety of hiking trails that unveil panoramic views and diverse landscapes. The popular Wineglass Bay Lookout Track provides a vantage point for capturing breathtaking photos from above.
Adventurous hikers can tackle the Hazards Beach Circuit, which offers scenic coastal views of the granite peaks known as "The Hazards." Explore its rich biodiversity, spot native wildlife, and embrace the tranquillity of nature. Don't forget to pack hiking boots, sunscreen, and plenty of water for a memorable adventure in this natural wonderland.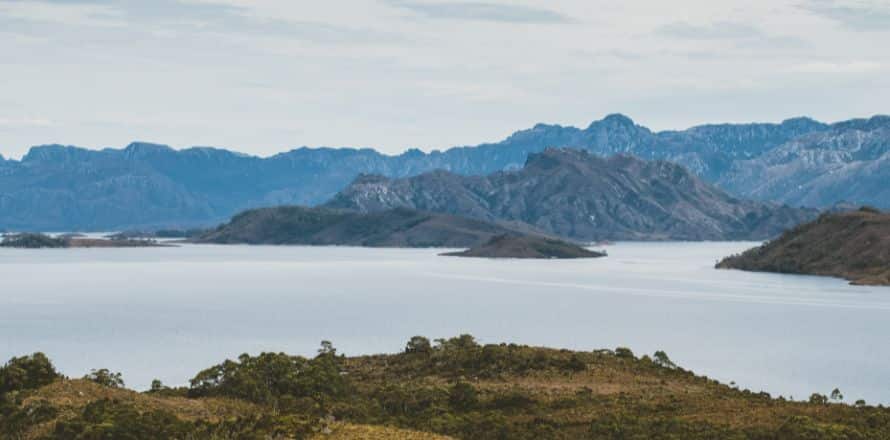 Lake Pedder, Stu Gibson
Southwest National Park
Southwest National Park, near Hobart, remains a hidden gem for nature enthusiasts craving untouched wilderness and breathtaking landscapes. As Tasmania's largest national park, it offers an immersive natural experience. Rugged mountains, dense forests, and pristine lakes characterise this park. You'll be sure to discover diverse flora and fauna, including ancient Huon pines, endemic species, and unique wildlife!
Exploring Southwest National Park allows you to disconnect from daily life and reconnect with the natural world. Hiking is a popular activity, with various trails catering to different skill levels. The challenging South Coast Track takes you through remote wilderness, offering views of the coastline and mountains. For something shorter, The Lake Pedder Circuit provides a scenic loop around the iconic Lake Pedder, with its turquoise waters and surrounding mountains.
In addition to hiking, Southwest National Park offers camping, fishing, birdwatching, and photography opportunities. Its untouched beauty and tranquillity make it perfect for those seeking solitude and adventure. Immerse yourself in the pristine wilderness, rugged mountains, and pristine lakes of Southwest National Park. Experience Tasmania's awe-inspiring natural landscapes and create lasting memories.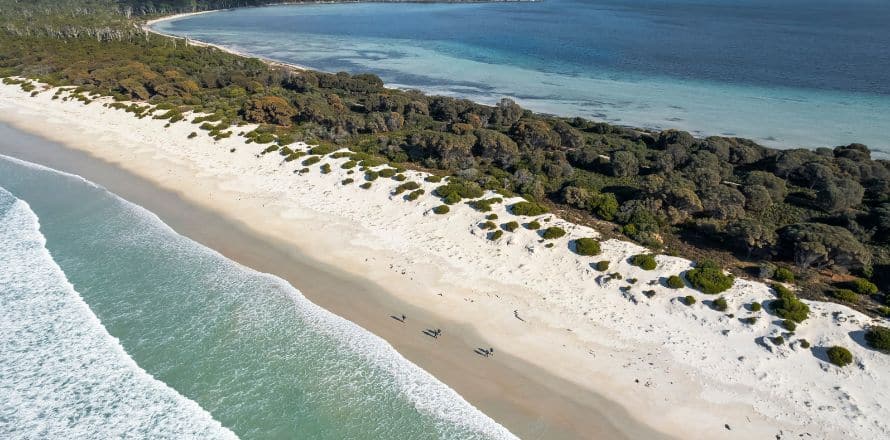 Maria Island Walk, Tourism Australia
Maria Island National Park
Maria Island National Park, a hidden gem off Tasmania's coast. Although you won't be able to take your motorhome with you, you'll discover a unique blend of history, wildlife, and stunning landscapes here. This island paradise is a must-visit for nature and history enthusiasts alike.
It has a rich history, with remnants of its past as a penal colony and vibrant convict settlement. Explore the UNESCO World Heritage site of Darlington, delving into the island's captivating convict history through interpretive displays and guided tours.
It's not just history that makes Maria Island special. The island boasts diverse wildlife, including rare and endangered species. Keep your eyes peeled for wombats, kangaroos, and Tasmanian devils while exploring the island's walking trails. Birdwatchers will delight in the abundance of birdlife, including the rare forty-spotted pardalote.
Maria Island's landscapes are equally breathtaking, featuring pristine beaches, turquoise waters, rugged cliffs, and lush forests. Stroll along the Fossil Cliffs to witness ancient fossils embedded in rock formations, or hike to the summit of Bishop and Clerk for panoramic island views. Whether you're interested in history, wildlife, or simply seeking an escape from the everyday hustle and bustle, Maria Island National Park caters to all.
It's Time To Get Up Close With Nature!
Tasmania's national parks are a world of natural wonder and adventure. Whether you're exploring lush forests, gazing at dramatic coastlines, or discovering the rich history of a secluded island, these are some of Tasmania's best national parks that offer diverse experiences.
It's essential to treat Tasmania's national parks, with their nature and wildlife, respectfully. Ensure you practise 'Leave No Trace' principles while exploring these gorgeous destinations. Not sure what that is? Check out this article on sustainable motorhoming!
Don't let the state's small size fool you. There's so much to see; you'll need an itinerary to ensure you get the most out of your adventures! Check out our favourite scenic drives in Tasmania to get some inspiration.
Book your motorhome hire in Hobart today!  Call our friendly reservations team on 1300 664 485 or check out our website to see the motorhomes we have available at our Hobart branch.
Related Locations

3 Runway Pl, Cambridge TAS 7170, Australia

Phone Number : 1300 664 485
International : +61 3 6248 4789