22 things to do in Queensland under $22
Queensland is at the top of many dreamers' lists when it comes to holidays! The weather is almost always warm and Brisbane and Cairns regions are scenic, coastal, and tropical! It really is a picture-perfect getaway. 
An authentic and idyllic way to see Queensland is by motorhome or campervan travel. Nothing beats driving the coast, then stepping straight out of your camper into natural wonders and fun-filled adventures. 
With so much happening in and around the sunshine coast, the trouble is figuring out what to do! 
When you research Cheap things to do in Queensland – the options can start from $90 per person! So, we did the hard yards for you and found 22 things to do in Queensland under $22.
Try for a Hole in One at Holy Moly 
Admission Cost: From $12 
Spend a Queensland afternoon at Holy Moly – from just $12 you can play a round of mini-golf at the famous putt-putt grounds! There is is so much more than that too -  a lot of Holy Moly venues also offer bowling, karaoke, escape rooms & arcades for an additional cost!
Check out Surf World
Admission Cost: $10 
If you're a water fanatic, you oughtta check out Surf World on the gold coast. Explore Australian surf's interesting culture and history with a massive collection of photographs, movies, art, craft & exhibitions. 
 Soak in the smells of Cairns Botanic Gardens
Admission cost: $0 
Gorgeous plants, colourful birds, nature-based activities are abundant in the Cairns Botanic Gardens! Walk through a paradise full of famous Queensland flora and tropical greenery. Their visitor centre can't be missed either - its unusual and eye-catching architecture is gobsmacking! 
Have a crack at Barefoot Bowls in Burleigh
Admission Cost: From $12 
Whether it's to do something completely different, or to feel at home doing your favourite hobby, reel in the crew and book a round of barefoot bowls! After your game, get yourself a cheap and delicious bistro meal - Burleigh Heads Bowls offers dinners from as little as $13.80! 
Visit David Fleay Wildlife Park
Admission Cost: $11.55
For another great activity in Burleigh Heads, head to David Fleay's Wildlife Park. This heritage-listed sanctuary aims to spread awareness and education around indigenous wildlife species. All wildlife are homed in their natural environments with unobtrusive fencing, open spaces and eucalyptus rainforest. See cassowaries, crocs, dingo and so much more!  
Spend a cash-free day at the beach 
Admission Cost:  $0
Bring your bathers, towels and sun protection and spend a day at one of the very many incredible beaches Queensland have on offer. For the coolest beach experience that costs absolutely nothing, head to Cape Hillsborough. Arrive during sunrise or sunset (or both!) for unimaginably beautiful photos. To top if off, wallabies and kangaroos call this beach home!
Explore the Glow Worm Caves
Admission Cost: $15
You can visit the Glow Worm Sanctuary for just fifteen dollars at Tambourine Mountain. Get up close and personal to these cute and delicate creatures via an informative tour. You'll discover thousands of shining worms through purpose built-caves - an experience you can't get through simply exploring nature. 
Hire some gear at Currumbin Boat Shed
Admission Cost: N/A
Currumbin Boatshed specialize in watersport hire – and for an affordable price at that! For just $20 you can hire a paddleboard or kayak for 1.5 hours. Both are must-do experiences when holidaying in Queensland! If watersport isn't your thing, why not try and catch your dinner!? For $10 you can hire fishing equipment for an entire day! 
Stroll Through Old Petrie Town
Admission Cost: $0 
Step back into the 1930s and stroll your way through this charming historic village! With over 48 acres of parklands and heritage buildings, there are plenty of things to see and do! There are four museums, historic buildings, weekly markets and plenty of local boutiques to browse!
Visit the largest butterfly sanctuary in Australia
 Admission Cost: $20
A small payment of $20 will get you into the incredible butterfly sanctuary in Cairns! Home to over 1500 tropical species, you can wander around this sanctuary for hours in awe of their colours and beauty! The main aviary will have you so close and personal with the winged creatures; they may even land on you if you're lucky! 
Hike up Walsh's Pyramid
Admission Cost: $0
In the south of Cairns, you'll find the highest free-standing natural pyramid in the world! While just seeing such a world record-breaking icon is cool enough, why not take a hike!? Walsh's pyramid is challenging, so it's not for the faint hearted. But if you're looking for some vigorous exercise and unique adventure – this is it!
See a movie at Cineplex
Admission Cost: From $5.50
The cinema isn't usually what comes to mind when we think cheap but it is at Queenslan's Cineplex! Spread throughout the state, Cineplex offers adult tickets for $9.50 - kids and pensioners are just $7! They also offer discounted films that cost as little as $5.50. 
Take a Backstage Tour through the Brisbane Powerhouse
Admission Cost: $15
For just $15, you can take a guided tour through one of Brisbane's most exciting entertainment venues. Whether you're a fan of history, street art or performing arts, you're bound to be wowed by the things you see and learn within the eerie Brisbane Powerhouse. 
Grab a bite and watch live music at Miami Marketta
Admission Cost: $0 
Held weekly on Wednesdays, Fridays and Saturdays, the Miami Marketta is a great way to spend an evening on a budget! Sample yummy foods of the Gold Coast alongside their renowned craft beer. Be sure to take a seat and enjoy the free live music; Brisbane is abundant with talent - you might just catch Australia's next big thing!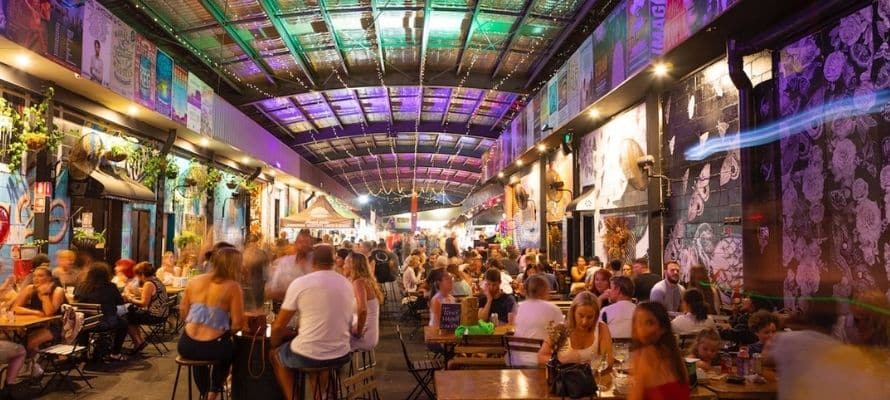 See Australia's largest collection of free-flying birds 
Admission Cost: $20
Surround yourself with some of the most beautiful birds you will ever see! Parrots, galahs, cockatoos, cassowary's and many more species live in Birdworld at Kuranda. Whether you sit and watch them for hours, hand feed them or get an epic selfie, it's a great and affordable way to spend your day! 
Ride The Wheel 
Admission Cost: $19.95
Take in the city views of Brisbane via the iconic Wheel of Brisbane! It's a luxury Ferris Wheel that goes for 10-15 minutes, boasting 42 fully enclosed, air-conditioned gondolas.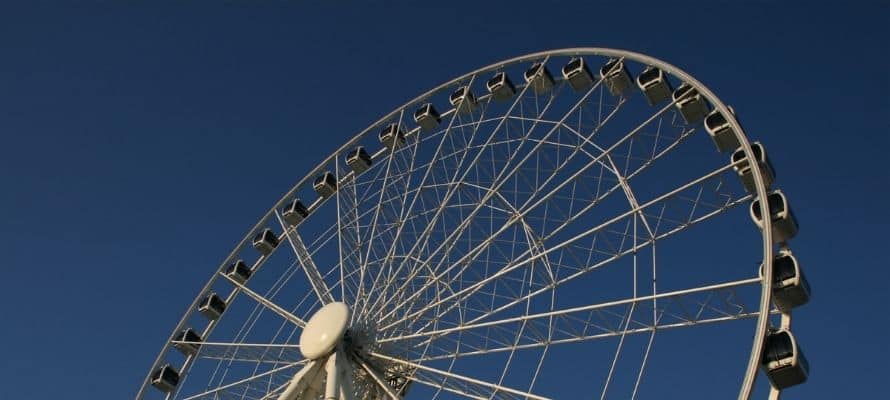 Have a picnic at Glass House Mountains Lookout.
Admission Cost: $0
The best attraction at Glass House Mountains is the mountain itself, and being a natural landmark, it's free! Indulging in a picnic in front of the iconic mountains is romantic and idyllic. Grab some goodies from your motorhome fridge and pack your picnic full of the produce you've bought along the way. 
Drive alongside the Great Barrier Reef
Admission Cost: $0
Speaking of natural landmarks, there is no question that the Great Barrier Reef is at the very top of many people's bucket list! It doesn't have to be a costly adventure either. Driving along the spectacular coastline is one of the most incredible ways to see the reef. You'll cruise between two word heritage areas, see dozens of stunning beaches and two national parks! A good road trip will have you seeing plenty of wildlife and experiencing indigenous culture along the way.
Take the kids (or kids at heart) to BOUNCE
Admission Cost: From $11 
Whether it's for the kids to let out energy ahead of a big drive or to experiment with a new skill, BOUNCE is such a fun way to get a daily dose of physical activity! Each BOUNCE centre has around 3000 square meters of indoor trampoline and is a very affordable way to have fun! You'll find BOUNCE in the Gold Coast and Tingalpa. 
Have a Splash at Muddy's Playground 
Admission Cost: $0 
Head to Muddy's Playground in Cairns for a no-cost way to help the kids burn energy. This fun and safe water-based playground includes a flying fox, play horses, see-saws and interactive play equipment! Across the road is Muddy's Café, so grab a coffee and relax by the scenic coastline while watching the kids splash and play! 
Spend the day at QAGOMA
Admission Cost: $0 
From ancient history to contemporary art – the Queensland Art Gallery & Gallery of Modern Art (QAGOMA) has something for everyone anyone! While some special events might have an entry fee, everything is free most of the time! 
Check out the views and brews from Kangaroo Point
Admission Cost: $0 
Park your motorhome somewhere close by and spend the day exploring Kangaroo point! There are some gorgeous parks to picnic such as Captain Burke Park and James Warner Park. On the opposite side you'll find an array of scenic piers. Between walks, sample some craft beer at Sea Legs Brewing Co, located directly under the iconic Story Bridge!
Fill your itinerary with these budget things to do for a jam-packed, once in a lifetime Australian holiday -  that won't break the bank! 
Cruisin' Motorhomes Rental Queensland are conveniently located in both Cairns & Brisbane! Whether you make it a round trip, or pick up on one side and drop off the next, there is no better, more adventurous or more practical way to see the sunshine coast! You can choose to start your adventure with a campervan hire in Brisbane or a campervan rental in Cairns.  
Holidaying in 2022?
See all the trends and predictions for Australian Holidays
Read More