A guide to the Blue Mountains
There is a good reason why Blue Mountains is an adored, central location for film and television.  Think Mad Max, The Great Gatsby, and Tomorrow, When the War Began! More recently, the ABC drama Wakefield highlights the region's natural beauty.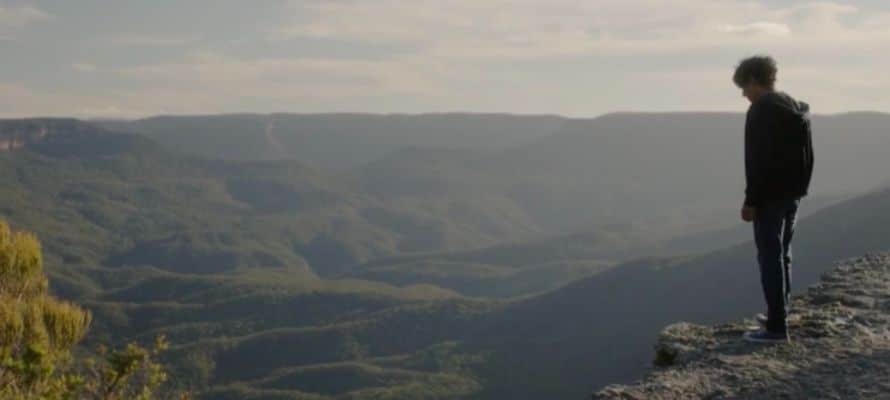 Wakefield 📷 abctv
The Blue Mountains is home to some of the world's most picturesque views, sandstone tablelands and impressive waterfalls. While wandering the region's streets, you're enticed by its village vibes and boutique shopping. When sightseeing from above, there is a captivating, eerie glow.
You must not forget to add the Blue Mountains to your itinerary when travelling through New South Wales in a motorhome. It's 50ks from Sydney CBD, but it might feel like you're in another country entirely.
We recommend at least a few nights here to best take in the picturesque surroundings and explore as much you can.  Below are some of our favourite to-dos:
 THINGS YOU MUST SEE & DO WHILE IN THE BLUE MOUNTAINS
See the Three Sisters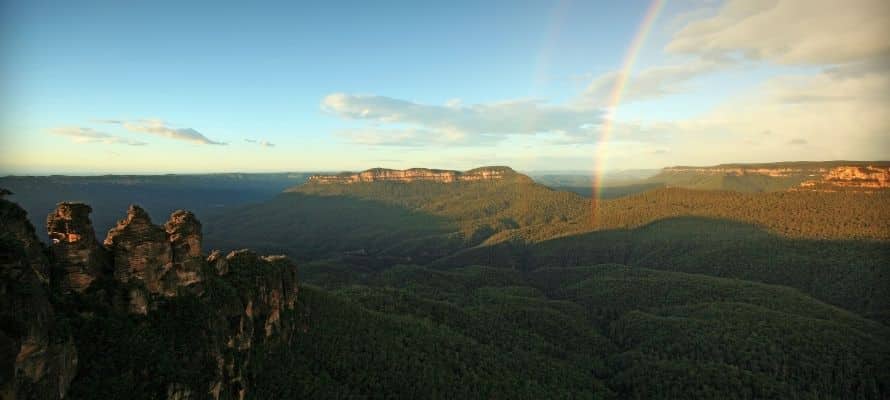 The Three Sisters 📷 Tourism Australia
Take a small trek through the Blue Mountains National Park for a family-friendly walk - this will get you nice and close to the iconic natural wonder.
If able, the Giant Stairway is a unique and beautiful way to get there! It is a little more challenging with 988 stairs but worth every moment due to its iconic views along the way!
The Katoomba Falls Round Walk
While the Three Sisters may be the most prevalent sight in the area, there are other unmissable stops - this circuit is a fantastic way to find them! During this moderate 2k walk, look out for:
Juliets Balcony – here you will get incredible panoramic views.
Katoomba Waterfall – an unmissable natural wonder!
Witches Leap – challenge yourself to find the face between the rocks.
Visit Lincoln's Rock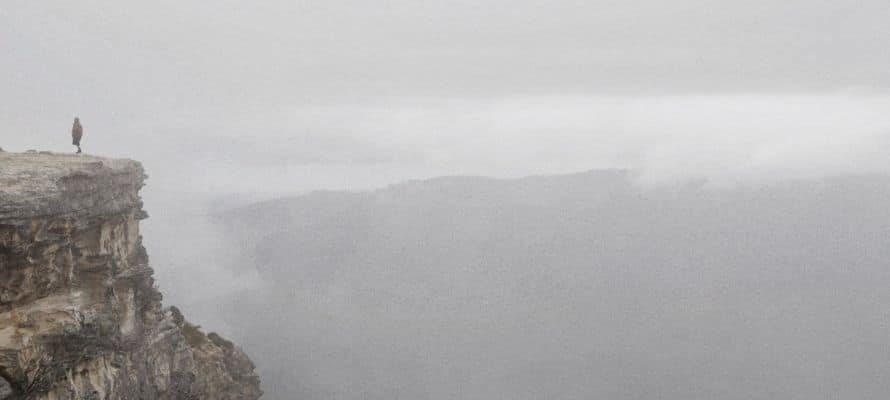 Lincon's Rock 📷 Edward Noel Photo
Formerly known as Flat Rock or affectionately nicknamed Wedding Rock, this lookout is one you'll most likely recognise from famous films.
The great thing about Lincon's Rock is its accessibility. Within minutes of parking your motorhome, you'll be on the famous rock taking in unforgettable views! For a unique experience, bring along a picnic blanket, take some treats from your fridge and enjoy a lunch to remember!
Indulge at Megalong Creek Estate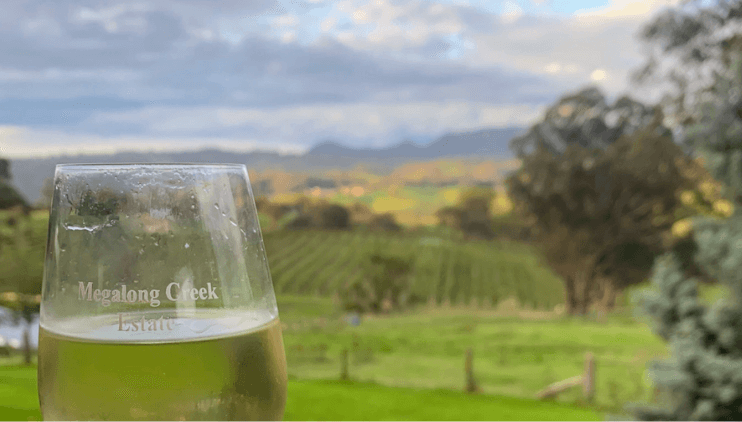 Winery Views 📷 Megalong Creek Estate
For an unforgettable food and wine experience, you must visit Megalong Creek Estate. This family-run vineyard will provide you with stunning views, generous cheese plates and gorgeous wine. You will likely spot some alpacas grazing the grass as you sip your pinot!
Explore Jenolan Caves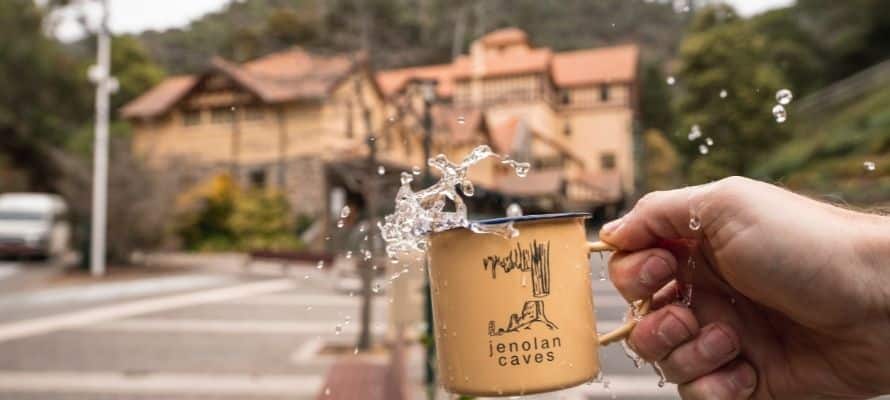 These caves are technically just outside the Blue Mountains region, but they claim it as their own due to the proximity!  Beautiful historical sites surround the Jenolan caves but take a cave tour if you can! The 340-million year-old cave should be seen to be believed - it's an outstanding & educational experience.
Wander Blue Mountains Botanic Garden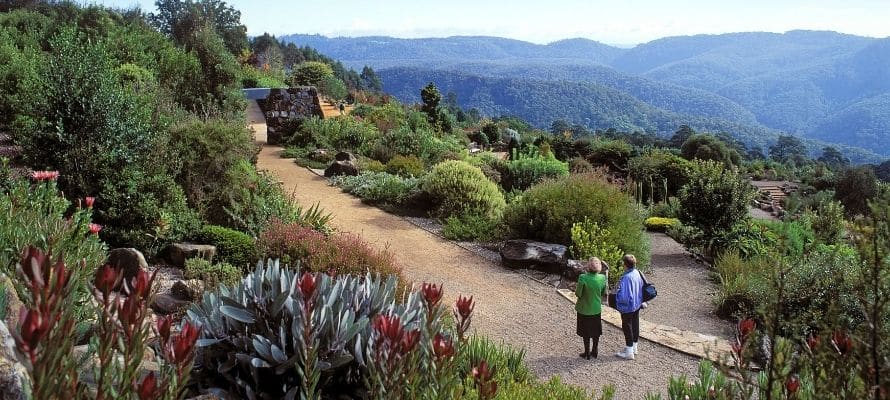 Blue Mountains Botanic Gardens 📷 Tourism Australia
You'll find many historic firsts or one-of-a-kind attractions while exploring the Blue Mountains and the Botanic Gardens in Mount Tomah are one of them. The local botanic garden is the only one in the world located on a world heritage site! This lush, colourful wonderland is a great place for a romantic stroll or to have the kids run around.
Shop at Leura Mall
There is a charming village atmosphere in Leura Mall that is hard not to fall in love with!
You'll find fashion boutiques, vintage clothing and a delightful array of giftware as you stroll.
Be sure to check out Bygone Beauty – home to the world's most extensive collection of teaware.
If you're a sweet tooth eager to stock your campervan or motorhome with treats, visit the famous Gingerbread House, The Candy Store or Josophan's Chocolate before you leave!
Learn at Blue Mountains Cultural Centre
Blue Mountains Cultural Centre 📷 Art Collector Magazine
One of the best things about travelling in a motorhome is the hunger you get to learn more about the places you are temporarily calling home. The Blue Mountains Cultural Centre is the perfect place to satisfy that! A contemporary hub full of thought-provoking art, changing exhibitions and an excellent library.
Blue Mountains 📷 Tourism Australia
There is something so special about camping your motorhome, alfresco dining and early mornings in the rugged Blue Mountains!  It's good to do some research about where to stay and the national park fees & policies. Click here for an official resource,
For local powered sites close to the action, we suggest:
Katoomba Falls Tourist Park
Blackheath Glen Tourist Park
Lithgow Tourist and Van Park
Jenolan Caravan Park:
Visit the NSW Caravan Park Guide here
New South Wales is renowned for its ripe avocados, sweet pears and bright berries, so be sure to stock up along the way.
Blue Mountains is typically cooler than Sydney, pack warm clothes and appropriate footwear.
Why not bring a few movies along which feature the Blue Mountains so you can watch them from the comfort of your motorhome!
Find A Holiday Park
Visit the Caravan and Camping NSW website to find to find the best caravan parks for your holiday.
Explore Holiday Parks
Powered Camping
Visit NSW have great resources and information about camping, powered sites and holiday parks.
Visit NSW Website
2 Berth Sandpiper
If you're a couple looking for an adventure you can't go past the 2 Berth Seeker!
See Motorhome