Best Wildlife Encounters in Australia
One of the best things about travelling through Australia is that you're bound to meet new animals and have countless wildlife interactions no matter what time of year it is! When you're travelling in a motorhome or campervan, that experience is tenfold! You're likely going to have furry friends approach your campground, hear the laughs of a kookaburra from above and if you're lucky enough to be camping near a beach, witness ocean life from your campsite!
So, where are the best places in Australia to have the best animal and wildlife encounters?  
TASMANIA
Natureworld: Devils In The Dark
If you're heading to Tasmania, you're likely going to want to meet a Tassie Devil!
While the nocturnal animals are widespread across Tasmania, they are also sadly endangered. The best outcome is that you don't see any devils during your drives - that means they're safe and off the road! If you want to catch a Tassie Devil in its most natural habitat while getting up close and personal, a Devils in The Dark tour is a must! This dedicated devil experience can be booked through Natureworld in Bicheno.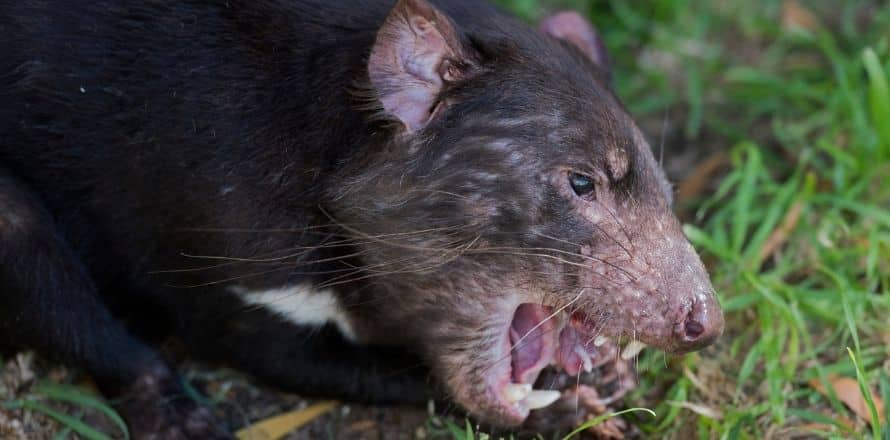 Freycinet National Park
If you're looking to meet as many local creatures as possible while in Tasmania, you must camp at Freycinet National Park! Relax by your motorhome and watch the playful local creatures come to you. There are 49 prevalent Tasmanian species in Freycinet National Park, including Pademelons, wallabies, potoroos, possums, and echidnas! You'll be thankful that you have a motorhome to store your food in – regular campers will have to take extra precautions when storing food at night!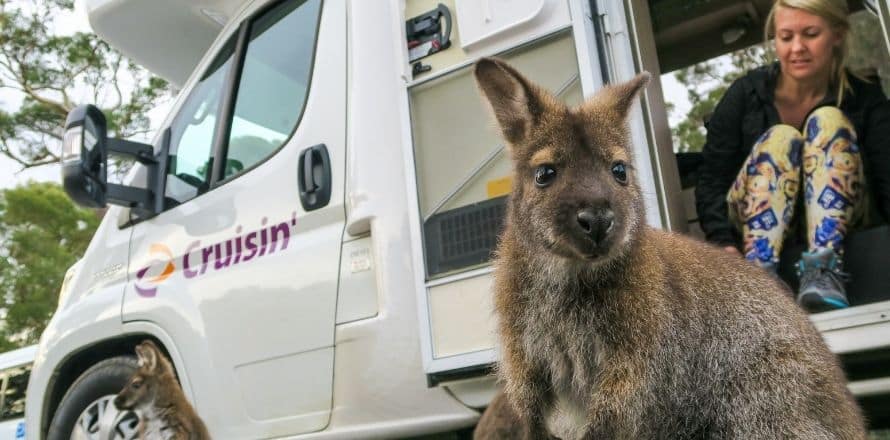 ZooDoo
Between iconic Tasmanian towns Tea Tree and Richmond, you'll find ZooDoo – a large wildlife reserve that prides itself on suitability, conservation & biodiversity. You can get up close and personal with a range of unique animals including Servals, Cotton-Top Tamarins and Meerkats! There are passionate and informative zookeepers who provide free presentations, feeding and walks throughout the day. You might even have the chance to feed a lion!
Bonorong Wildlife Sanctuary
Bonorong is one of Tasmania's most loved animal and wildlife reserves. You'll get some special food on arrival that you can feed the wallabies and kangaroos - who walk freely around the park! An entry price will give you the option to walk freely as you please and/or take a 45 minute guided tour. The tour is a great way to learn about the Tasmanian Devil's personality and how to best help protect them.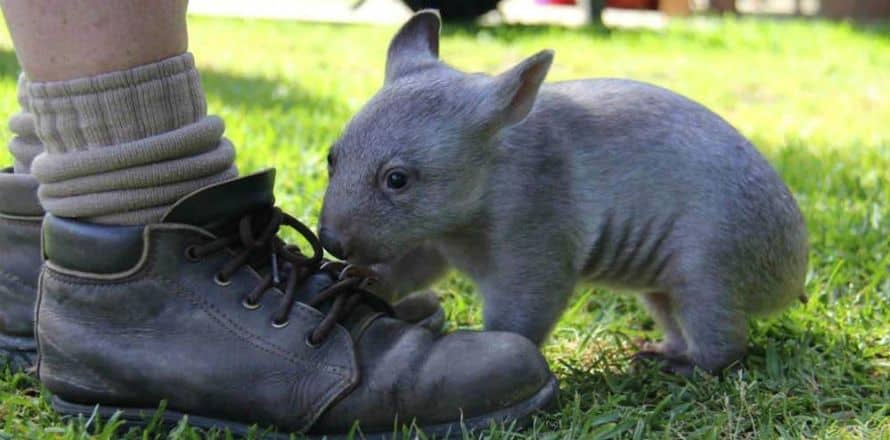 The Little Penguin Observation Centre
If you want to see some penguins, the best time to see them is in Tasmania, after dark in spring or summer. From October until March, just ten minutes from Burnie's city centre, you can take a free penguin tour where you will spot them emerge from the ocean and waddle into their burrows! It's an amazing sight and crazy to think it is so close to the city!
QUEENSLAND
Australia Zoo
Arguably, the world's most famous Zoo - Australia Zoo is founded by and home to the Irwin's. The late Steve Irwin (The Crocodile Hunter) dedicated his life to wildlife protection and his family are carrying that legacy on today! Their dedicated Wildlife Hospital rehabilitates and releases over 7000 native Australian animals each year! You'll meet a wide range of animals here, from familiar creatures to brand new friends including some of Queensland's most famous creatures: the cassowary, crocodile & Eastern Grey Kangaroo. Be sure to visit their world-famous Crocoseum where you can truly experiences Steve Irwin's livelihood 
Cape Hillsborough Beach
Have an iconic and authentic wildlife encounter at Cape Hillsborough Beach, where you can watch wallabies and kangaroos take over the beach, looking for seaweed and seed pods. Don't feed these guys, but if you're lucky enough for one of them to approach you, selfies with the wallabies or kangaroos are a common practice!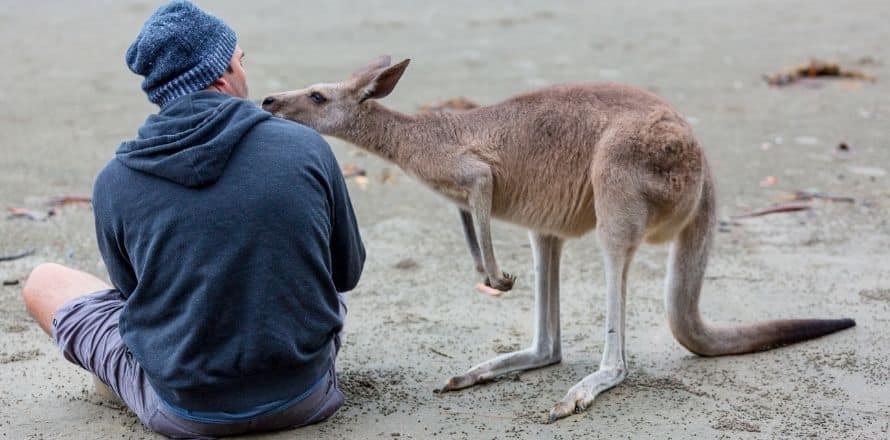 Currumbin Wildlife Sanctuary
See the colourful creatures of Queensland at the Currumbin Wildlife Sanctuary! Get up close and personal with rainbow lorikeets, koalas, iguanas and dingos – to name a few! For a unique experience, why not book in an additional experience, like meeting the world's largest rodent! Be sure to check out the sanctuary's art trail too. You'll follow a map and discover animals in a way you never have before! There is a Lego water dragon, a Gruffalo made from Eucalypt and a giant Blinky Bill!
Lyell Deer Sanctuary
For something completely different, why not meet some Deer at the Lyell Deer Sanctuary in Mount Samson?! Just 40 minutes out from Brisbane, you can sit with them, cuddle them and feed deer in this fairytale-like setting! You'll also meet cattle, chickens, goats and ducks along the way! A great local experience that kids and adults can enjoy!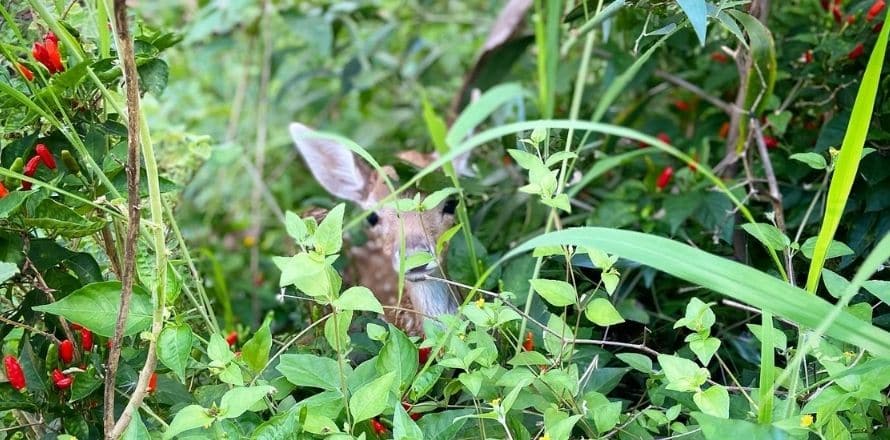 NEW SOUTH WALES
Australian Reptile Park
There is something for everyone at the Australian Reptile Park in Gosford! You can cuddle a koala or hold a python, learn about their spider venom program or discover a wide variety of local birds! If you want to experience some intimate and hands-on animal encounters, book an additional activity –  this reptile park offers Alligator feeding, wombat meetings and dingo pats! You'll also find Ploddy The Dinosaur around the corner from the Australian Reptile Park - Australia's very first "Big Thing"!
Port Stephens Koala Sanctuary
Meet the local Koalas in a tranquil bushland setting in the heart of Port Stephens! This Koala Sanctuary is a dedicated hospital and rehabilitation centre, helping Koalas get what they need to survive in the wild. Entry price helps support Koala's long-term rehabilitation, preservation, and conservation! Be sure to take the SKYwalk for an epic viewing platform, great photo op and an insightful experience into a Koala's world!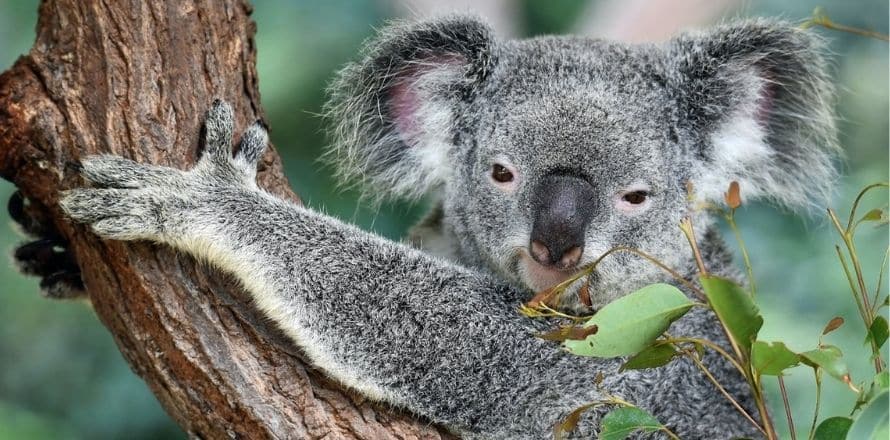 Taronga Zoo
Meet some new creatures in an iconic Sydney location! There are so many animals to meet, including chimpanzees, gorillas, tree kangaroos & Sumatran tigers. Taronga cares for over 5000 animals, many of that are endangered or protected species. All Taronga Zoo animals have their own unique story about how they ended up in care, stories that can be both emotional and insightful.
Wild Cat Conservation Centre
If you're a crazy cat person, this is a must-do experience in Australia! Take a personalized tour through the vast conservation area where you'll watch cheetahs in their natural environment, embracing their natural behaviors! This conservation centre is all about getting to know wild cats, by observing them in a fence free, natural and safe environment. The staff will take candid photos of you, teach you about their history and guide you through an additional sanctuary of leopards, caracals and servals.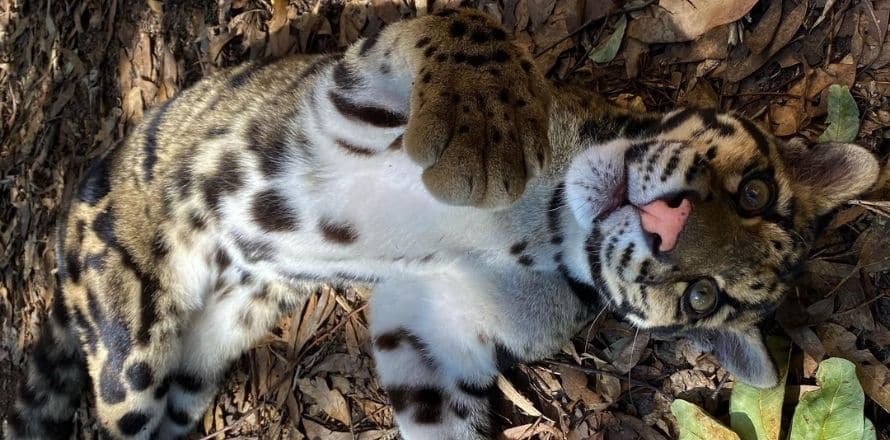 Sydney Harbour Whale Watching
There are so many sights to see when exploring Sydney Harbour, but there aren't many experiences more satisfying than an Australian animal encounter! Stroll past Harbour Bridge, Luna Park, the Opera House, Circular Quay and find a bounty of tour operators offering whale watching experiences! For as little as $55 you can hop on a 2-hour cruise through Sydney Harbor to watch the incredible Humpback Whales in their natural habitat!
VICTORIA
Moonlit Sanctuary
Moonlit Sanctuary in Victoria is one of the highest-reviewed ways to engage with Australian animals! For under $30 you can roam through the incredible sanctuary at your own pace. Feeding and spotting new animals as you go. For a once in a lifetime experience, why not take a dingo for a walk!? If you book early, you can bond with a dingo by taking them for a gentle leaded walk through the wildlife park!! They also offer wombat walks and python encounters!! You can guess which of the two sells out the fastest. You can even enrol in an epic experience to be 'Keeper for a Day' if you want the works!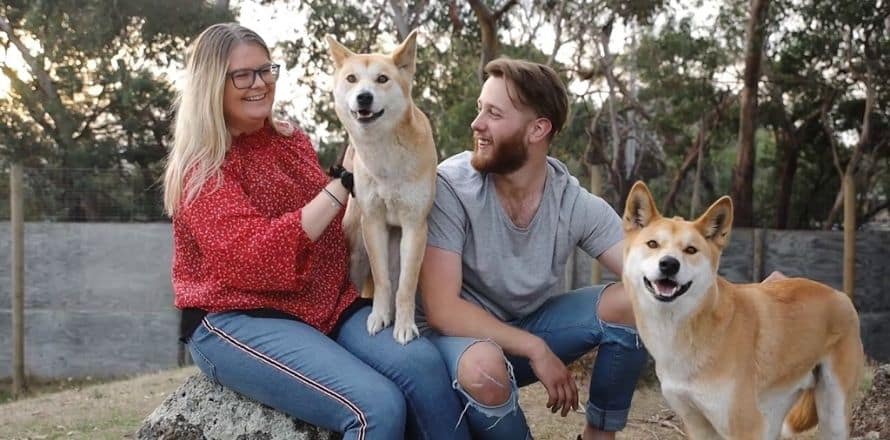 Healesville Sanctuary
Healesville Sanctuary, just an hours drive from Melbourne, offers a range of animal encounters, from free-roaming to guided tours. Kids entry is free, and you can easily spend over half a day here. What is the very best way to experience Healesville Sanctuary you ask? If you're kid-free, take a Wine & Wildlife Tour! This self-driving package is the perfect addition to your motorhome holiday! You will get admission, your guide to take you through the sanctuary, a wine tasting, a two-course lunch and free tastings at the Yarra Valley Chocolatery! The perfect excuse to fill your fridge up with treats after a day well spent! 
Phillip Island Wildlife Park
Phillip Island Wildlife is a smaller sanctuary, with just over 100 species of Australian animals calling it home. This makes it all the more intimate! Hand feed kangaroos and wallabies in a free-range environment, see koalas from eye-level at the dedicated boardwalk or look above and see the hanging bats! There are an assortment of local birds here – parrots, cockatoos & kookaburras - that produce the wholesome sounds of Australia.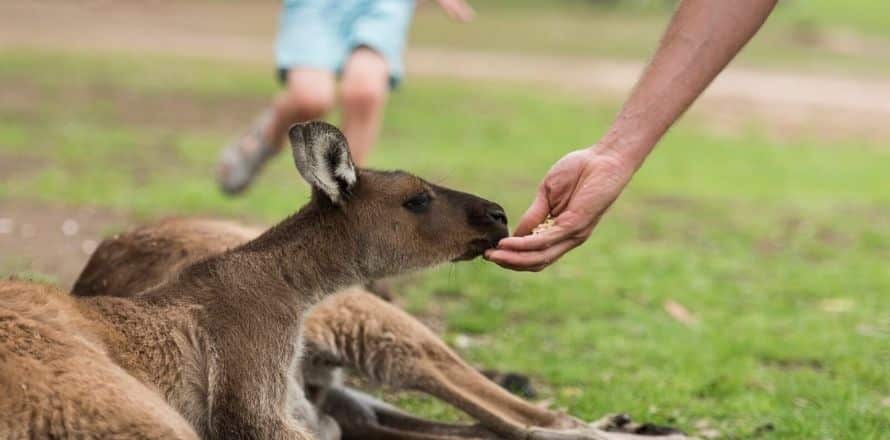 Great Ocean Road Wildlife Park
15 minutes from the Twelve Apostles you'll find a family run wildlife reserve! Observe their incredible selection of iconic Australian flora and fauna! The Great Ocean Road Wildlife Park offers intimate dingo encounters alongside their dedicated Dingo Awareness Centre, designed to educate the importance of the often-misunderstood species! There is also a selection of farm life in this wildlife park, including sheep, horses, donkey and alpacas!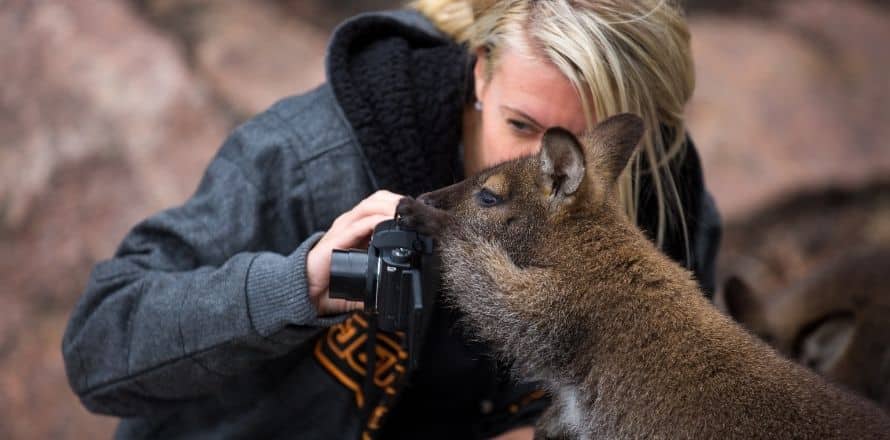 SOUTH AUSTRALIA
Rodney Fox Shark Expeditions
If you want to do something daring, South Australia is certainly the place to do it! Come face-to-face with Great White Sharks in the Eyre Peninsula. SA is the only place in Australia you're able to safely dive with sharks. This unforgettable encounter is done with the safety of a custom-built steel cage. If you're after something a bit more calming, there are plenty of dolphin and whale watching experiences in the area too!
Flinders Ranges National Park
The near-extinct yellow-footed rock wallabies can only be found in isolated colonies in South Australia & NSW. For the best chance of finding these incredible creatures in their natural habitat, camp at Flinders Range National Park! These guys can be found wandering your campsites during dusk! Keep an eye out for other cute creatures like quolls and possums too!
Kangaroo Island
Kangaroo Island is an amazing place for a self-drive holiday and one of the best spots in the world to see wildlife! You will find yourself surrounded by kangaroos, koalas and seals throughout the day! One of the most magical offerings on the island is a swimming with dolphins experience! This island is famous for its wildlife, so there are plenty of ways to see them! You can even opt for an island wildlife tour, where guides will help you learn about and discover koalas, kangaroos, wallabies, birds and echidnas.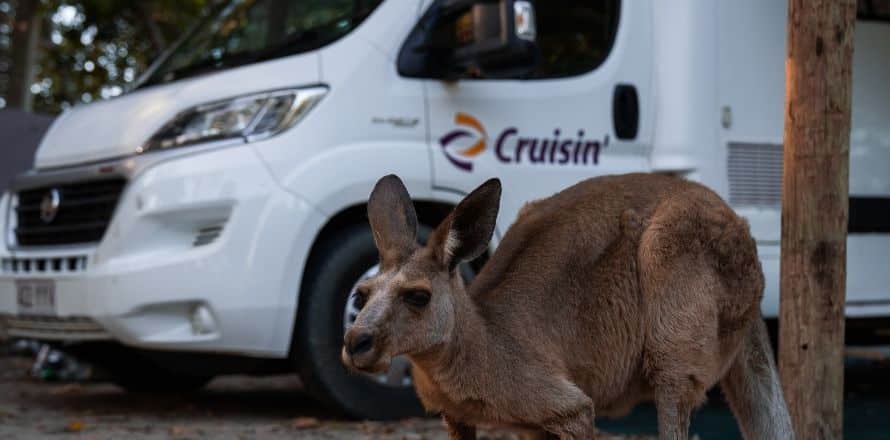 Whether you're after adrenaline-filled animal experiences or just looking to meet cuddly creatures in between drives, motorhome holidaying in Australia is the best way to do it! Watch, engage and encounter the incredible and unique animals of Australia! From national parks to holiday parks, it's rare not to be greeted by a friendly two-legged friend or ten when relaxing in or outside your motorhome! 
Instaworthy
For more photo-worthy opportunities check out our guide to the most
Selfie Spots
BIG icons
How about some giant animal encounters? Follow Australia's trail of BIG things, with our guide to the very best ones to see in the country!
BIG things
Autumn
Motorhome holidays in autumn are the best ever! Read our are 10 reasons why.
Autumn Travel