Big4 Cairns Crystal Cascades Holiday Park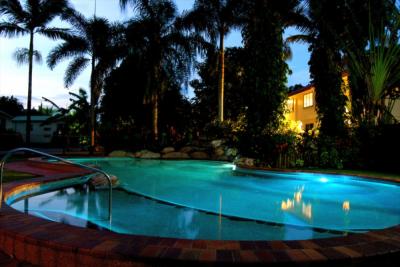 With majestic views of the surrounding mountains, this luxurious award-winning BIG4 tourist park situated in tropical Cairns has everything you need for a hassle free experience of northern
Queensland.
Located just outside of the CBD, BIG4 Cairns Crystal Cascades offers an extensive range of accommodation to cater to all budgets and travel requirements. Motorhomes and campervans
can stay at one of the spacious powered or ensuite sites while those after a self-contained style of living can hire one of the ensuite cabins, chalets, superior family villas or deluxe eco spa villas.
The extensive facilities at the holiday park ensure a comfortable stay. There is a luxurious saltwater pool and spa, free Wi-Fi access, car and van storage, TV and mobile reception, tour bookings, tour bus pick up, free BBQ area and camper's kitchen, clothes line, kid's playground, car wash bay, pool-side gazebo, tennis courts, laundry, amenities block and dump point. The accommodation is also conveniently close to the airport for those arriving or departing by plane. Walking enthusiasts will love the range of nearby rainforest walks.
Cairns is home to a variety of fantastic things to see and do. A must while you are in this area is the majestic Great Barrier Reef, one of the Seven Wonders of the Modern World. Cairns has some of
the best tours in the state that range from half day to full day expeditions. Reef Magic, Sunlover and Quiksilver are great tour operators and provide you with an unforgettable reef experience. Swim in crystal clear water or snorkel beside exotic schools of fish and magnificent coral. Scuba Dive at the bottom of the ocean or experience the sheer beauty of the reef from a reef viewer.
Another must-visit in this vibrant and diverse part of the world is the Skyrail & Scenic Railway Experience. No trip is complete without completing this spectacular sky-high journey to Kuranda
and witnessing the magic of the World Heritage rainforests from above.
After experiencing these adventure-packed day trips be sure to enjoy a laidback stroll along the esplanade, relax at one of the tropical beaches or eat at a fantastic local restaurant. Book now and
let your Cairns experience begin! Don't forget to bring your camera!
Contact: 1800 351 376 or (07) 4039 1036
Address: The Rocks Rd Redlynch Cairns, QLD 4870
Website: http://crystalcascades.com.au/