Cruisin' Ultimate Romantic Escape By Chris Patch
What a surprise it was when I checked my Facebook page back in March and discovered I was the winner of a 7 Day Cruisin' Ultimate Romantic Escape in Tasmania touring in a Cruisin' Motorhome! The offer also included a fine selection of cool climate wine from Frogmore Creek Winery as well as a Bruny Island Cruise courtesy of Pennicott Wilderness Journeys. I sat in disbelief… What! No way!
A quick phone call to Rosie at Cruisin' Motorhomes confirmed it was true.
After some tears, I briefly wondered who to take before deciding to take my husband, Rob! We have been happily married for 32 years.
The next thing I knew we had booked airline tickets to arrive in Hobart on the 5th of May, which just happens to be my birthday. We also extended our motorhome rental for another 3 days to make the most of our Tasmanian adventure!
We arrived at the Crusin' Depot where we were greeted by Rosie and the rest of the friendly staff.
After a run down on our fabulous 6 berth VW Motorhome (the Cruisin' Discovery) which we chose to take around Tassie, Rosie escorted us to Frogmore Creek Winery.
What a stunning place to visit and the wine, especially their port, was just fabulous! With a few tastings under my belt I chose their 2012 FGR Riesling and also their Ruby Pinot Noir; the perfect start to our Cruisin' getaway and my birthday.

Frogmore Creek Winery, Coal River Valley

Frogmore Creek Winery, Coal River Valley
Now, we thought, where to go first?  We headed towards Bruny Island of course to enjoy the highly anticipated cruise with Pennicott Wilderness Tours. Our captain and co-pilot of the Pennicott tour were simply amazing; humorous, skilled and full of local knowledge about Bruny Island. The cliffs, blow holes, scenery and seals were just stunning! Bruny Island Pennicott Wilderness Journey is a must for anyone exploring Tasmania.
We were all delivered back to shore safe and sound albeit a little cold.  However the pumpkin soup at their restaurant warmed us up immediately. Thanks guys for an awesome time!

Bruny Island Cruise, Pennicott Wilderness Journeys

Bruny Island Cruise, Pennicott Wilderness Journeys

Bruny Island Cruise, Pennicott Wilderness Journey

Bruny Island Cruise, Pennicott Wilderness Journey 

The Cruisin' Discovery, Bruny Island
Afterwards we ventured onward to Strahan on the North West coast of Tasmania. On the way we experienced absolutely stunning countryside, over rivers and through forestry plantations. Everywhere I looked was picture perfect, and yes I took heaps of pictures! Some a little blurry as I took most of them from the comfy seat of our Cruisin' motorhome.

En Route to Strahan, Tasmania's West Coast

En Route to Strahan, Tasmania's West Coast
The Gordon River Cruise in Strahan was magical!  This World Heritage listed cruise was pure luxury and glided through beautiful water and past amazing fish farms. We particularly enjoyed the Sarah Island tour; all the history just soaked straight into our hearts.

Gordon River Cruise, Strahan 

Gordon River Cruise, Strahan 

Gordon River Cruise, Strahan 
We farewelled Strahan and moved forward to experience more amazing Tasmanian scenery.  We enjoyed an awesome lunch in Penguin on the North West Coast, got up close and personal with a Tasmanian Devil and penguin at Tasmania Zoo (I could have spent all day there!) and rode the chairlift over magnificent Cataract Gorge in Launceston.

Tasmania Zoo, Launceston
Then we ventured on to another piece of heaven: Swansea on the East Coast of Tasmania. We spent 2 nights here just to catch our breath and enjoy a magnificent sunset before heading towards historic Port Arthur with some stops on the way.  We stayed at beautiful White Beach and enjoyed many mesmerising views on our journey all in the comfort of our Cruisin Motorhome.

Sunset in Swansea, East Coast of Tasmania

Port Arthur, Tasman Peninsula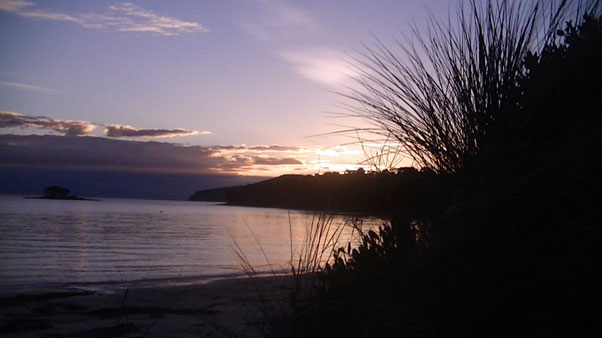 White Beach, Port Arthur 

Devils Kitchen, Tasmania
My husband Rob said the VW motorhome was as good to drive as our car, but with all the comforts of home including a fridge, toilet and shower, 3 double beds, air con, cook top, cutlery, crockery, towels linen and a walk-through area from the driver's cabin to the main cabin. It might just be better than home!
Finally I would highly recommend a holiday in Tasmania with Cruisin' Motorhomes, and don't hesitate to visit Frogmore Creek Winery and Pennicott Wilderness Journeys along the way. There are so many things to see and do in Tasmania!
All this simply because I liked and shared!