Discovering Cairns' Unique Wildlife: An Unforgettable Native Animal Encounter
Cairns, located in the tropical splendour of North Queensland, is a haven for nature enthusiasts and wildlife lovers. Beyond its stunning landscapes and coral reefs, this region offers an incredible opportunity to encounter some of Australia's most iconic native animals!
From kangaroos and wallabies to elusive cassowaries and enchanting rainforest birds, the animals in Cairns are a captivating spectacle. In this article, we'll take you on a journey through the lush rainforests, serene beaches, and unique ecosystems of Cairns, where you can meet these remarkable creatures up close.
So, pack your binoculars and camera, and prepare for an unforgettable road trip in Cairns!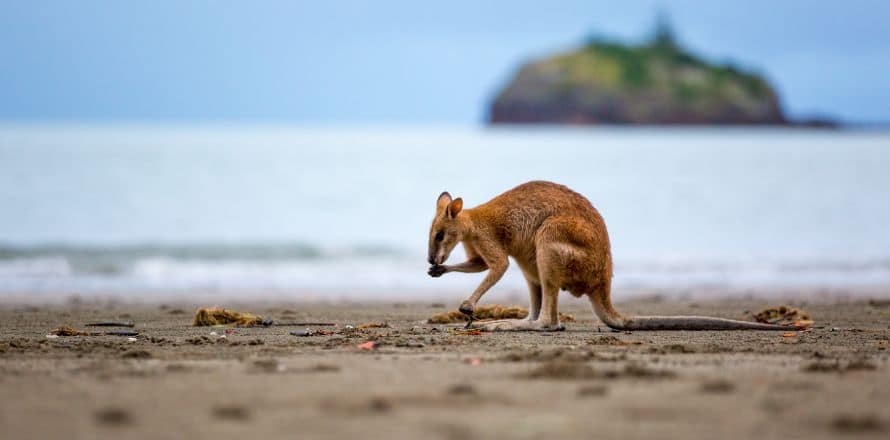 Kangaroos and Wallabies: Hopping Icons
The first stop on our list of animals in Cairns takes us to the world of kangaroos and wallabies. Contrary to popular belief, these iconic marsupials don't just roam in the arid outback; they also thrive in the lush forests and coastal regions of North Queensland.
Kangaroos, with their distinct hopping gait, are a sight to behold! Head to nearby national parks like Atherton Tablelands and Daintree Rainforest for your best chance at spotting them.
Wallabies, smaller cousins of kangaroos, are equally enchanting, with their gentle nature and friendly attitude.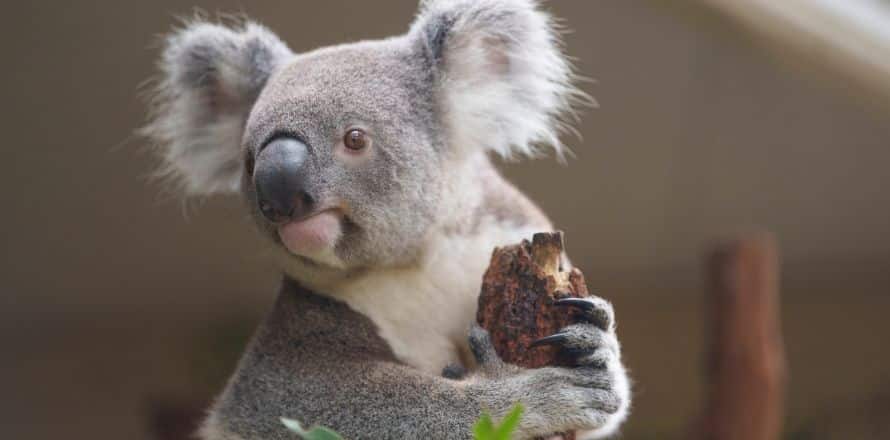 Lone Pine Koala Sanctuary, Tourism and Events Queensland
Koalas: Eucalyptus Enthusiasts
Yet another Aussie icon, you can see koalas in Cairns too! While there aren't as many as there are in other parts of Australia, you can still glimpse these iconic marsupials in the region's eucalyptus forests.
The Tinaroo Range and Lake Eacham areas are known koala habitats. Their unique, slow-paced lifestyle and distinctive appearance make them a favourite among wildlife enthusiasts.
Keep your eyes trained on the treetops, and you might be rewarded with a sighting of these sleepy tree-dwellers.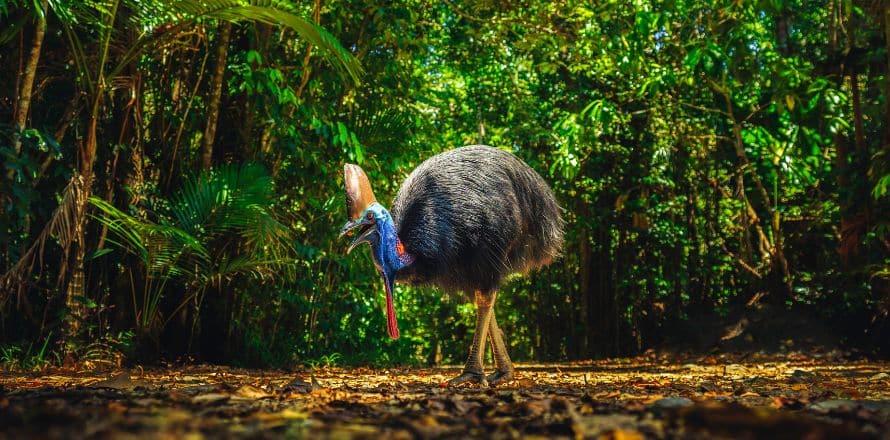 Wild Cassowary, Tourism and Events Queensland
Cassowaries and Rainforest Birds: Tropical Treasures
Venture into the dense rainforests of Cairns, and you'll find some of the most remarkable avian species. Many of which aren't found anywhere else in the world!
The cassowary stands out as a true tropical treasure among the feathered inhabitants. With its vibrant blue skin, this large, flightless bird showcases the region's uniqueness. The Daintree Rainforest and Mission Beach are excellent places to spot cassowaries – but make sure you maintain a respectful distance, as these birds are known for their territorial nature!
The rainforests around Cairns are also home to an astonishing variety of colourful birds. From the brilliant Eclectus Parrot to the majestic Australian King Parrot, you'll be treated to a symphony of calls and a kaleidoscope of colours. Binoculars and a field guide will be your best companions as you embark on your bird-watching adventure!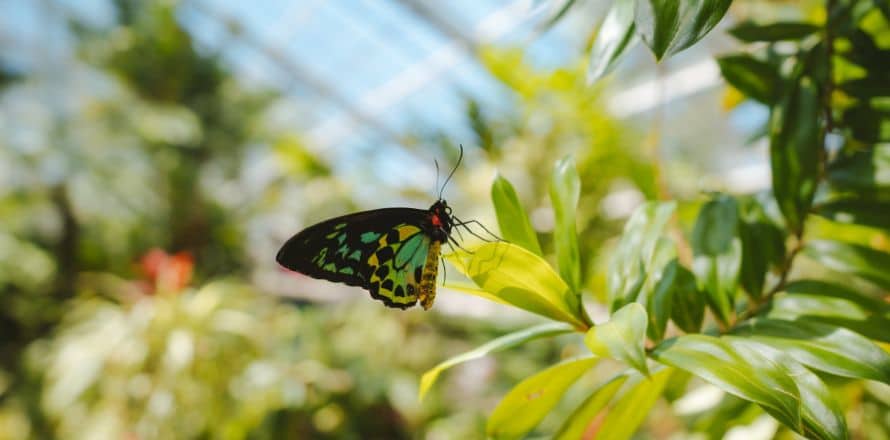 Australian Butterfly Sanctuary, Tourism and Events Queensland
Butterflies at Kuranda: A Kaleidoscope in Flight
Kuranda, a charming village located just a short road trip from Cairns, is not only known for its artisan markets and scenic railway but also for its enchanting butterfly sanctuary.
The Australian Butterfly Sanctuary in Kuranda offers a mesmerising and truly unique experience as you step into a world where hundreds of colourful butterflies flutter around you.
With a diverse range of species on display, including the iconic Ulysses Butterfly, this sanctuary provides a close encounter with the delicate and vibrant side of Cairns' wildlife.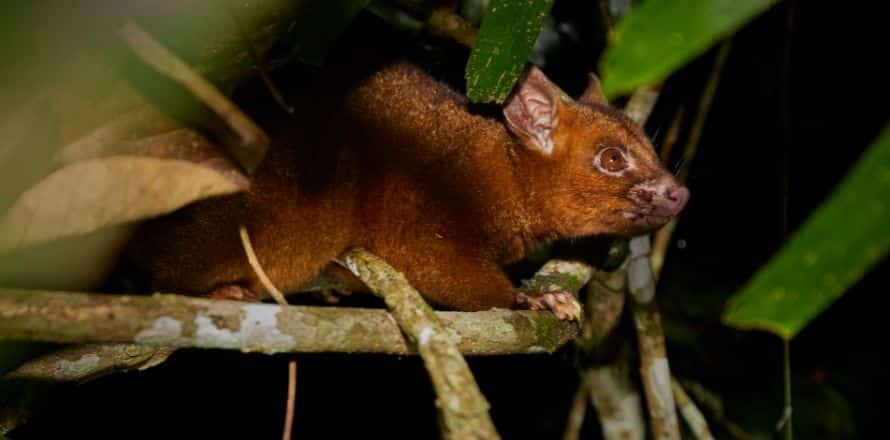 Wait-A-While Rainforest Tours, Tourism and Events Queensland
Brushtail Possums and Sugar Gliders: Nocturnal Enigmas
As the sun sets over the rainforest canopy, a different set of creatures emerge. Marsupials like the Northern Brushtail Possum and the Sugar Glider take centre stage. These nocturnal mammals are skilled tree climbers and can be spotted as they glide gracefully between branches in search of food.
To catch a glimpse of them for yourself, explore the rainforests after dark with the help of a guide who'll know exactly where to find these elusive creatures.
It's Time To Set Off On A Road Trip Across Queensland!
With its unique blend of tropical rainforests, coastal beauty, and proximity to the Great Barrier Reef, Cairns offers an unrivalled opportunity for native animal encounters. From iconic kangaroos and wallabies to elusive cassowaries and an enchanting world of rainforest birds, Cairns is a wildlife enthusiast's paradise.
The region's reptiles, butterflies, and marsupials further add to the rich tapestry of biodiversity that makes Cairns a must-visit destination for those eager to connect with Australia's remarkable wildlife.
Are you looking for even more things to do in Cairns? Then you won't want to miss our guide to Cairns' Cultural Experiences that are sure to captivate the entire family!
Now it's time to book your motorhome hire in Cairns!  Call our friendly reservations team on 1300 664 485 or check out our website to see the motorhomes we have available at our Cairns branch.
Related Locations

399 Sheridan St, Cairns North QLD 4870, Australia

Phone Number : 1300 664 485
International : +61 3 6248 4789