Exploring Nature's Treasures: Closest National Parks To Brisbane
Brisbane is the bustling capital city of Queensland and is well-known for its family fun and vibrant districts. If you love nature, you're in luck because there are several national parks all within driving distance!
Whether you're an avid hiker or just looking for some snap-worthy sights, we've compiled a range of national parks close to Brisbane to help you plan your Queensland road trip!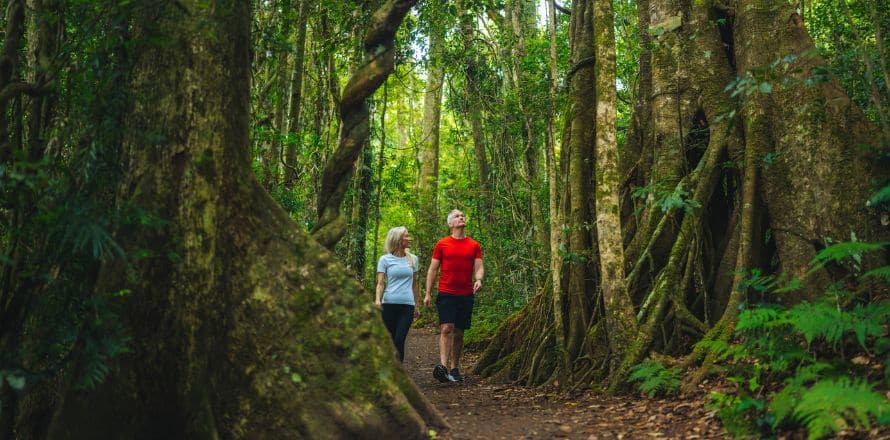 Binna Burra, Tourism and Events Queensland
Lamington National Park
Distance from Brisbane: Approx. 1hr 30min
Accessibility: Fully sealed roads, some narrow roads that are unsuitable for our larger motorhomes
Our adventure begins with the enchanting Lamington National Park, located in the Gold Coast Hinterland. Divided into two distinct sections, this park is a haven for lovers of lush rainforests and serene landscapes.
Located on the western side are the Green Mountains, which are famous for their treetop walkways and the O'Reilly's Rainforest Retreat. Get ready to wander through the canopy of ancient trees and witness a wide array of vibrant birdlife!
On the eastern side is Binna Burra. This is a completely different perspective, with stunning cliff-edge views and an abundance of hiking trails that will suit all hikers.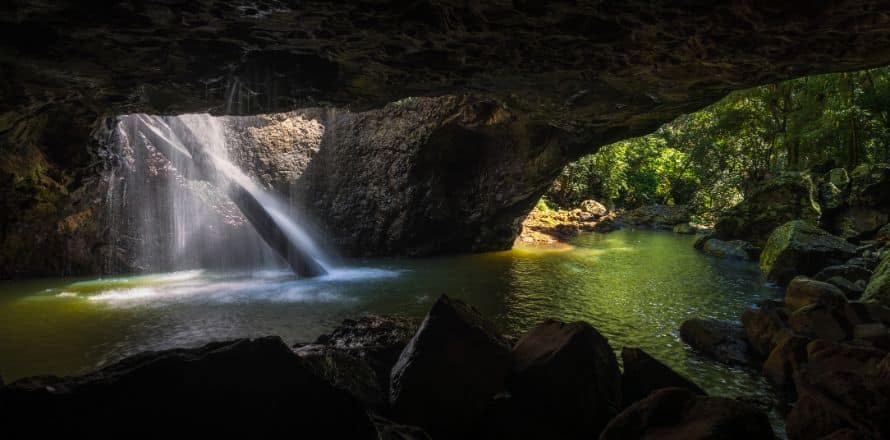 Natural Bridge, Tourism and Events Queensland
Springbrook National Park
Distance from Brisbane: Approx. 1hr 30min
Accessibility: Main areas are accessible by sealed roads
It's time to head for the Gold Coast! Just a short drive from Brisbane, Springbrook National Park is a hidden oasis as well as a paradise of waterfalls and subtropical rainforests. Set off on a walk through the ancient Antarctic beech trees, and make sure you take your time when exploring this national park near Brisbane.  
The lush greenery and cool mountain air make Springbrook a truly refreshing escape. While you're here, you'll want to explore Purling Brook Falls, witness the Natural Bridge, and immerse yourself in the mesmerising Glow Worm Cave. Trust us, you won't want to miss them!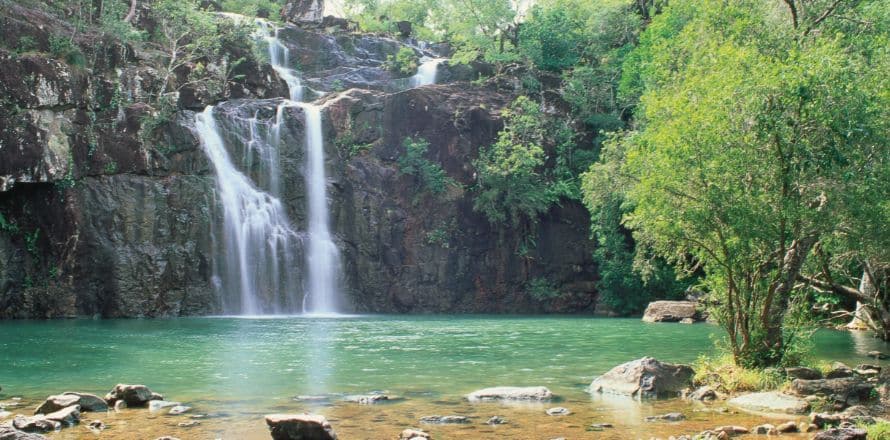 Cedar Creek Falls, Tourism and Events Queensland
Tamborine National Park
Distance from Brisbane: Approx. 1hr
Accessibility: Entirely sealed roads
Tamborine National Park is a necessary addition to any list of national parks near Brisbane! Located on Tamborine Mountain, this park's star attractions include Curtis Falls and Cedar Creek Falls, both of which are easily reached by car and offer a display of rocky hideaways and enchanting waterfalls.
Get ready to find yourself wandering through canopied pathways and then let yourself be wowed by each new oasis you stumble upon. This is a great walk for any hiker, with leisurely subtropical rainforest exploration, wildlife spotting, and charming tranquillity awaiting you at every turn!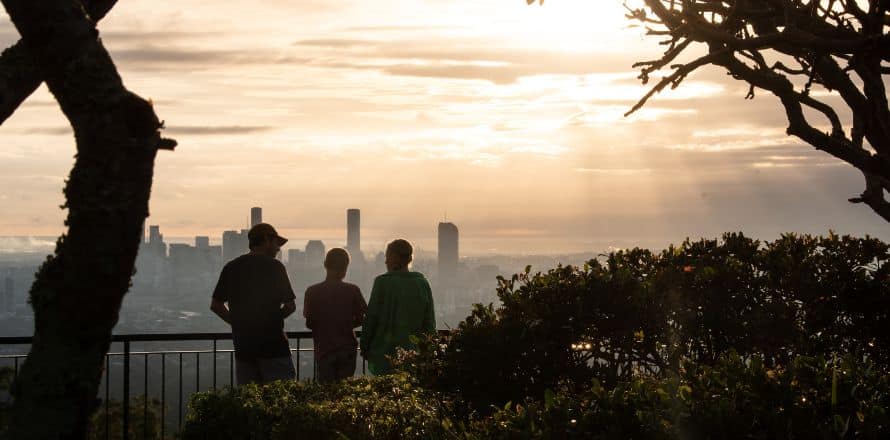 Mount Coot-Tha Lookout, Tourism and Events Queensland
D'Aguilar National Park
Distance from Brisbane: Varies, but some sections are close to the city
Accessibility: Mostly sealed roads, although some of the more remote areas within the park are restricted by gravel roads
D'Aguilar National Park is a nature escape right on Brisbane's doorstep! For a great view of Brisbane, hike your way up to the Mount Coo-Tha lookout, which is sure to provide a stunning new perspective of the city.
Whether you're into hiking, mountain biking, or picnicking, D'Aguilar has something for everyone. Take your time exploring the Walkabout Creek Discovery Centre, enjoy a hike or mountain bike ride across the South Boundary Road drive, or set off for a peaceful day of picnics and swimming by Enoggera Reservoir.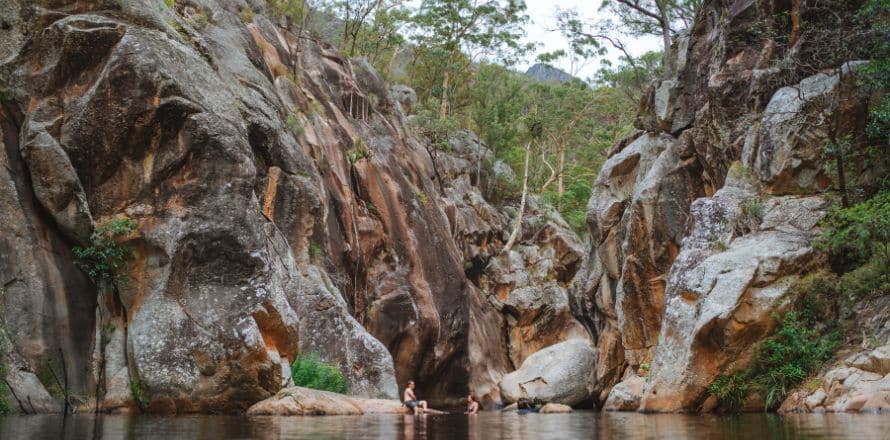 Mount Barney, Tourism and Events Queensland
Mount Barney National Park
Distance from Brisbane: Approximately 90 kilometres
Accessibility: Largely sealed with some unsealed areas leading to trailheads or camping areas
A bit farther south, near the town of Boonah, lies Mount Barney National Park. This park is a playground for experienced hikers and rock climbers. Mount Barney itself is a challenging yet rewarding climb for thrill seekers, and it offers unmatched vistas of the surrounding wilderness.
You don't have to be a rock climber to enjoy this area! A more relaxed experience can be found with a picnic at Yellow Pinch Reserve or a meander along the walks around Moogerah Peak.
It's Time To Book Your Motorhome Road Trip In Brisbane!
Whether you're seeking waterfalls, birdwatching, hiking, or a serene escape, the national parks near Brisbane have it all. These national parks serve as a retreat from the city and a reminder of the stunning biodiversity that Queensland has to offer.
Whilst these national parks are largely accessible by sealed roads, it's important to be mindful of the road conditions, especially in more remote areas within the parks. Always check the latest road conditions and park information before your visit.
We ask that you only drive our motorhomes on dry and sealed pathways. You'll also want to be mindful of clearance, and we wouldn't want you to get caught out by a low-hanging branch.
So, pack your hiking boots, grab your camera, and embark on a journey to discover the natural treasures that lie just beyond the city's borders. Your next great outdoor adventure awaits in Brisbane! Call our friendly reservations team on 1300 664 485 or check out our website to see the motorhomes we have available at our Brisbane branch.
Related Locations

42 Vauxhall Street, Virginia QLD 4014, Australia

Phone Number : 1300 664 485
International : +61 3 6248 4789