Why everyone is talking about Launceston
Launceston has been on every travel blogger's lips lately. It has quickly gone from a slow-paced town to an exciting, upcoming city. So why is everyone talking about Launceston and is it worth visiting? Just 2.5 hours drive from Hobart city, Launceston is a riverside town that is the perfect choose your own adventure kind of holiday.
Whether you're a foodie, adventurer, adrenaline junkie or music & arts lover, there is something for everyone in Launceston, or as locals call it "Launnie". It is the ideal spot for a motorhome holiday thanks to its accessibility, practicality and beautiful, easy drive from our Hobart branch. 
So, what exactly is so great about Launceston and what is there to do?
Food Culture
Launceston took the title of Food Capital of The World in 2021, this was awarded by UNESCO which is a prestigious honor! Only one other town in Australia has ever taken the crown. They were awarded it due to their passion for local produce, fine dining and fresh food.  Over the last few years, Launceston has had a growing number of cool festivals, casual eateries and fine dining experiences pop up and thrive. You can read more about dining in Launceston here.
Beer & Cider
Launceston is home to James Boags Brewery; this is perhaps where their passion for beer got ignited! For just $32 you can take a tour and learn about their 160-year history and the process behind the beers.  If you love beer culture, don't forget: Hobart is all about Cascade Lager (blue) and Launceston folk are all about Boags Draft (Red) – this can be a hilarious conversation starter/argument if you opt for the wrong beer in the wrong town! Alongside famous Tasmanian beer, there is also an abundance of local and upcoming brewers, such as the award-winning Saint John Craft Beer & Morison Brewery.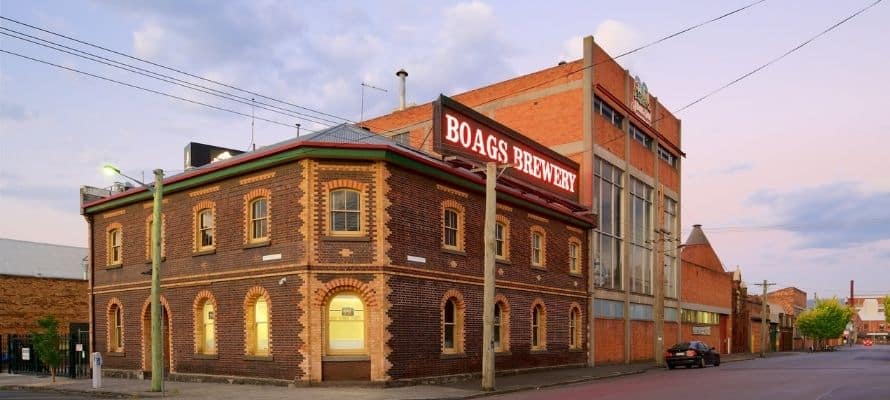 Cataract Gorge
Just a few minutes' drive from the city centre, you can find yourself in the locals most loved getaways and Launceston's biggest tourist attraction!  The Cataract Gorge or 'The Gorge' is full of scenic spots that will make anyone's Instagram pop! There is heaps of fun to be had here too - it is full of swimming, hiking, wildlife & mid-air adventures.
Festival Central
Launceston has an incredibly passionate music and arts scene. This is obvious if you spend a night in the city. It is home to some of Tasmania's biggest and best festivals, including Junction Arts Festival, Festival & Mona Foma. The best thing about these festivals, is most of them are family friendly through the day and have loads of dedicated entertainment for the kids!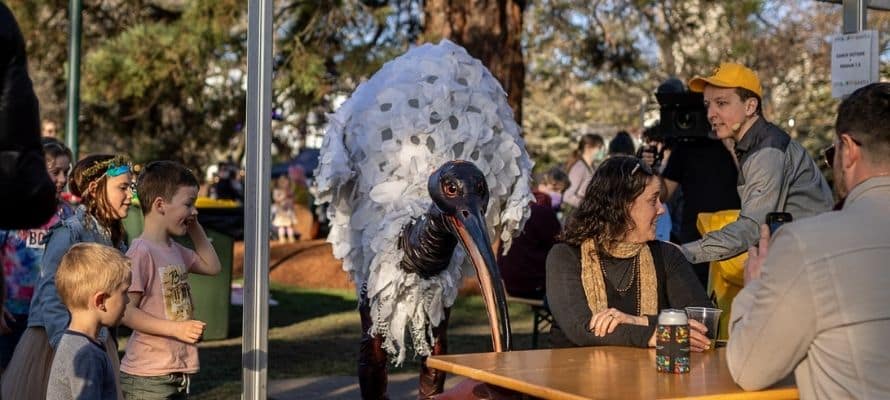 Surprises on Every Corner
From famous street art to monkeys in the middle of the city park, there is so much to see and engage with in Launceston. Yep, in their massive City Park, you can spend hours watching a 20+ monkeys doing their thing!
One of the oldest towns in the country
Launceston is one of the oldest cities in the country – the third oldest in fact! So, if you love historic architecture, it's a must stop! Gorgeous, historic churches, hotels, cottages and mansions are abundant! The buildings, however old they may be, have been beautifully preserved. One city stop you ought to visit is The Old Umbrella Shop, the 1918 building has been lovingly maintained, staying true to its 1860s interior and exterior! It has been owned and operated by one family, three generations since 1918 and is the last genuine period store in Tasmania.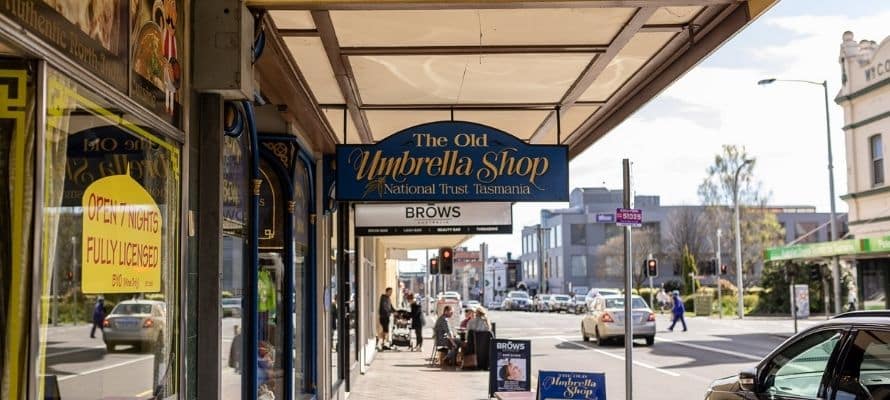 Nearby Iconic Sights
The great thing about Launceston is its accessibility. There are centrally located holiday parks in the city and nearby national parks for the more traditional camping style motorhome holidays. The best thing is the many iconic sights nearby! Beaconsfield is a 40-minute drive from Launceston, Bridestowe Lavender Farm is just a 45-minutes.  Freycinet, Cradle Mountain & Bay of Fires are all under 2-3 hours drive!
Wine Region
Launceston has become famous for their food, beer & cider but what about wine? Yep, they've got that covered too! Located in South Launceston is Tamar Valley – one of the best and most well-known regions in Tasmania. Most of their vineyards provide epic water views too, ideal for sitting outside with a board full of Tasmanian cheese!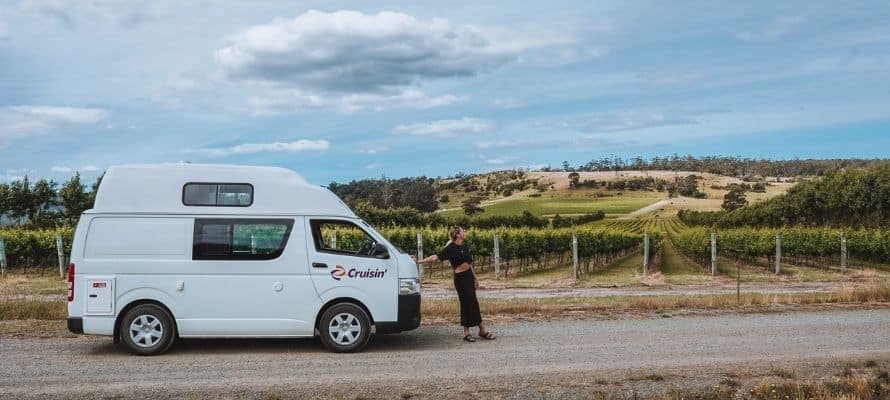 Best Town In Australia 2022
Travel providers Wotif host an Aussie Town of the Year award every year, and in 2022, Launceston took the top spot! Their data looks at affordability, quality and traveler satisfaction towards towns all over Australia, concluding that Launceston is the best town in Australia for 2022 beating out front runners Tamworth NSW, Adelaide Hills SA, and Herbey Bay QLD.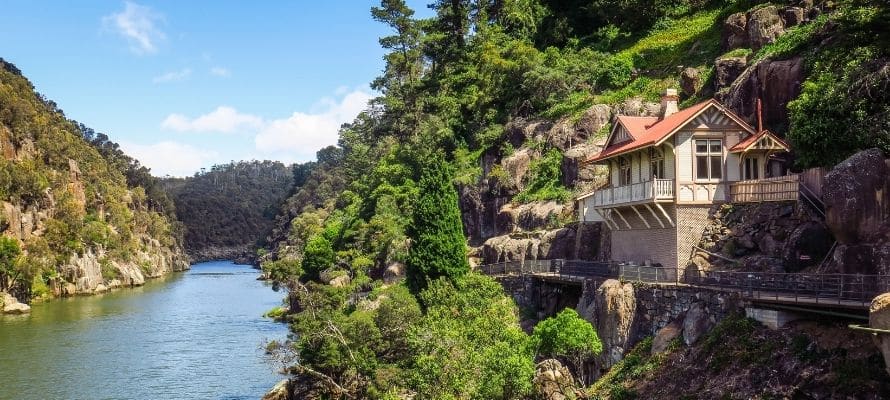 While a common question once used to be 'is Launceston worth visiting?' Now the popular question is 'when should I visit Launceston?' There is never a bad time to visit Launceston and surrounding Tasmanian destinations with so many nearby events, attractions, and cities to discover.  If you want to experience and get involved in true Launceston culture, visit in Summer for Festival, picnics in the park, outdoor dining experiences and walks through their incredible parks. September is also a fantastic time to visit Launceston – spring is in full bloom, the weather is ideal and Junction Festival brings the city alive during the evenings! Your holidays will feel tend to bigger & better – this is thanks to longer, lighter days followed by fun-filled nights in the city!
City Of Gastronomy
Find out about the other prestigious award Launceston recently received
See more
22 Things to Do in Tassie
Tassie is a hub of activity, see what there is to do in 2022, all costing under $22!
Read List
Summer 14 Day Guide
Want to see more of Tasmania? Check out this 14-day road trip guide
Visit Guide