Top Tasmanian Destinations To Throw A Line
Our $1 a day campervan relocation specials are heating up with our 4 Berth Hi Tops being the most popular campervan choice to drive from Hobart to Melbourne.
Don't let the winter chill keep you from making a road trip out of this amazing special!
We've set up a sample itinerary which will take you via the Great Eastern Drive, which is probably one of the most beautiful drives in all of Australia.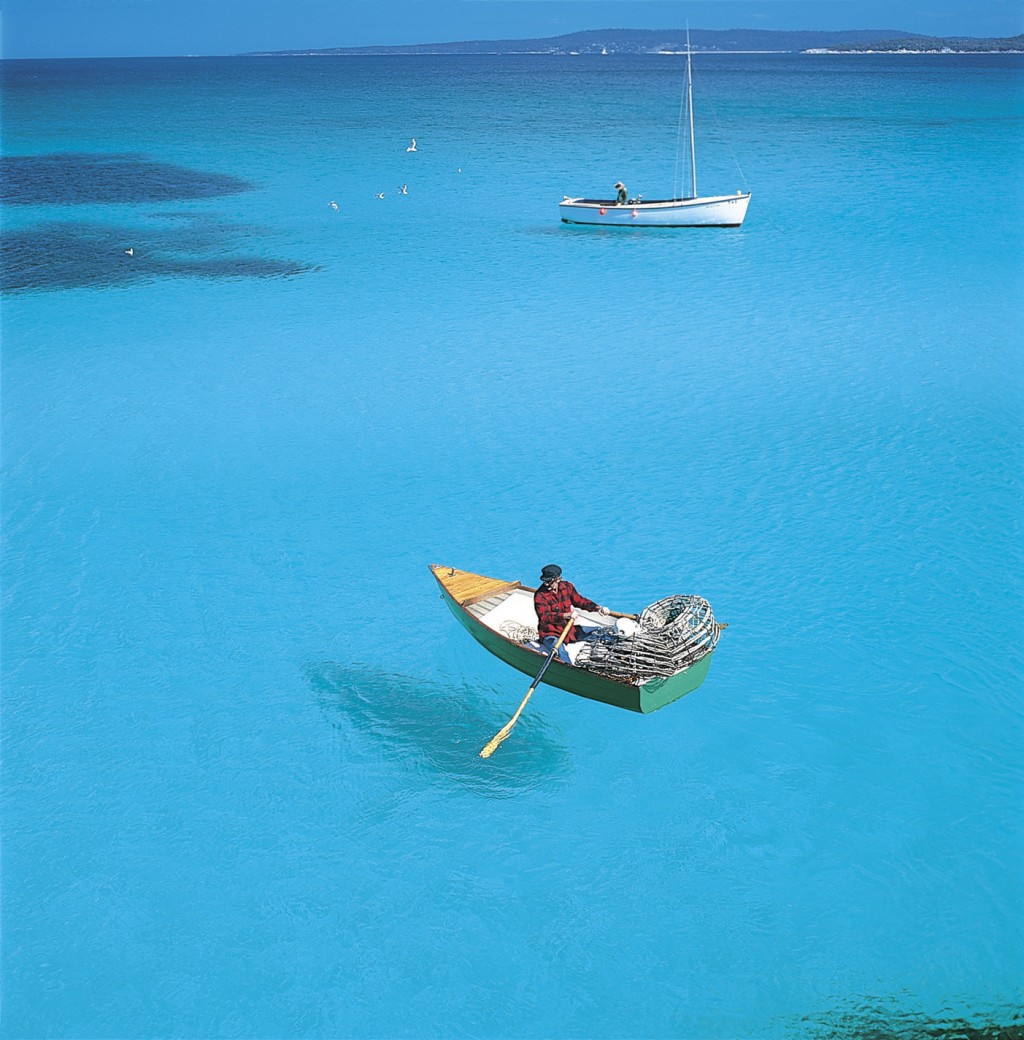 Anglers flock to Tasmania for its remote waterways and easily accessible fishing facilities. The state is home to more than 3,000 streams, rivers and lagoons making it an ideal destination for an angler's weekend retreat. Below you will see some of Tasmania's best fishing hot spots where you are sure to catch world class fish.
Pirates Bay, Eagle Hawk Neck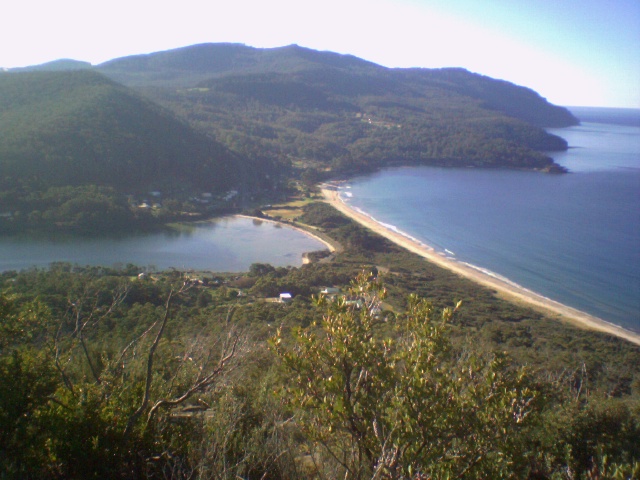 If beach or jetty fishing is what you seek, than you will be rewarded at Pirates Bay in the scenic village of Eaglehawk Neck, the gateway to the reflective waters of the Tasman Peninsula. From the shore expect to catch octopus, squid, flathead, salmon, morwong and octopus. If you're looking to delve further into the bay to deeper water, a number of charter boats operate in the area. Visit in the months of April to late June to try your luck with the prized southern Bluefin tuna.
St Helens, East Coast of Tasmania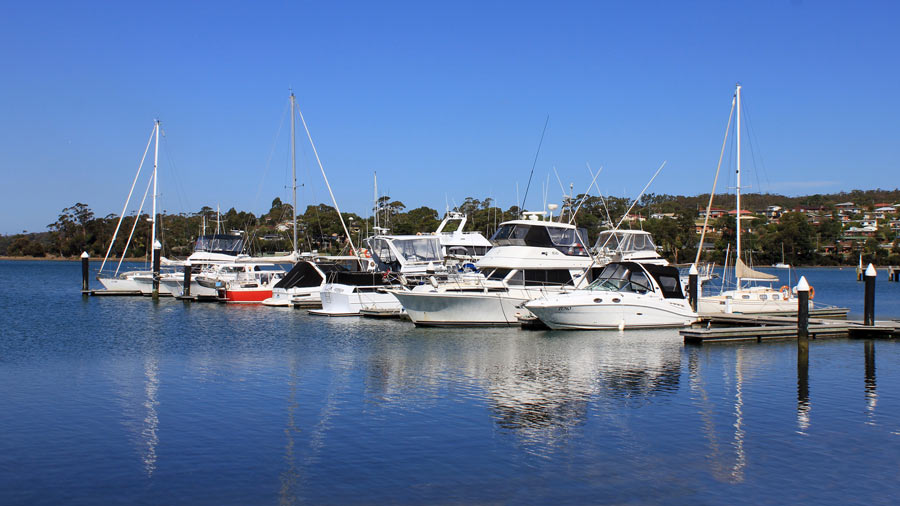 This scenic village on Georges Bay offers great fishing year round. This sheltered area of water is known as the saltwater sportfishing capital of the state and is home to a variety of offshore and estuarine species. You can access the water via five boat ramps, three in Georges Bay and the remaining two allowing direct access via Burns Bay and Binalong Bay. Expect to discover flathead, garfish,
albacore, yellowfin tuna, striped malin, Australian salmon and mako shark. December until June is the best time of year for game fishing. You can also get on board one of the many charters in the area.
Browns River, Kingston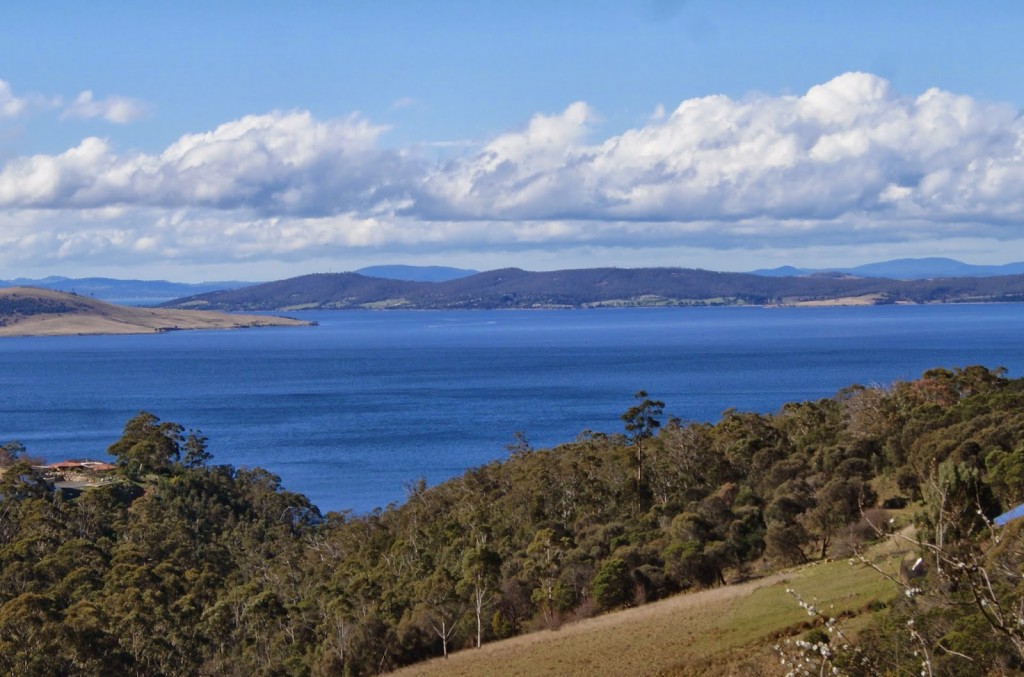 Just a short fifteen minute drive from Hobart city you will find Browns River in the growing suburb of Kingston. This large bream fishery is easily accessible and great for a day of fishing in a peaceful environment.
Tyenna River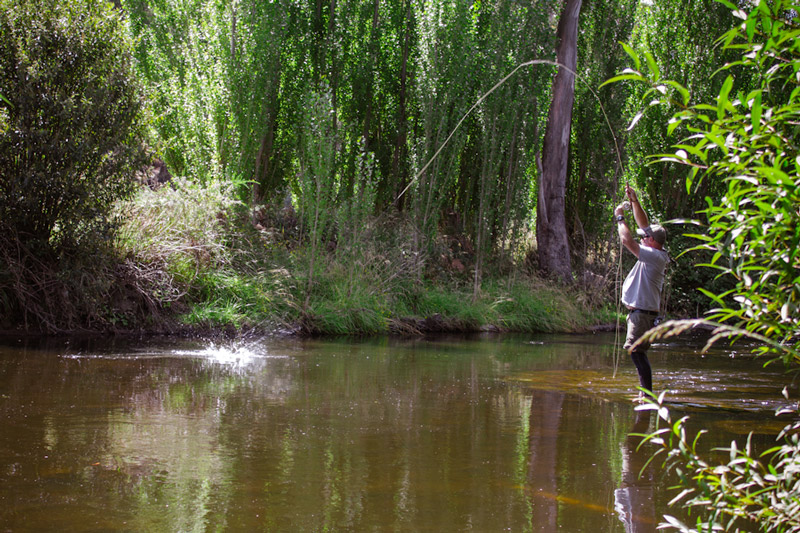 The Tyenna River, a tributary of the Derwent River, is home to the highest fish population in the Apple Isle with approximately 150 fish per 100 metre stretch. Catch rainbow and brown trout here using a wide range of methods, however fly fishing is preferred by the locals. Summer is the best time of year to visit when the water is moderate to low.
Huon River, Huonville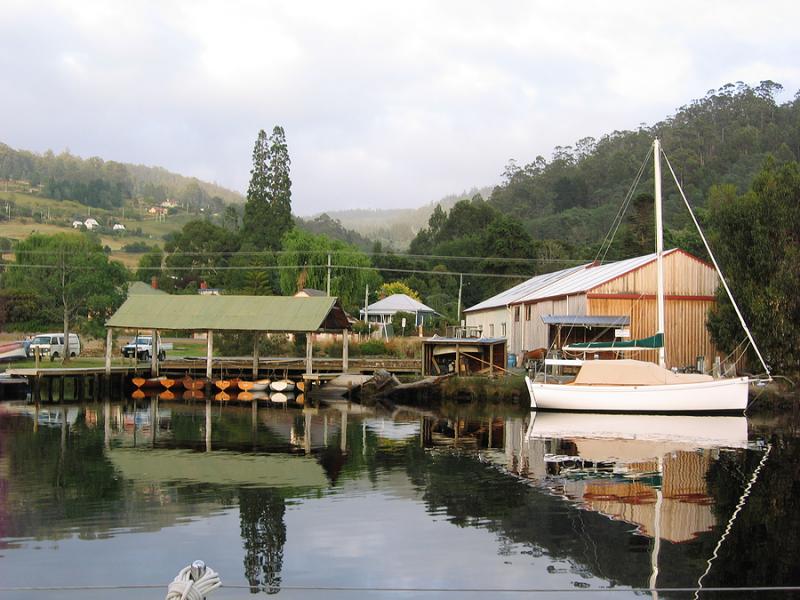 A drive down through the scenic Huon Valley to Huon River is an angler's oasis. The best time of year to visit the area is September to December when sea-run trout and resident brown trout are chasing whitebait that swim along the edge of the main current. In the area keep your eyes peeled for rainbow and brown trout, atlantic salmon and river blackfish. There are boat ramps located at the Huonville Esplanade, Ferry Road, Franklin and Shipwrights Point in Port Huon. Remember to comply with fishing regulations; to fish in any open public inland water in Tasmania you must hold a current Inland Angling Licence. Bate fishing is prohibited in National Parks.
Arthurs Lake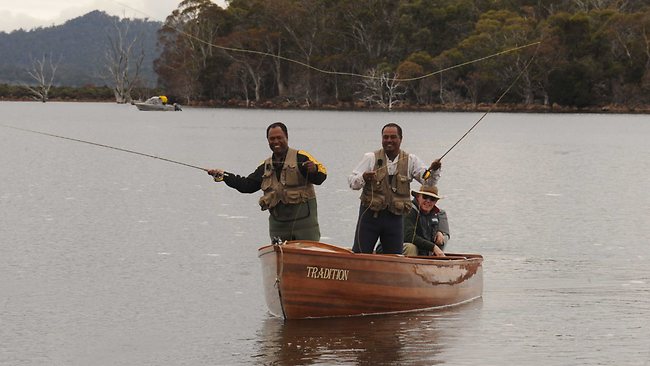 Operating between the months of August and May, Arthurs Lake is open to all trout fishing methods including lure, bait and fly fishing. The lake is located approximately one hour's drive from Launceston or one and a half hours from both Hobart and Devonport. There are boat ramps available at Jonah Bay, Pumphouse Bay and the Dam wall. Here you will find brown trout with an average weight of just under 1 kilogram. Fly fishing is best at the northern end of the lake at Hydro Bay, Cowpaddock Bay, Jonah Bay or Fleming Bay.
Lake Burbury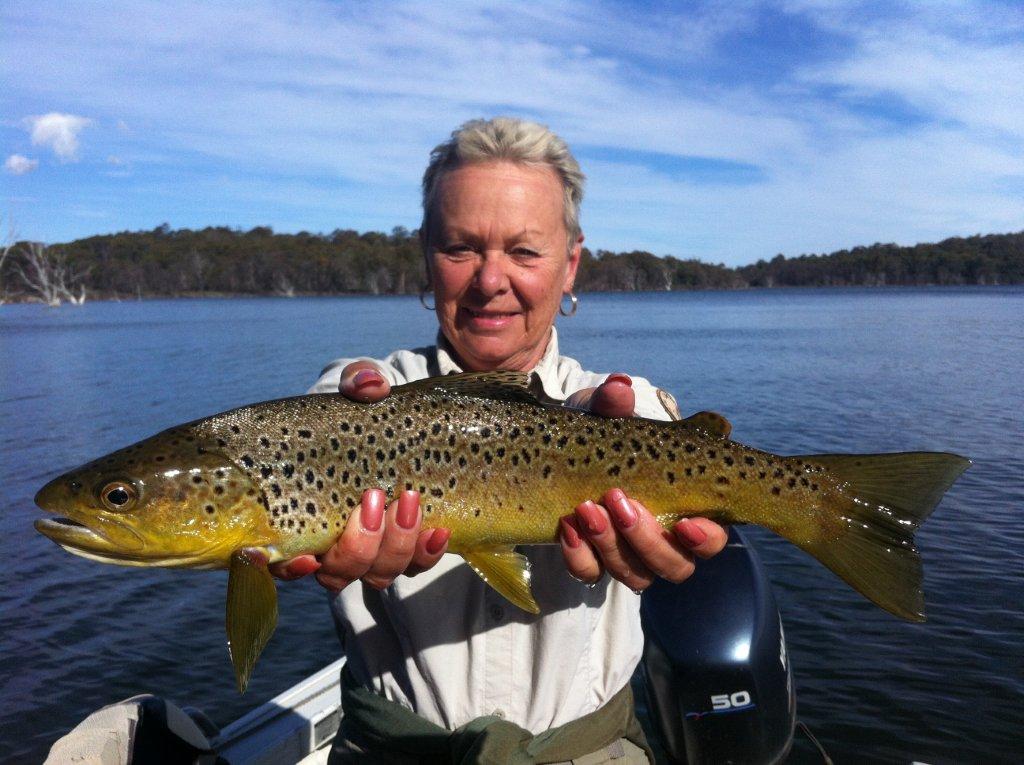 Located just outside of the mining town of Queenstown on Tasmania's west coast you will find Lake Burbury rich with rainbow trout. This large volume of water is renowned for wind lane fishing and trolling. Bankside fishing is limited but still possible if you can find the right spot to settle. Lake Burbury is ideal for fishing year round, making it a convenient location on your fishing itinerary.
Duck Bay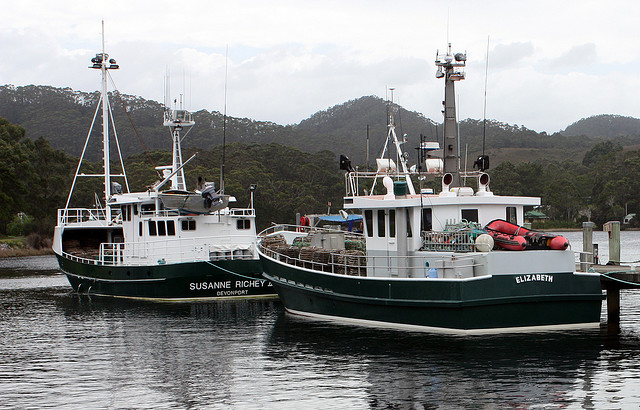 Duck Bay is a prime protected estuary nestled on the scenic Duck River at Smithton on the far north-west coast of Tasmania. It offers a variety of fish including flathead, silver bream (trevally), Australian salmon and big King George whiting can be caught on bait and lures. For the best results try fishing around the oyster racks and gutters. You will find a decent boatramp in the town.
McGees Bridge, Midway Point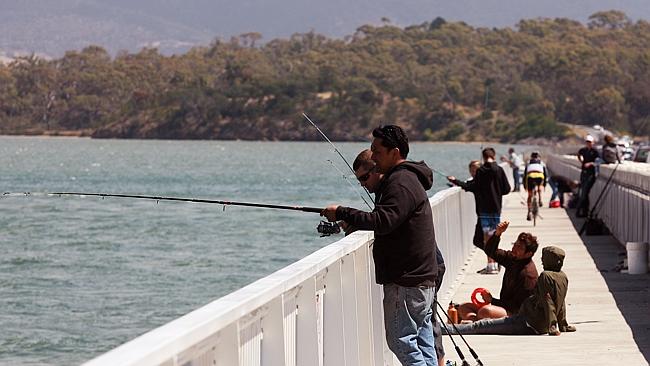 You will find local anglers galore at this popular fishing bridge. With flathead, whiting, squid, and gummy sharks to be caught along with salmon in the warmer months you are guaranteed a daily catch. Chat to the locals and discuss local tips and other fishing hot spots.
Port Arthur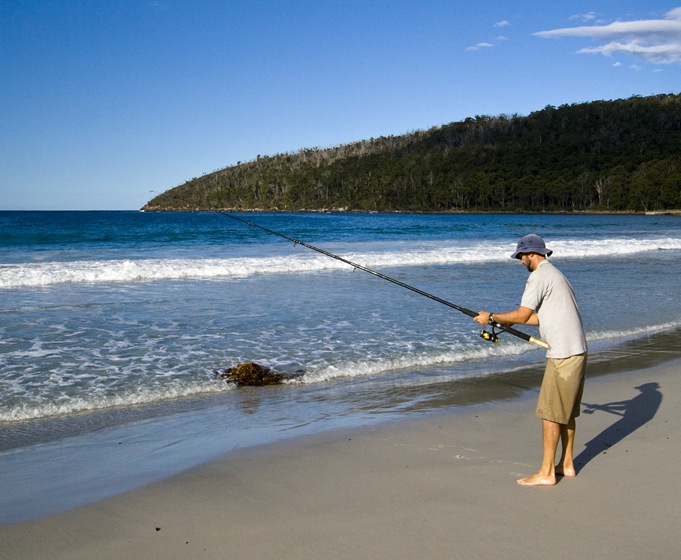 Known for its historic convict ruins, Port Arthur is well worth a visit. The fishing opportunities are also great with the sheltered waters offering yellowtail kingfish, flathead, squid, Australian salmon and reef fish. Fish from the shores or jetty or take a local tourist charter around the area.
Excited to plan for your trip? 
Check out available to vehicles on our booking platform or contact our reservations team on 1300664485. Alternatively, you can send us an email at reservations@cruisinmotorhomes.com.au