Top Ten Seafood Experiences On Your Tasmanian Motorhome Hire Adventure
Picture a sacred holiday destination where fruits of the sea are delivered straight from the sea to your lips. Tasmania is home to some of the best seafood in the world sourced directly from the still and pristine waterways of the state. In keeping with Tourism Australia's newest film 'Restaurants Australia', we have come up with some of the best seafood jaunts, hotspots and restaurants for you to include on your Tasmanian motorhome hire itinerary. Enjoy a fine dining experience or collect your fresh seafood directly from the producer, stock up your fridge and enjoy it alfresco under the stars just outside the comfort of your motorhome.
1. Tasmanian Seafood Seduction, Pennicott Wilderness Journeys 
There's something wonderful about catching and preparing your own seafood and Tasmanian Seafood Seduction gives you the opportunity to do exactly that. This once in a lifetime experience departs from Hobart's waterfront and guides you through the reflective waters of the D'Entrecasteaux Channel that surround Bruny Island. In these waters you will gather some of the state's finest seafood including oysters, sea urchin, mussels and abalone. Catch your own fish or pull a mouth-watering crayfish from the southern tip of the island. Later in the day drop an anchor and help your skilful guide prepare and serve your seafood feast on board the boat. This unique experience will leave you craving more of the beautiful slice of the earth.
2. Blue Shed Restaurant, St Helens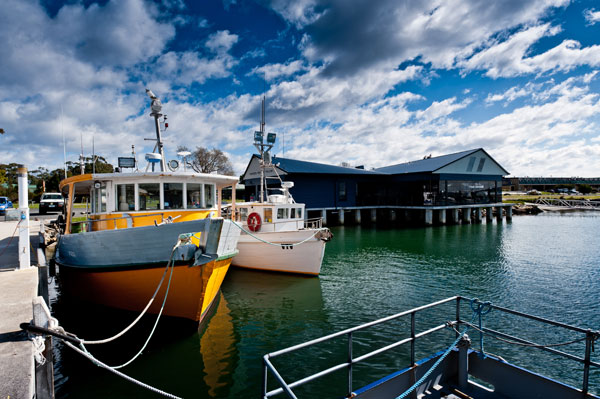 Blue Shed Restaurant is nestled in the charming seaside town of St Helens on Tasmania's East Coast and offers the seafood experience you have been dreaming of. Delight in their fresh oysters shucked onsite or select your own lobster from their tanks. Sample an extensive range of freshly caught fish and admire the beautiful water-side views. The restaurant has a local expert ready to pare your dish with fine Tasmanian wine.
3. Constitution Dock, Hobart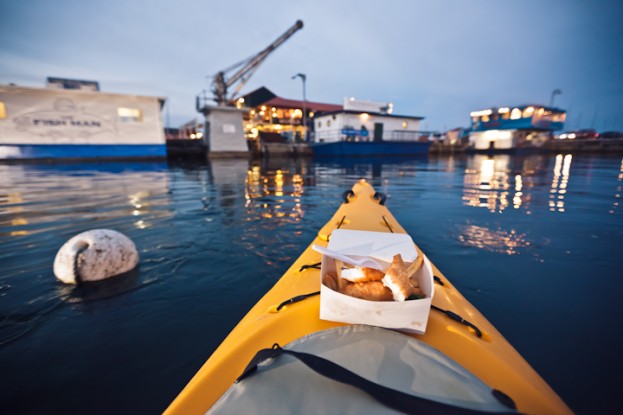 There's nothing quite like buying freshly caught produce straight from the punt and enjoying it in the comfort of your motorhome. Constitution Dock provides some of the best seafood in the state and offers a range of pontoons specialising in locally caught delights including freshly shucked oysters, blue eye, trevalla and scallops. Grab your produce and enjoy alfresco under the stars at the comfort of your own camp table accompanied by a local wine or two. Enjoy!
4. Dunalley Fish Market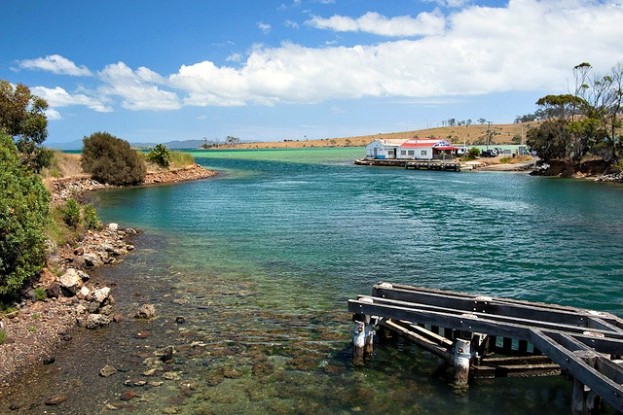 Imagine a place where fish is filleted onsite, crayfish are cooked daily (seasonally) and oysters are only opened when asked and you
will bring to mind Dunalley Fish Market. This small but scenic stop on the Denison Canal is simply teeming with freshly caught produce ready to be sold. Enjoy your fish and chips beside a roaring fire in their onsite café or let the friendly staff provide you with plates and cutlery and guide you to their outside BBQ where you can cook the fresh produce yourself. Pull the stop out of a chilled bottle of wine, sit back and marvel at the beautiful surrounds. Dunalley Fish Market is a delight for the tastebuds and a must experience on your Tasmanian camper hire journey.
5. Freycinet Marine Farm 
If you're looking to experience seafood in one of Tasmanian's most beautiful natural environments then we highly recommend Freycinet Marine Farm; recently featured in Tourism Australia's 'Restaurant Australia' campaign. Enjoy seafood on their sweeping deck or stock up your motorhome fridge and enjoy a seafood platter in the comfort of your motorhome nestled amongst one of Tasmania's most spectacular national park environments. Don't miss out on the oysters Kilpatrick grilled with bacon and spicy sauce, abalone pan-fried with lemon or unforgettable garlic scallops; you won't want to leave!
6. Barilla Bay Oysters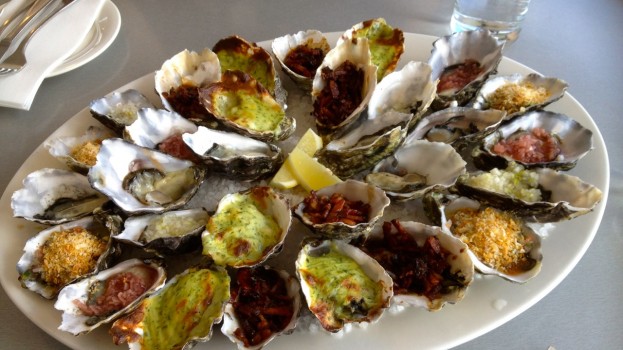 Situated just a hop, skip and a jump from the Hobart Cruisin' depot you will find Barilla Bay Oysters. Enjoy an extensive range of mouth-watering and contemporary oysters including natural with lemon, green apple sorbet, lime and tobasco jelly, Kilpatrick with bacon and blue cheese and cauliflower mornay. Sample one of each with a "Shucking Awesome" oyster platter or enjoy their delectable smoked seafood chowder, Tasmanian East Coast scallops or Spring Bay Mussels. Dine in the onsite restaurant or take away. Barilla Bay Oysters is a convenient stop on your Tasmanian motorhome hire adventure.
7. Bakery 3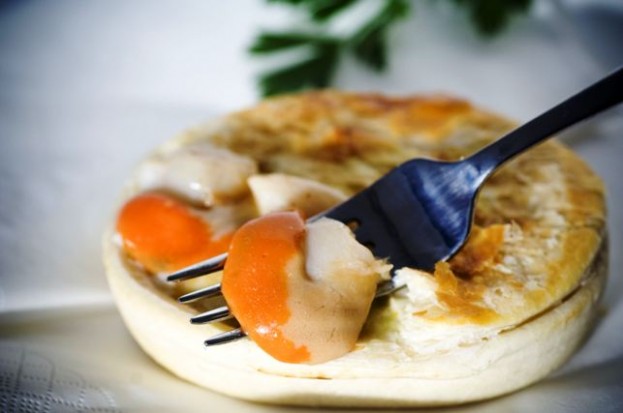 The boutique town of Ross is where you will find one of the state's best hidden delights: Ross Bakery31 home to the famous Tasmanian Scallop Pie. The scallops are sourced from the pristine waters of Tasmania and crafted by the expert hands of a highly qualified pastry chef. Anyone venturing up or down the midlands highway should take the time to visit this gem for an unforgettable foodie experience. The Salmon and Brie Pie is also well worth stopping for!
8. Mures, Constitution Wharf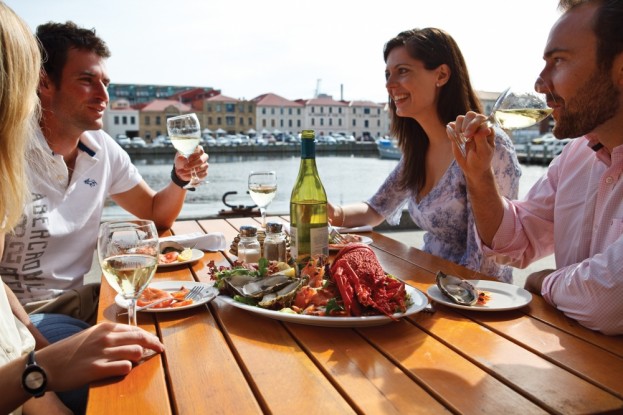 Mures is one Tasmania's finest seafood restaurants and should not be missed off any motorhome hire itinerary for Hobart. This award winning institution has both a lower and upper deck restaurant specialising in freshly caught fish, oysters, good ol' fashion fish and chips and smoked salmon. Enjoy the family-friendly and casual atmosphere of the lower deck or a fine dining experience on the upper deck. Afterwards visit their Café to take home one of their flavours of ice cream. Delicious!
9. Drunken Admiral, Hobart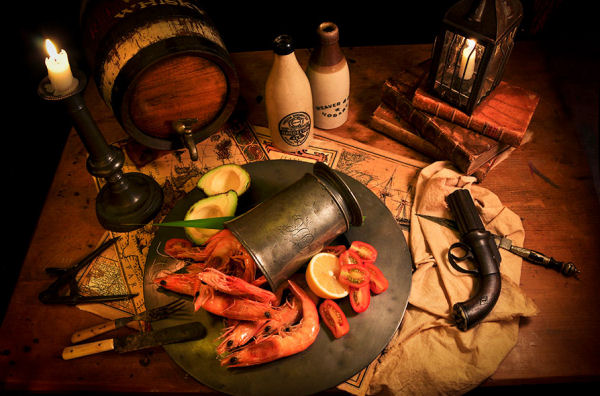 With a unique nautical theme and Tasmania's best seafood chowder, Drunken Admiral provides a fun seafood experience for everyone in the family. On the menu you will find freshly shucked southern Tasmania oysters, a Bloody Mary Oyster Shooter, Hotrock Salmon, Ocean Trout Pate, Fried Scallops and the famous Fish Market Chowder which has graced the menu since opening in 1979. You won't be disappointed by Drunken Admiral.
10. Hallam's Waterfront,  Launceston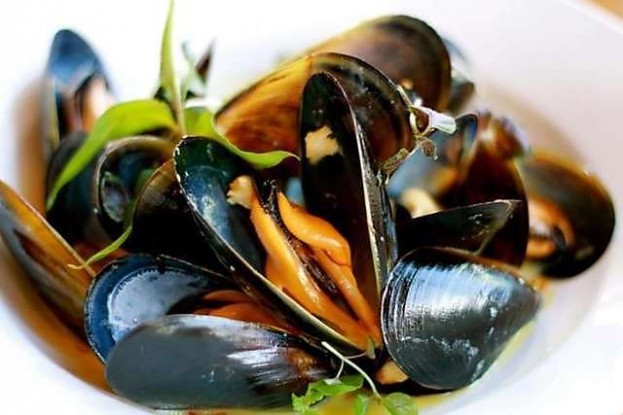 Encounter an award winning seafood restaurant in Launceston's iconic Tamar yacht basin, just two and a half hours north from the capital of Hobart. Hallam's sources some of the state's best fresh seafood including Blue Eye Trevalla, Spring Bay Mussels, Pacific Oysters, Scallops and Southern Rock Lobster. The restaurant offers a true fine dining experience in a beautiful waterside location. Everything you sample here will leave you craving more of Tasmania's finest fresh seafood.
Excited to plan for your trip? 
Check out available to vehicles on our booking platform or contact our reservations team on 1300664485. Alternatively, you can send us an email at reservations@cruisinmotorhomes.com.au