Treasure Island Caravan Park Berridale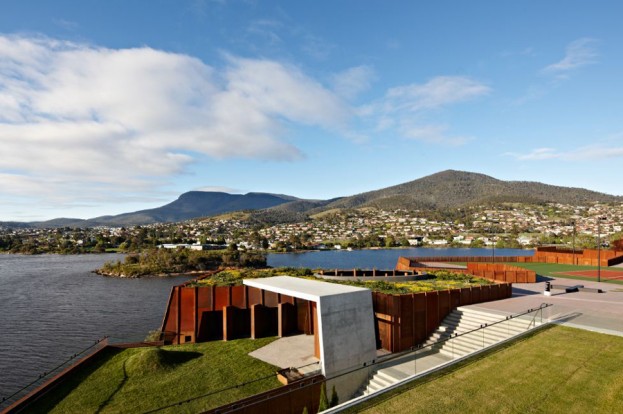 Treasure Island Caravan Park is the ideal accommodation option for those seeking a picturesque view of the River Derwent and easy access to the infamous Museum of Old and New Art (Mona).
This scenic park is located in Berridale, just 15 minutes from Hobart's CBD and is within easy walking distance to the world- renowned Mona. The accommodation overlooks the reflective Derwent and provides spectacular views of iconic Mount Wellington.
Treasure Island Caravan Park offers a range of powered and unpowered sites that are equipped to accommodate all of your self-contained living needs. The  accommodation is comprised of 60 campsites, 100 powered sites and 18 self-contained units with ensuite. This caravan park welcomes both residents and tourists.
Treasure Island offers a broad range of onsite facilities to make your stay as comfortable as possible. The grounds include a fully-equipped camper's kitchen, clean amenities block, laundromat and guest linen and blanket hire. There is an outdoor playground to entertain the kids and a barbeque area that is ideal for outdoor picnics
and alfresco dining under the stars.  The friendly ground staff are more than happy to help with travel enquiries at the onsite office.
Mona is a must see for all visitors to Hobart  and is easily accessible to Treasure Island guests. It is Australia's largest privately owned museum and showcases owner David Walsh's extensive and alternate art collection of over 2000 works. In addition to viewing the unique art work, guests are able to sample local wines at Moorilla's Wine Bar or try a one hour tour of the boutique brewery Moo Brew and sample one or two of the famous pale ales. There are also a range of cafés, restaurants and bars to peruse at your leisure.
Other nearby attractions include the local bowls club, BMX  track, shopping centres, the Glenorchy Olympic Pool and the famous Cadbury's chocolate factory. Guests also have easy access to the iconic Mona ferry that guides you directly to the bustling wharf.
Set in a peaceful location that shows off Hobart's greatest natural assets, Treasure Island Caravan Park makes for a beautiful caravan escape on your motorhome hire adventure.
Contact: (03) 6249 2379
Address: 1 Alcorso Drive, Berriedale, Tasmania 7011
Website: http://treasureislandtasmania.com.au/