Beyond The Tourist Trail: Offbeat Road Trips In Australia
Travel Beyond The Known And Set Off On A Motorhome Road Trip Across Australia's Lesser-Known Destinations
Are you looking to explore the roads less travelled in Australia? Check out these offbeat road trip destinations that will take you away from the crowds and allow you to discover the country's hidden gems!
From stunning natural landscapes to unique cultural experiences, these lesser-known destinations in Australia will surely make your motorhome road trip unforgettable.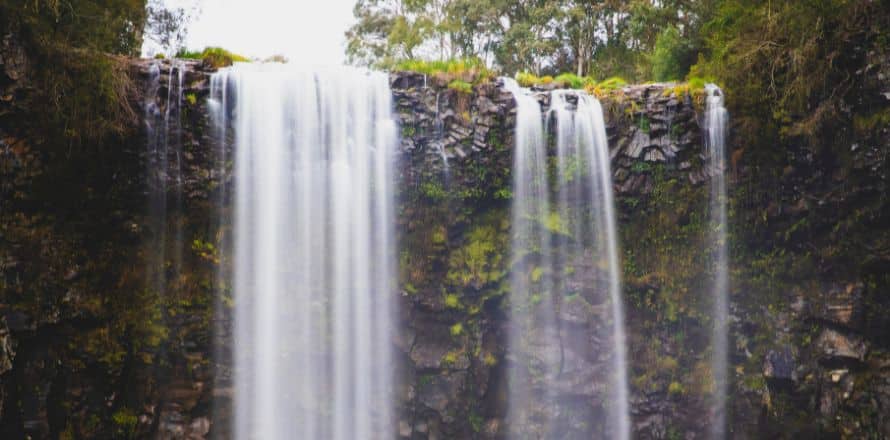 Dangar Falls Dorrigo, Destination NSW
Waterfall Way, New South Wales
The Waterfall Way is a picturesque motorhome trip in New South Wales that will take you from the coastal city of Coffs Harbour to the highland town of Armidale. Renowned for its natural beauty, this Australian road trip explores a captivating range of diverse landscapes, including stunning waterfalls, lush rainforests, and charming towns.
Some highlights of the Waterfall Way include Dorrigo National Park, with its ancient Gondwana rainforests, Ebor Falls, Wollombi Falls, and Guy Fawkes River National Park. This lesser-known road trip in Australia is an excellent adventure for nature enthusiasts and photographers and offers plenty of local experiences!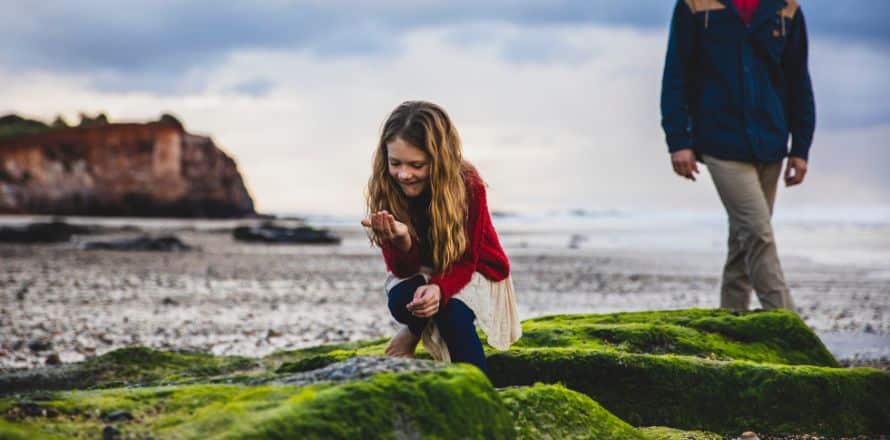 Red Cliff Beach, Destination NSW
Bundjalung National Park, New South Wales
Bundjalung National Park is a coastal destination located in the Northern Rivers region of New South Wales. Named after the local Bundajalung Aboriginal people, the park has a gorgeously diverse range of ecosystems, including rainforests, wetlands, coastal heathlands, and pristine beaches!
The entrances to Bundjalung National Park are accessible via sealed roads, however the Yuragir Coastal Walk involves a combination of walking tracks and coastal paths.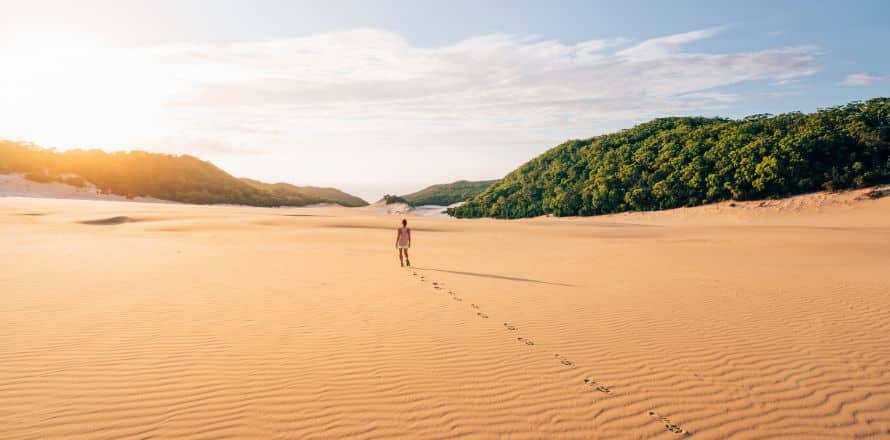 Cooloola Sandpatch, Tourism and Events Queensland
Cooloola Great Walk, Queensland
For our hiking enthusiasts, the Cooloola Great Walk is a unique destination in Australia that will lead you through many trails! Located within the Great Sandy National Park in Queensland, this motorhome road trip offers a truly diverse landscape of coastal dunes, rainforests, heathlands, and waterways. The trail is accessible via sealed roads and will surely provide a fantastic offbeat Australian experience.
Are you keen to visit lesser-known destinations in Queensland? Check out this guide to the best-kept secrets of the Sunshine State!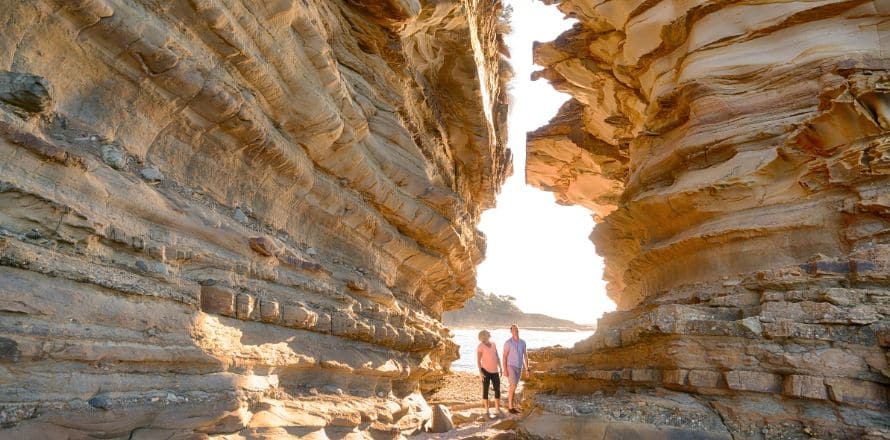 Murramarang National Park, Destination NSW
Batemans Bay to Eden, New South Wales
For a genuinely offbeat road trip in Australia, journey from Batemans Bay to Eden in New South Wales! This motorhome trip will take you along a beautiful coastal route that showcases the stunning natural landscapes and charming towns of the aptly named Sapphire Coast. Some trip highlights include Murramarang National Park, Narooma, Tathra, and Ben Boyd National Park.
Accessible by sealed roads, this journey offers coastal adventures and secluded beaches, as well as relaxation and exploration on your motorhome road trip!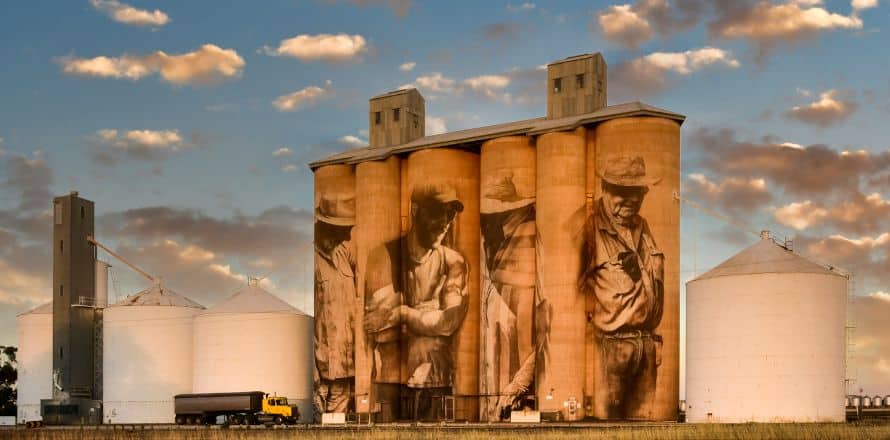 Grampians Silo Art Trail, Visit Victoria
The Silo Art Trail, Victoria
This unique Australian road trip takes you through the picturesque Wimmera-Mallee region of Victoria, where you can discover a series of impressive artworks painted on towering grain silos. The trail spans over 200 kilometres and features artworks in various small towns. This is your chance to explore rural communities and enjoy the vibrant artwork!
Are you eager to visit underrated destinations around the state? Check out our guide to lesser-known destinations in Victoria!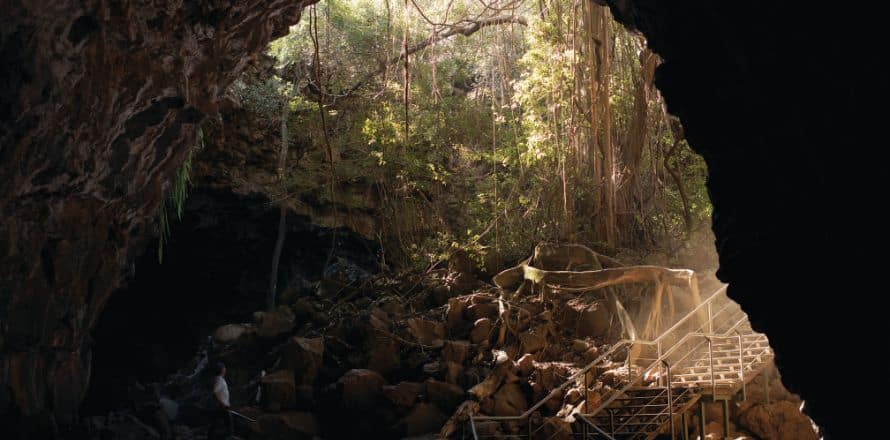 Undara, Tourism and Events Queensland
The Savannah Way, Queensland
The Savannah Way is an offbeat Australian road trip that takes you through stunningly diverse landscapes, including rainforests, savannah grasslands, and outback terrain. Along the way, you'll encounter star attractions like Undara Lava Tubes, Cobbold Gorge, and the historic Gold Rush town of Croydon.
While parts of the Savannah Way are pretty remote, the eastern section from Cairns to Normanton is accessible via sealed roads.
Ikara-Flinders Ranges National Park, Emilie Ristevski
The Explorers Way, South Australia to Northern Territory
This motorhome road trip follows the route of early explorers, taking you from Adelaide in South Australia to Darwin in the Northern Territory. Along the way, you can explore the wonder of the Ikara-Flinders Ranges, visit the iconic opal-mining town of Coober Pedy, and experience the cultural richness of Alice Springs.
While parts of the route are remote, the sealed roads offer access to incredible outback landscapes. The Outback awaits!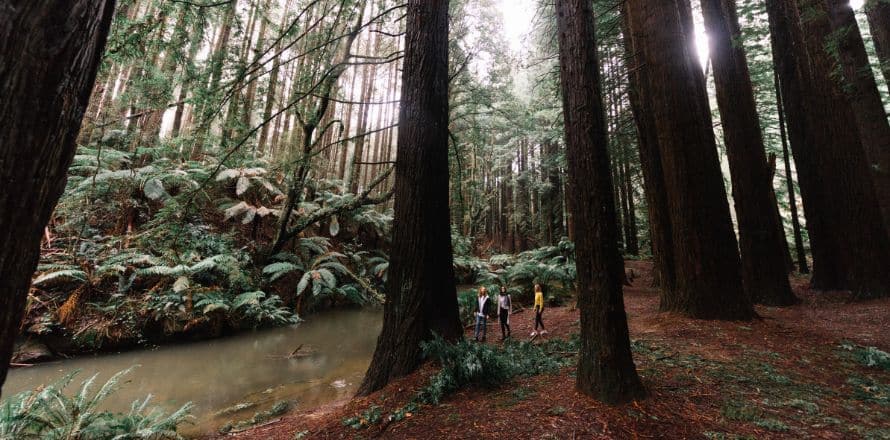 The Redwoods Otways, Great Ocean Road Tourism
The Otways Loop, Victoria
The Otways Loop is a scenic drive that takes you through the lush rainforests and coastal landscapes of the Great Otway National Park in Victoria. Your motorhome road trip will begin from Geelong or Torquay, where you'll follow sealed roads that wind through the Otway Ranges! You'll discover waterfalls, ancient trees, and beautiful coastal viewpoints.
While you're in the area, don't miss attractions like the Otway Fly Treetop Adventures and the iconic Twelve Apostles on the Great Ocean Road!
It's Time To Explore The Lesser-Known Destinations In Australia!
Beyond the well-trodden paths lie hidden treasures waiting to be explored! From the Savannah Way's grasslands to New South Wales's cascading waterfalls, Australia's lesser-known road trips perfectly showcase nature's beauty and diversity.
Keen to add more destinations to your itinerary? We've got you covered! Check out our guide to the best motorhome road trips in Australia, and discover some of the most iconic trips - like the Great Ocean Road and the Grand Pacific Drive!               
The open roads of Australia's offbeat destinations are waiting for you! Call our friendly reservations team on 1300 664 485 to organise your holiday today. You'll also want to check out our Cruisin' Motorhomes vehicle pages to see what motorhomes are available to hire at our branches.