3 Of The Best Road Trips In Cairns
Embrace the topical weather and surround yourself with the wonders of the Great Barrier Reef and the Daintree Rainforest! 
Cairns Loop: Port Douglas, Cape Tribulation, Atherton, Charters Towers, Whitsundays, Mission Beach, and more!
Pacific Coast Way: Cairns, Innisfail, Townsville, Whitsundays, Mackay, Rockhampton, Bundaberg, Sunshine Coast, Brisbane, and more!
Cairns to Waterfall Circuit: Crystal Cascades, Stony Creek Falls, Malanda Falls, Millaa Milla Waterfall, Mena Creek Falls and more!
Cairns is the ultimate starting spot for your motorhome holiday in North Queensland. Here you'll experience perfect golden beaches protected by dense palm trees as well as ancient, sprawling rainforests, rainbow reefs and some of the most unique Australian wildlife imaginable.
There are plenty of campsites and holiday parks in Queensland, with many located in Cairns. Plan your trip accordingly, aiming to be in a caravan park  every 2 days to recharge your battery. For your own safety and the safety of our wildlife, please drive during the day. Also, the warm tropical weather may leave you feeling tired, so remember to take breaks regularly!
One of the perks of booking a motorhome holiday in Cairns is that you'll be completely in charge!  Whether you choose to explore Cairns exclusively or head down to Brisbane, you have the choice to spend as much time as you like in each destination. So, use this article as your guide and read on for the best road trips in Cairns!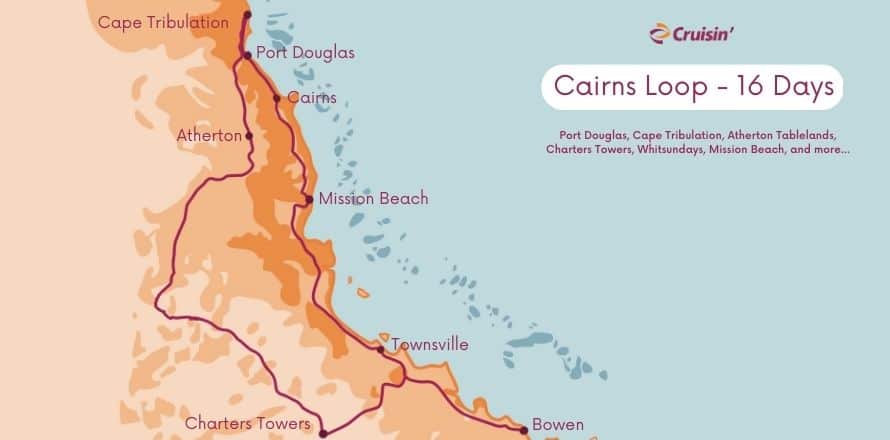 Cairns Loop
This ultimate road trip from Cairns will take you to the most iconic locations in tropical North Queensland. You'll journey to the popular wedding destination of Palm Cove, up towards Port Douglas (home to natural wonders like the Daintree Rainforest and the Great Barrier Reef), through the unique Atherton hinterland, and of course down to the gorgeous Whitsunday Islands off the east coast of Airlie Beach.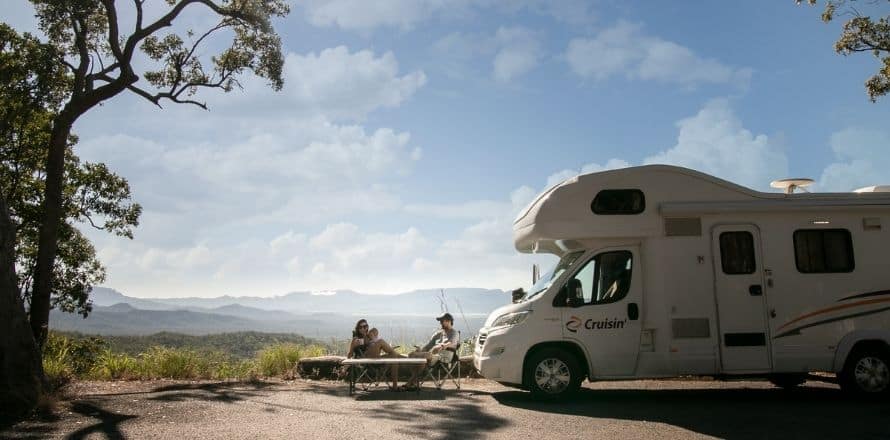 Cairns
Start your road trip in Cairns and spend some time exploring the city at your leisure before heading out to nearby Palm Cove. Journey through this feast of tropical scenery at your own pace or sign up for some local tours. Kuranda is also nearby, with its incredible rainforest mountainscapes and scenic railways. Check out our article for more inspiration on things to do in the Cairns area!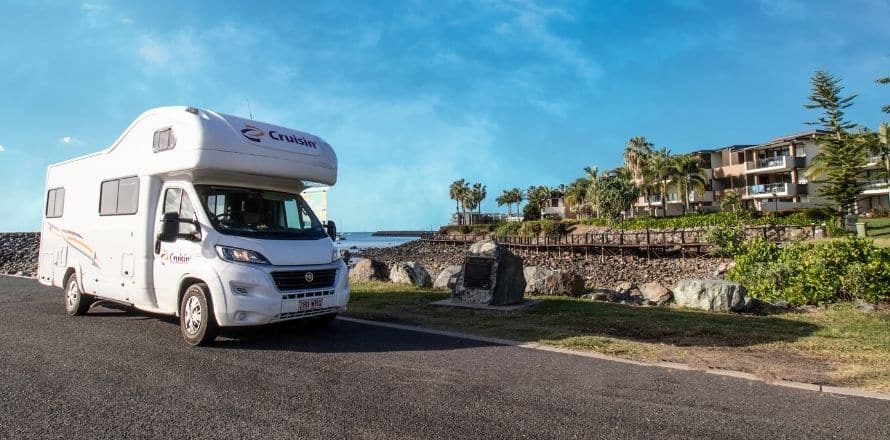 Port Douglas
With gorgeous beaches guarded by palm trees and a wildlife habitat housing over 600 animals, you'll find heaps of things to do in Port Douglas. Embark on a Great Barrier Reef tour, where you'll find various boats headed out every day. Snorkel in the colourful shallows, take a relaxing cruise, or go diving with local wildlife!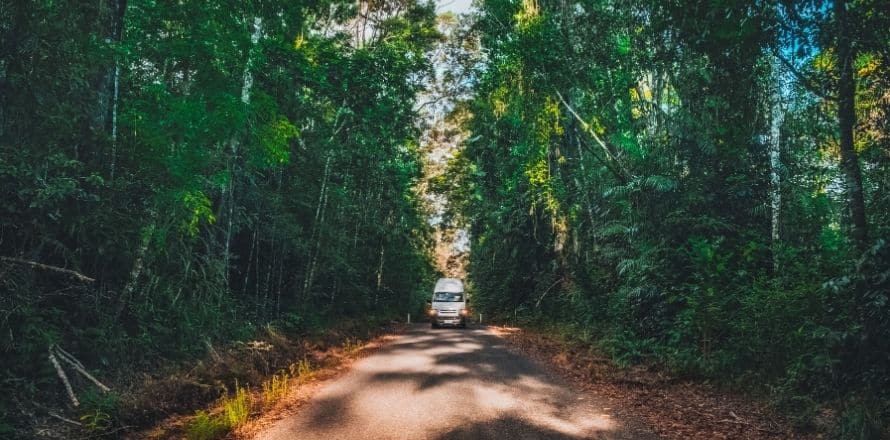 Cape Tribulation
Take a self-guided tour, venture the boardwalks, enjoy the swimming holes or relax by the beaches in Cape Tribulation. As you travel along the scenic roads of Cape Tribulation, you'll find yourself surrounded by the iconic Daintree Rainforest. This ancient rainforest is the world's oldest with some truly unique plants and wildlife.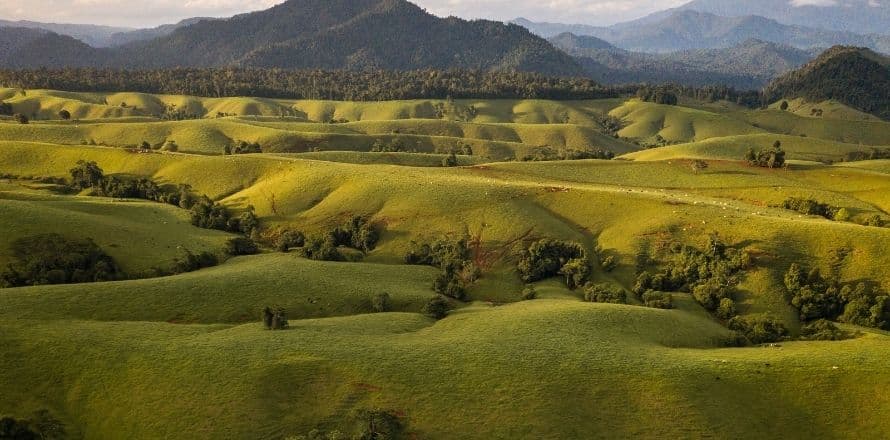 Atherton Tablelands – Tourism and Events Queensland
Atherton Tablelands
Take the Mulligan Highway down to the Atherton Tablelands and prepare for gorgeous natural views. You'll likely need a few days in this area to truly make the most out of all the things to do in Atherton. From the Crystal Caves, Malanda Falls and Crater Lake National Park, you'll find yourself surrounded by waterfalls and natural wonders.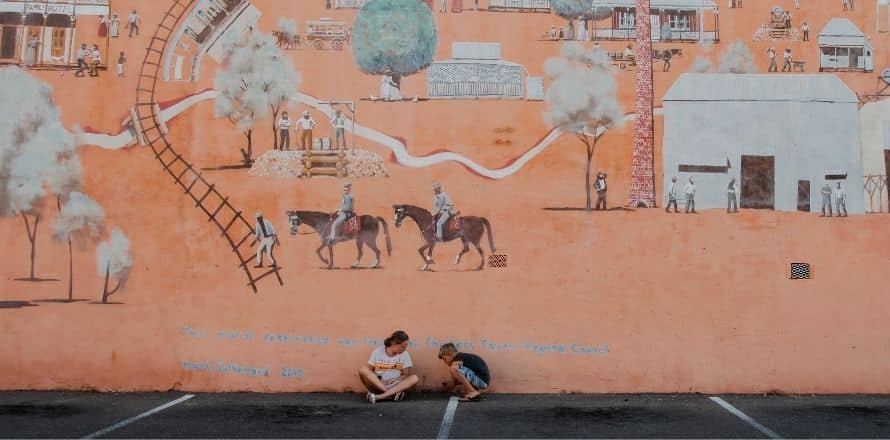 Charters Towers - Tourism and Events Queensland
Charters Towers
Charters Towers is reminiscent of the wild west, with Texas Longhorns, American bison, and various cattle roaming across a 110,000-acre cattle station. This outback town is home to various shops, walking trails, and historical buildings. There are also some really unique things to do in Charters Towers, such as Leahton Park, the Zara Clark Museum, and Tors Drive-In Cinema.
Bowen
From the outback isolation of Charters Towers to the bustling beaches of Bowen, you'll find a complete switch of pace from here. As the gateway to the Whitsundays, which is a series of tropical islands off the coast of Airlie Beach, Bowen is a great place to set up camp. Find yourself exploring stunning beaches, the unusual Mother Beddock Rock, and spot the iconic Big Mango on your journey through the area.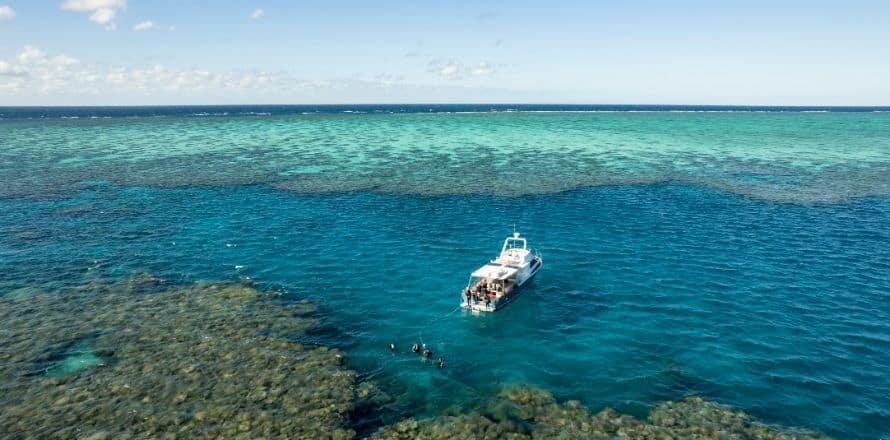 Townsville – Tourism and Events Queensland
Townsville
You'll find coral seas and wet tropical rainforests in sunny and iconic Townsville. You won't want to miss Magnetic Island, which is just a short 20 minute ferry ride across the bay – this is where you'll find the largest wild koala colony in Australia living alongside the adorable rock wallaby! Townsville is also another great launching point for the Great Barrier Reef, with day tours running regularly throughout the year.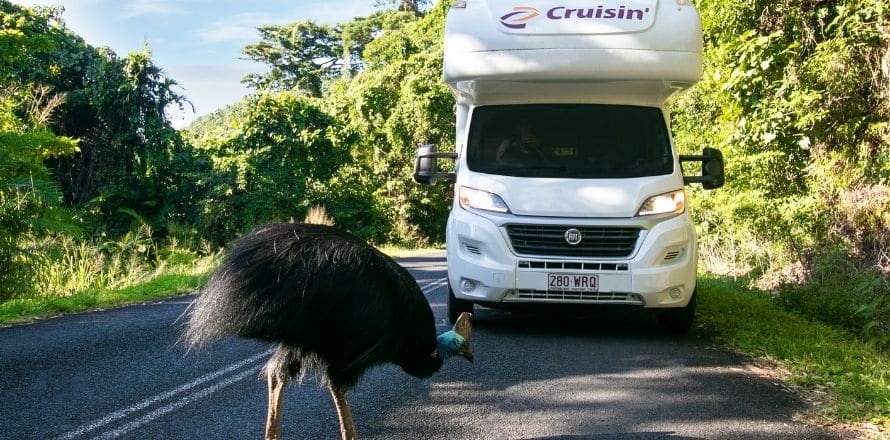 Mission Beach
Mission Beach is a place you won't want to miss on your road trip in Cairns. This stretch of coastline is a popular location for tourists seeking a laid-back holiday. Mission Beach is also the closest access point to the Great Barrier Reef. Keep an eye out for cassowaries whilst you enjoy the greenery of Djiru National Park, wander along various golden beaches, and experience a thrilling adventure with the white water rafting of Tully Gorge National Park.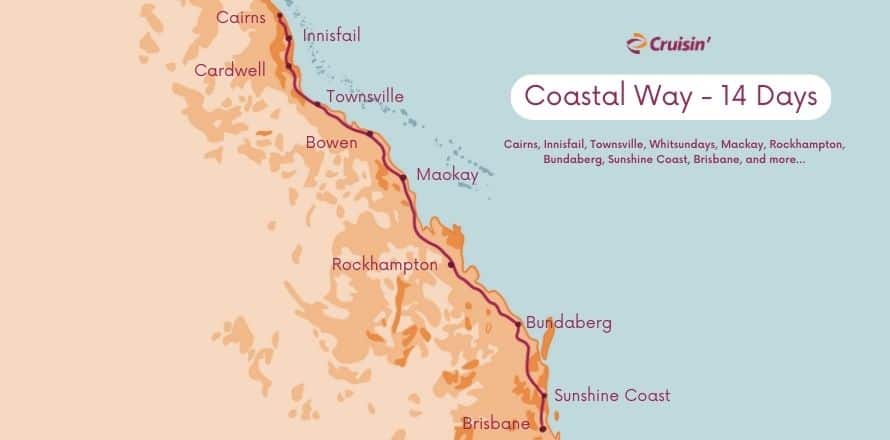 Coastal Way
If you're looking for an adventure along the coast, begin your road trip in Cairns and beach hop your way down towards the sunny and iconic destination of Brisbane. For a round trip, check out our 14 day Queensland motorhome itinerary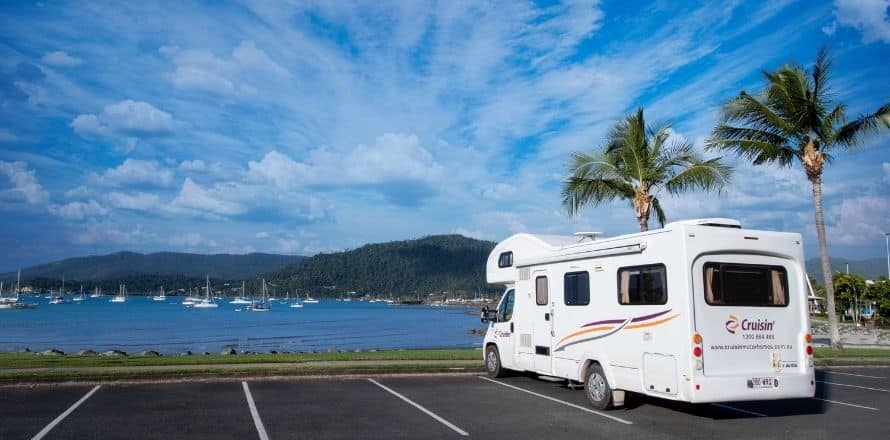 Cairns
Give yourself several days after departing from Cairns to slowly make your way through the art and culture scene of Innisfail with its pristine Etty Bay, then head down towards Townsville and Bowen. See above for more details on those last two, you won't want to miss them!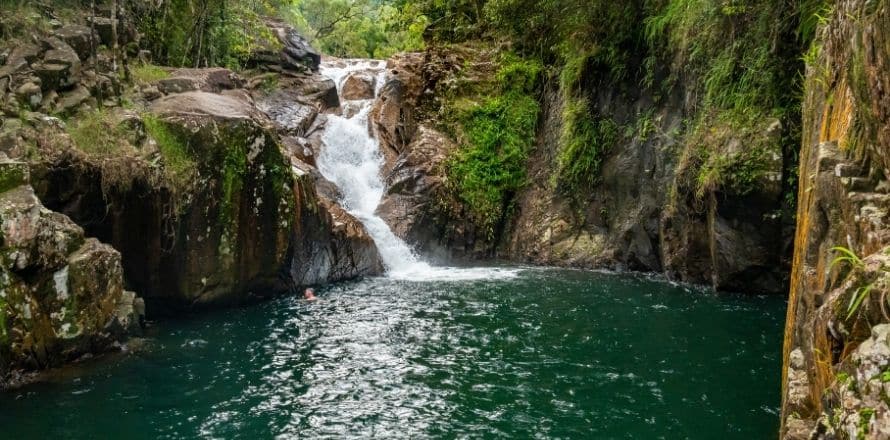 Mackay – Tourism and Events Queensland
Mackay
There are so many things to do in Mackay, with thriving ecotourism in the Flying Forest and Finch Hatton Gorge. On these tours, you'll explore rainforest canopies and seek out the local wildlife – you'll want to book in advance because these are incredibly popular! In Mackay you'll still be super close to the Whitsundays and Great Barrier Reef, so plan for a day or two filled with tropical beach relaxation.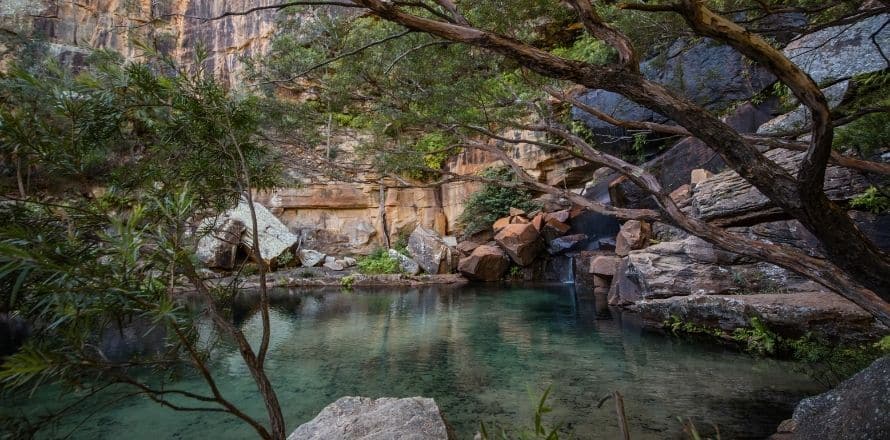 Rockhampton - Tourism and Events Queensland/Blink Photography
Rockhampton                           
In Rockhampton you'll find, yup you guessed it, rocks! With gorgeous rockpools at Blackdown Tableland National Park, the alien-like formations of the Capricorn Caves, and the unique limestone outcrops at Mt Etna Caves National Parks. You'll also find gorgeous art, historic tours about the gold rush era, and the picturesque 130-year old Rockhampton Botanic Gardens.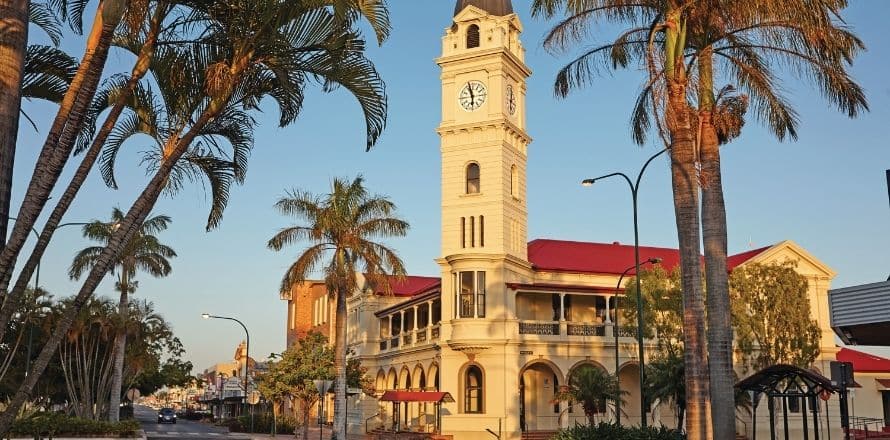 Bundaberg – Tourism and Events Queensland
Bundaberg
If you're looking for things to do in Bundaberg, you've come to the right place! Most famous for its sea turtles, Bundaberg is located at the southernmost tip of the Great Barrier Reef and is the food bowl of Australia. Surround yourself with seafood, bakeries, cafes, and breweries and enjoy the huge variety of food on offer! This is also the gateway to popular tropical locations, like Hervey Bay, Fraser Island and Rainbow Beach.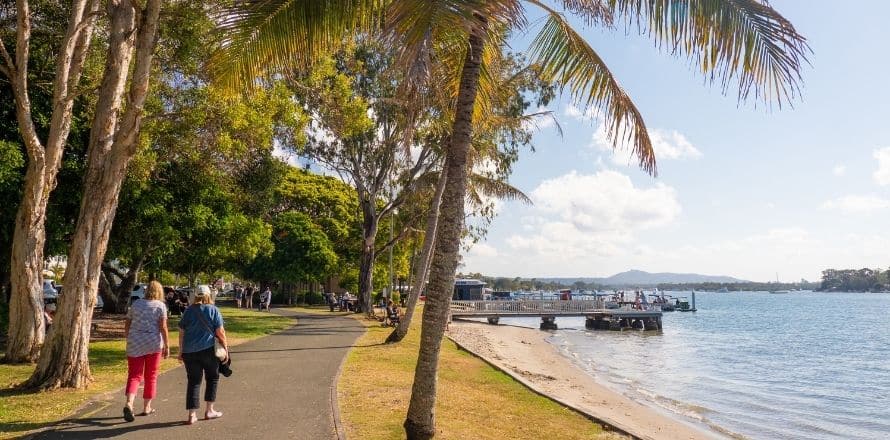 Gympie - Tourism and Events Queensland
Gympie
During your road trip around the Sunshine Coast, you'll find Gympie. This little town is relaxed throughout the year, offering heritage trails and art galleries. During August the city really comes to life for the annual Gympie Music Muster, a popular country music festival! In nearby Noosa Heads you'll be able to sunbake by the beach, experience a heavy surf, travel along rivers, and wander through vast hinterland.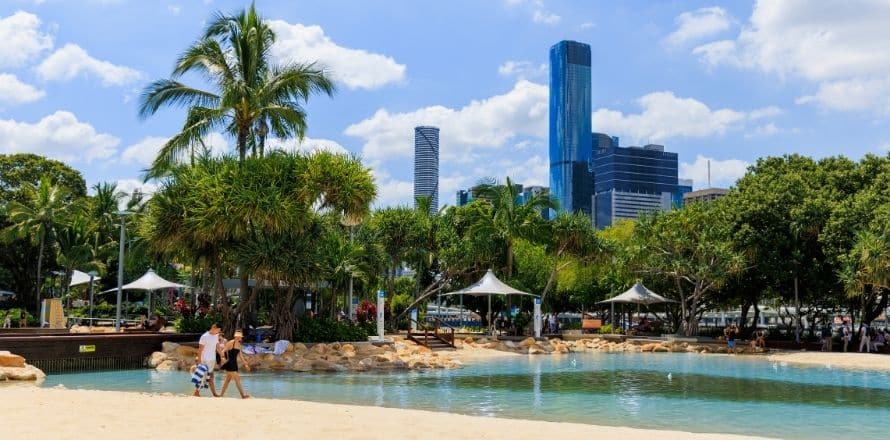 Brisbane - Tourism and Events Queensland
Brisbane
You'll definitely need a few days exploring the Sunshine Coast before you arrive in Brisbane, where you'll enjoy the vibrant atmosphere and the hustle and bustle of a big city. Make the most out of your motorhome holiday and continue down towards Surfer's Paradise for family-fun theme parks and a stellar end to your adventure!
Of course, with a motorhome road trip, the journey doesn't have to end here! New South Wales is only a hop and a skip away. Where the holiday ends is entirely your choice!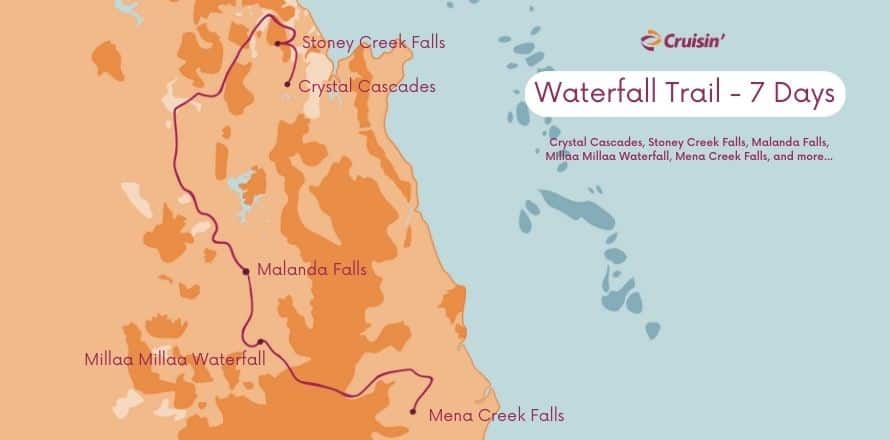 Waterfall Trail
Incorporate waterfalls into your adventures through the rainforests and hinterlands of Queensland's tropical north and experience a truly unique road trip in Cairns. This road trip will be spent hiking through picturesque trails and admiring the natural sights. You'll also find exciting things to do in towns and cities along the way!
Keep in mind that our motorhomes are not to be taken off-road, and many of Cairn's waterfalls are gatekept by steep muddy roads accessible only by 4WDs. However, we've collected a list of motorhome accessible waterfalls which are located near highways and sealed roads!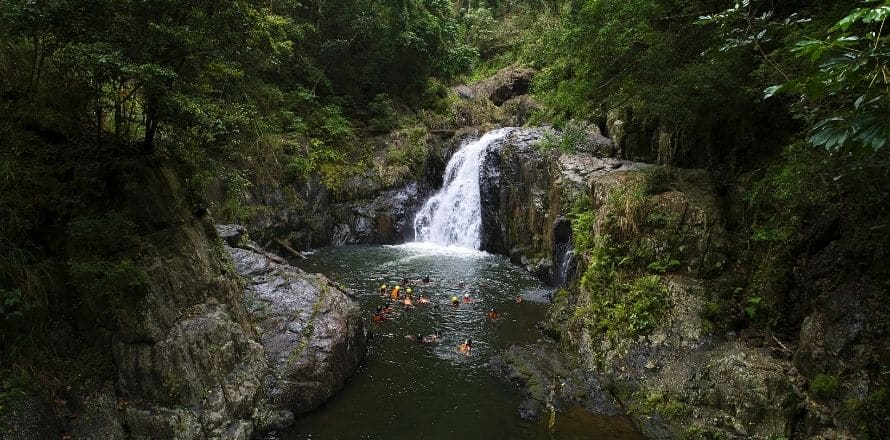 Crystal Cascades - Tourism and Events Queensland
Cairns
You won't have to go far to find stunning waterfalls in Cairns. Located less than thirty minutes away are the famous Crystal Cascades, a popular local swimming hole. The gorgeous Fairy Falls are also within walking distance. The Crystal Cascades continue down Redlynch Valley and spill out into the Barron River, creating Freshwater Creek - which is a great spot for kids to float along.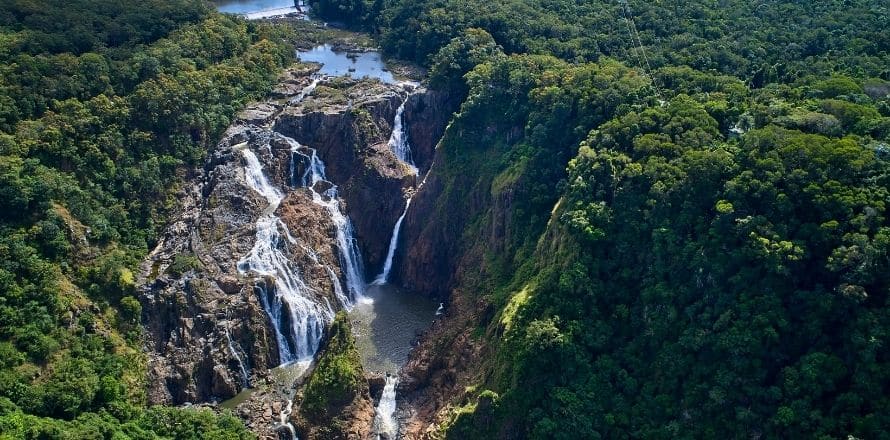 Din Din Barron Falls - Tourism and Events Queensland
Kuranda
Just an hour out of Cairns you'll find Kuranda and Barron Gorge, home to several waterfalls. The most popular stop here is the Stoney Creek Falls, with a walking track through Old Weir Falls and a swimming hole. Also located nearby is the lookout to Din Din Barron Falls, where you'll get a great view of towering rocks engulfed in raging white water.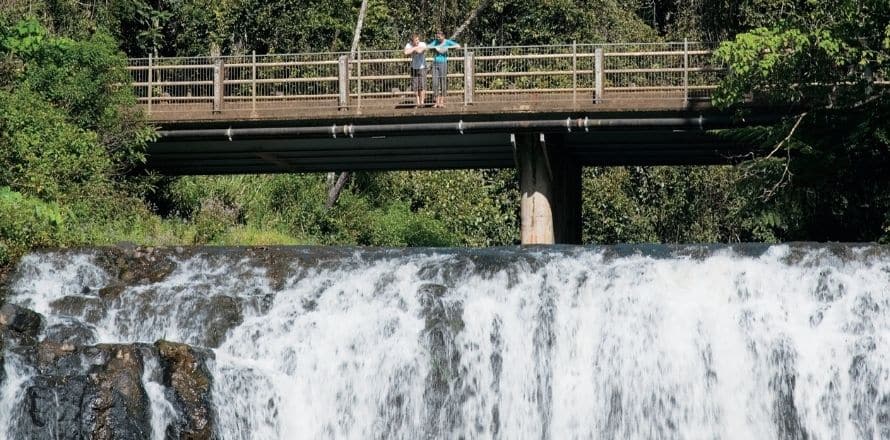 Malanda Falls - Tourism and Events Queensland
Atherton Tablelands
Camp out at charming Atherton and experience an assortment of gorgeous rivers, lakes and waterfalls. Whilst many of these are off the beaten track, the Malanda Falls are conveniently right by the main road. Located on the North Johnstone River and with a 30 metre wide drop over basalt lava rocks, these falls are absolutely a highlight in the Atherton Tablelands.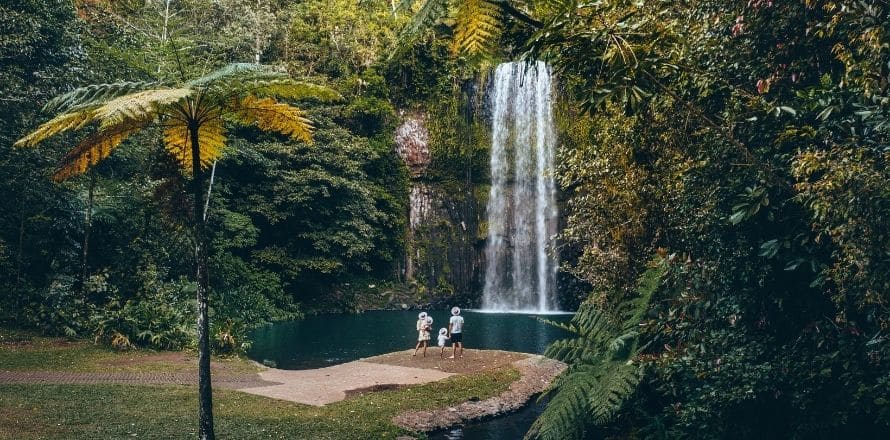 Millaa Millaa Falls - Tourism and Events Queensland
Millaa Millaa
Don't miss the 800 metre hike (about 30 minutes) out to The Crater at Mt Hypipamee National Park for an unusual geological sight on your journey to the Millaa Milla area for the waterfall circuit. The main road in the Millaa Milla area is Theresa Creek Road – whilst this road is fully sealed, it can get narrow in some sections, so be careful. With the Millaa Milla Falls, Zillie Falls, and Ellinjaa Falls, you'll be surrounded by waterfalls on all sides!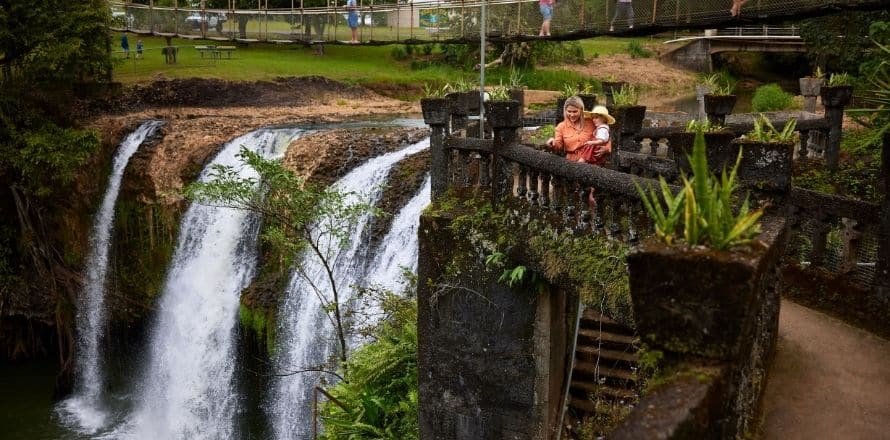 Mena Creek Falls - Tourism and Events Queensland
Germantown
Embark on a short drive from Germantown to Paronella Park, home to a dreamlike palace that looks like it escaped from a fantasy story. Here you'll find moss-covered stone structures with the Mena Creek Falls tumbling over seven-million-year-old basalt rocks. For more adventures in the area, take the Palmerston Highway and seek out the Mamu Tropical Skywalk experience.
This is the end of our waterfall trail, but there are so many more waterfalls in Cairns. From here you can either head down towards Brisbane or back up the coast to Cairns.
Summary
We've shared our top picks for the best motorhome road trips in Cairns, but there are plenty more where that came from! Check out our other Queensland itineraries with our Round Trip Coastal Drive and Gympie Music Muster Getaway. We also have a two-week itinerary from Brisbane to Melbourne if you're keen to keep driving!
Go ahead and make the most out of your motorhome holiday in Cairns this autumn, with the dry season bringing sunny, dry days with it. Your choice to hire a motorhome in Cairns places you at the best location to explore the region and is perfectly enroute for you to keep heading south for more adventures!
So book your motorhome hire in Cairns today!  Call our friendly reservations team on 1300 664 485 or check out our website to see the motorhomes we have available at our Cairns branch.
Related Locations

42 Vauxhall Street, Virginia QLD 4014, Australia

Phone Number : 1300 664 485
International : +61 3 6248 4789

399 Sheridan St, Cairns North QLD 4870, Australia

Phone Number : 1300 664 485
International : +61 3 6248 4789