How To Prepare For A Long Motorhome Road Trip In Australia
Whether you're going away for a week or a month, packing for a long road trip is something worth doing right
Planning a motorhome holiday is an exciting time, and packing all the right things is going to set you up for a stress-free and relaxing getaway! From choosing your entertainment on the road to bringing your favourite snacks, we've got all the tips and tricks to make sure you've got everything you need.
Where you pick up your motorhome hire in Australia will also influence what you decide to pack. For example, if you're in Melbourne for the winter you'll likely wear more layers than you might in Cairns. Also some sports items, like cricket bats, aren't permitted on planes – and you can't bring bug spray with you either. So it's important to keep these types of things in mind when making your packing checklist.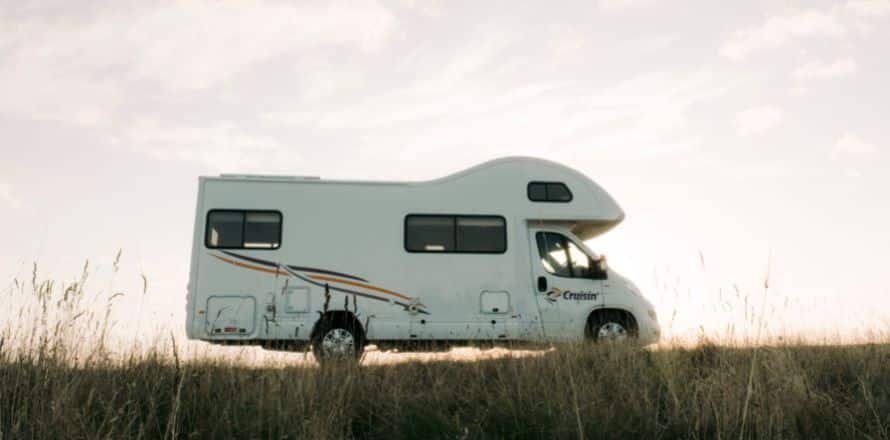 Planning For A Long Motorhome Road Trip
Budget
Before you do anything else, set you budget for your trip. Having a vague idea of where you're going and what you're doing will help you decide what your budget will look like.
Vehicle
Choosing the right motorhome is important for a comfortable holiday. You'll need to consider how many people are going and how much space you'll need – especially if you have young children with you.
For families we typically recommend our Cruisin' 6-Berth Deluxe or our Cruisin' 6-Berth Discovery, which are both spacious, have plenty of storage, and are great for kids to explore.
For couples we recommend our Cruisin' 2-Berth Sandpiper, which is compact but luxurious.
Itinerary
It's important to plan your route carefully, but it's equally necessary to plan for quiet days to sit back and relax! You'll be especially thankful for the wiggle room if there's pesky bad weather preventing you from doing what you had originally planned to do.
Not sure where to go? Here's a few ideas:
Daily Schedule
It can be a good idea to plan your days ahead of time. If you've got young kids with you, they'll also appreciate having some routine in their day-to-day activities!
It's also important to not overload your schedule. Stick to the "one a day" rule when it comes to activities and destinations. Having a ton of exciting things to do each day sounds good in theory, but it can get overwhelming and exhausting.
Meals
Plan out some motorhome friendly meals ahead of time. It's tempting to buy takeaway when you're on holiday – after all, this is the time to kick back and spoil yourself! But don't abandon your cooked meals completely. This is also a great option if you're trying to stick to a budget.
Petrol
Map your petrol stops in advance. Service stations can be few and far between depending on where you are.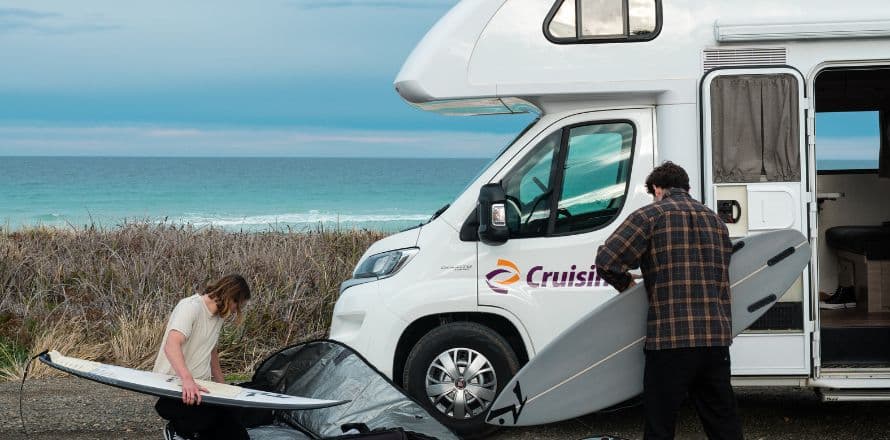 What Do You Need To Pack For A Motorhome Holiday
Check out our guide on planning a campervan holiday for a more detailed list of things to pack for your trip.
Essentials
Bring hard copies of everything, like your route, campsite reservations, emergency numbers, tickets, travel insurance, etc
Medical kit (anything you need for your health and the health of the people travelling with you – especially important if you have accident prone children who might step on an angry bug)
Clothing
Water / wind-proof raincoat (prepare for all types of weather regardless of season)
Warm jacket
T-shirts
Pants/shorts
Comfy shoes for around the campsite
Sturdy shoes for adventues
Smart casual items
Pyjamas
Swimming gear
Socks
Headwear (beanie/hat)
Sunglasses
Toiletries
Toothbrush / toothpaste
Shampoo / conditioner
Soap
Deodorant
Comb / hairbrush
Moisturiser / lip balm
Cosmetics
Razor / shaving cream
Sunscreen
Technology
Phone / camera
Adapters / extension cords
Batteries
Torch

Kitchen
We'll provide you with all the basics, like pots, pans, and cutlery, but if there's something small that you can't live without, like a tea strainer or a milk whisk for your coffee, you're welcome to bring it along). Some other things to bring include:
Fresh vegetables
Condiments
Bread
Drinks (especially water)
Dry goods (pasta, rice, spices, snacks)
Entertainment
DVDs & CDs (or a pre-downloaded playlist)
Games (digital and traditional)
A good book or two (or more!)
Sporting items (football, frisbee etc)
Other hobby or craft items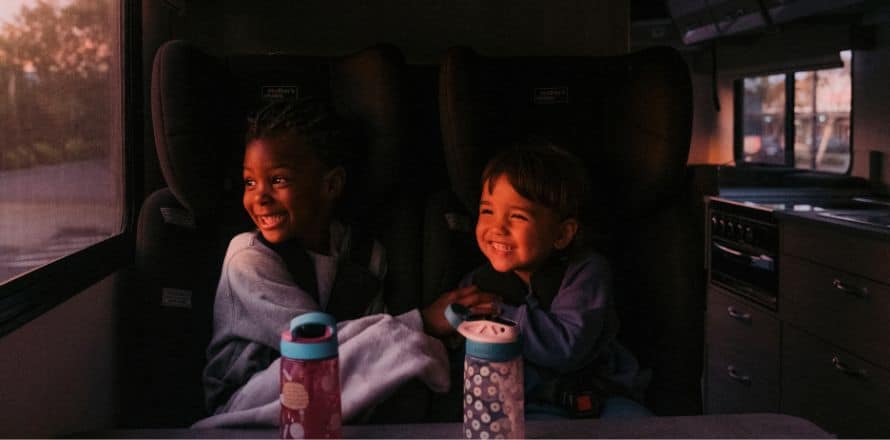 For The Kids
Their favourite teddy bear or the blanket they need to sleep every night
Variety of toys and activities they can do in their downtime
Drinks and snacks
Work & School
If you're going for a long trip, there's a good chance either you or your kids will be taking work with you.
Extension cords / power strip
Mobile hotspot
All books, files, laptops needed to get the work done
Gold Coins
A slightly unexpected addition to the list, but definitely worth bringing. Some campsites require coins (either $1 or $2) to use the laundry facilities. On occasion you'll also encounter showers that need coins.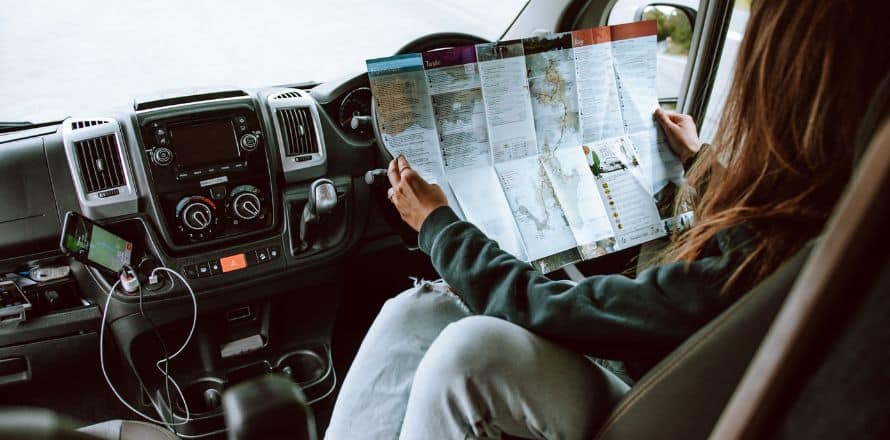 Preparing Your Home Before You Go
Security
Make sure you lock all your doors and windows before you leave. Close the blinds and hide any outdoor keys. Ensure all your alarms are set just in case of any unwanted intruders.
Precautions
Unplug all appliances in case of a power surge and store your outdoor furniture somewhere safe. If you know how to, it might also be a good idea to turn off the water in your home just in case of any unwanted leaks.
Bills & Mail
Be prepared for bills by setting up autopay, or plan to make your payments online whilst you're away.
Give your neighbour a heads up before you go as well, and if you ask nicely they'll likely be happy to collect your mail for you and keep an eye on things.
Cleaning
Make life easier for yourself and do all your cleaning before you go! This has two benefits, because you'll be coming home to a clean house at the end of your holiday.
Eat any perishables in the days before you leave. Clean out your fridge and cupboards and take all your bins out so you can come back to a nice and tidy home.
Tell Someone Where You're Going
It's a good idea to keep someone in the loop. Give them a copy of your itinerary and keep in touch throughout the trip so that at least one person knows where you are at all times.
Organise A House Sitter
If you're planning on going away for an extra-long trip and want peace of mind, it might be best to organise someone to house sit for you.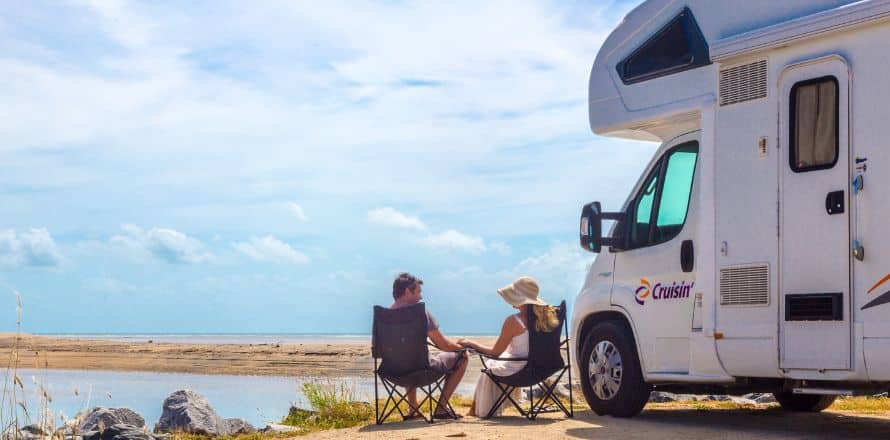 Are You Ready To Start Packing?
What you decide to bring with you, and what you leave behind, will make your trip go smoothly - so it's important to know who's coming with you and what they need. Do you need allergy medication? Bug spray? Maybe you'd like to read a book one day and swim on another? With some careful planning you'll be prepared for all occasions!
Our motorhomes have a generous amount of storage, so you can be assured that there's space for all the essentials! Of course, it's important to not overpack for your holiday. Take only what you know you'll need to make your holiday comfortable for yourself and your travel companions.
If you're travelling with family or a large group, we recommend our Cruisin' 6-Berth Deluxe and our Cruisin' 6-Berth Discovery. These motorhomes also have plenty of storage and space for everyone to enjoy. Check out our range of vehicles and discover which suits your needs.
So, start planning and book your motorhome hire today! Call our friendly reservations team on 1300 664 485 or check out our website to see what motorhomes we have available at our branches.